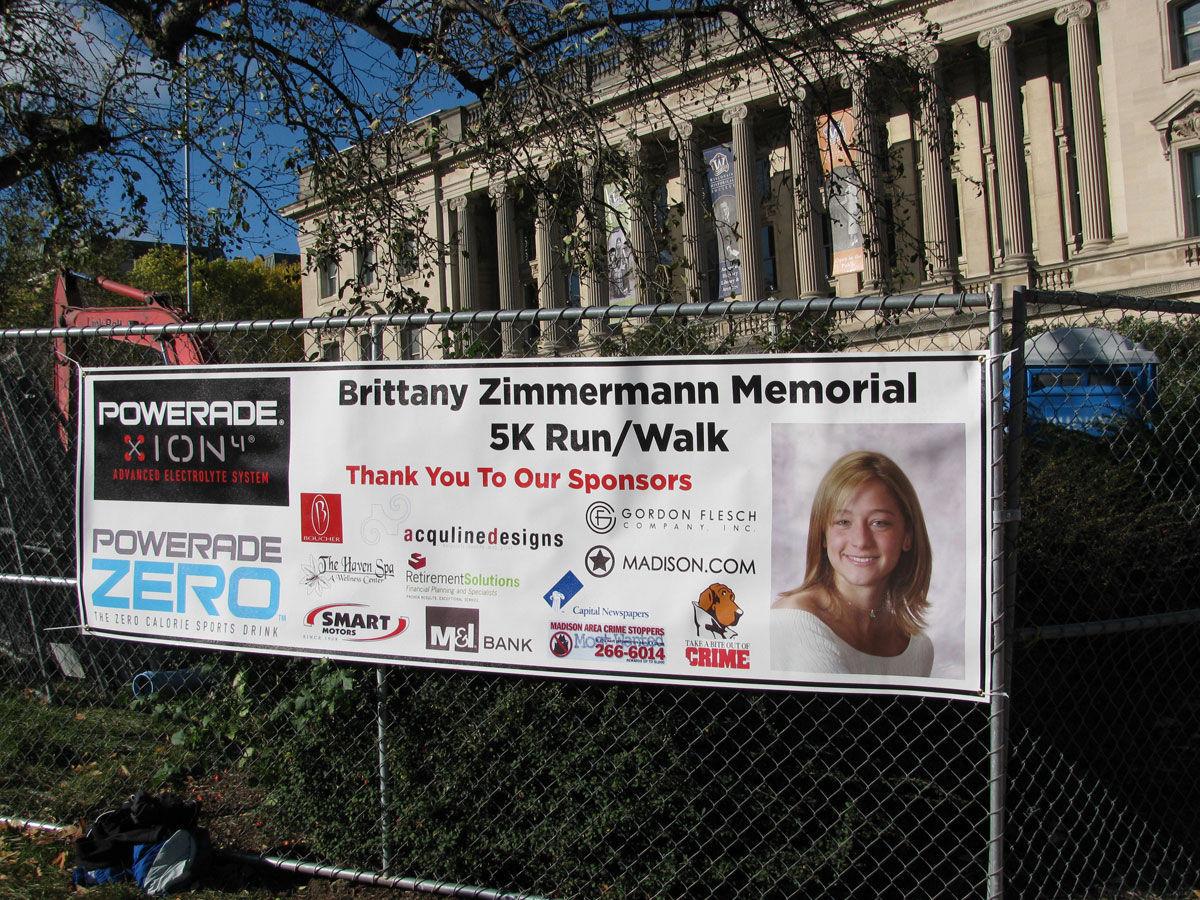 The parents of slain UW-Madison student Brittany Zimmermann are renewing their plea for help in solving her 2008 murder while urging participation in a fundraising run in her name.
The second annual Brittany Zimmermann 5K Run/Walk will take place Sept. 17 at 9 a.m. at Memorial Union. The course will follow the scenic Howard Temin Lakeshore Path.
The $20 entry fee benefits the Madison Area Crime Stoppers reward fund, which helps law enforcement agencies solve crimes by offering money for information leading to arrests. Information can be found at madisonareacrimestoppers.org.
Last year's event drew about 400 participants and raised about $20,000 while increasing awareness of Crime Stoppers, said UW-Madison police Officer Eric Pearce.
"We hope someday that they have a part of solving Brittany's case," said her mother, Jean Zimmermann of Marshfield.
In addition to Crime Stoppers, there is a $40,000 private reward fund for information leading to an arrest in the Zimmermann case.
"We know there are people who know who killed Brittany," Jean Zimmermann said. "We're begging. I'm asking. I'm pleading."
The 21-year-old student was stabbed and strangled in her apartment at 517 W. Doty St. shortly after she returnedfrom an exam at about 12:30 p.m. on April 2, 2008. Police said the outside door to her apartment was forced open but released few other details about her murder.
Last December, police confirmed there could be a link between the Zimmermann case and an early morning break-in at a University Avenue tavern months later involving three Madison teenagers with gang ties. Police won't say why they think the crimes are linked, but a State Journal review of hundreds of pages of police and court records suggests an unknown accomplice to the burglary could have been at the homicide scene.
In separate interviews with the State Journal last December, two of the three teenagers convicted of the July 9, 2008, burglary at Blue Moon Tavern - Spencer Hutchins, now 21, and Darrielle Banks, 20 - said they knew nothing about Zimmermann's killing and denied a fourth burglar was involved in the bar break-in. Hutchins, who is facing charges of felony theft and second-degree sexual assault of a child in Dane County, is being held in Columbia County Jail.
The third person convicted of the Blue Moon burglary, Ryan Cook, 20, was charged last month in federal court with distributing crack cocaine, being a felon in possession of a firearm and possession of a firearm with an obliterated serial number. He is being held in Dane County Jail.
Madison police Capt. Carl Gloede said the Zimmermann case "is actively being investigated by detectives."
"We do believe there are people in this community who know who killed Brittany," said police spokesman Joel DeSpain.
Be the first to know
Get local news delivered to your inbox!