The weekend will start wet and cool for southern Wisconsin, then turn sunny and warmer, with highs approaching 60 on Sunday and 70 on Tuesday, according to forecasters.
With a winter storm to the north and west Friday, temperatures will be relatively warm Friday, then fall as the storm moves away, then move higher on Sunday, AccuWeather said.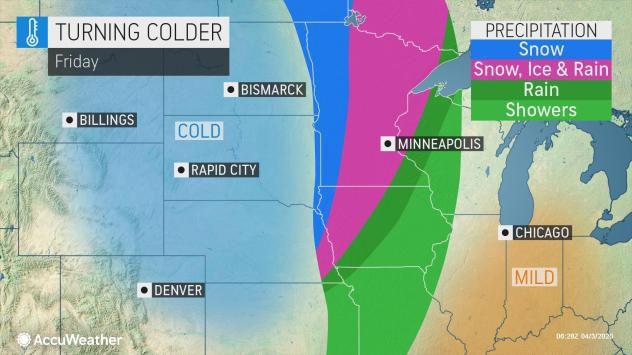 In Madison on Friday, there's a 30% chance for rain after 2 p.m., with mostly cloudy skies, a high near 60 and southeast winds at 5 to 10 miles per hour, the National Weather Service said.
Overnight, there's a 90% chance for rain, mainly before 4 a.m., with possible totals of quarter- to half-inch as the low falls to around 32.
Saturday's forecast features a slight chance for rain or freezing rain before 7 a.m., with mostly cloudy skies gradually becoming sunny, with a high near 52 and north winds at 10 to 15 mph.
After a low overnight Saturday into Sunday around 33, Sunday should be mostly sunny, with a high near 56 and winds developing out of the south around 5 mph in the afternoon.
The Weather Service said chances for rain are 30% Monday, 50% Monday night, and 40% Tuesday and Tuesday night.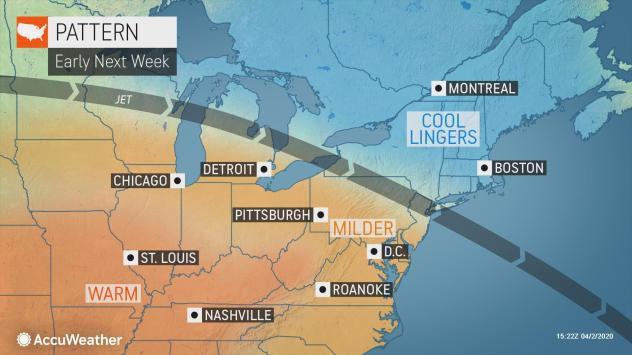 Skies over Madison should be mostly cloudy Monday and Tuesday, and mostly sunny Wednesday and Thursday, with highs near 59, 67, 60 and 51, and lows Sunday night through Wednesday night around 39, 48, 47 and 37.
27 Storm Track meteorologist Max Tsaparis forecasts scattered showers developing Friday afternoon and continuing into Saturday morning, a few showers Monday, rain possible Monday night, scattered showers and storms possible Tuesday, and a few showers possible Wednesday.
Tsaparis said highs Friday through Thursday should be near 60, 53, 58, 60, 67, 62 and 50, and overnight lows around 34, 30, 38, 47, 47, 36 and 32.
Thursday's high in Madison was 62 at 4:21 p.m., 11 degrees above the normal high and 19 degrees below the record high of 81 for April 2, set in 1981.
Thursday's low in Madison was 33 at 5:47 a.m., 2 degrees above the normal low and 31 degrees above the record low of 10 for April 2, set in 1886.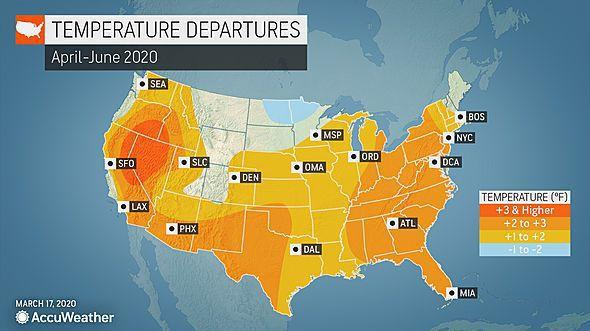 Officially, a trace of precipitation was recorded at the Dane County Regional Airport on Thursday, leaving Madison's April precipitation total (rain plus snow converted to liquid) at a trace, 0.21 inches below normal. The meteorological spring (March through May) total stayed at 3.47 inches, 1.06 inches above normal. The 2020 total rose to 6.15 inches, 1.06 inches below normal.
Madison's record precipitation for April 2 is 0.9 inches in 1983.
With no snow on Thursday, Madison's April total stayed at zero, 0.3 inches below normal. The meteorological spring total stayed at 2.8 inches, 4.5 inches below normal. For the snow season (since July 1), Madison has received 53.5 inches, 5.1 inches above normal.
Madison's record snowfall for April 2 is 4.9 inches in 1975.
---
Photos: Remembering the monster blizzard of 1947 in Madison
Be the first to know
Get local news delivered to your inbox!