After highs approach 50 Wednesday and Thursday, a snowstorm could hit southern Wisconsin to start the weekend, according to forecasters.
A narrow band of 3 to 6 inches of snow could cut through area from southwest to northeast, but exactly where and if the storms reaches that strength is uncertain, forecasters say.
The storm won't reach blockbuster status, but it is expected to unleash wintry precipitation across an approximately 2,000-mile-long corridor from the southern Rockies to southern Canada, AccuWeather said.
"During Friday and Friday night, rain is likely to become mixed with and change to snow over northern Kansas, southern Nebraska, northern Missouri and southern Iowa," AccuWeather senior meteorologist Brett Anderson said. "The transition to snow will continue to advance on Saturday in northern Illinois, southeastern Wisconsin and the central and northern parts of the Lower Peninsula of Michigan."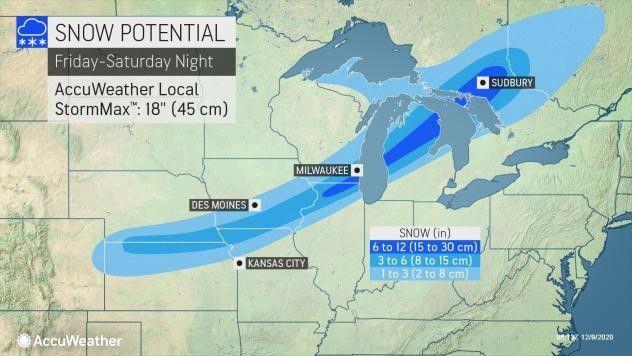 AccuWeather currently has the Madison area getting 1 to 3 inches of snow, but the 3- to 6-inch strip of snow could shift north and west toward our area.
The National Weather Service has the area with the best chance of potential snow accumulations cutting through the Madison area, running north and west of Chicago and Milwaukee.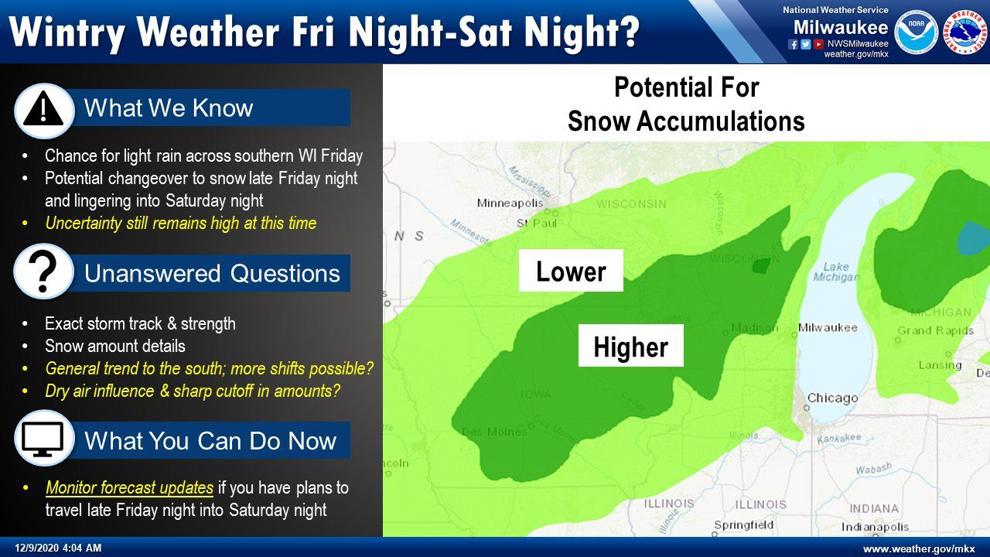 In Madison on Wednesday, look for sunny skies, a high near 47 and northwest winds around 5 miles per hour, the Weather Service said.
After an overnight low around 27, Thursday should be mostly sunny, with a high near 46 and light south winds increasing to 5 to 10 mph in the morning.
After a low overnight Thursday into Friday around 32, Friday's forecast features a 20% chance for rain and snow between 1 p.m. and 2 p.m., then rain after 2 p.m., with cloudy skies, a high near 38 and northeast winds around 10 mph.
The Weather Service said there's a 40% chance for rain and snow before 4 a.m. and snow after 4 a.m. Friday night; a 50% chance for snow before 2 p.m., then rain and snow between 2 p.m. and 5 p.m., and snow after 5 p.m. Saturday; and a 50% chance for snow, mainly before 1 a.m. and ending by 7 a.m. Saturday night and Sunday.
Skies over Madison should be mostly cloudy Saturday, mostly sunny Sunday and Monday, and mostly cloudy Tuesday, with highs near 34, 32, 31 and 32, and lows Friday night through Monday night around 31, 23, 20 and 20.
27 Storm Track meteorologist Max Tsaparis forecasts sunshine and abnormal warmth Wednesday and Thursday, a possible rain/snow mix later on Friday, a possible snow mix Friday night, possible snow Saturday, and possible flurries Tuesday.
Tsaparis said highs for Madison Wednesday through Tuesday should be near 48, 49, 39, 33, 31, 35 and 34, and overnight lows around 28, 32, 30, 22, 19 and 22.
Tuesday's high in Madison was 34 at 11:59 p.m., 2 degrees above the normal high and 26 degrees below the record high of 60 for Dec. 8, set in 1946.
Tuesday's low in Madison was 29 at 8:12 a.m., 11 degrees above the normal low and 45 degrees above the record low of 16 below for Dec. 8, set in 1876.
No precipitation was recorded at the Dane County Regional Airport on Tuesday, leaving Madison's December and meteorological winter (December through February) precipitation total (rain plus snow converted to liquid) at a trace, 0.57 inches below normal. For the year, Madison has received 37.79 inches of precipitation, 4.48 inches above normal.
Madison's record precipitation for Dec. 8 is 0.82 inches, set in 1966.
With no snow on Tuesday, Madison's December and meteorological winter total stayed at zero, 3.3 inches below normal. For the snow season (since July 1), Madison's total stayed at 2.3 inches, 5.1 inches below normal.
Madison's record snowfall for Dec. 8 is 7.1 inches, set in 2009.
---
Photos: Remembering the record-setting blizzard of December 2012
Photos: Remembering the record-setting blizzard of December 2012
Scene from December 2012 blizzard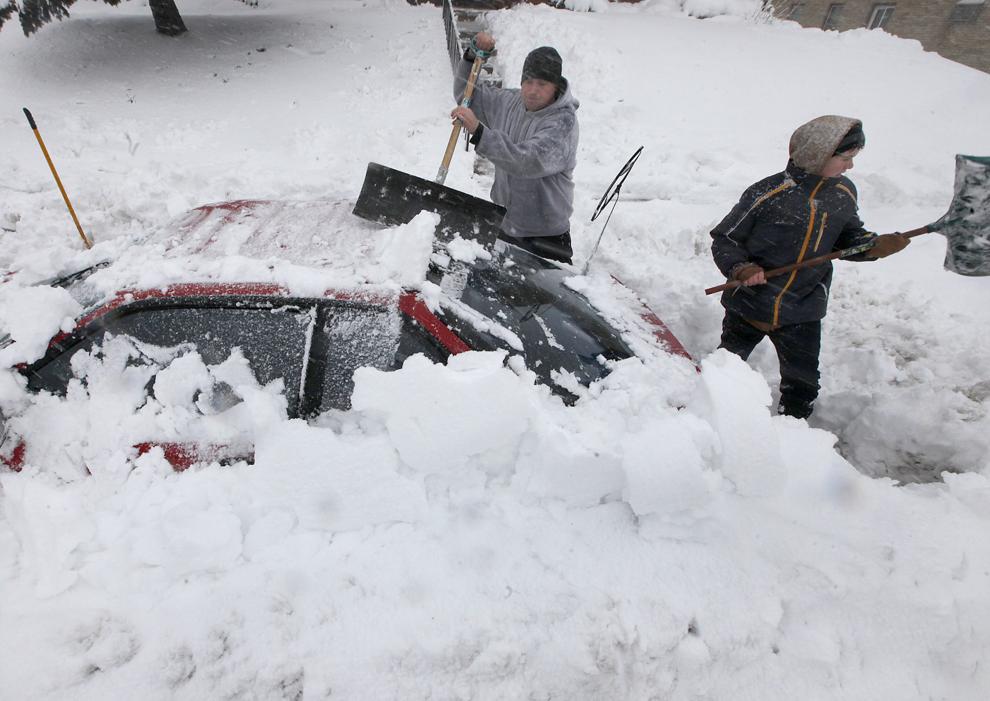 Scene from December 2012 blizzard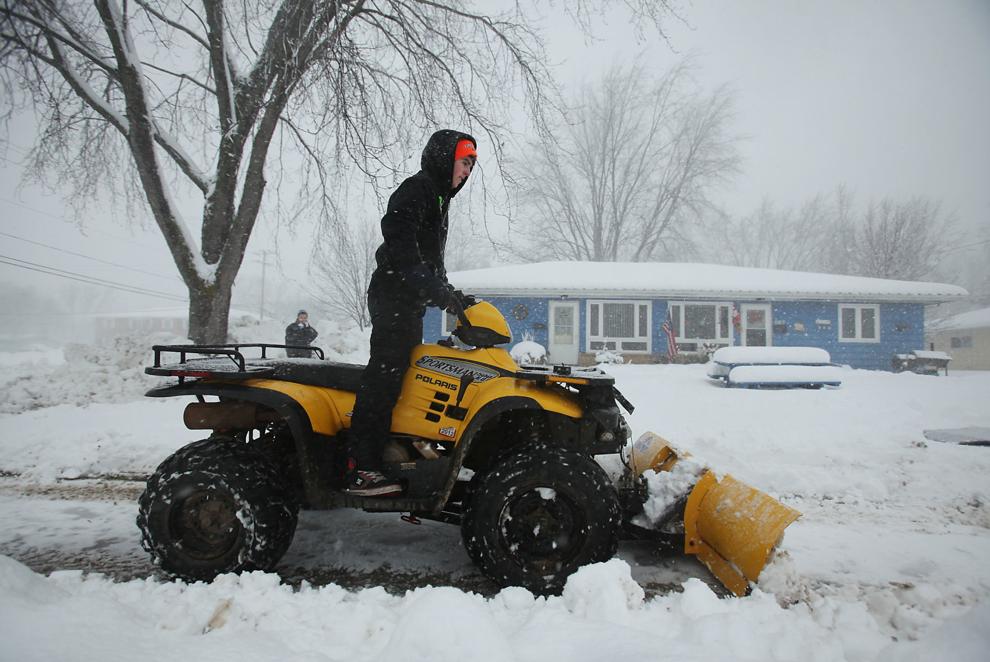 Scene from December 2012 blizzard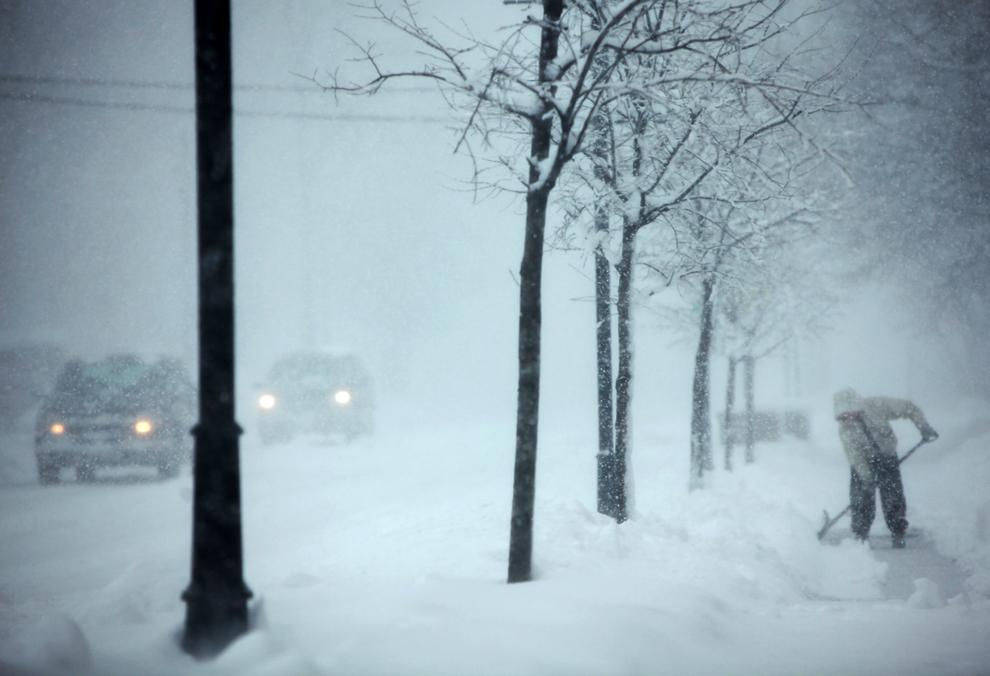 Scene from December 2012 blizzard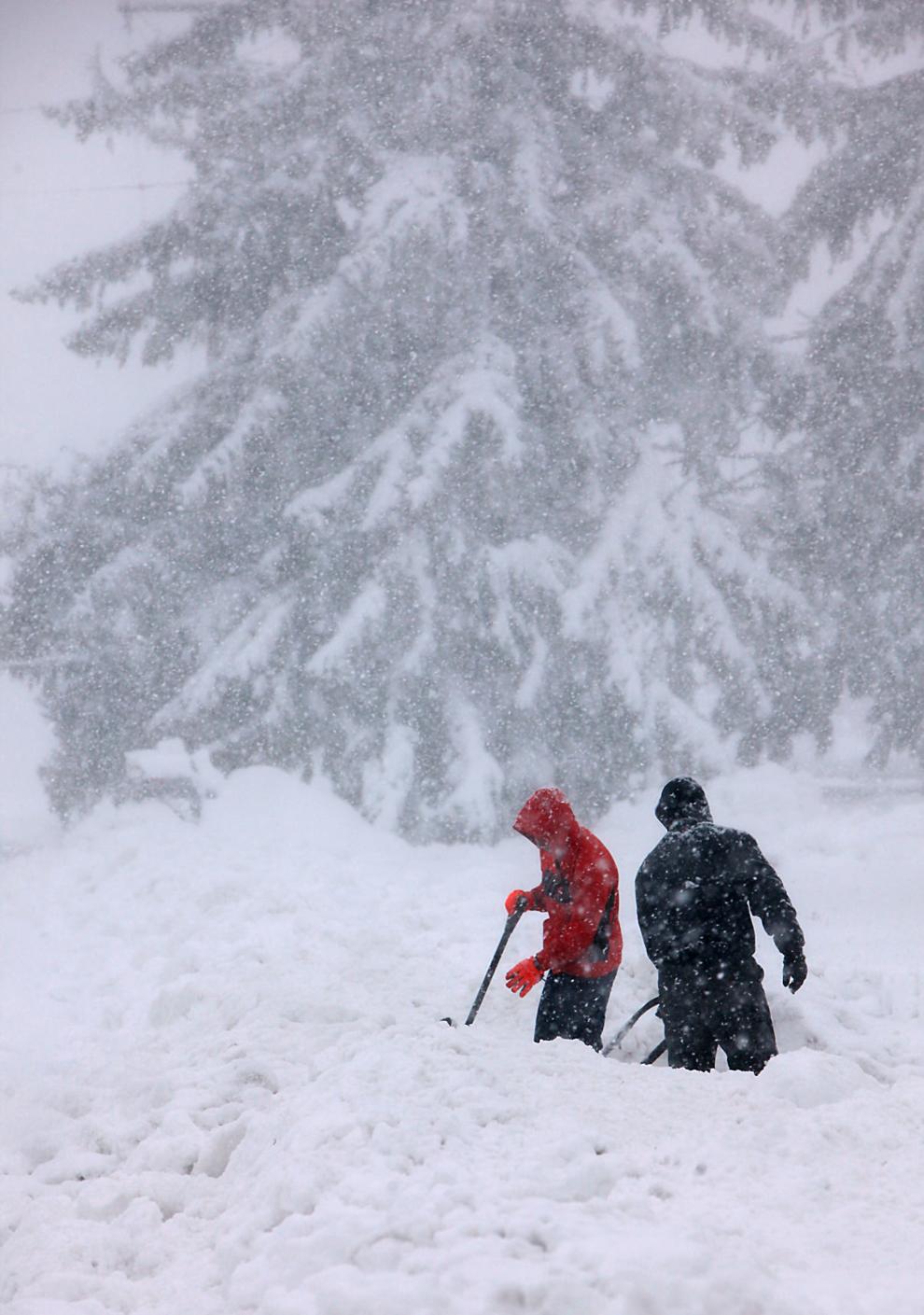 Scene from December 2012 blizzard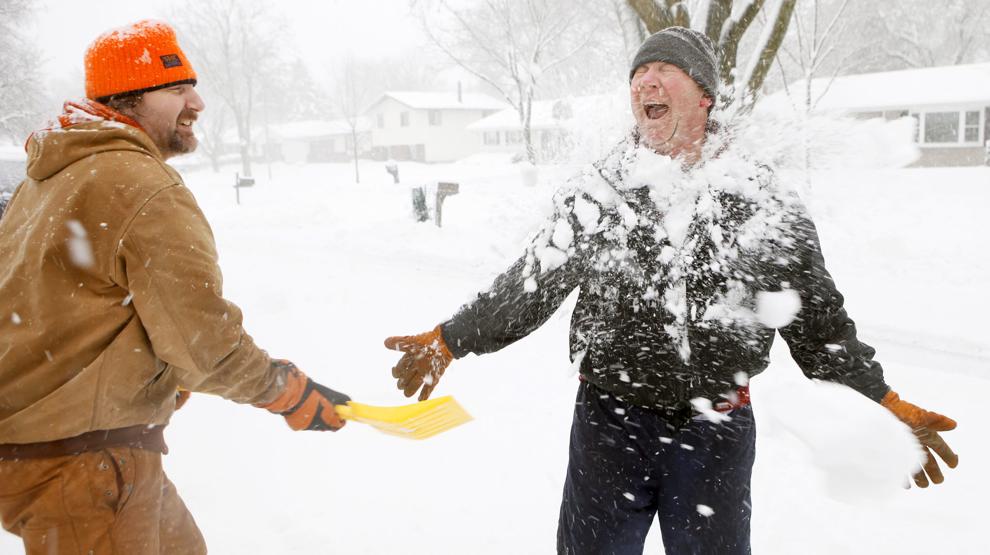 Scene from December 2012 blizzard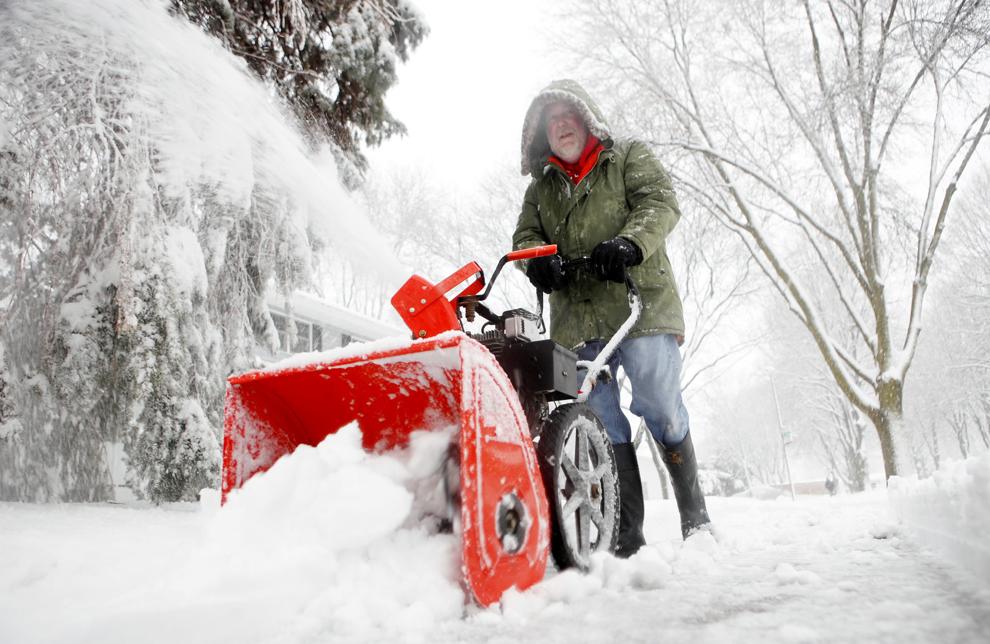 Scene from December 2012 blizzard
Scene from December 2012 blizzard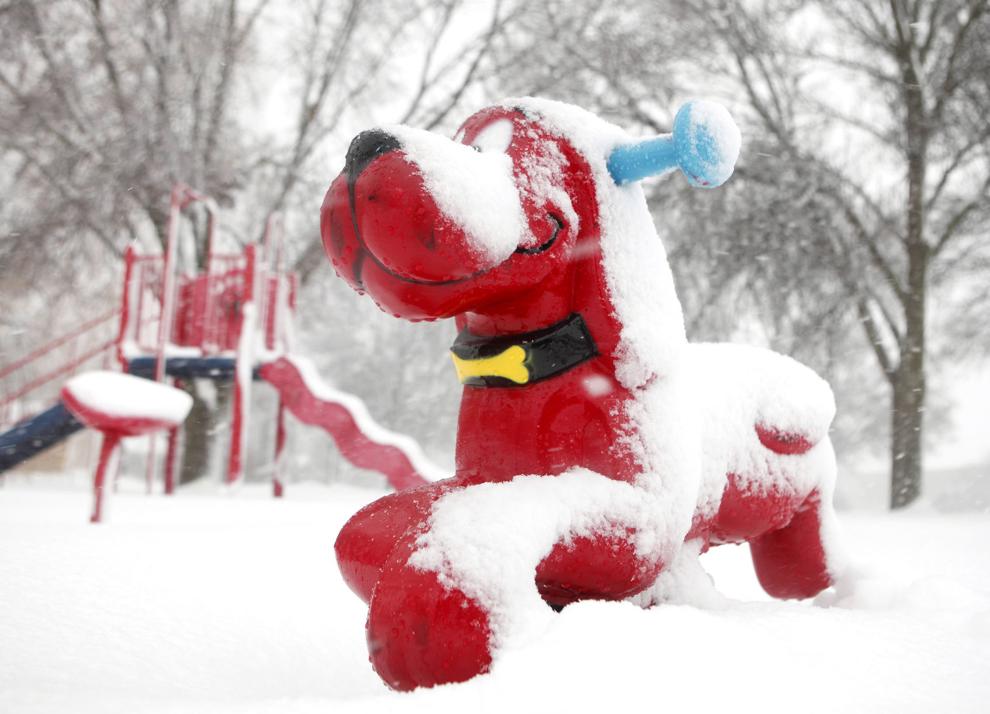 Scene from December 2012 blizzard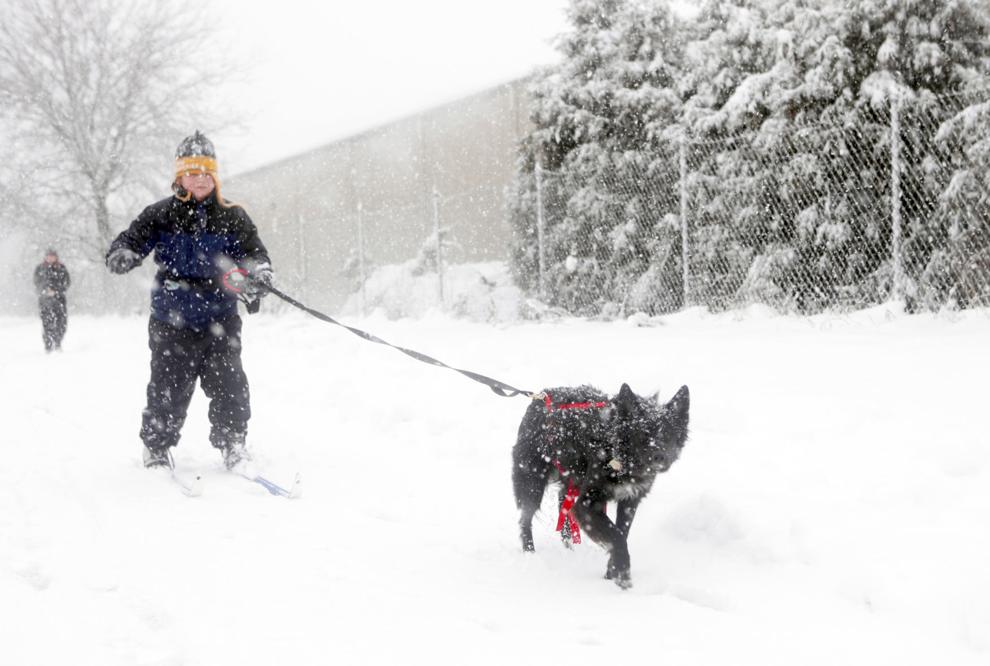 Scene from December 2012 snowstorm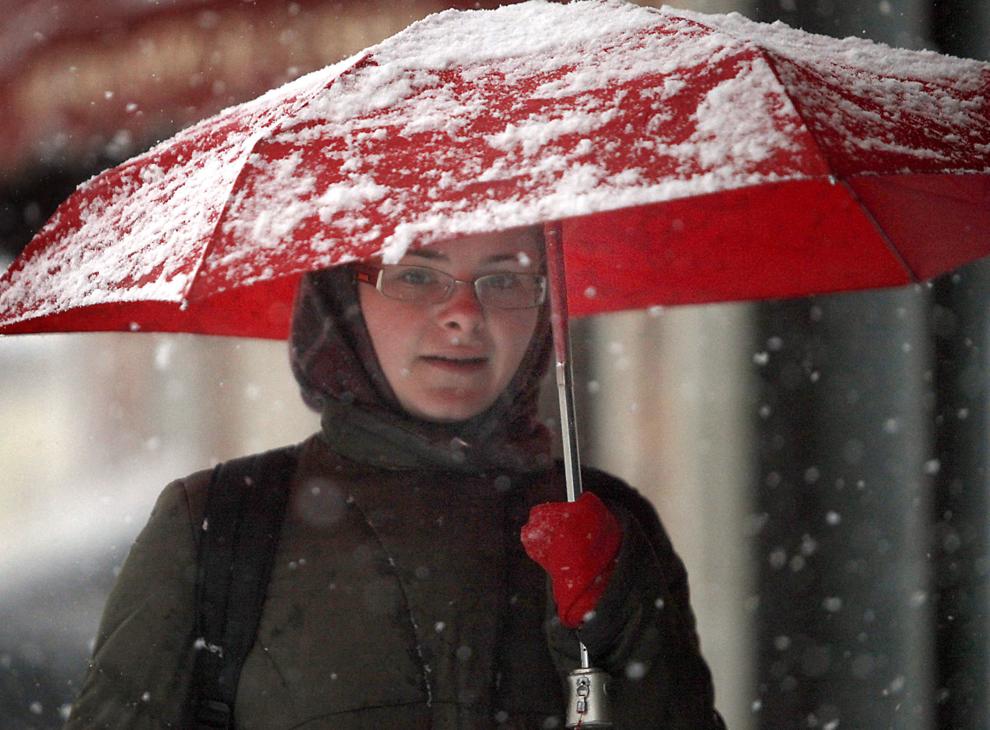 Scene from December 2012 blizzard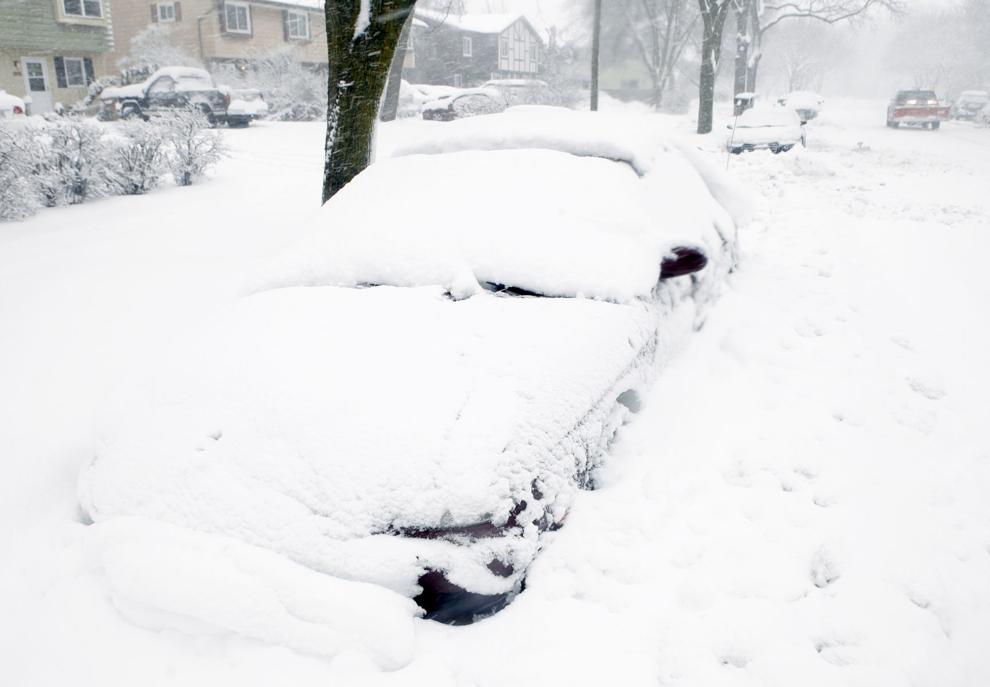 Scene from December 2012 blizzard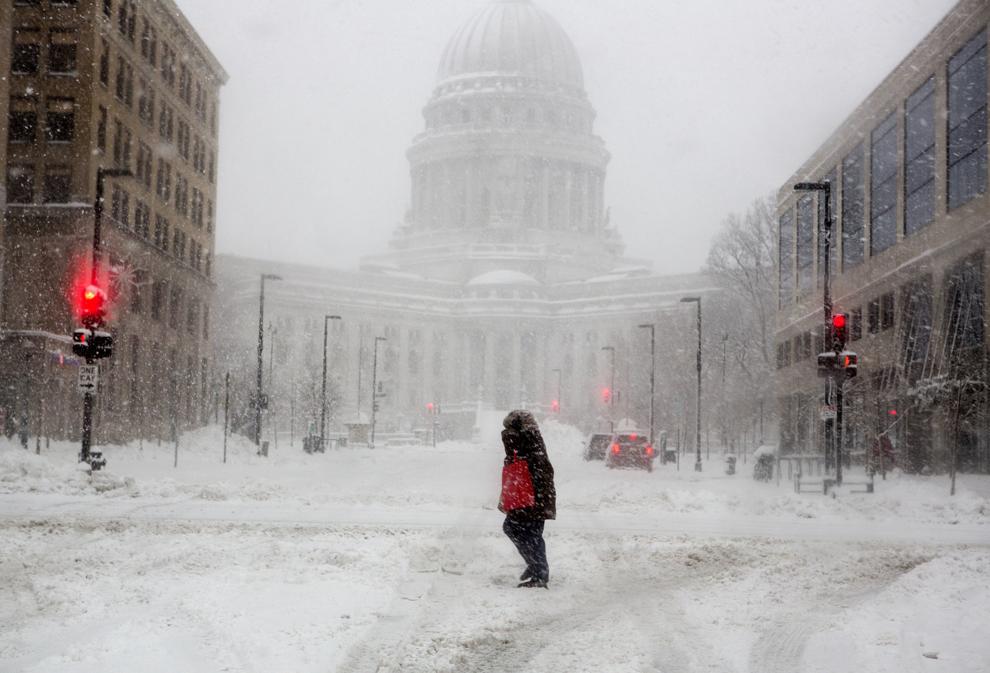 Scene from December 2012 blizzard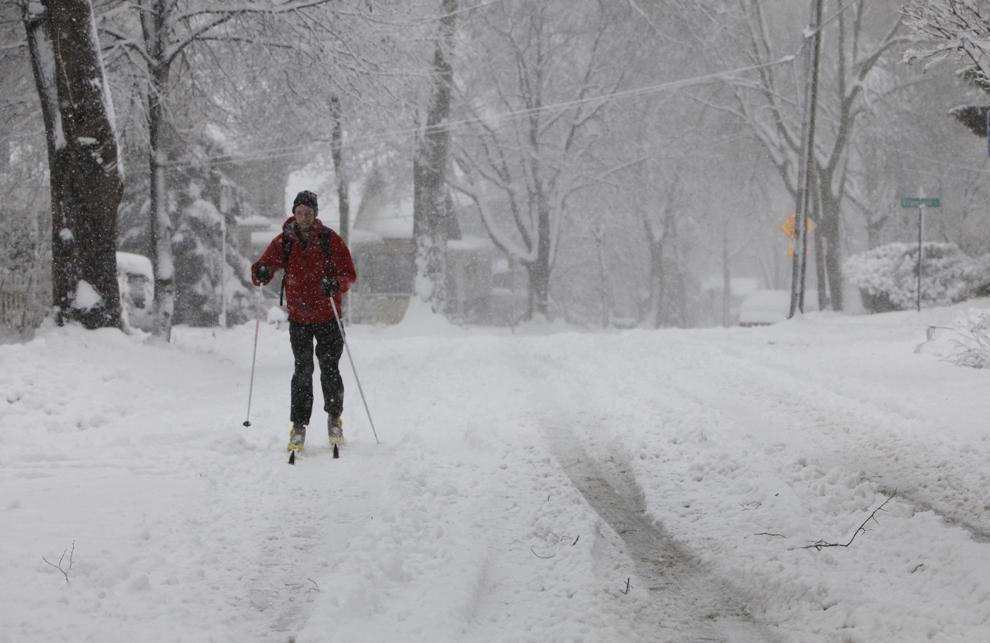 Scene from December 2012 blizzard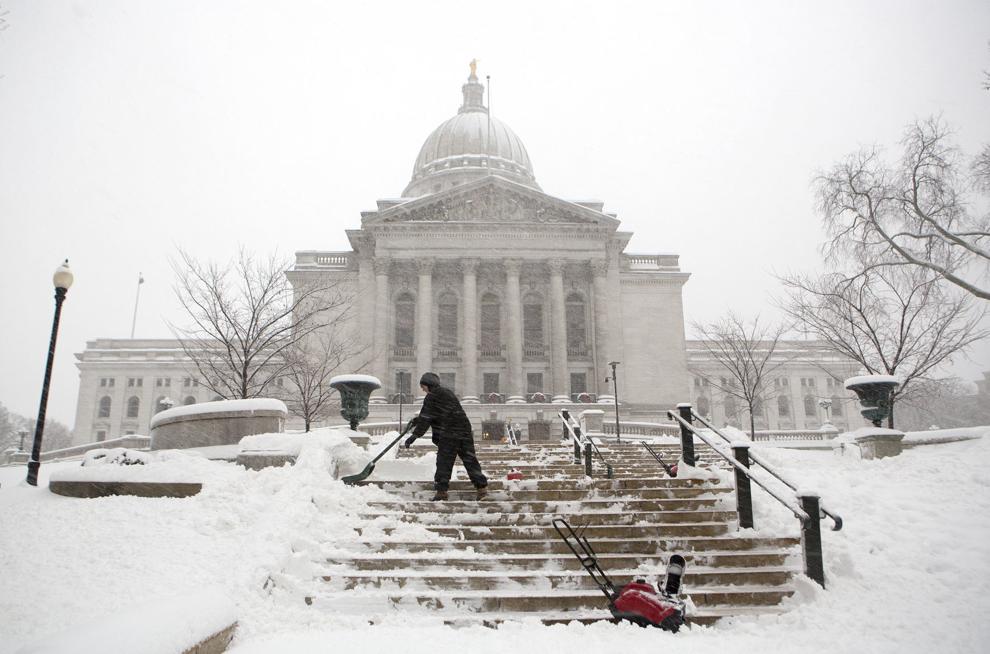 Scene from December 2012 blizzard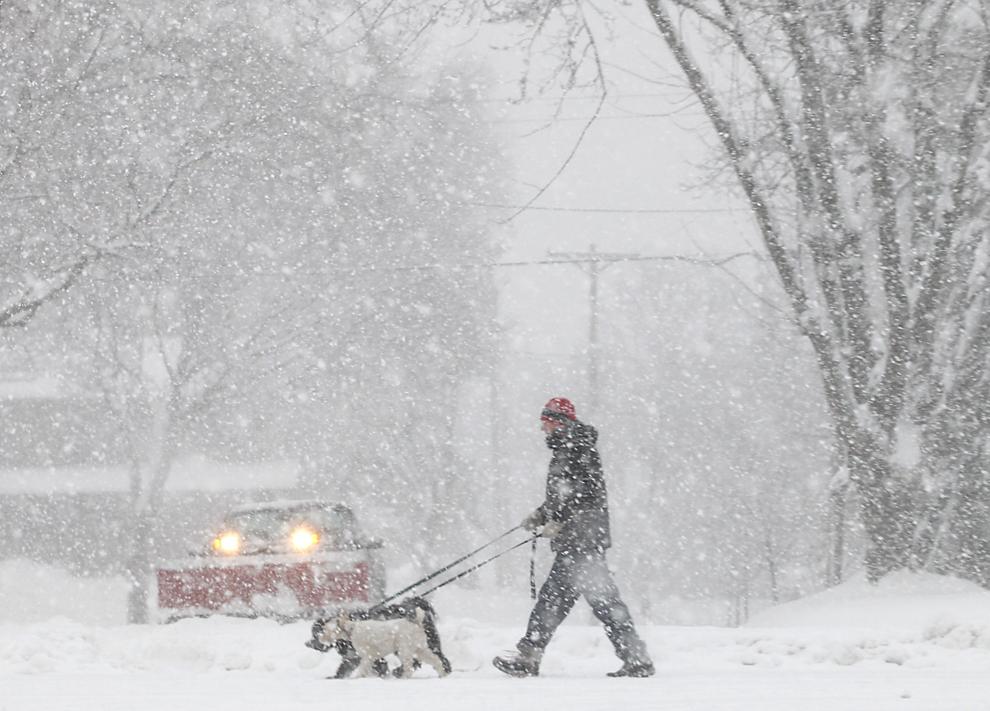 Aftermath of December 2012 blizzard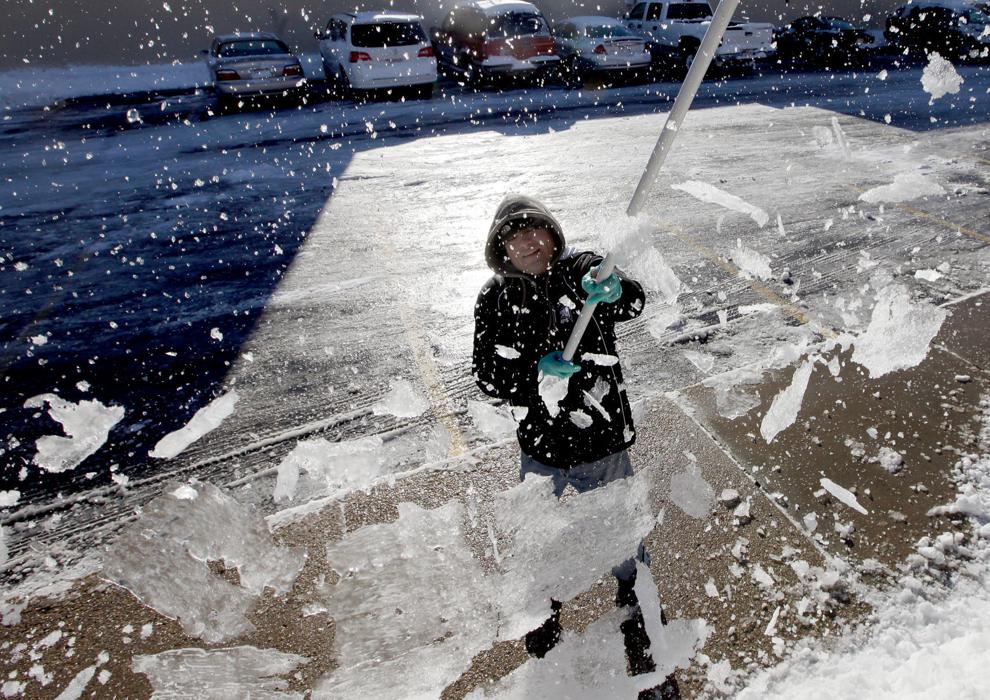 Aftermath of December 2012 blizzard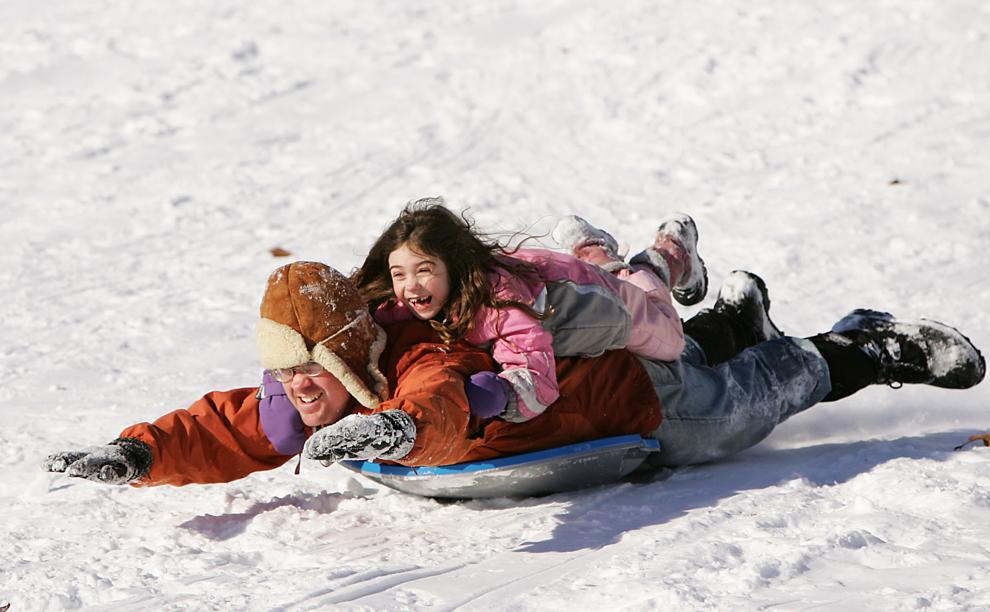 Aftermath of December 2012 blizzard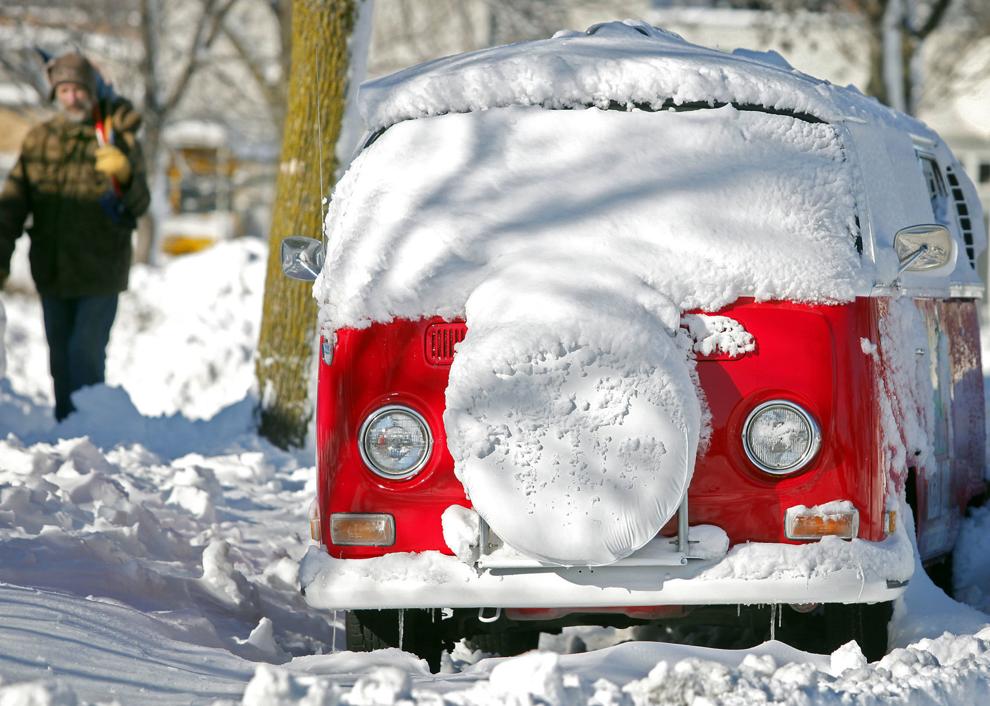 Aftermath of December 2012 blizzard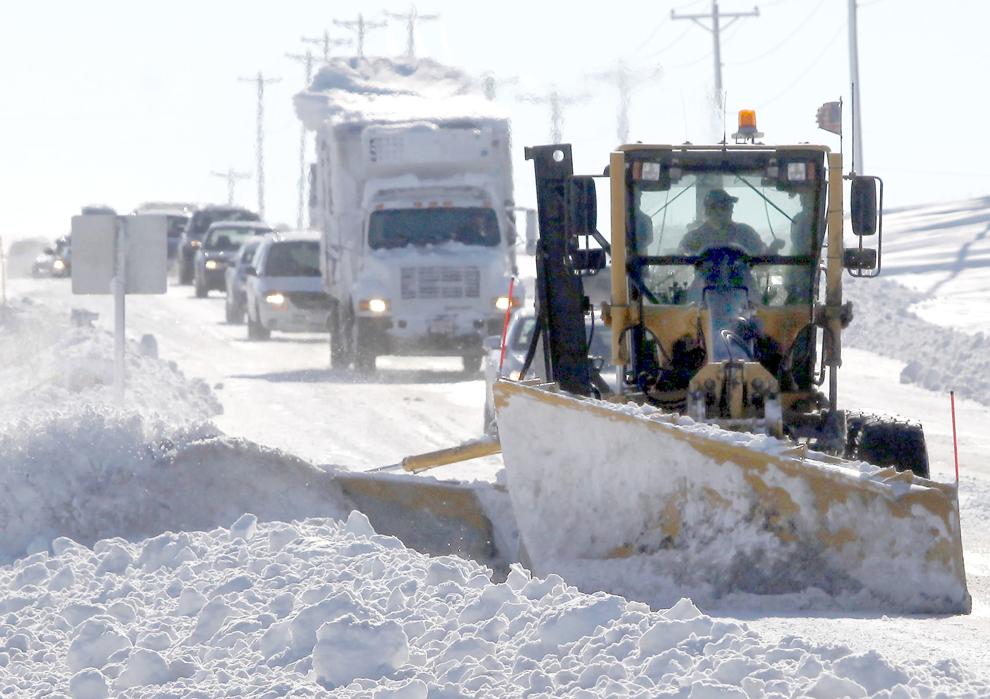 Aftermath of December 2012 blizzard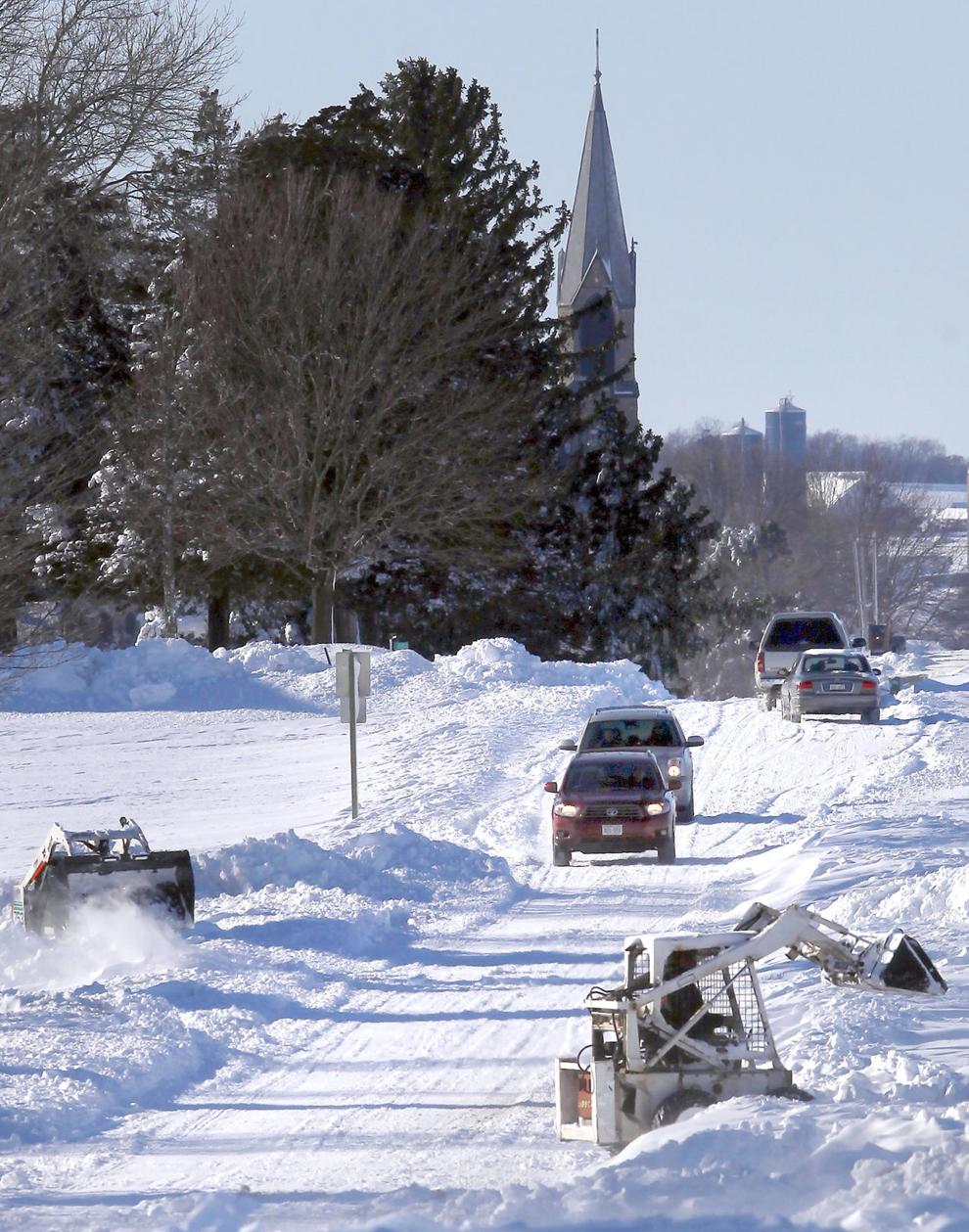 State Journal front page Dec. 21, 2012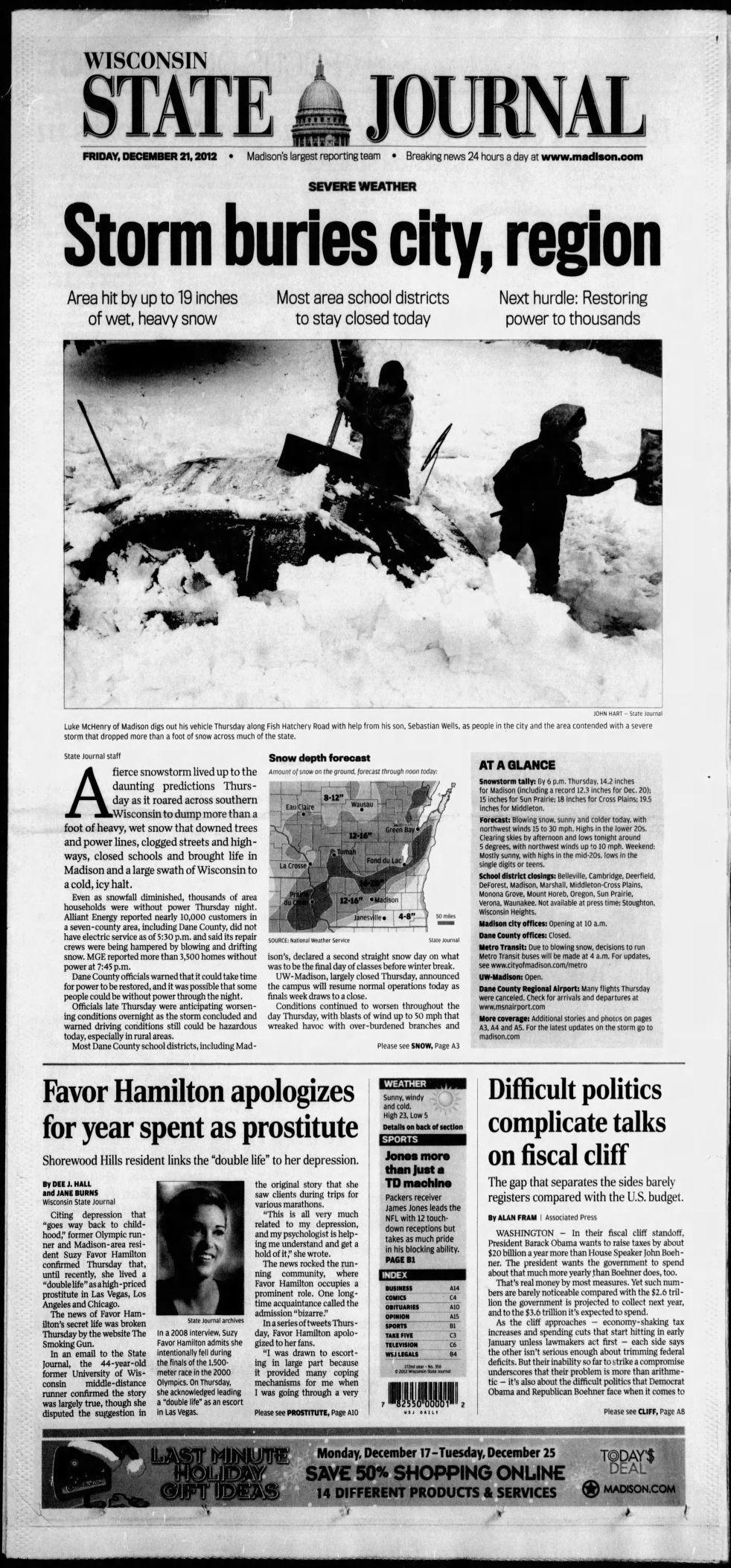 State Journal coverage Dec. 21, 2012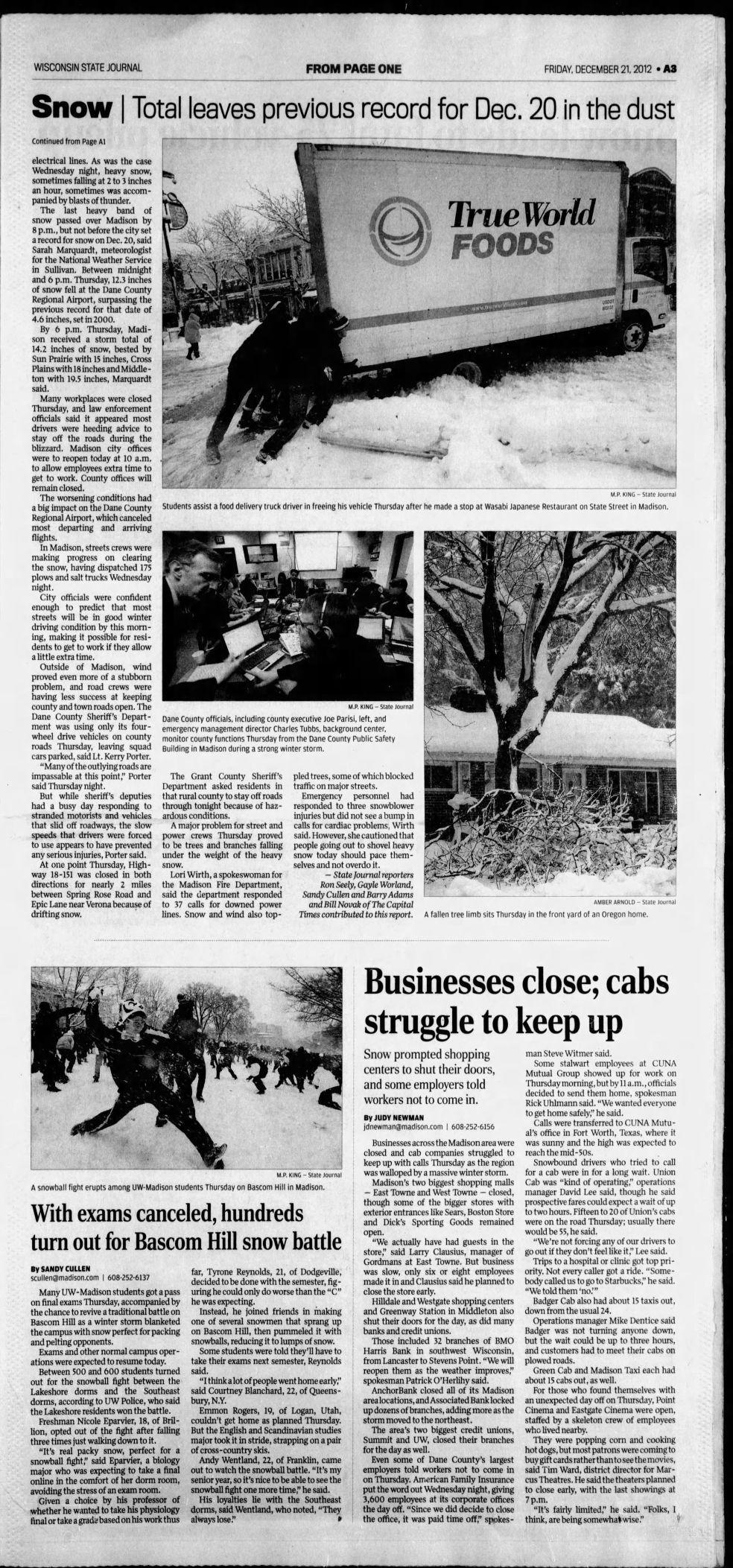 State Journal coverage Dec. 21, 2012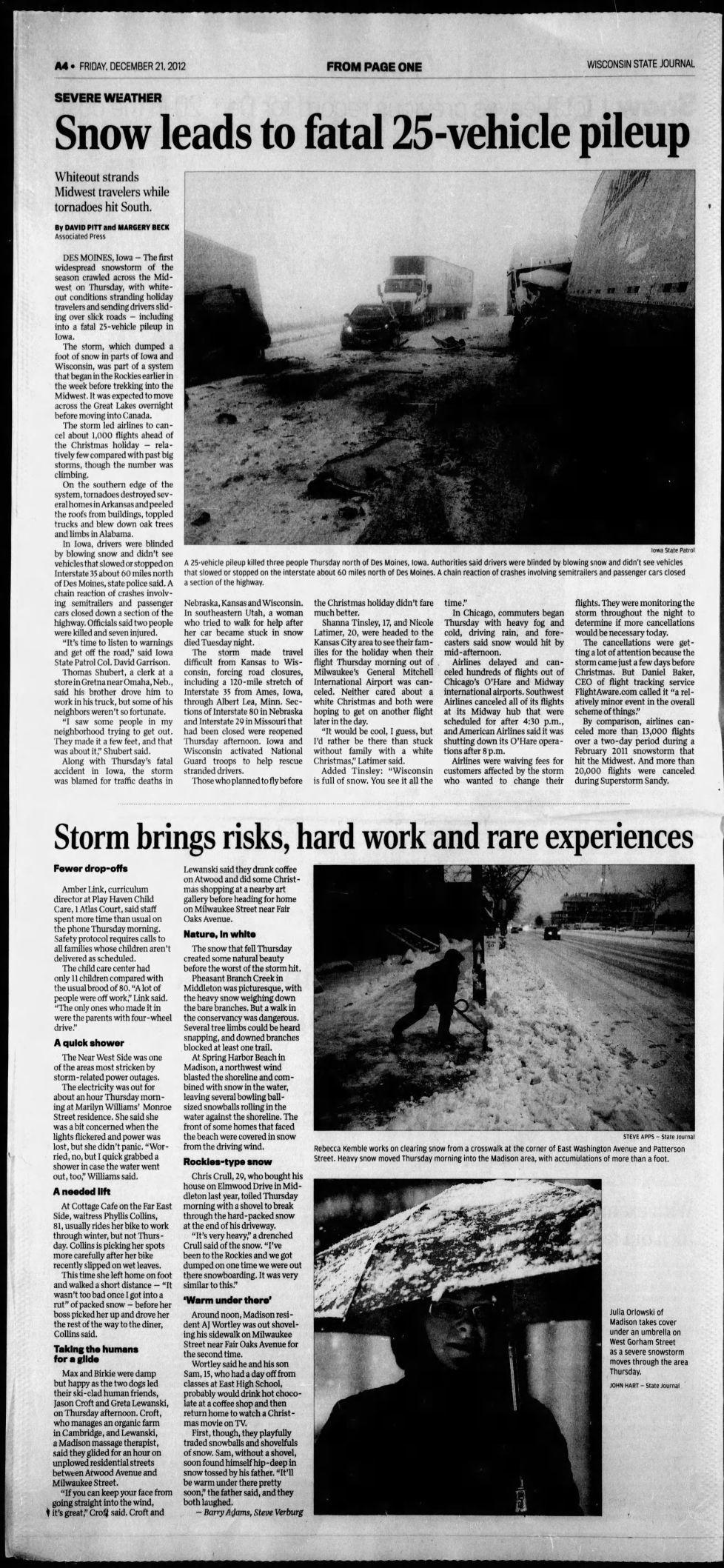 State Journal coverage Dec. 21, 2012