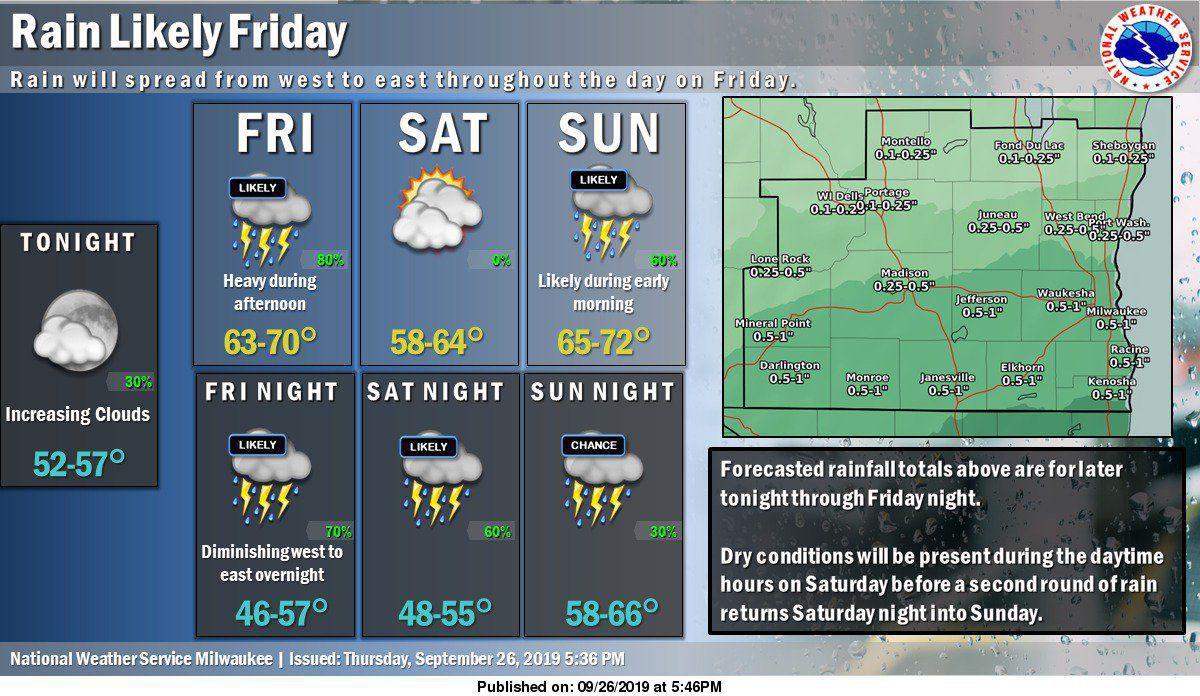 The only good thing about the forecast for south-central Wisconsin is that it should be dry for Saturday's Badgers football game against Northwestern at Camp Randall Stadium.
Thunderstorms and heavy rain are expected Friday, and possible Sunday continuing into the middle of next week, bringing more chances for flooding for the area, the National Weather Service said.
In Madison on Friday, there's a 90 percent chance for showers and storms, with possible rain totals of a half to three-quarters of an inch, with a high near 66, south winds at 5 to 15 miles per hour, gusting as high as 30 mph.
The chance for showers and storms is Friday night, with possible totals of a tenth to a quarter of an inch and higher amounts possible in any storms that develop, as the low falls to around 51.
Saturday should be partly sunny, with a high near 63 and northeast winds around 10 mph.
You have free articles remaining.
The Weather Service said chances for showers and storms return at 60 percent Saturday night, with possible rain totals of a quarter- to half-inch; 50 percent Sunday; 30 percent Sunday night; 20 percent Monday; 30 percent Monday night; 50 percent Tuesday; 60 percent Tuesday night; 70 percent Wednesday; and 30 percent Wednesday night.
Skies over Madison should be cloudy Sunday, mostly sunny Monday, mostly cloudy Tuesday, cloudy Wednesday, and partly sunny Thursday, with highs near 70, 80, 76, 65 and 57, and lows Saturday night through Wednesday night around 52, 65, 69, 60 and 48.
27 Storm Track meteorologist Guy Brown forecasts scattered showers and thundershowers Friday and Friday night, and again Sunday, an isolated thundershower Monday, scattered showers and storms Tuesday, and scattered showers and thundershowers Wednesday,
Thursday's high in Madison was 70 at 2:21 p.m., 2 degrees above the normal high and 17 degrees below the record high of 87 for Sept. 26, set in 1974.
Thursday's low in Madison was 52 at 6:25 a.m., 6 degrees above the normal low and 25 degrees above the record low of 27 for Sept. 26, set in 1966.
A trace of precipitation was recorded at the Dane County Regional Airport on Thursday, leaving Madison's September and meteorological fall (September through November) precipitation total (rain plus snow converted to liquid) at 5.58 inches, 2.8 inches above normal. The 2019 total stayed at 35.17 inches, 7.57 inches above normal.
Madison's record precipitation for Sept. 26 is 1.27 inches in 1880.