Southern Wisconsin's dry fall is ending on a potentially stormy late October Thursday and Friday, with some locales expected to see rain totals approaching 3 inches, almost the total since Sept. 1 before this storm system, according to forecasters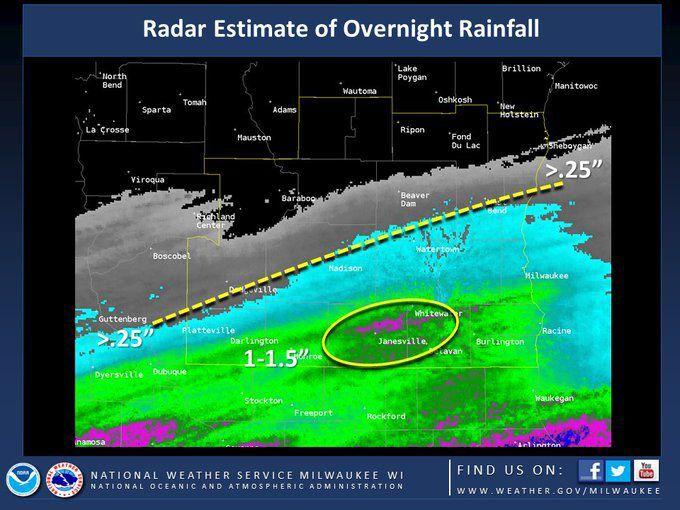 With Wednesday's 0.22 inches of precipitation, Madison has seen just 0.77 inches in October, 0.84 inches below normal, and 4.18 inches for meteorological fall (September through November), 0.56 inches below normal.
The area has seen sometimes heavy rain from midnight into mid-morning Thursday, with the heaviest rainfall expected in the evening, when localized street, rural and urban flooding is possible, said Marc Kavinsky, National Weather Service lead meteorologist.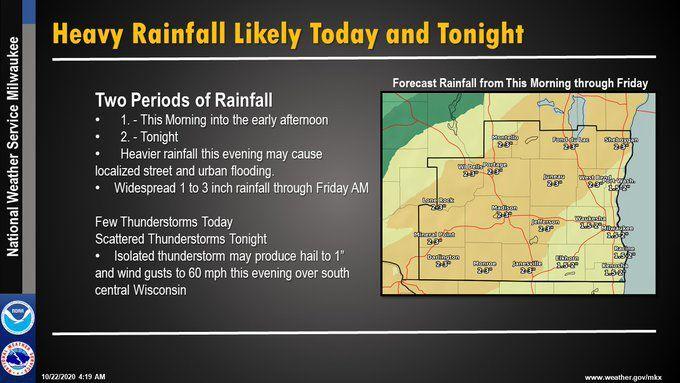 Isolated thunderstorms are expected Thursday, with scattered thunderstorms late in the afternoon and evening, especially across south-central Wisconsin as a cold front moves through. Hail to an inch and wind gusts to 60 miles per hour are possible, Kavinsky said.
Temperatures will drop after the front moves through, although it won't be nearly as cold as it will be north and west of the area.
Waves of winter-like weather already have delivered record-setting, early-season snow and intrusions of cold air over the north-central U.S. and more is on the way, AccuWeather said.
A blast of frigid air more on par with the middle of winter may shatter records in parts of the Rockies and Plains, laying the groundwork for an unusual snowfall far to the south for late October.
Overnight lows could be close to zero in parts of Idaho and much of Montana and Wyoming, as well as the western parts of the Dakotas and northern Colorado, breaking records by 20 degrees or more, AccuWeather Meteorologist Reneé Duff said.
Record-challenging cold will penetrate as far south as New Mexico, Kansas, Oklahoma and Texas by early next week, with temperatures forecast to dip into the teens and 20s at night.
In addition, a swath of 6 to 12 inches of snow is likely to hit parts of the Dakotas and western Minnesota from Saturday to Sunday, which could push the October total in Minneapolis to a record, while some snow is forecast to fall over the southern Plains.
In Madison on Thursday, look for showers and possible storms, with rain totals of a half to three-quarters of an inch, a high near 61 and east winds at 10 to 15 mph, the Weather Service said.
Overnight, showers and possibly a storm could deliver 1 to 2 inches of rain as the low falls to around 43.
There's a 40% chance for showers before 1 p.m. Friday, with mostly cloudy skies, temperatures falling to around 41 by 10 a.m. and northwest winds around 15 mph, gusting as high as 25 mph.
After a low overnight Friday into Saturday around 28, Saturday should be mostly sunny, with a high near 44 and north winds around 5 mph turning out of the northeast in the afternoon.
The Weather Service said chances for rain and/or snow are 20% Saturday night; 80% Sunday, with a tenth to a quarter of an inch of rain possible, 50% Sunday night, 40% Monday, and 10% Monday night.
Skies over Madison should be cloudy Sunday, mostly cloudy Monday, and mostly sunny Tuesday and Wednesday, with highs near 43, 40, 37 and 42, and lows Saturday night through Tuesday night around 33, 33, 24 and 26.
27 Storm Track meteorologist Max Tsaparis forecasts scattered showers and storms Thursday and Thursday night, scattered showers Friday morning, a possible scattered rain mix Sunday, a possible light rain mix Sunday night, a possible rain and snow mix Monday.
Tsaparis said highs for Madison Thursday through Wednesday should be 63, 47, 43, 43, 40, 38 and 43, and overnight lows around 42, 29, 33, 32, 24 and 26.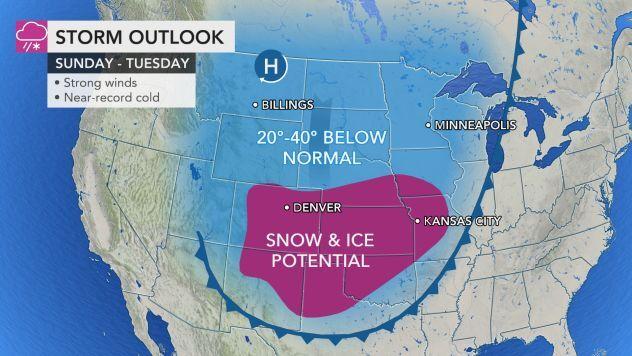 Wednesday's high in Madison was 55 at 2:53 p.m., 2 degrees below the normal high and 29 degrees below the record high of 84 for Oct. 21, set in 1947.
Wednesday's low in Madison was 40 at 5:18 a.m., 3 degrees above the normal low and 20 degrees above the record low of 20 for Oct. 21, set in 1960.
Officially, 0.22 inches of precipitation was recorded at the Dane County Regional Airport on Wednesday, boosting Madison's October total to 0.77 inches, 0.84 inches below normal. For meteorological fall (September through November), Madison now has received 4.18 inches of precipitation (rain plus snow converted to liquid), 0.56 inches below normal. For the year, Madison has received 33.33 inches of precipitation, 3.77 inches above normal.
Madison's record precipitation for Oct. 21 is 1.04 inches in 1951.
Madison has not received any measurable snow this snow season (since July 1). The earliest snow of an inch or more was the 3 inches that fell on Oct. 10, 1990. Any October snow defies the norm, as only one in 10 Octobers has a day with more than 1 inch of snowfall.
---
Photos: Record-setting October snowstorm pummels Minnesota, northern Wisconsin