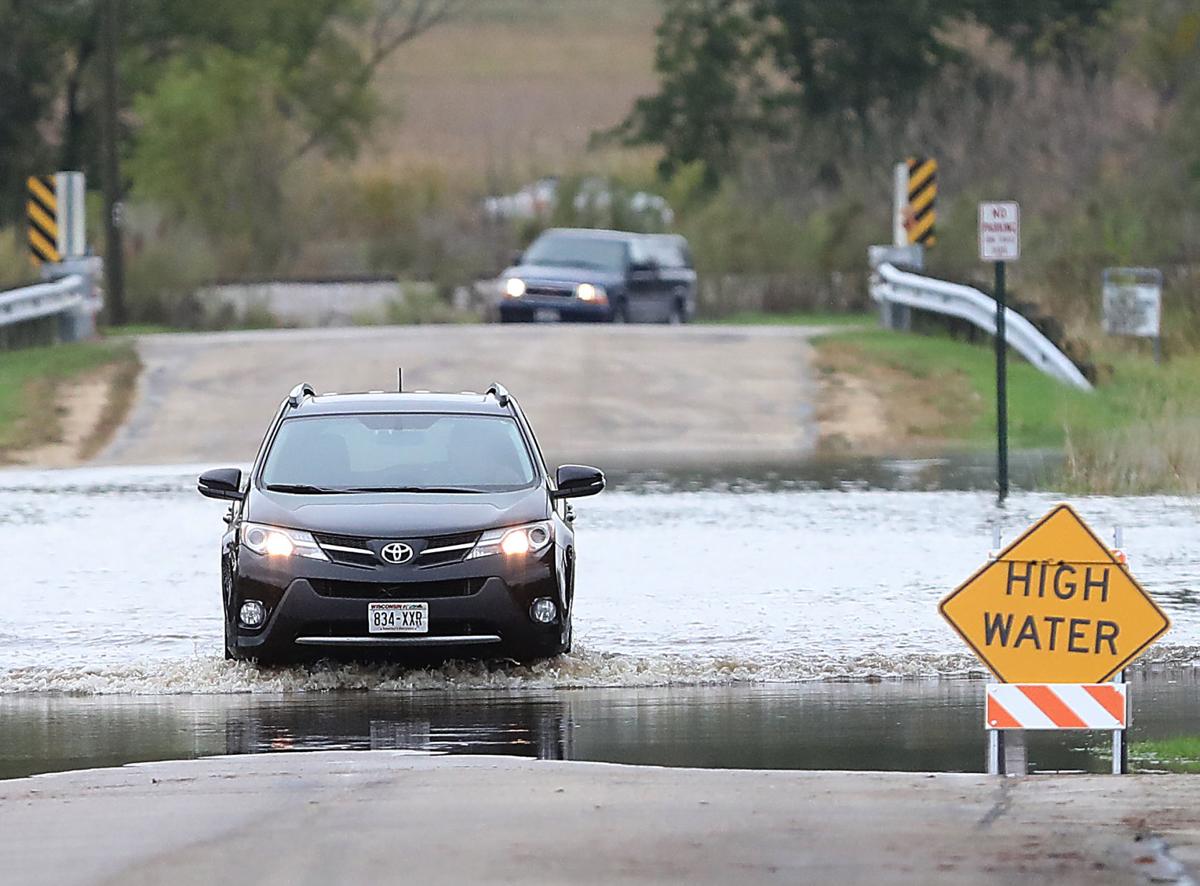 Teams from the National Weather Service and local crews were assessing the damage Wednesday after a round of storms Tuesday night brought flooding, strong winds and tornadoes to southern Wisconsin.
"We confirmed two tornadoes," said Tim Halbach, a warning coordination meteorologist for the National Weather Service, after he returned from surveying the damage Wednesday.
The two small tornadoes developed in Jefferson County, one near Fort Atkinson in the southern part of the county. The other started in the eastern part, near the town of Rome, then continued east into Waukesha County, Halbach said.
The tornado near Fort Atkinson had peak winds of 80 mph, while the other had winds of up to 100 mph. Halbach said the weather service was not aware of any injuries.
In Belleville, a village in Dane and Green counties where some people thought a tornado might have touched down, Halbach said there was no tornado, but winds reached speeds of 80 mph, which is "on par" with that of a tornado.
Halbach said there were "sporadic" 60 to 80 mph winds throughout Dane County, causing some tree damage.
Dane County flooding
Many areas in Dane County experienced flooding, including Madison, where several streets were closed, and the village of Black Earth, where its creek overflowed into residents' yards.
The weather service issued a flood warning for Black Earth Creek and rivers in Sauk, Rock, Green and Columbia counties, as well as several rivers in southeastern Wisconsin.
In Black Earth, water from the creek was creeping up into Patty Olsen's yard Wednesday afternoon. Olsen's street was completely flooded.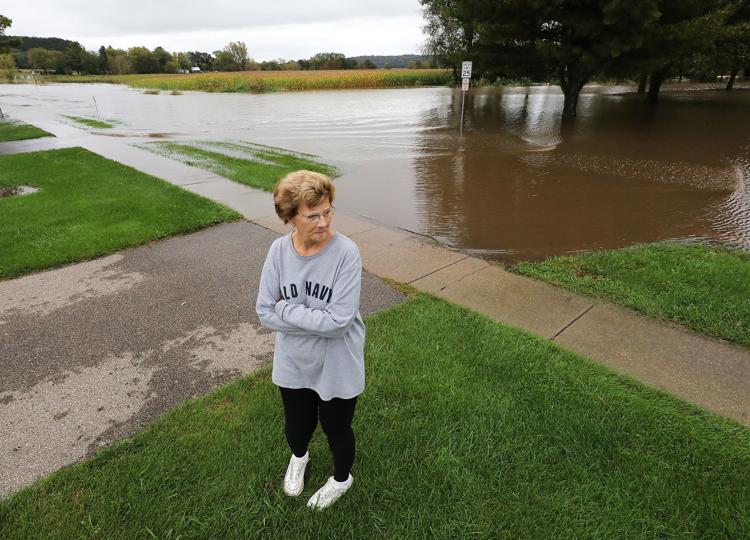 In Monona, some residents on Belle Isle experienced flooding in their homes. There was also some street flooding on Pocahontas Drive and Nishishin Trail North East.
Monona officials said in a statement the flooding was "not widespread" and the city was not organizing sandbagging.
Madison streets closed
At least eight streets in Madison had closures because of flooding from Tuesday's storm, including parts of Johnson, Dayton, Mifflin, First, Second, Third and Sixth streets and Lexington Avenue. Many were open by 7:30 a.m. Wednesday, and most were open by 9:15 a.m.
About 20 cars stalled Tuesday night in thigh-deep water at the intersection of North First Street, East Johnson Street and Packers Avenue, the city's engineering division said.
As of Wednesday evening, the only remaining closures were Lexington Avenue, west of Stoughton Road, and the north side of the Wingra Creek Path off of the frontage road to Olin Turville Park.
Also in Dane County, Highway 78 at Highway H is closed due to water over the road.
Outside Dane County, other notable closures due to flooding included the Main Street bridge (Highways 23 and 81) over the Pecatonica River in Darlington, Highway 78 between County H and Mill Street in Lafayette County, Highway 28 from Highway 175 to Interstate 41 in Dodge County, and Highway 130 at Highway JJ in Richland County.
More flash flooding possible
From Tuesday until 9 p.m. Wednesday, the Madison area received a total of 3.32 inches of rain.
A record 2.4 inches of rain was recorded at the Dane County Regional Airport on Tuesday, beating the previous record of 2.15 inches for Oct. 1 set last year.
Through 9 p.m. Wednesday, Madison received 10.06 inches of precipitation since Sept. 1 — 4.53 inches above normal for September and October combined on just the second day of October.
Also through Wednesday, Madison logged 39.65 inches of precipitation for the year, 5.17 inches above normal.
City crews were continuing to monitor lake levels and the potential for flash flooding, with more rain in the forecast for the weekend, though not as heavy as Tuesday's storm.
According to the National Weather Service, there is a 30% chance of showers Thursday followed by sunny skies Friday, a 40% chance of showers Friday night, an 80% chance of showers Saturday and a 40% chance of showers Saturday night. Relief from the rain starts Sunday, with sunny skies forecast through Wednesday.
The engineering division said residents and building owners in low-lying areas on the Near East Side should prepare now to protect against possible flash flooding into the weekend. Residents can go to the city's flooding website to get information on how to obtain sandbags.
"Even moderate rains in the east Isthmus could cause flash flooding," the engineering division said.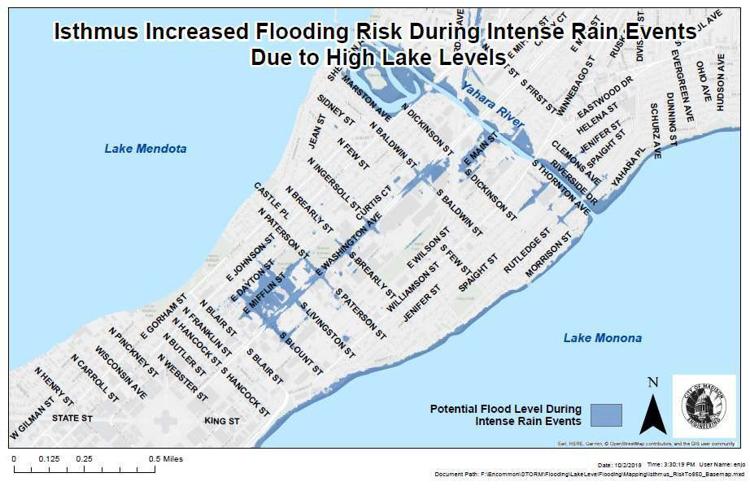 Lake levels 'top of mind'
Engineering division spokeswoman Hannah Mohelnitzky said the lake levels are "top of mind," and the city has been in "constant communication" with Dane County, which oversees the levels.
On Wednesday, Lake Monona was up 0.52 feet from Tuesday's level, but still 1.03 feet below its historic high in September 2018. The lake is 0.2 feet below the 100-year flood stage, meaning it is close to an elevation that is statistically supposed to happen only once every 100 years. The engineering division expects it to reach that level in "a day or two."
Lake Mendota is 1.35 feet below the 100-year flood level.
As of Wednesday night, a slow-no wake order remained in effect for Lake Monona.
Mohelnitzky said as long as there isn't another storm like Tuesday night's, the lake levels should be OK.
"I wouldn't say we're concerned, but we're very attentive to what's coming in," she said. "If we get another thunderstorm like (Tuesday's), we might have to reassess our approach."
Be the first to know
Get local news delivered to your inbox!