After a stormy Tuesday, the heat is on for south-central Wisconsin on Wednesday, with the counties of Dane, Green, Lafayette, Iowa, Marquette, Green Lake, Columbia and Sauk under a heat advisory from 11 a.m. to 7 p.m.
The hot temperatures and high humidity will create heat index values up to 100 for the area, and eastern Wisconsin may approach heat advisory conditions as well, the National Weather Service warned.
There is a small chance for thunderstorms Wednesday afternoon over parts of the area, and a round of strong storms is expected to affect southern
Wisconsin between 3 p.m. and 10 p.m. Thursday. Those storms may produce 1-inch, wind gusts to 60 miles per hour, and heavy rain causing localized flooding, the Weather Service said.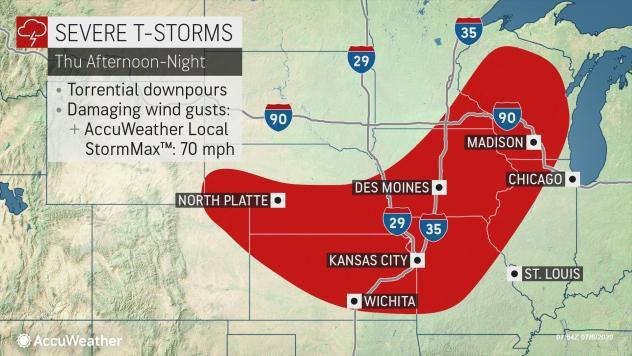 Heat index values are predicted to hit the middle to upper 90s on Thursday, with the hot weather expected to extend for weeks, according to forecasters.
There are small chances for storms on Friday and again Saturday night into Sunday.
Widespread and prolonged extreme heat is baking the contiguous U.S. and meteorologists see no relief in sight, except for a brief time in a corner of the Pacific Northwest, the Associated Press reported.
Next week is likely to be worse than this week, and the entire Lower 48 states and Alaska are likely to be warmer than normal for the last two weeks of July, traditionally the hottest time of year, according to the National Weather Service's Climate Prediction Center.
Wisconsin could be battling it out with the Southeast for the nation's hottest feels-like temperature — which factors in humidity — with heat indices pushing past 100. The worst prolonged heat looks to be around western Nebraska, Oklahoma and the Texas panhandle, with temperatures approaching 110, but without the sticky humidity.
A giant ridge of high pressure, parking hot air, is stuck in the Southwest and extends farther east that usual, blocking cold fronts from moving in, while the jet stream has retreated to Canada, so nothing is pushing the heat along.
"It's very widespread and it's going to be very long lasting," Jeff Masters, founder of Weather Underground and now a meteorologist at Yale Climate Connections, told AP. "It's not a record-breaking heat wave, but it is notable for its persistence."
The standard advice is to drink plenty of fluids, stay in air conditioning, and take frequent breaks if you must be outside, as heat stroke is a real possibility.
In Madison on Wednesday, there's a 10% chance for showers and storms after 5 p.m. and before 7 p.m., with mostly sunny skies, a high near 91, heat index values as high as 98, and south winds around 5 mph developing in the afternoon.
After an overnight low around 72, Thursday's forecast features a 70% chance for showers and storms after 1 p.m., with possible rain totals of a quarter- to half-inch, partly sunny skies, a high near 89, heat index values as high as 96, and south winds at 5 to 10 mph.
The Weather Service said chances for showers and storms continue at 60% Thursday night, with possible totals of a tenth to a quarter of an inch, except higher amounts possible in any storms that may develop; 30% Friday; 20% Saturday after 1 p.m.; 40% Saturday night; and 30% Sunday.
Skies over Madison should be mostly sunny Friday through Sunday, sunny Monday, and mostly sunny Tuesday, with highs near 87, 87, 84, 85 and 89, and lows Thursday night through Monday night around 69, 65, 64, 62 and 65.
27 Storm Track meteorologist Max Tsaparis also forecasts hot weather, a stray late day storm Wednesday, scattered showers and storms Thursday, possible isolated storms Friday and Sunday, and a possible few storms Tuesday.
Tsaparis said highs for Madison Wednesday through Tuesday should be near 93, 91, 87, 87, 85, 87 and 90, and overnight lows around 72, 70, 66, 63, 64 and 66.
Tuesday's high in Madison was 91 at 3:32 p.m., 9 degrees above the normal high and 11 degrees below the record high of 102 for July 7, set in 1936.
Tuesday's low in Madison was 69 at 6:13 p.m., 8 degrees above the normal low and 24 degrees above the record low of 45 for July 7, set in 1997.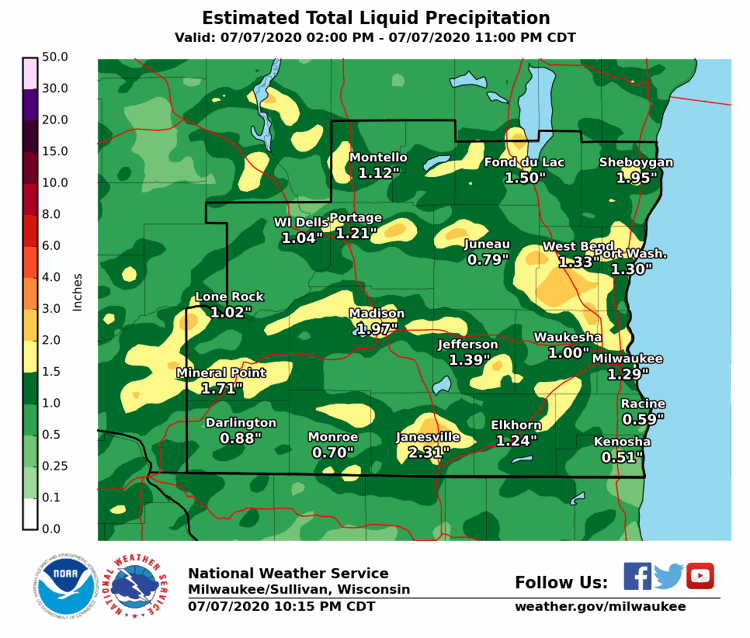 Officially, 2.17 inches of precipitation was recorded at the Dane County Regional Airport on Tuesday, boosting Madison's July total to 2.17 inches, 1.2 inches above normal. For meteorological summer (June through August), Madison's precipitation total rose to 7.24 inches, 1.73 inches above normal. The 2020 total rose to 20.85 inches, 3.51 inches above normal.
Madison's record precipitation for July 7 is 2.51 inches in 1879.
---
Photos: Remembering Wisconsin's deadliest tornado in 1899
New Richmond tornado 1899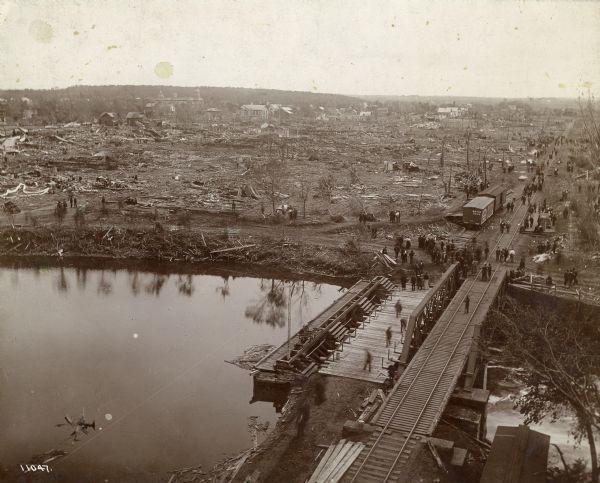 New Richmond tornado 1899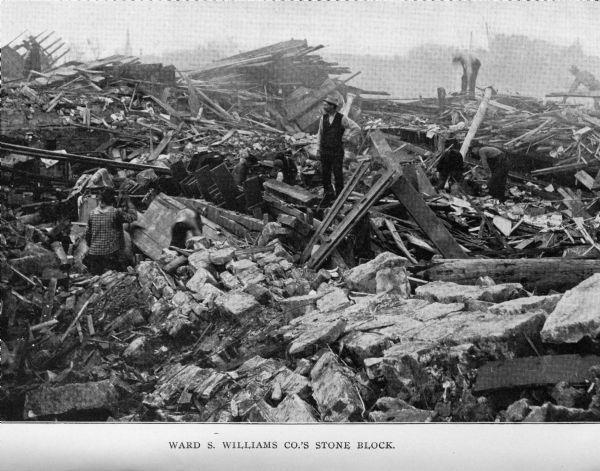 New Richmond tornado 1899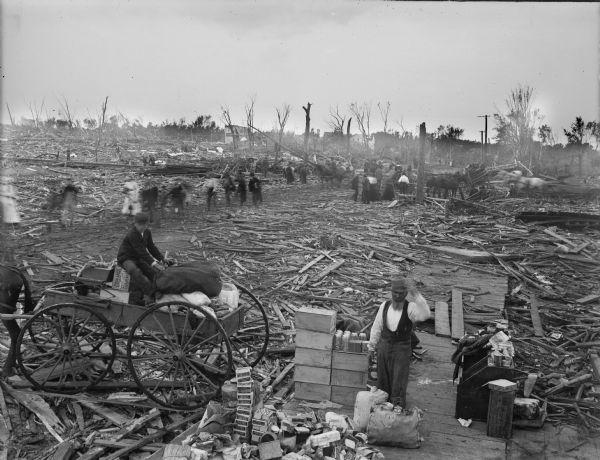 New Richmond tornado 1899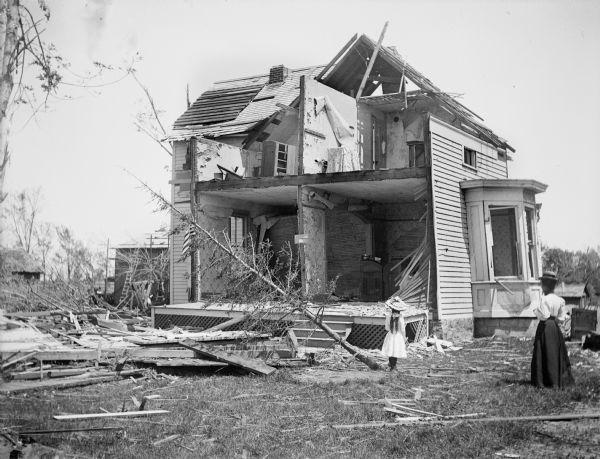 New Richmond tornado 1899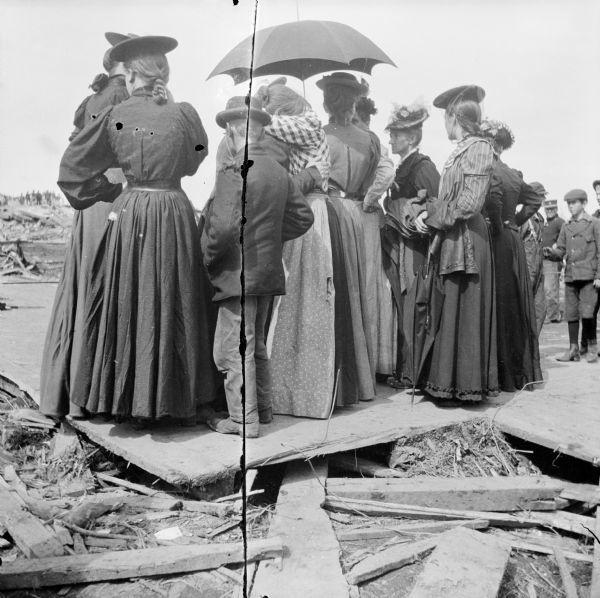 New Richmond tornado 1899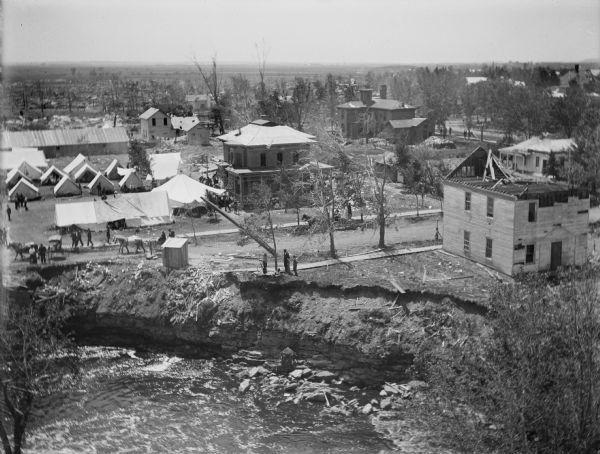 New Richmond tornado 1899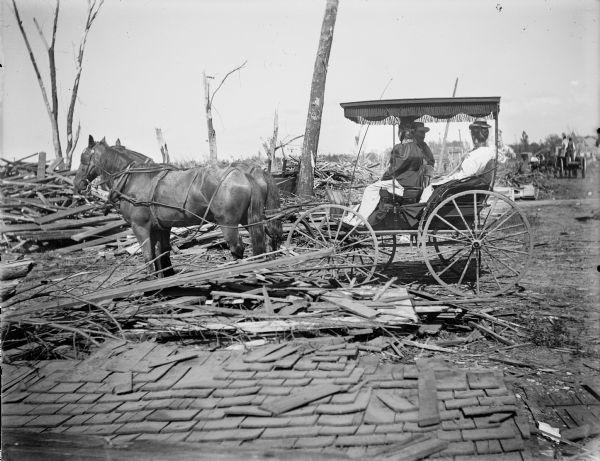 New Richmond tornado 1899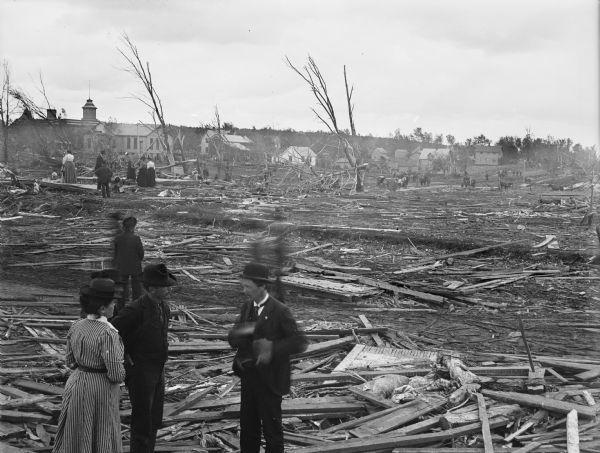 New Richmond tornado 1899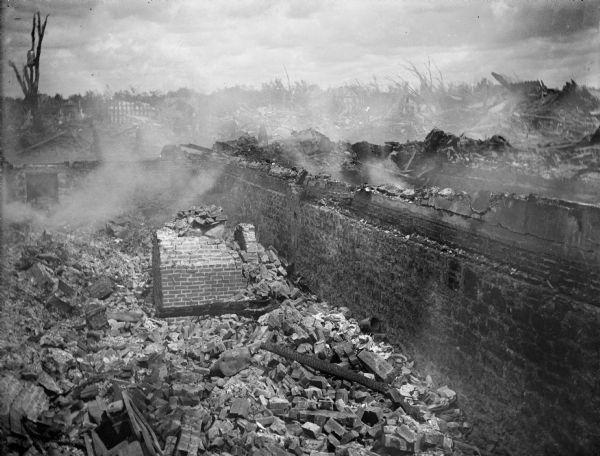 Front page of the Minneapolis Tribune on June 13, 1899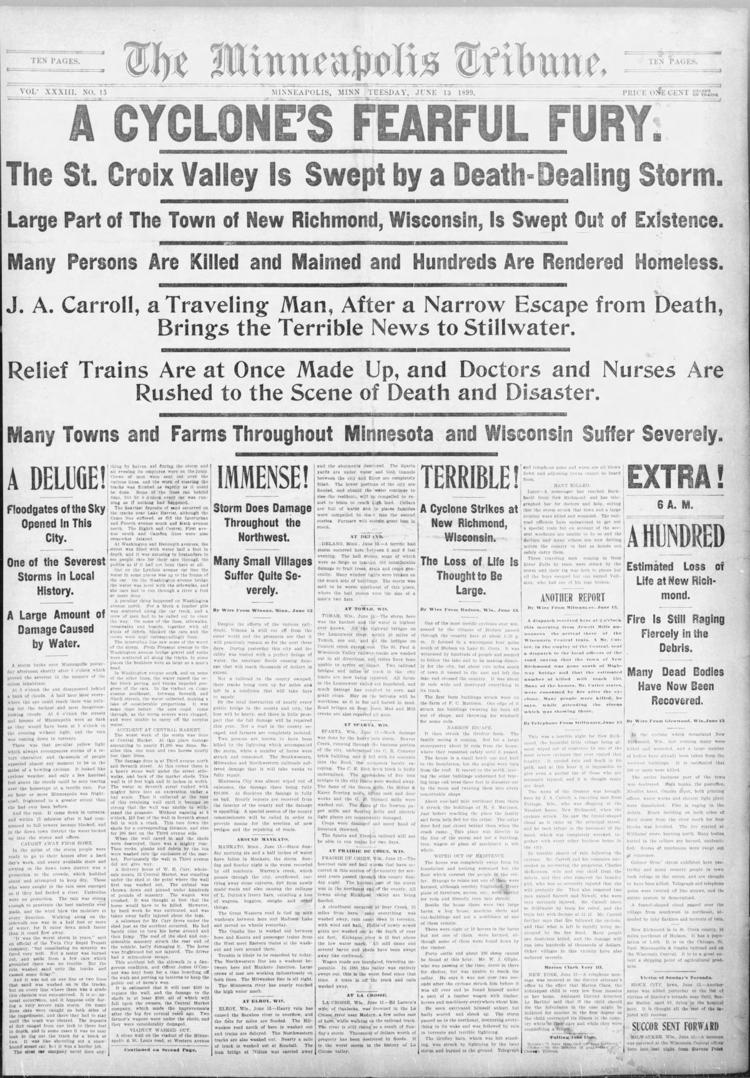 New Richmond tornado 1899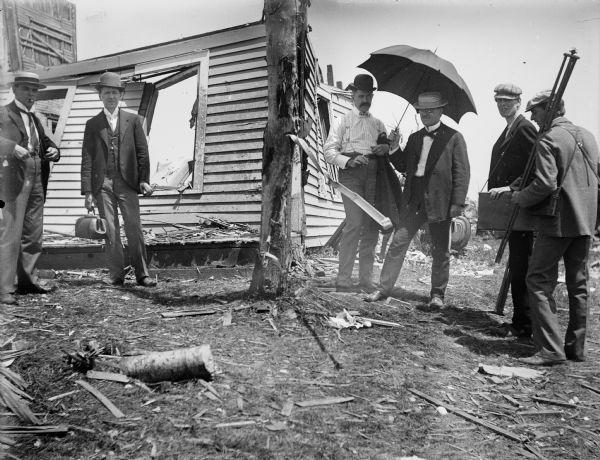 New Richmond tornado 1899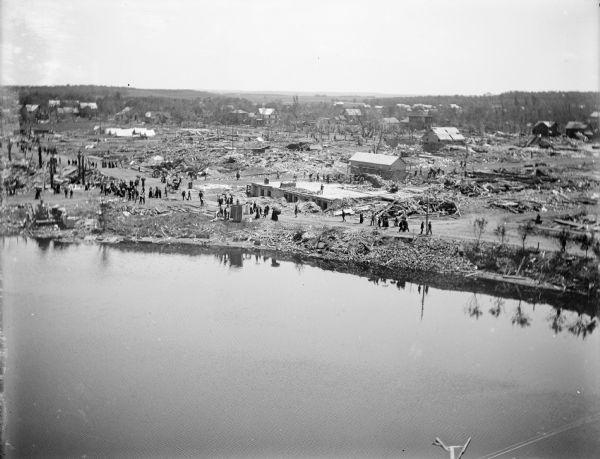 New Richmond tornado 1899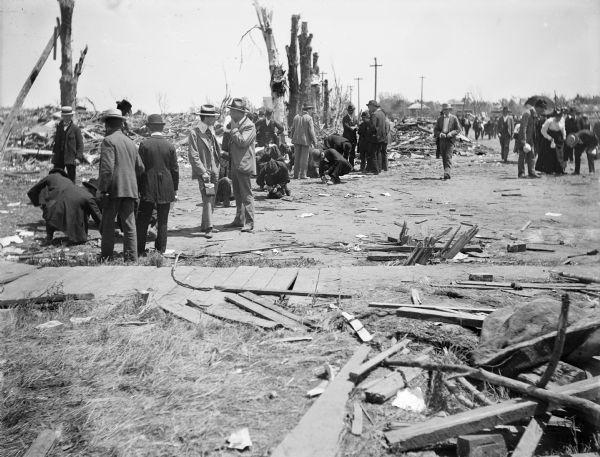 New Richmond tornado 1899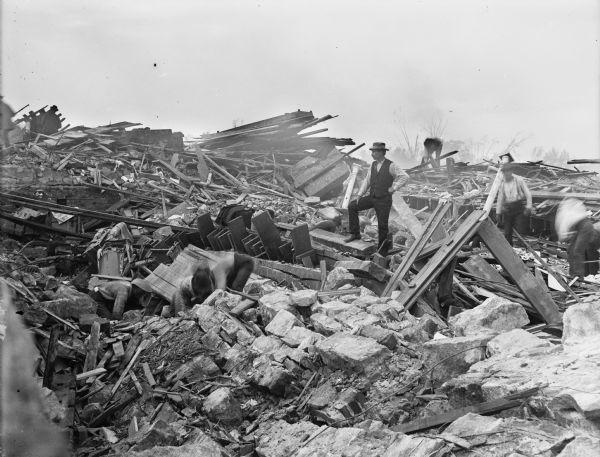 New Richmond tornado 1899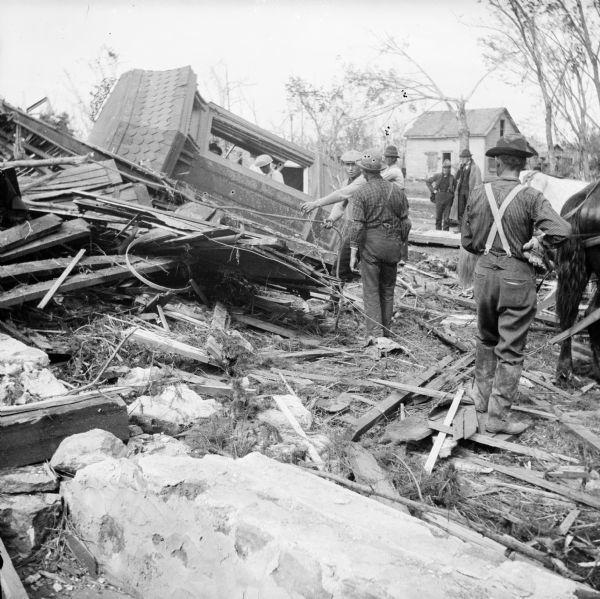 Wisconsin State Journal front page June 13, 1899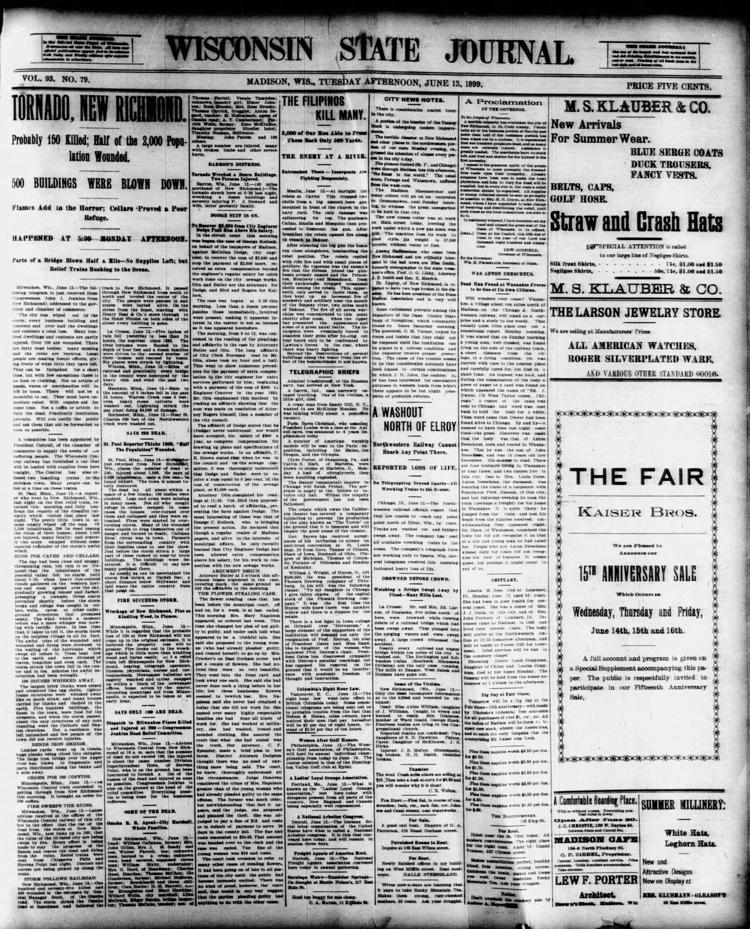 Local Weather
Get the daily forecast and severe weather alerts in your inbox!