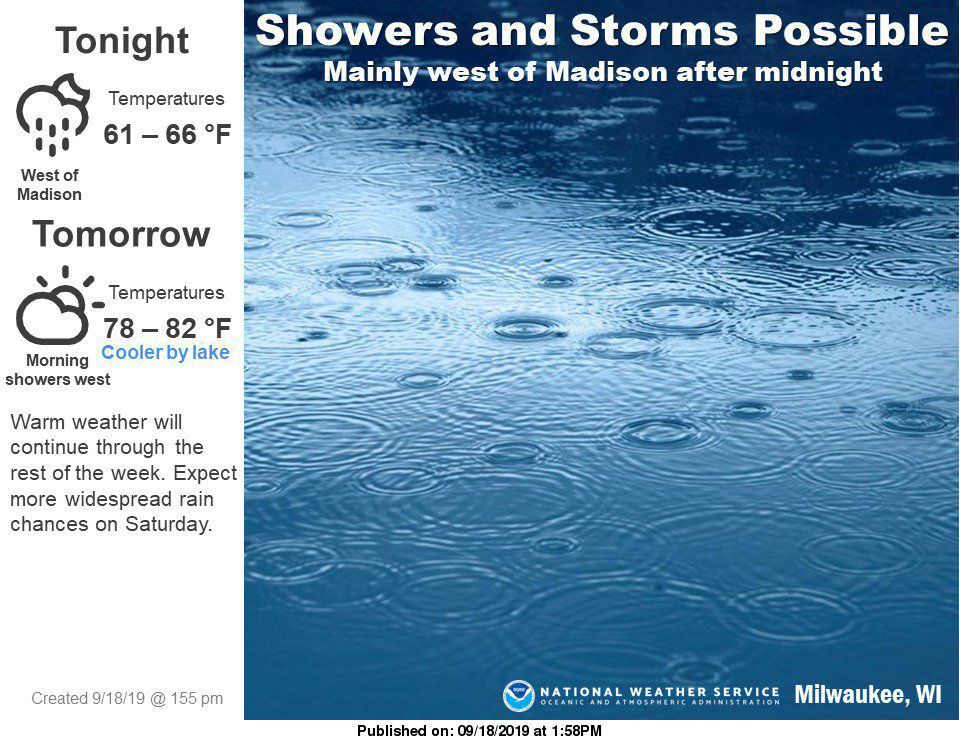 South-central Wisconsin could see thunderstorms through the weekend, with the best chances Thursday and then Saturday through Sunday, according to forecasters.
Temperatures are predicted to stay well above normal heading into the Autumnal Equinox on Monday at 2:50 a.m., and remain slightly above normal through the middle of next week.
Storms are likely over south-central Wisconsin Thursday morning, especially west of a line from Princeton to Madison to Monroe, with heavy rainfall possible and a slight potential for flash flooding, the National Weather Service said.
There is a flash flood watch through noon for Crawford, Grant and Richland counties in southwestern Wisconsin, and at around 8 a.m. the state Department of Transportation reported that in Grant County Highway 61 between Lancaster and Fennimore and Highway 81 between Platteville and Ellenboro both were closed due to flooding. The roads re-opened around 8:30 a.m.
In Madison on Thursday, there's a 50 percent chance for showers and storms, with mostly cloudy skies, a high near 79 and south winds around 5 miles per hour.
Overnight, there's a 30 percent chance for showers and storms, mainly after 2 a.m., with patchy fog after 4 a.m. and a low around 64.
You have free articles remaining.
Friday's forecast features a 20 percent chance for showers and storms, with patchy fog before 8 a.m., otherwise partly sunny skies, a high near 83 and calm wind becoming south winds around 5 mph in the afternoon.
The Weather Service said chances for showers and storms continue at 20 percent Friday night; 50 percent Saturday; 60 percent Saturday night, with possible totals of a tenth to a quarter of an inch, except higher amounts possible in any storms that may develop; 50 percent Sunday, 40 percent Sunday night; 20 percent Tuesday and Tuesday night; and 30 percent Wednesday.
Skies over Madison should be mostly cloudy Saturday and Sunday, sunny Monday, partly sunny Tuesday, and mostly sunny Wednesday, with highs near 77, 74, 73, 72 and 73, and lows Friday night through Tuesday night around 68, 66, 57, 55 and 59.
27 Storm Track meteorologist Max Tsaparis forecasts scattered showers and storms Thursday tapering in the early afternoon, a few storms redeveloping overnight after midnight, a possible few morning storms Friday, a few showers and storms late Saturday, scattered storms Saturday night, a possible few showers Sunday, and a possible isolated shower Wednesday.
Wednesday's high in Madison was 82 at 3:12 p.m., 11 degrees above the normal high and 10 degrees below the record high of 92 for Sept. 18, set in 1955.
Wednesday's low in Madison was 62 at 3:03 a.m., 13 degrees above the normal low and 29 degrees above the record low of 33 for Sept. 18, set in 1959.
No precipitation was recorded at the Dane County Regional Airport on Wednesday, leaving Madison's September and meteorological fall (September through November) precipitation total (rain plus snow converted to liquid) at 3.57 inches, 1.62 inches above normal. The 2019 total stayed at 33.16 inches, 6.39 inches above normal.
Madison's record precipitation for Sept. 18 is 3.4 inches in 1874.