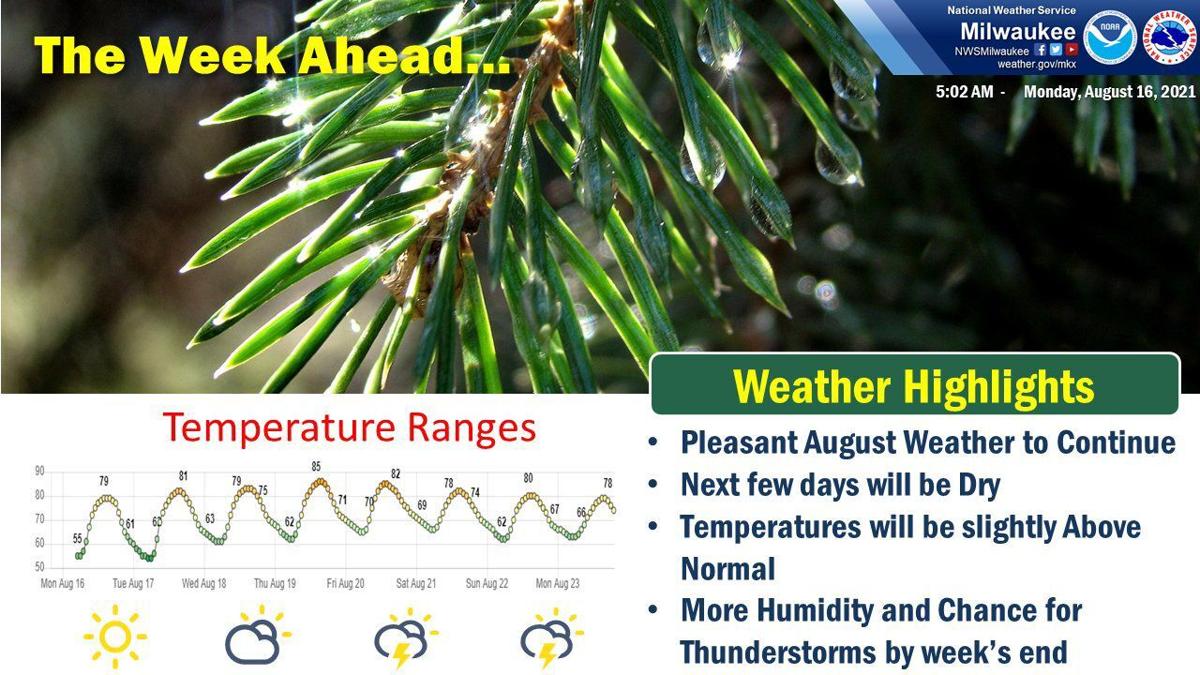 Southern Wisconsin should see plenty of sunshine with highs in the 80s this week, before chances for thunderstorms return Friday into the weekend, according to forecasters.
In Madison on Monday, look for mostly sunny skies, a high near 80 and southeast winds around 5 mph, the National Weather Service said.
After an overnight low around 57, Tuesday should be sunny, with a high near 81 and south winds around 5 mph.
After a low overnight Tuesday into Wednesday around 62, Wednesday should be mostly sunny, with a high near 85 and south winds around 5 mph.
The Weather Service said chances for showers and storms return at 40% Friday, 30% Friday night through Saturday night, and 20% Sunday.
Skies over Madison should be sunny Thursday, and mostly sunny Friday through Sunday, with highs near 87, 86, 83 and 82, and lows Wednesday night through Saturday night around 64, 67, 67 and 63.
27 Storm Track's Katherine Noel also forecasts plenty of sunshine and warm temperatures this week, with an isolated shower or storm possible Friday and Saturday.
Noel said highs for Madison Monday through Sunday should be near 81, 82, 85, 86, 85, 82 and 84, and overnight lows around 58, 63, 66, 66, 65 and 66.
Sunday's high in Madison was 80 at 4:07 p.m., the normal high and 15 degrees below the record high of 95 for Aug. 15, set in 1955 and 1988.
Sunday's low in Madison was 53 at 5:32 a.m., 7 degrees below the normal low and 16 degrees above the record low of 53 for Aug. 15, set in 1979.
No precipitation was recorded at the Dane County Regional Airport on Sunday, keeping Madison's August total at 2.15 inches, 0.07 inches above normal. Madison's meteorological summer (June through August) precipitation total stayed at 8.33 inches, 3.54 inches below normal. The 2021 total stayed at 15.51 inches, 9.49 inches below normal.
Madison's record precipitation for Aug. 15 is 2.67 inches in 1993.