Several more rounds of precipitation are expected to hit southern Wisconsin this week, with a big snowstorm possible Friday into Saturday, according to forecasters.
Light snow and freezing drizzle are expected overnight into Tuesday morning, with Thursday the only day all week without precipitation chances, the National Weather Service.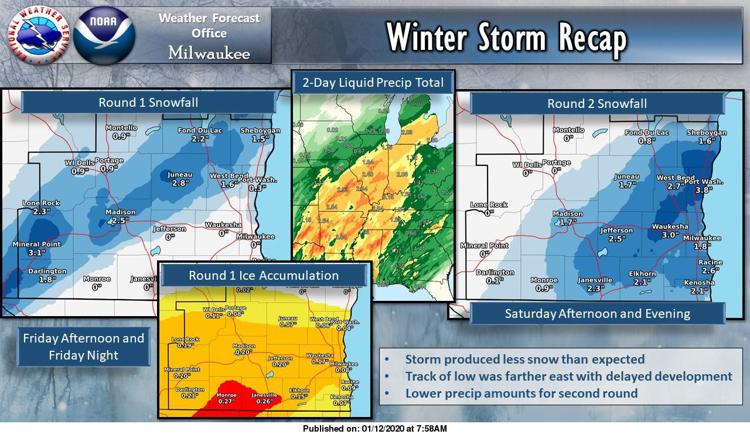 A powerful storm system tracked more to the east than originally expected Friday and Saturday, resulting in ice and just a few inches of snow for Madison, while the big snow dump fell on the east side of Lake Michigan.
A smaller system moved through overnight, dumping 2.3 inches on the Madison area and up to 4 inches in parts of the state, the Weather Service said.
That had the city of Madison Streets Division dispatching 32 plow trucks circling through city salt routes, plowing and applying salt where necessary. An additional two trucks were dispatched to apply sand where needed on residential hills, curves, and intersections, with all 34 trucks will be working through the night and into the morning hours
The Streets Division said that crews will remain on the salt routes until they are in good winter driving condition, and on Monday and Tuesday crews will be plowing and sanding residential streets from 7 a.m. to 3 p.m. Plows also will be pushing back snow in areas that have Clean Street/Clean Lakes parking restrictions.
In order to make the plowing more effective, the Streets Division asked all residents park off the street during day, and not place garbage and recycling carts in the street for collection.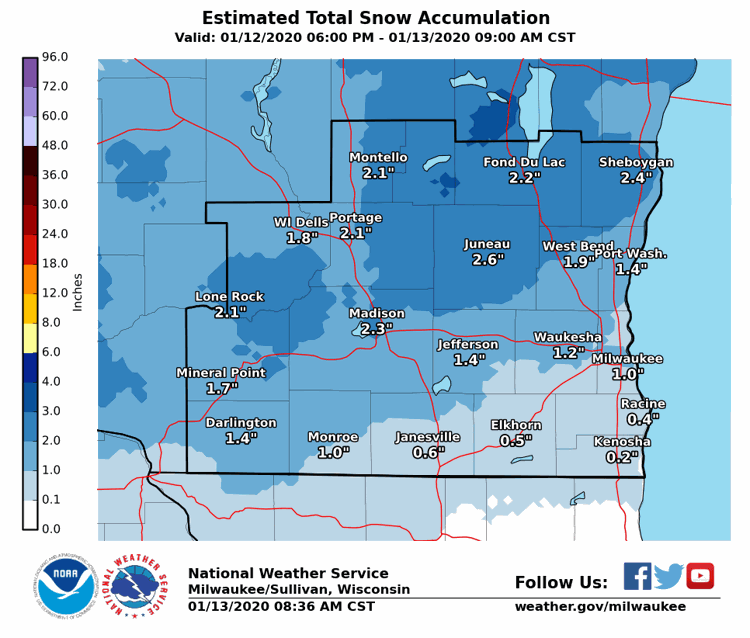 Overnight, the Weather Service said less than half an inch of snow is possible, and 27 Storm Track up to an inch.
The Streets Division said it will be monitoring the storm and roads, and if necessary, trucks will be deployed again.
More snow could fall Wednesday night, with a potentially big storm hitting Friday into Saturday. AccuWeather said the storm could deliver 4 to 8 inches of snow in south-central Wisconsin, while the Weather Service called it "a potentially larger storm system" and it and 27 Storm Track didn't offer any possible totals.
The Friday storm will be another multifaceted system expected to bring rain, ice and snow in the center of the country, after bringing accumulating snow to the Northwest U.S., AccuWeather said.
"At this time, we expect many of the major metro areas of the Midwest to face messy commutes both Friday morning and evening," AccuWeather Meteorologist Mary Gilbert said.
In some parts of the central Plains, Ohio Valley and Great Lakes, the onset of the storm may feature all snow before a changeover to ice occurs. Where precipitation remains all snow, amounts could easily surpass half a foot, including south-central Wisconsin, where 4 to 8 inches could fall, AccuWeather said.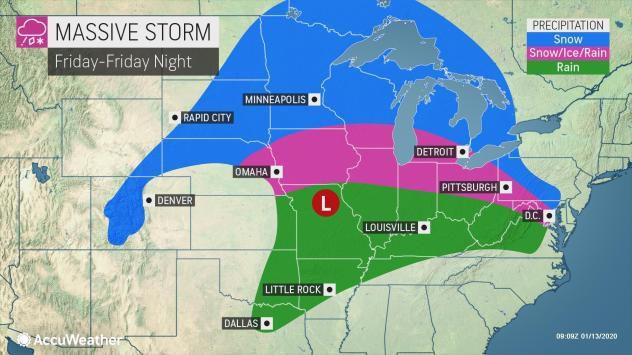 You have free articles remaining.
AccuWeather said bitter cold will follow the late-week storm.
In Madison on Monday, look for mostly cloudy skies, a high near 33 and southwest winds at 5 to 10 miles per hour turning out of the southeast in the afternoon, the Weather Service said.
Overnight, there's a 70% chance for snow before 4 a.m., possibly mixing with freezing drizzle before ending Tuesday morning, with little to no ice accumulation and less than half an inch of snow possible. The low should be around 29.
Tuesday's forecast features cloudy skies gradually becoming mostly sunny, with a high near 37 and south winds at 10 to 15 mph turning out of the west in the afternoon.
The low overnight Tuesday into Wednesday should be around 19, and the high Wednesday near 33, with mostly cloudy skies, a 30% chance for snow and east winds at 5 to 10 mph turning out of the west in the afternoon.
The Weather Service said chances for precipitation are 20% Thursday night after midnight for snow; 90% Friday and Friday night for snow before 3 p.m., then rain and snow, turning back to all snow after 11 p.m.; and 40% Saturday for snow.
Skies over Madison should be mostly sunny Thursday, cloudy Friday, mostly cloudy Saturday, and partly sunny Sunday, with highs near 23, 35, falling to around 21 by 5 p.m., and 18, and lows Wednesday night through Saturday night around 12, 11, 22 and 5.
27 Storm Track meteorologist Max Tsaparis forecasts a few early flurries Monday; a light rain/snow mix overnight ending Tuesday morning with up to an inch of snow accumulation; a wintry mix and minor snow accumulations Wednesday; snow likely Friday; a mix of rain and snow Friday night; and light snow Saturday morning.
Tsaparis said highs will be up to 38 Wednesday then plunge to 11 Sunday after the storm moves out, and lows mostly in the teens and 20s, other than 5 Friday and 1 Sunday.
Sunday's high in Madison was 26 at 11:59 p.m., the normal high and 29 degrees below the record high of 55 for Jan. 12, set in 1871.
Sunday's low in Madison was 13 at 7:06 a.m., 2 degrees above the normal low and 38 degrees above the record low of 25 below for Jan. 12, set in 1912.
Officially, 0.17 inches of precipitation was recorded at the Dane County Regional Airport on Sunday, boosting Madison's January and 2020 precipitation total (rain plus snow converted to liquid) to 0.68 inches, 0.19 inches above normal. The meteorological winter (December through February) total rose to 2.2 inches, 0.03 inches below normal.
Madison's record precipitation for Jan. 12 is 1.07 inches, set in 1960.
Officially, 1.9 inches of snow was recorded at the Dane County Regional Airport on Sunday, boosting Madison's January and 2020 snow total to 6.1 inches, 1.2 inches above normal. For meteorological winter, Madison has received 9 inches, 9.4 inches below normal. For the snow season (since July 1), Madison has received 24.7 inches, 2.2 inches above normal.
Madison's record snowfall for Jan. 12 is 11.7 inches, set in 1966.
Madison's official snow depth is 2 inches.
---
Photos: Remembering greatest single-day snowstorm in Madison history
State Journal front page Dec. 4, 1990
1990: Driver gets a push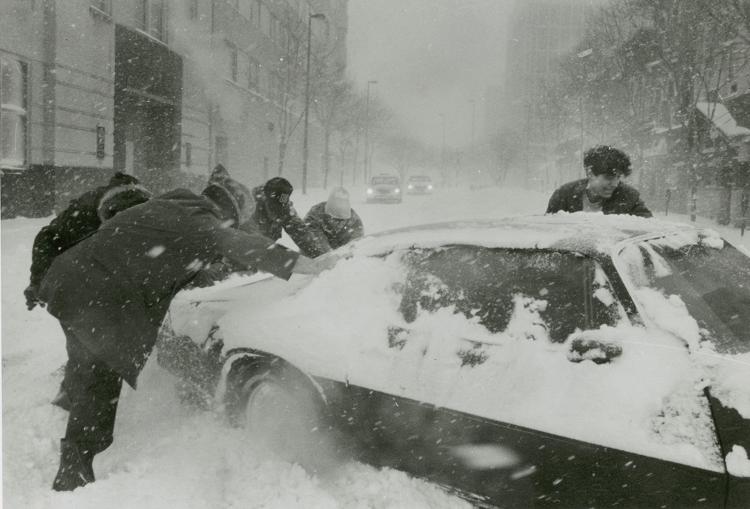 1990: Mountains of snow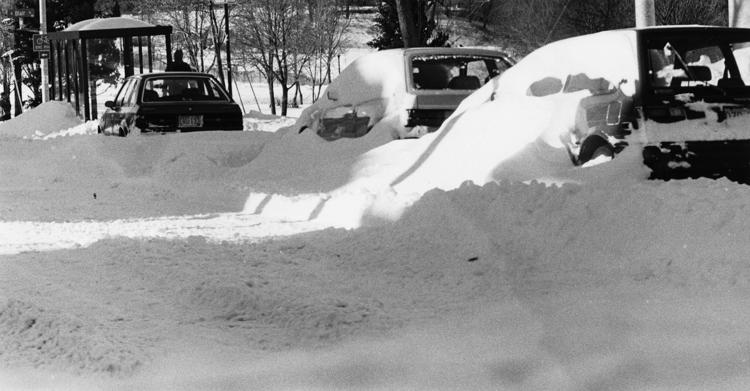 1990: Cars stuck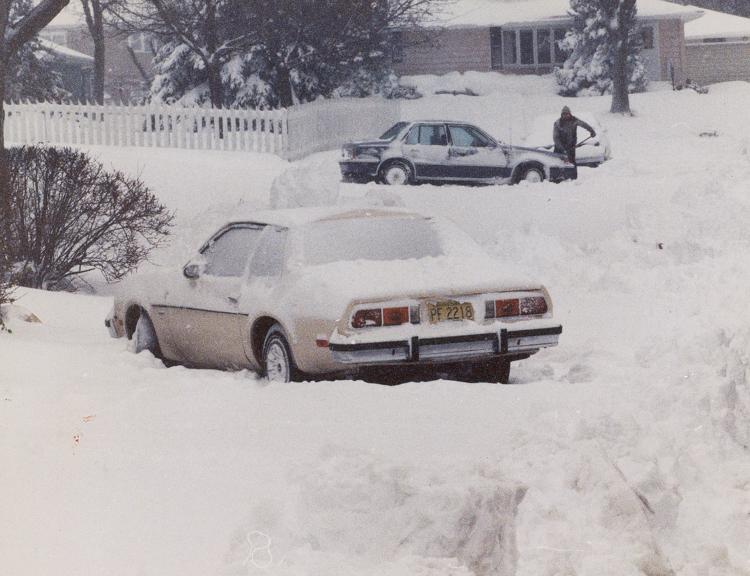 1990: Shoveling out car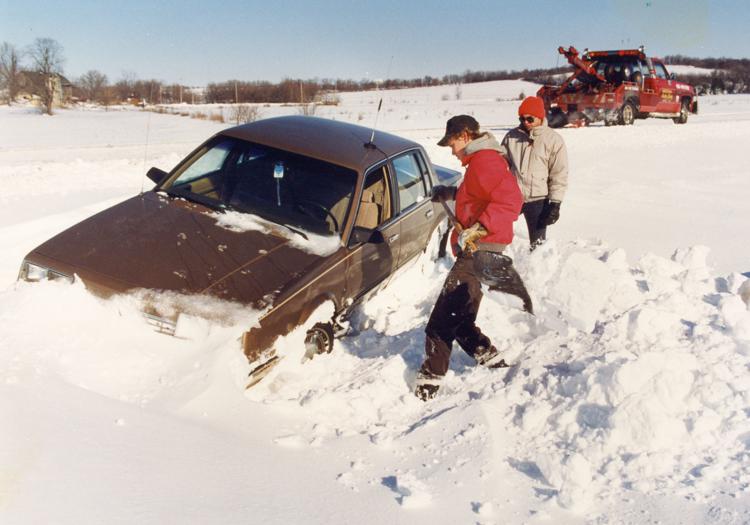 1990: Snowblower at work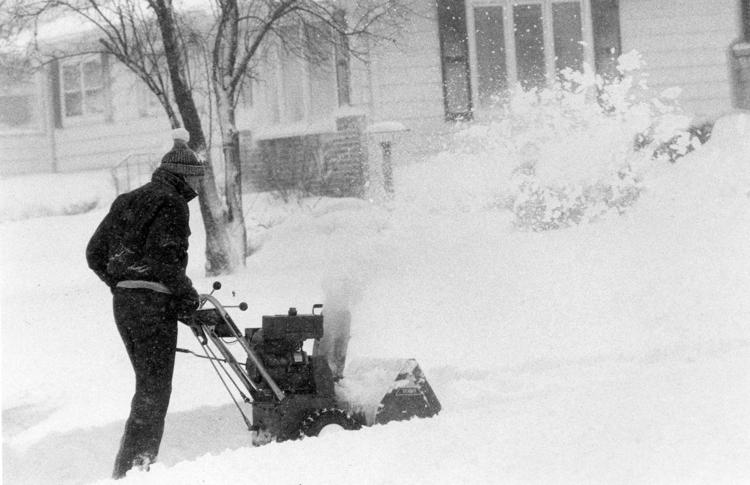 1990: Abandoned car
1990: Snowstorm aftermath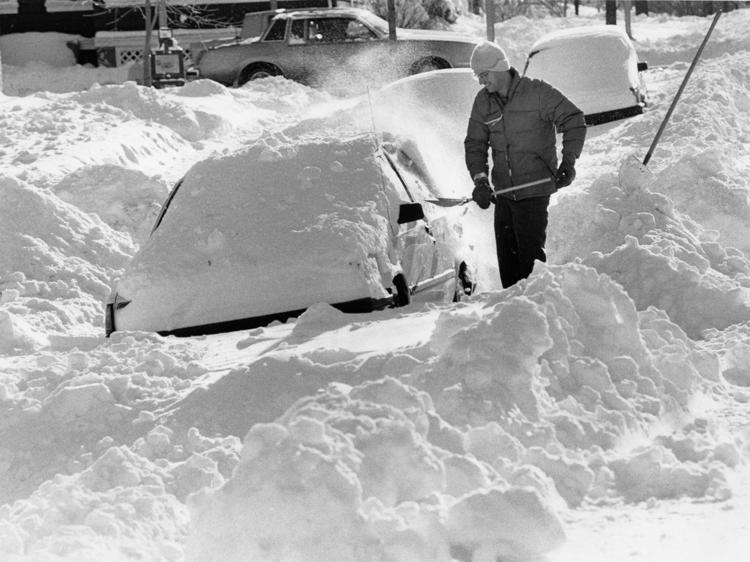 Snowstorm coverage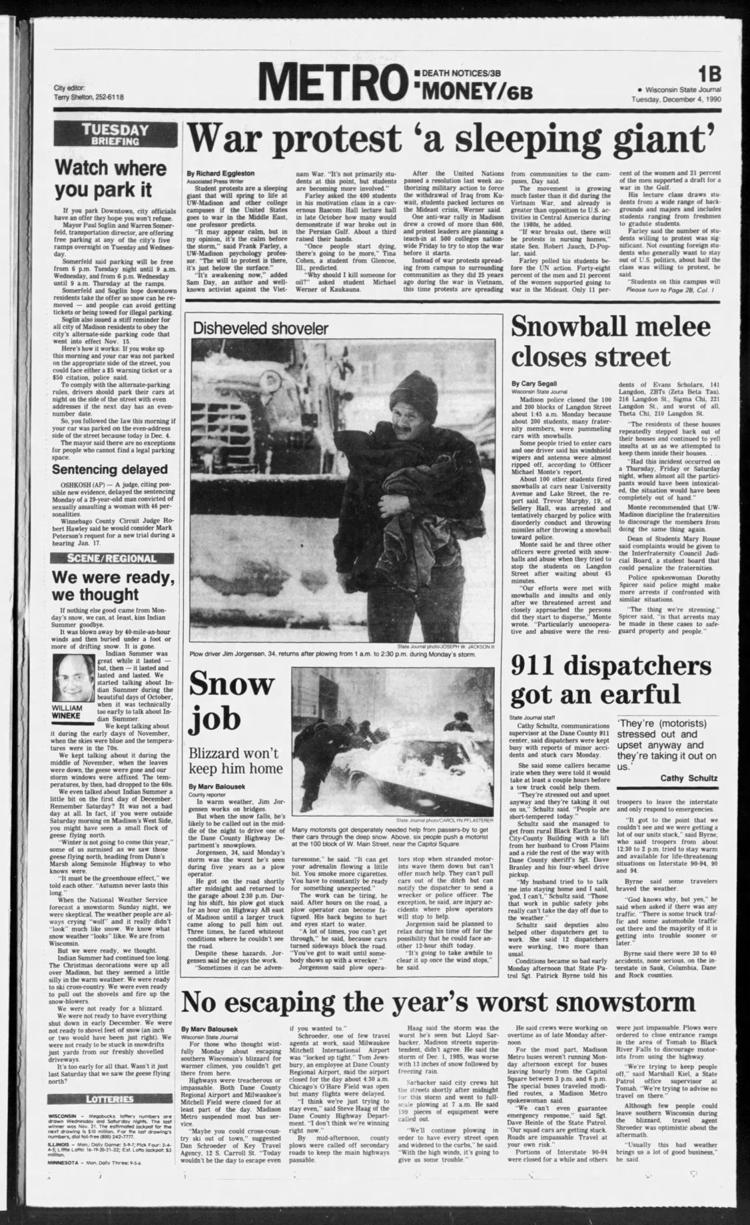 Snowstorm coverage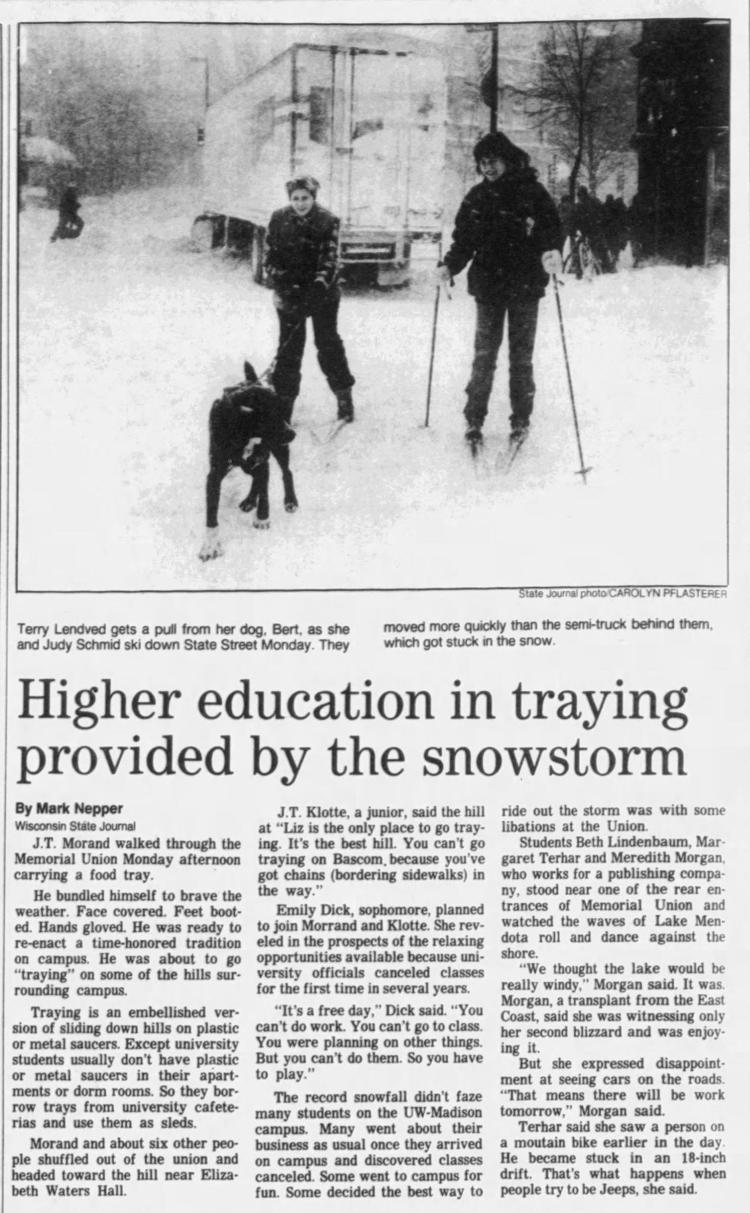 More stories from the greatest single-day snowstorm in Madison history