Southern Wisconsin's break between storm systems could be just a few days, as it was last week between storms early in the week and over the weekend, according to forecasters.
The National Weather Service said the next chance for precipitation across will arrive Thursday, but it's still uncertain exactly where it will track, and whether some rain will mix in, or it will stay mostly snow.
While the system that dumped more than a foot of snow in southeastern Wisconsin and the Chicago area over the weekend turns into a major nor'easter, meteorologists already are monitoring the next system.
"Another storm will move into the West Coast and Southwest through the middle of the week before emerging in the Plains late in the week," AccuWeather Meteorologist Brett Rossio said. "There's certainly plenty of details still to iron out this far in advance, but there is likely to be a swath of accumulating, disruptive snow spreading through the Plains into parts of the Great Lakes late week or into the weekend."
Chicago and Milwaukee could get hit again, as well as areas farther south that missed out on the weekend snow, and severe weather is possible even farther south, AccuWeather said.
"This will be a vigorous area of low pressure forming in the southern Plains. As such, warm and moist air will surge northward, first across parts of Texas, then into parts of the Southeast," Rossio said. "As the cold front associated with the storm pushes eastward and interacts with the surge of warmth and moisture, strong-to-severe thunderstorms could break out all the way from Texas to Alabama, and as far north as the Tennessee Valley at the end of the week."
The late-week storm also will usher in the coldest air of the season, with temperatures plunging well below zero, AccuWeather said.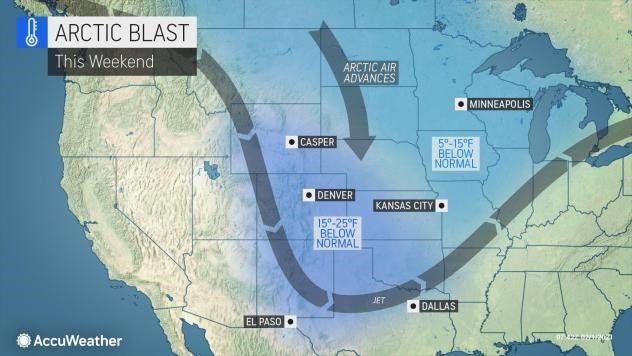 Madison officially did not see a below-zero reading this fall and winter until Thursday, when it fell to 7 below.
Officially, just 4.4 inches of snow was recorded at the Dane County Regional Airport — 2.8 inches Saturday and 1.6 inches Sunday — but reports to the Weather Service included 6.5 inches in Verona, 8 inches in Deerfield and 7 inches in Janesville. Milwaukee saw 11 inches, Racine 13.5 inches, and O'Hare International Airport 10.8 inches.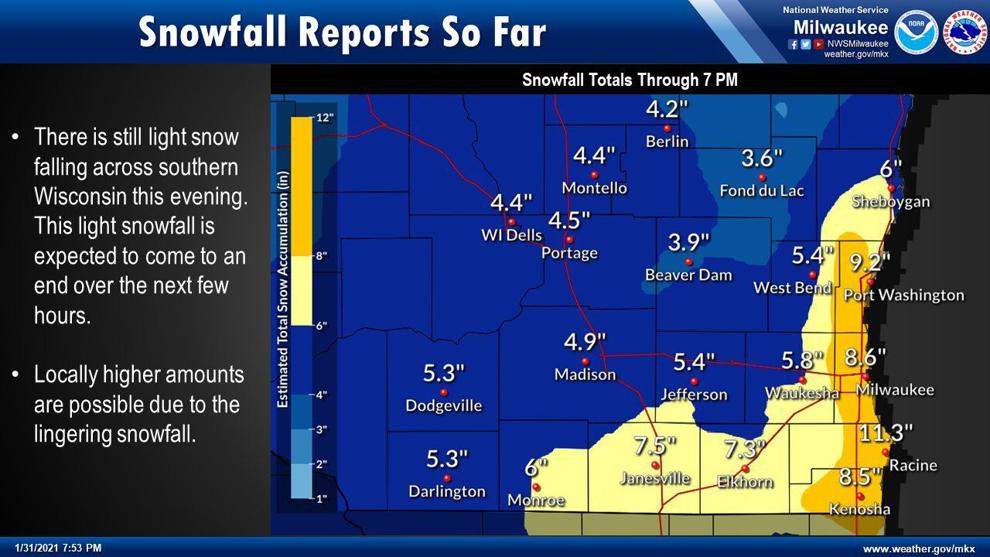 In Madison on Monday, look for mostly cloudy skies, a high near 30 and north winds at 5 to 10 miles per hour.
After an overnight low around 15, Tuesday should be mostly sunny, with a high near 29 and northwest winds around 5 mph.
After a low overnight Tuesday into Wednesday around 11, Wednesday's forecast features mostly sunny skies, with a high near 32 and south winds at 5 to 10 mph.
The Weather Service said there's a 20% chance for snow Wednesday night after midnight; a 70% chance for precipitation on Thursday in the form of snow before 2 p.m., rain and snow between 2 p.m. and 4 p.m., then snow after 4 p.m.; with possible precipitation amounts between a tenth and a quarter of an inch; and a 40% chance for snow Thursday night, mainly before midnight.
Skies over Madison should be cloudy Thursday, and partly sunny Friday through Sunday, with highs near 35, 17, 14 and 4, and lows Wednesday night through Saturday night around 25, 11, 4 and 5 below.
27 Storm Track meteorologist Max Tsaparis forecasts quiet weather to start the work week, a possible rain and snow mix Thursday, light snow ending late Thursday night, frigid weather to follow, flurries or a possible little light snow Saturday, and a possible few flurries Sunday.
Tsaparis said highs for Madison Monday through Sunday should be near 30, 30, 33, 34, 16, 14 and 5, and overnight lows around 17, 10, 26, 11, 2, 5 below, and 12 below.
Sunday's high in Madison was 30 at 4:19 p.m., 3 degrees above the normal high and 26 degrees below the record high of 56 for Jan. 31, set in 1989.
Sunday's low in Madison was 22 at 11:59 p.m., 10 degrees above the normal low and 48 degrees above the record low of 26 below for Jan. 31, set in 2019.
Officially, 0.13 inches of precipitation was recorded at the Dane County Regional Airport on Sunday, boosting Madison's January and 2021 precipitation total (rain plus snow converted to liquid) to 1.27 inches, 0.04 inches above normal. The meteorological winter (December through February) total rose to 2.4 inches, 0.57 inches below normal.
Madison's record precipitation for Jan. 26 is 1.15 inches, set in 1974.
Officially, 1.6 inches of snow was recorded at the Dane County Regional Airport on Sunday, boosting Madison's January and 2021 snow total to 17 inches, 4.1 inches above normal. For meteorological winter, Madison has received 30.5 inches, 4.1 inches above normal. For the snow season (since July 1), Madison has received 32.8 inches, 2.3 inches above normal.
Madison's record snowfall for Jan. 31 is 5.4 inches, set in 1965.
Madison's official snow depth is 10 inches.
---
Photos: Remembering the monster blizzard of 1947 in Madison