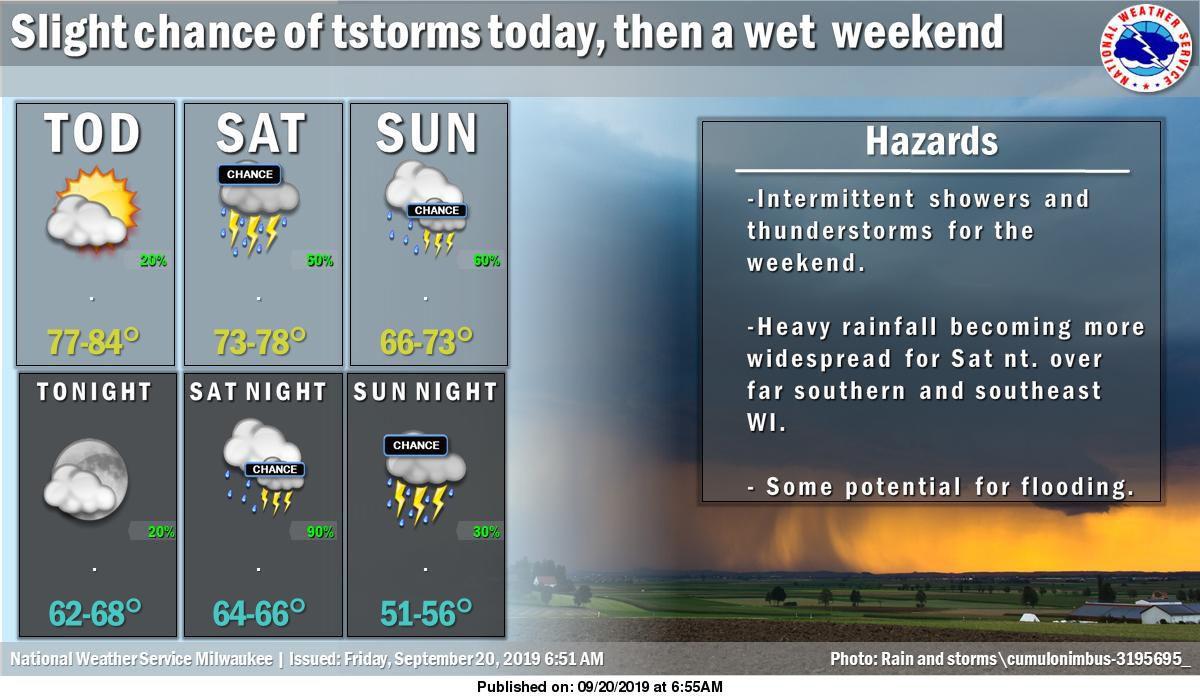 More thunderstorms, heavy rain and flooding could hit south-central Wisconsin over the weekend, according to forecasters.
The National Weather Service said there are slight chances for storms Friday afternoon and evening that could produce heavy rainfall, then a few rounds of storms are forecast to move through the area with a cold front, mainly Saturday afternoon into Sunday. The best chances for storms will be Saturday night into Sunday morning. Heavy rainfall and some flooding are possible during the period.
In Madison on Friday, there's a dense fog advisory through 10 a.m., a 30 percent chance for showers and storms, mainly between 1 p.m. and 4 p.m., with partly sunny skies, a high near 81 and calm wind becoming east winds around 5 miles per hour in the afternoon.
After an overnight low around 67, Saturday's forecast features a 50 percent chance for showers and storms, with mostly cloudy skies, a high near 76 and south winds at 5 to 15 mph, gusting as high as 25 mph.
The chance for showers and storms is 60 percent overnight Saturday into Sunday, with possible rain totals of a quarter- to half-inch, and a low around 66.
The chance for showers and storms is 40 percent Sunday and 30 percent Sunday night, with mostly cloudy skies, a high near 71 and then a low around 56.
You have free articles remaining.
The Weather Service said chances for showers and storms return at 20 percent Tuesday night Wednesday and 30 percent Wednesday night.
Skies over Madison should be sunny Monday, partly sunny Tuesday, and mostly sunny Wednesday and Thursday, with highs near 71, 71, 71 and 67, and lows Monday night through Wednesday night around 54, 58 and 54.
27 Storm Track meteorologist Max Tsaparis forecasts a possible isolated shower or storm Friday, scattered showers and storms Saturday into the night, possible scattered showers Sunday, a possible isolated shower Wednesday, and a possible few showers Thursday.
Thursday's high in Madison was 75 at 5:23 p.m., 4 degrees above the normal high and 18 degrees below the record high of 93 for Sept. 19, set in 1948.
Thursday's low in Madison was 63 at 11:59 p.m., 14 degrees above the normal low and 31 degrees above the record low of 32 for Sept. 19, set in 1956.
Officially, 0.09 inches of precipitation was recorded at the Dane County Regional Airport on Thursday, boosting Madison's September and meteorological fall (September through November) precipitation total (rain plus snow converted to liquid) to 3.66 inches, 1.61 inches above normal. The 2019 total rose to 33.25 inches, 6.38 inches above normal.
Madison's record precipitation for Sept. 19 is 1.94 inches in 2013.