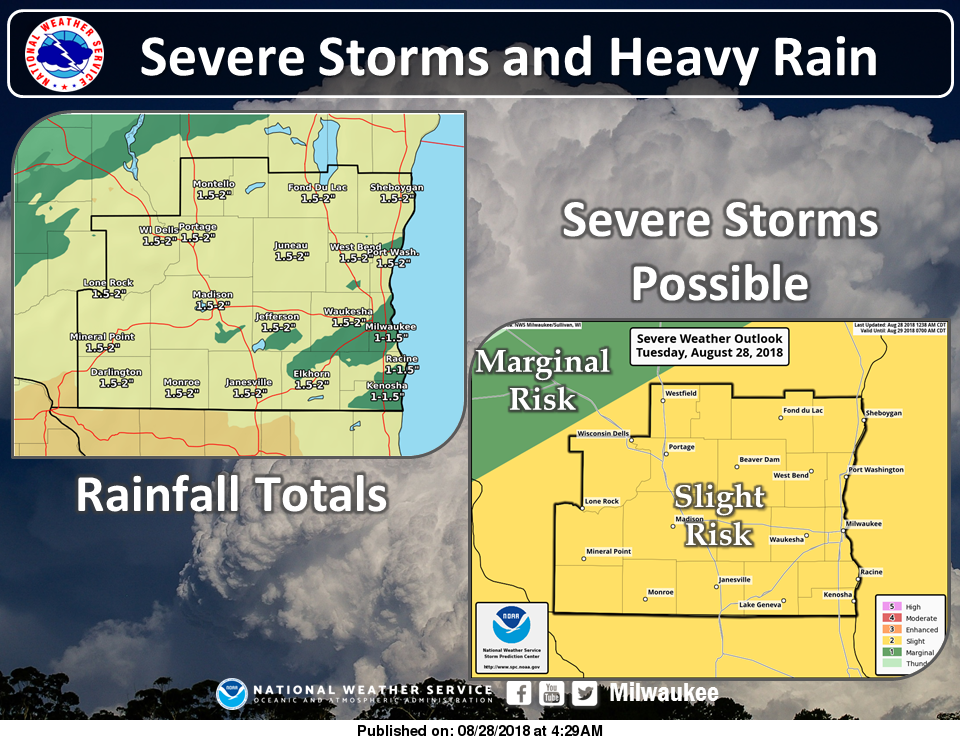 Strong thunderstorms dropped up to 12 inches of rain in western and central Wisconsin early Tuesday morning, causing significant flooding, and the downpours aren't over yet, forecasters warn.
A flash flood warning is in effect for counties in western and central Wisconsin, and a flash flood watch is in effect for all of southern Wisconsin through Wednesday morning.
The National Weather Service said 1 to 3 inches of rain is expected from the next wave of storms coming to the region, including the Madison area, beginning in mid- to late afternoon and continuing through the night.
Some local areas could see up to 4 inches of rain, the Weather Service said, so more flooding is very likely in areas that were hard hit a week ago, when  more than 15 inches of rain was reported in western Dane County.
The heavy rain overnight brought significant flooding to extreme southeastern Minnesota, into western and central Wisconsin, the National Weather Service said.
"Anywhere from 5 to 12 inches of rain fell overnight," the Weather Service said.  "This is a particularly dangerous situation for those along Coon Creek in southeast La Crosse County and record flooding may also occur along the Kickapoo River near Ontario."
From Vernon County east to Adams County, roads are closed and bridges washed out.
Sheriffs and emergency management offices are warning flood-stricken residents to be careful driving and if a road is under water, turn around.
In Sauk County, Highway H is closed because a culvert washed out and Highway F is closed after a bridge went out.
In Vernon County, Highway 14, already broken in Dane County, is closed in Coon Valley, so the only way to get to La Crosse from Vernon County is to take Highway 27 to Cashton then Highway 33 to La Crosse.
Vernon County Emergency Management is warning people living below dams in the county, especially near the Jersey Valley Dam, because reports were coming in that some dams were getting breached by the flooding.
Highway 162 in Chaseburg and Highway 33 near Goose Island also are closed in Vernon County.
You have free articles remaining.
In Adams County, water was over Highway 33 near Union City and Wonewoc.
A complete accounting of state and U.S. highway road closures can be found on the Wisconsin Travel Map at 511wi.gov.
In Madison, streets continue to be closed and closely watched in the Yahara River part of the Isthmus, with water from Lake Mendota still gushing through the open Tenney Dam.
The forecast for Madison shows a 30 percent chance for rain mainly after 4 p.m., then a 100 percent chance for rain Tuesday night, with up to 2 inches of rain possible in the capital city.
The rain is coming in with a cold front that could drop temperatures by 15 degrees or more come Wednesday.
27 Storm Track meteorologist Branden Borremans said highs should only reach the upper 60s to low 70s Wednesday and Thursday, then to the mid-70s by Friday and near 80 for the weekend.
We should be dry most of Wednesday and all day Thursday, but more rain could come in Friday night continuing into Saturday.
Sunday should be dry with a high of 77, then we could see showers and storms on Monday, Labor Day, with a high in the mid-80s.
Borremans said the heat and humidity could continue next Tuesday, with a chance for nighttime showers and storms.
Monday's high of 85 was 7 degrees above normal and 10 degrees below the record high of 95 for Aug. 27, set in 1953.
The low of 74 was 17 degrees above normal and 39 degrees above the record low of 35 for the date, set in 1968.
Only 0.03 of an inch of rain fell at the airport, bringing the August total up to 9.33 inches, 5.59 inches above normal.
For the meteorological summer of June through August, Madison has received 18.12 inches of rain, 5.66 inches above normal.
Since Jan. 1, Madison has received 34.96 inches of precipitation (rain and melted snow), 10.67 inches above normal.