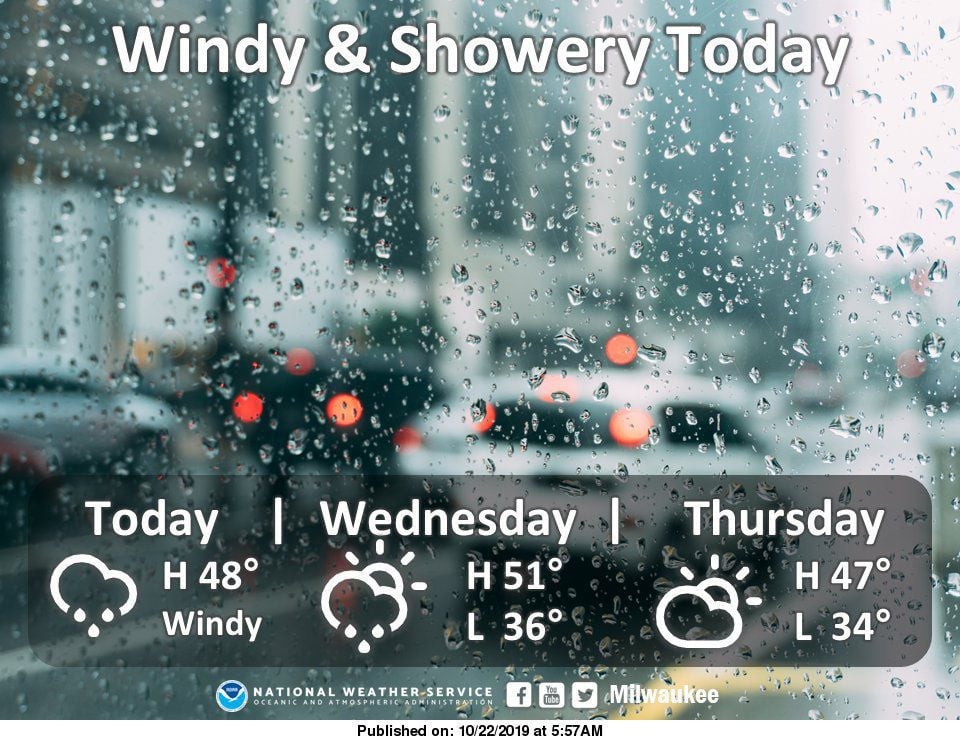 It will be a miserable Tuesday for south-central Wisconsin, with highs only reaching the 40s, possible showers, and a wind advisory through 7 p.m., meaning gusts as high as 40 to 45 miles per hour are expected, according to forecasters.
"Motorists should be alert for sudden gusts of wind, particularly in high-profile vehicles and on north to south running highways," the National Weather Service warned.
In Madison on Tuesday, there's a 50% chance for showers, with cloudy skies, a high near 45 and west winds at 15 to 25 mph, gusting as high as 45 mph.
Overnight, the chance for showers falls to 20% before 9 p.m., as the low falls to around 37 and west winds blow at 15 to 20 mph and gust to 35 mph.
Wednesday's forecast features a 50% chance for rain after 1 p.m., with increasing clouds, a high near 51 and west winds at 5 to 15 mph.
The chance for showers is 30% overnight Wednesday into Thursday with a low around 34, leading into a quiet Thursday, with mostly sunny skies, a high near 46 and northwest winds at 5 to 10 mph.
You have free articles remaining.
The Weather Service said the quiet weather will continue into next week, with the only chance for showers 20% on Sunday.
Skies over Madison should be sunny Friday and Saturday, and mostly sunny Sunday and Monday, with highs near 47, 54, 54 and 48, and lows Thursday night through Sunday night around 30, 33, 40 and 37.
Monday's high in Madison was 64 at 2:32 p.m., 7 degrees above the normal high and 20 degrees below the record high of 84 for Oct. 21, set in 1947.
Monday's low in Madison was 48 at 1:56 a.m., 11 degrees above the normal low and 28 degrees above the record low of 20 for Oct. 21, set in 1960.
Officially, 0.34 inches of precipitation was recorded at the Dane County Regional Airport on Monday, boosting Madison's October total to 4.79 inches, 3.18 inches above normal. For meteorological fall (September through November), Madison now has received 11.59 inches of precipitation (rain plus snow converted to liquid), 6.85 inches above normal. For the year, Madison has received 41.18 inches of precipitation, 11.62 inches above normal.
Madison's record precipitation for Oct. 21 is 1.04 inches in 1951.
Madison has not received any measurable snow this snow season (since July 1), but on Oct. 21, 2006, the city saw a record 2.3 inches for the date.