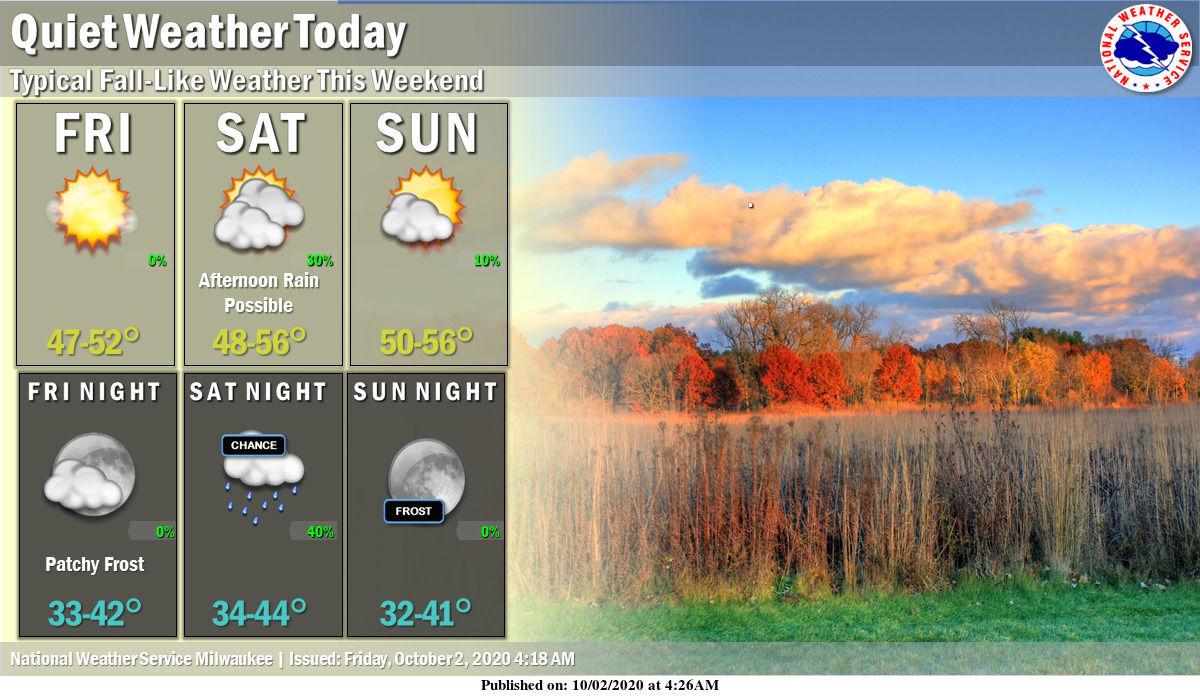 Madison officially saw its first frost of the season as the temperature tumbled to 31 at the Dane County Regional Airport at 6:53 a.m., the National Weather Service reported.
Southern Wisconsin will see continued chilly weather for the weekend, but warmer weather is on the way next week, according to forecasters.
A frost advisory was in effect until 9 a.m. Friday, and the Weather Service said patchy frost is possible again early Saturday and early Monday.
In Madison on Friday, look for mostly sunny skies, a high near 50 and northwest winds around 5 miles per hour.
After an overnight low around 38, Saturday's forecast features a 40% chance for showers after 1 p.m., mostly cloudy skies, a high near 51 and southeast winds around 5 mph turning out of the northeast in the afternoon.
The low overnight Saturday into Sunday should be around 39 with a 30% chance for showers, followed by a mostly sunny Sunday, with a high near 53 and north winds around 10 mph.
The Weather Service said quiet weather will follow into late next week, with no chances for precipitation.
Skies over Madison should be sunny Monday, mostly sunny Tuesday, and sunny Wednesday and Thursday, with highs near 59, 66, 65 and 63, and lows Sunday night through Wednesday night around 34, 47, 49 and 41.
27 Storm Track meteorologist Max Tsaparis forecasts patchy frost again early Saturday, a few showers late Saturday into the night, more patchy frost early Monday, and possible isolated showers Wednesday.
Tsaparis said highs for Madison Friday through Thursday should be near 51, 52, 51, 59, 67, 63 and 61, and overnight lows around 36, 38, 35, 49, 47 and 42.
Thursday's high in Madison was 57 at 2:49 p.m., 8 degrees below the normal high and 33 degrees below the record high of 90 for Oct. 1, set in 1976.
Thursday's low in Madison was 44 at 11:59 p.m., the normal low and 17 degrees above the record low of 27 for Oct. 1, set in 1974.
Officially, 0.03 inches of precipitation was recorded at the Dane County Regional Airport on Thursday, boosting Madison's October total to 0.03 inches, 0.05 inches below normal. For meteorological fall (September through November), Madison now has received 3.44 inches of precipitation (rain plus snow converted to liquid), 0.23 inches above normal. For the year, Madison has received 32.59 inches of precipitation, 4.56 inches above normal.
Madison's record precipitation for Oct. 1 is 2.4 inches last year.
---
Photos: Remembering the monster blizzard of 1947 in Madison