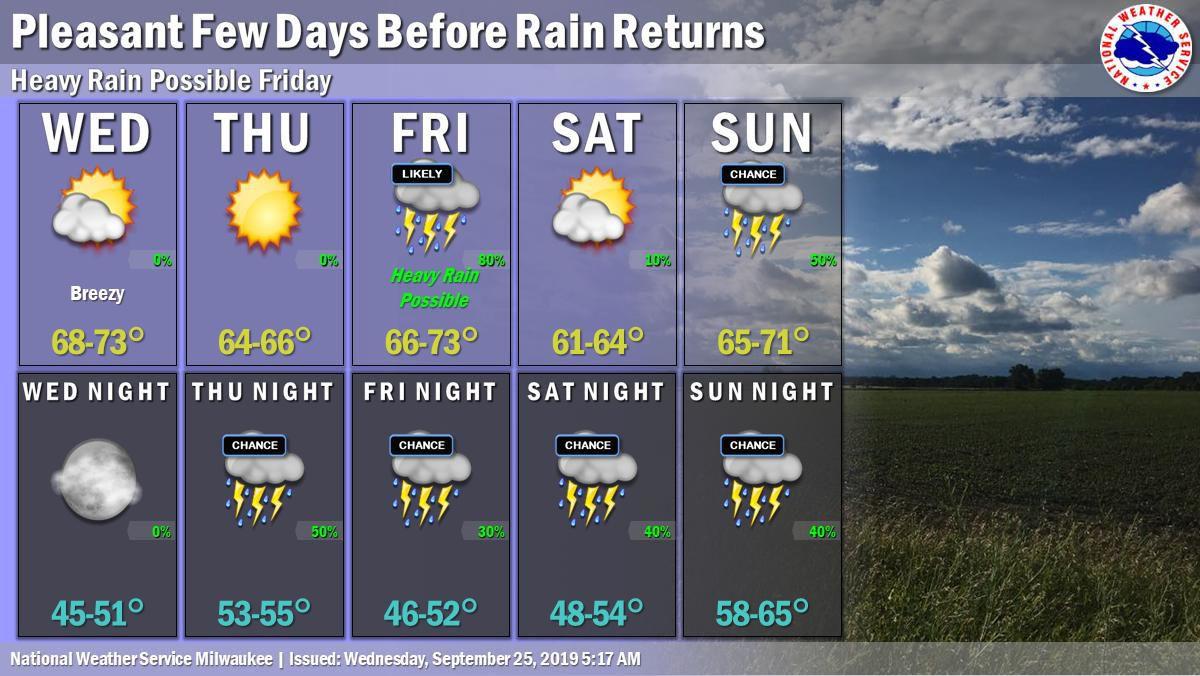 Tuesday's high in Madison was 81 at 3:08 p.m., 13 degrees above the normal high of 68 and 8 degrees below the record high of 89 for Sept. 24, set in 2017.
Chances for showers and thunderstorms return Thursday night into Friday with 1 to 2 inches of rain possible on Friday, and there are additional storm chances Sunday through the middle of next week, the National Weather Service said.
In Madison on Wednesday, look for partly sunny skies, a high near 69 and southwest winds at 10 to 15 miles per hour turning out of the west in the afternoon.
After an overnight low around 48, Thursday should be sunny, with a high near 66 and west winds at 5 to 10 mph.
You have free articles remaining.
Chances for showers and storms are 50 percent overnight Thursday into Friday after 1 a.m. and 70 percent Friday, with 1 to 2 inches of rain possible. The low Thursday night should be around 55, and the high Friday near 69, with south winds at 10 to 15 mph turning out of the west in the afternoon and gusting as high as 25 mph.
The Weather Service said chances for showers and storms continue at 40 percent Friday night, 20 percent Saturday, 50 percent Saturday night and Sunday, 40 percent Sunday night, 30 percent Monday, 40 percent Monday night, and 50 percent Tuesday.
Skies over Madison should be mostly sunny Saturday, mostly cloudy Sunday, partly sunny Monday, and mostly cloudy Tuesday, with highs near 62, 69, 77 and 73, and lows Friday night through Monday night around 49, 50, 64 and 66.
27 Storm Track meteorologist Max Tsaparis also forecasts cooler temperatures, with a few showers developing late Thursday night, showers and storms Friday, a possible isolated Saturday, a possible few showers Sunday, and possible isolated storms Monday and Tuesday.
Tuesday's low in Madison was 53 at 3:07 a.m., 6 degrees above the normal low and 27 degrees above the record low of 26 for Sept. 24, set in 1976.
No precipitation was recorded at the Dane County Regional Airport on Tuesday, leaving Madison's September and meteorological fall (September through November) precipitation total (rain plus snow converted to liquid) at 5.58 inches, 3 inches above normal. The 2019 total stayed at 35.17 inches, 7.77 inches above normal.
Madison's record precipitation for Sept. 24 is 2.07 inches in 1899.