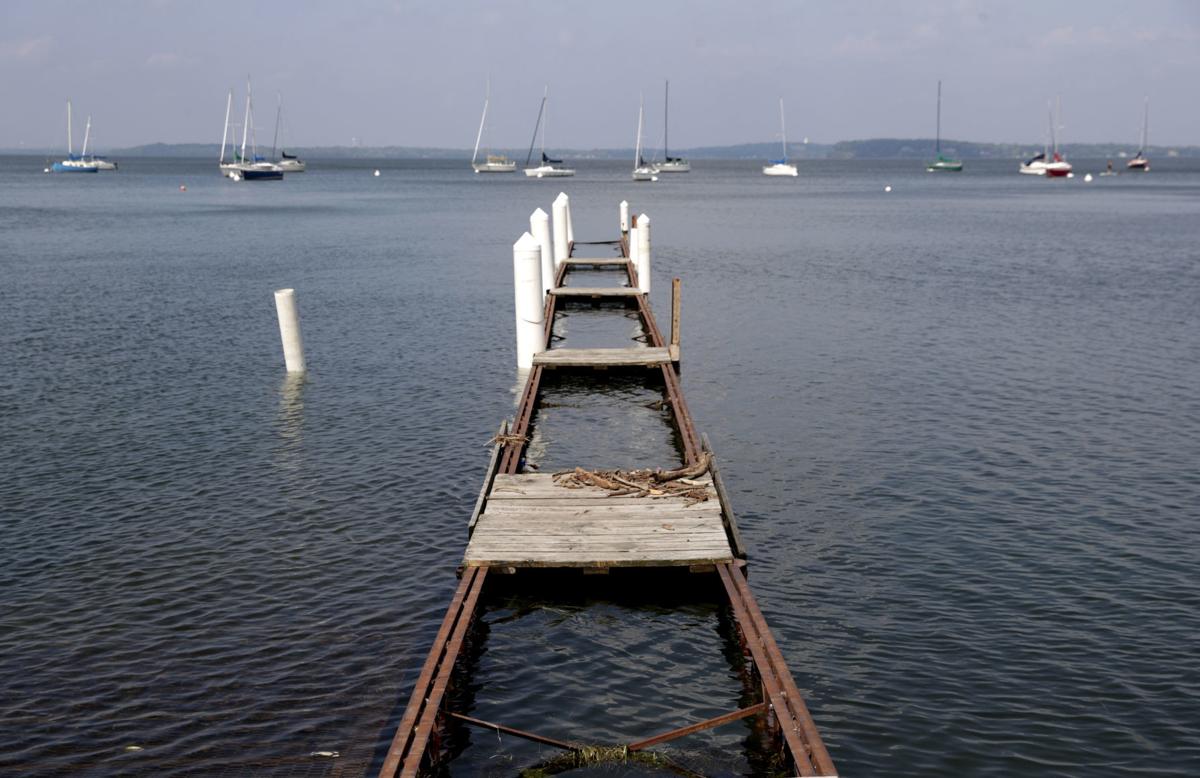 With Madison's lakes already brimming and its storm sewers backing up onto streets, the forecast of more rain Tuesday posed a renewed risk of flash flooding.
The National Weather Service issued a flash flood watch for Dane County through Wednesday morning as a storm system threatened to drop several more inches of rain Tuesday.
"If that rain event can stay at about an inch or so, we'll be looking pretty good going into the Labor Day weekend," Madison Mayor Paul Soglin said Monday.
Soglin said the area would need five to six dry days before it could absorb another heavy rainfall.
But dry weather isn't in the forecast.
"It doesn't look like we're going to have any prolonged period of dry weather in the immediate future," said Andy Boxell, a weather service meteorologist.
Boxell said potentially torrential rain expected on Tuesday should move through the area quickly — unlike the slow-moving, record downpour that drenched Dane County on Aug. 20 and created the flood conditions have kept streets closed and volunteers filling sandbags.
There may be more rain off and on through the weekend, Boxell said. Next week also looks to be humid and prone to precipitation, he said.
The Tuesday storms posed the threat of flash flooding across much of southern Wisconsin in areas where the ground is saturated and streams are swollen.
"Flash flooding is a very dangerous situation," the Weather Service said. "Monitor later forecasts and be prepared to take action should flash flood warnings be issued."
Flowing faster
Meanwhile, Madison and Dane County officials reported that they've made progress in handling the large amount of water that is already in the lakes and storm sewers.
Several streets that had been closed were opened and lake levels appeared to be stabilizing after hitting historically high levels.
Thick growths of lake weeds in the Yahara River south of Lake Monona had been slowing the flow of water downstream.
"County lakes staff used 10 lake weed harvesters to remove over 270 loads of aquatic plants the past several days," said county spokeswoman Stephanie Miller. "That has doubled the flow of water leaving the chain of lakes, and more water is now leaving the chain than entering it."
Rain that fell on Sunday left Lake Mendota up three-quarters of an inch, Lake Monona down a half-inch and Lake Kegonsa up 1.3 inches.
"The instability of the weather remains a concern," Miller said. "We urge residents to be vigilant and keep informed of weather updates and street closures."
After the initial Aug. 20 downpour, Lake Mendota rose rapidly, and county engineers worried that it could flow around the Tenney dam, which keeps the lake about 5 feet higher than Lake Monona, which is downstream on the other side of Madison's Isthmus.
If the dam failed, the water would flow out of control onto the Isthmus. To lower the risk, engineers opened the dam gates to move water quickly downstream and drop Lake Mendota's level.
But that caused the Yahara River to rise enough to force water back into storm sewers that normally drain the Isthmus into the river. Water backed up into streets, forcing detours.
By Sunday, Lake Mendota was low enough that the flow through the dam could be restricted, allowing some of the floodwaters on Isthmus streets to drain back into the river.
The weed-cutting should speed the flow of water through Lake Monona and on toward the Rock River near Janesville, said city engineer Greg Fries.
'Yo-yo' plan
Before Lake Mendota rises too much, however, the Tenney floodgates will be opened again, Fries said. But by that time — if the weed-cutting works as planned — Lake Monona and the Yahara River will be a little lower than they were last week, and the street flooding won't be quite as bad as it was, he said.
Over a period of weeks, the flow through the Tenney floodgates will be decreased and increased, causing street flooding to appear and reappear, but each time the levels in the streets, the river and the lakes should fall a little lower, Fries said.
"The bad news for the public is that it means conditions are going to look a little more like a yo-yo than what you usually see with a flood," Fries said.
Even after the streets stay dry, there is so much water in the storm sewers that it will be many weeks before it can be sent downstream, he said.
It's hard to tell how long that will take because it depends on how much more rain falls.
More homes at risk
City officials posted a revised flood risk map in the Isthmus that shows new risk areas for flash flooding during an intense rainstorm.
About 1,000 homes have been added to the flash flood risk areas, in the Starkweather Creek area, and flyers were being distributed to those homes on Monday.
On Friday, 1,700 homes received flyers warning of the potential for flooding, mainly in the Isthmus.
Officially, 0.83 of an inch of rain was recorded at the Dane County Regional Airport on Sunday. For updates on flood maps, road closures and sandbagging operations, go to www.cityofmadison.com/flooding.
Other developments Monday:
Damage reports to private property made to the United Way 211 phone number surpassed 1,300, Miller said. As of Friday, over $108 million in damage, both public and private, has been reported.
Monona has stockpiled 700 full sandbags in Oneida Park for property owners. A map of flood-affected properties in Monona is available online at go.madison.com/monona-flooding.
Madison on Monday opened all lanes of East Washington Avenue, which had been constricted since last week due to flooding at intersections. Streets still closed included East Johnson Street from North First Street to North Baldwin Street; East Main Street between Northern Court to the Yahara River; Marston Avenue between East Johnson Street and Sherman Avenue; and the 700 and 800 blocks of East Mifflin Street between Blount Street and Paterson Street.
After offering free rides Saturday through Monday, Metro Transit planned to resume charging regular fares on Tuesday.
A shelter has opened in Madison at West High School, with the American Red Cross also providing cleanup kits and meals at the school.
Team Rubicon, a national disaster relief organization, has a command post set up in Cross Plains, and will begin assisting flood victims on Monday by mucking out basements and doing other recovery work in western Dane County.
Highway 14 from Middleton to Cross Plains has reopened, but the highway remains closed from Cross Plains to Mazomanie, with a bridge out at Black Earth.
Parking is not allowed on Williamson Street in Madison until Friday, and parking is not allowed on East Washington Avenue from Blair Street to Baldwin Street.
Free overnight parking continues at city-owned parking ramps in Madison through Friday, and short-term parking permits are available for $7 a day on five streets on the Isthmus.
All beaches, boat launches and piers in Madison remain closed. Bike paths around and near the Isthmus also remain closed.
The inconvenience aside, the novelty of having so much water in places where there used to be streets and yards is tempting some to play in it. Deputy Madison Mayor Katie Crawley said the city is getting reports of people walking, swimming and kayaking in the floodwaters, which can be contaminated with bacteria or chemical pollutants or obscure dangerous obstacles.
"The water is not safe for many reasons," Crawley said. "People should stay out of it."
Be the first to know
Get local news delivered to your inbox!