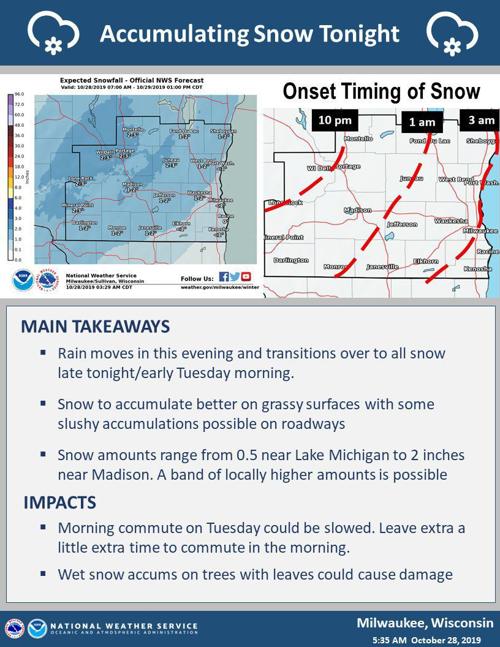 South-central Wisconsin will see its first accumulating snow of the season in what could be two snowstorms this week, with the second one possibly disrupting trick-or-treating, according to forecasters.
Earlier we posted information regarding Autumn Snow Climatology and realized there were a few errors and thus we have corrected it. This is the updated information regarding Autumn Snow Climatology. #swiwx #wiwx pic.twitter.com/oYA2v7EA7w

— NWS Milwaukee (@NWSMKX) October 29, 2019
The National Weather Service said rain is likely to transition to snow across the area Monday night, with slush accumulations of 1 to 2 inches looking likely away from Lake Michigan, which could impact the early morning commute Tuesday.
The Weather Service warned that a period of moderate to heavy wet snow may result in falling tree limbs and power outages as many tree branches still have their leaves.
Strengthening low pressure is likely to bring another period of snow and rain to southern Wisconsin on Halloween and Halloween night, with mixed precipitation transitioning to mostly snow. The Weather Service said accumulations are far from certain this far in advance, with considerable uncertainty regarding the track and strength of this system, but could range from around a half-inch in the far southeast to 2 to 4 inches in south-central and east-central Wisconsin.
In Madison on Monday, look for cloudy skies, a high near 43 and northwest winds around 5 miles per hour.
Overnight, there's a 100% chance for rain and snow, becoming all snow after 2 a.m., with around an inch of accumulation as the low falls to around 30, the Weather Service said.
You have free articles remaining.
Tuesday should start mostly cloudy and gradually turn sunny, with a high near 39 and northwest winds at 5 to 10 mph.
The Weather Service said there's a 20% chance for precipitation Wednesday in the form of rain and snow before 2 p.m., rain from 2 p.m. to 5 p.m., then rain and snow after 5 p.m.; a 30% chance Wednesday night in the form of rain and snow before 8 p.m., then snow; a 50% Thursday and Thursday night in the form of snow before noon, then rain and snow, then back to snow; a 20% chance for snow before 1 p.m. Friday; and a 20% chance for rain Sunday.
Skies over Madison should be mostly cloudy Wednesday and Thursday, mostly sunny Friday, and partly sunny Saturday and Sunday, with highs near 37, 36, 37, 38 and 38, and lows Tuesday night through Saturday night around 26, 28, 25, 28 and 27.
27 Storm Track meteorologist Max Tsaparis forecasts mixed precipitation developing Monday evening, changing to all snow at night with 1 to 2 inches possible and the best chance of accumulations to the west of Madison; light rain and snow possible Wednesday night into Thursday; and snow possible Thursday night.
Sunday's high in Madison was 59 at 3:05 p.m., 5 degrees above the normal high and 20 degrees below the record high of 79 for Oct. 27, set in 1927.
Sunday's low in Madison was 35 at 7:03 a.m., 1 degree below the normal low and 20 degrees above the record low of 15 for Oct. 27, set in 1976.
Officially, a trace of precipitation was recorded at the Dane County Regional Airport on Sunday, leaving Madison's October precipitation total (rain plus snow converted to liquid) at 5.24 inches, 3.16 inches above normal. The meteorological fall (September through November) precipitation total stayed at 12.04 inches, 6.83 inches above normal. The 2019 total stayed at 41.63 inches, 11.6 inches above normal.
Madison's record precipitation for Oct. 27 is 1.93 inches in 1918.
Madison has not received any measurable snow this snow season (since July 1), but on Oct. 27, 1925, the city saw a record 1.2 inches for the date.