Southern Wisconsin will enjoy a sunny, fall-like Friday with highs barely cracking 60, but summer-like warmth with highs near 80 will return as fall begins next week, according to forecasters.
Patchy frost is possible overnight Friday into Saturday in some inland locations away from Lake Michigan, the National Weather Service said.
A burst of chilly air is sweeping from northern Canada through the north-central U.S. late this week and then into the Northeast, bringing not only a dose of sweater and flannel weather but also some frosty consequences, AccuWeather said.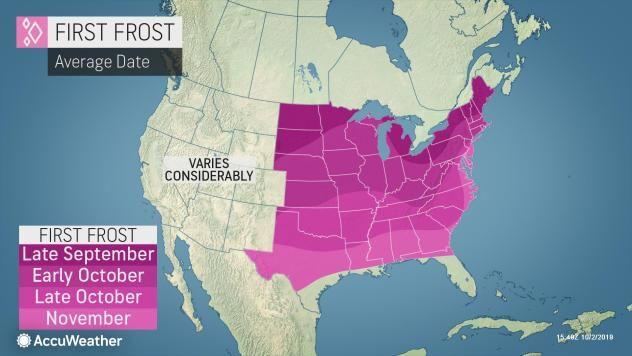 The chill and accompanying frost and freeze could mark the end of the growing season in parts of the Upper Midwest, including northern Wisconsin, and the interior Northeast. Temperatures could challenge record lows for the date in northern portions of Minnesota, Wisconsin and Michigan and then Pennsylvania and New York.
The only chance for showers and storms for Madison over the next week is a 30% chance for showers Wednesday night, with skies over Madison mostly sunny Friday, sunny Saturday and Sunday, mostly sunny Monday, sunny Tuesday and Wednesday, and mostly sunny Thursday.
Highs for Madison Friday through Thursday should be near 61, 64, 68, 74, 76, 78 and 73, and lows Friday night through Wednesday night around 39, 42, 48, 52, 56 and 57.
27 Storm Track meteorologist Max Tsaparis also forecasts cool highs gradually increasing into next week, with plenty of sunshine and no chances for precipitation.
Tsapris said highs for Madison Friday through Thursday should be near 61, 64, 68, 73, 77, 78 and 75, and overnight lows around 40, 47, 50, 55, 57 and 55.
Thursday's high in Madison was 67 at 2:52 p.m., 4 degrees below the normal high and 23 degrees below the record high of 90 for Sept. 17, set in 1955.
Thursday's low in Madison was 46 at 11:46 p.m., 4 degrees below the normal low and 10 degrees above the record low of 36 for Sept. 17, set in 1980.
No precipitation was recorded at the Dane County Regional Airport on Thursday, leaving Madison's September and meteorological fall (September through November) precipitation total (rain plus snow converted to liquid) at 3.08 inches, 1.23 inches above normal. The 2020 total stayed at 32.23 inches, 5.56 inches above normal.
Madison's record precipitation for Sept. 17 is 2.64 inches in 1907.
---
Photos: Remembering huge snowstorm that hit Madison in April 1973
Local Weather
Get the daily forecast and severe weather alerts in your inbox!