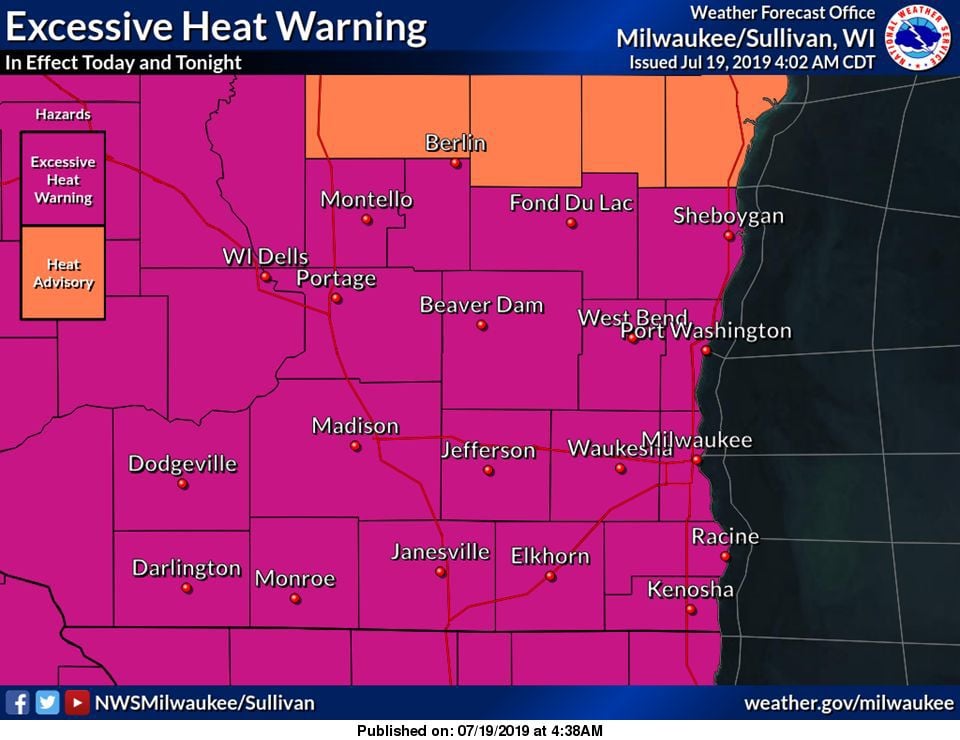 Spending any amount of time outside in southern Wisconsin on Friday could be dangerous, as the hottest weather of the season moves into the region.
The National Weather Service issued an excessive heat warning, starting at 10 a.m. Friday and continuing until 7 a.m. Saturday, with actual temperatures reaching the mid-90s and the heat index rising up to 110.
"The combination of hot temperatures and high humidity will combine to create a dangerous situation, in which heat illnesses are likely," the warning said.
People are advised to drink plenty of fluids, stay in an air-conditioned room, stay out of the sun and check on relatives and neighbors to make sure they are OK.
For those who need to be outside, wear lightweight clothing, stay hydrated and take plenty of rest breaks.
In the overnight hours, heavy rain pounded southwest Wisconsin, resulting in flash flood warning for northern Richland County, with flooding reported along the Pine River.
27 Storm Track chief meteorologist Bob Lindmeier said showers in Madison should diminish as the morning moves on, making way for sunshine and a high in the mid-90s.
You have free articles remaining.
There's a chance of scattered showers and thunderstorms Saturday afternoon with the high getting to 92, Lindmeier said, before cooler air started moving in on Sunday.
Showers and thunderstorms are likely Saturday night and Sunday, with the Weather Service forecasting a high of only 73 on Sunday, as a cold front moves through the region.
The upcoming week looks refreshingly cool, with highs of 70 on Monday, 73 on Tuesday, 75 on Wednesday and 77 on Thursday, all days filled with sunshine.
Thursday's high in Madison reached 85, 3 degrees above normal and 10 degrees below the record high of 95 for July 18, set in 1894.
The low of 71 was 10 degrees above normal and 24 degrees above the record low of 47 for the date, set in 1979.
Heavy rain early Thursday added up to 1.22 inches of rain at the airport, putting the July rainfall total at 3.46 inches, 0.95 inches above normal.
The record rainfall on July 18 was 1.50 inches in 1996.
For the meteorological summer from June through August, Madison has received 8.62 inches of rain, 1.57 inches above normal.
Since Jan. 1, Madison has received 24.43 inches of precipitation (rain and melted snow), 5.55 inches above normal.