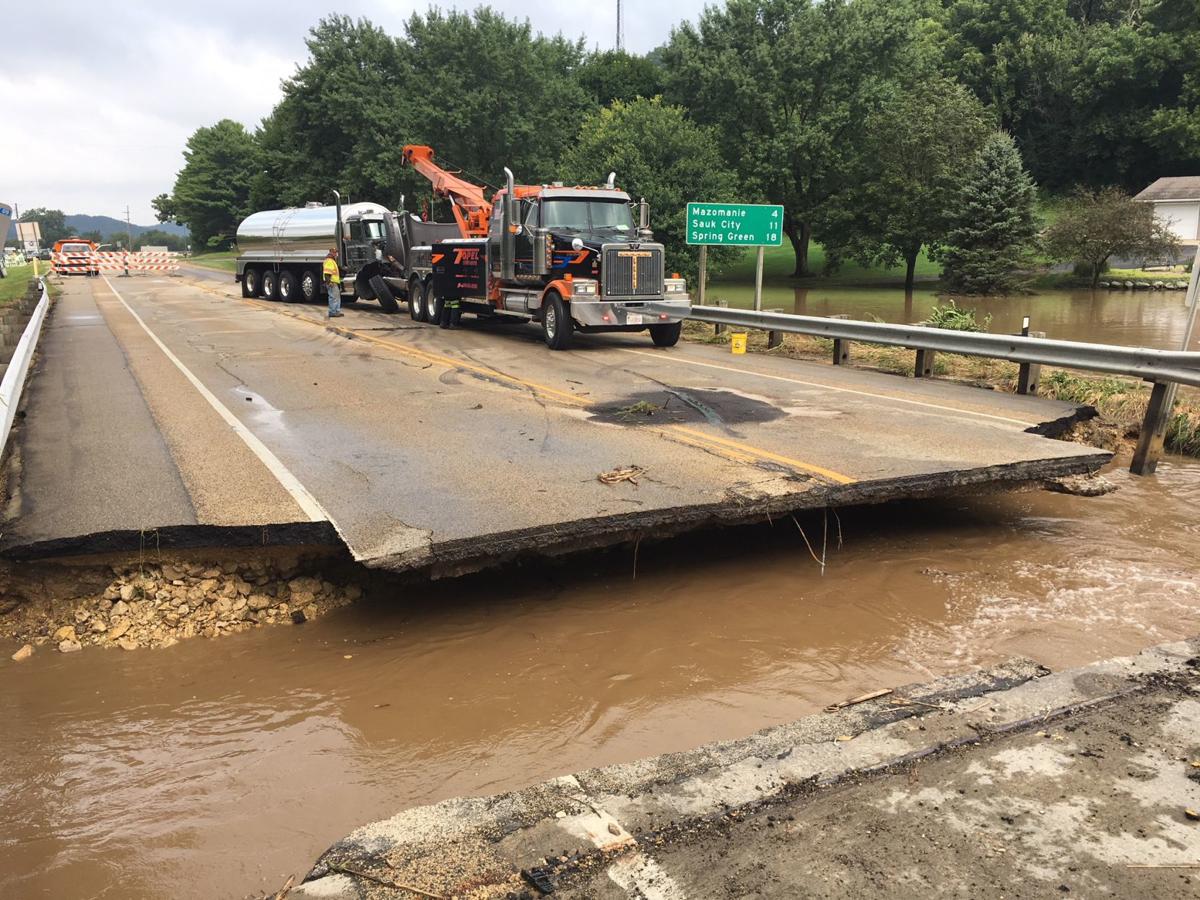 An epic rainfall swept one man to his death, washed out bridges, swamped homes, cars and businesses, and marooned dozens of shoppers overnight at a Middleton discount store Monday.
The flash floods took many by surprise, forcing emergency responders and ordinary citizens into extraordinary efforts to rescue those caught in the rushing water.
"In my mind, last night was nothing but heroes working every single moment to save lives," Dane County Sheriff Dave Mahoney said Tuesday.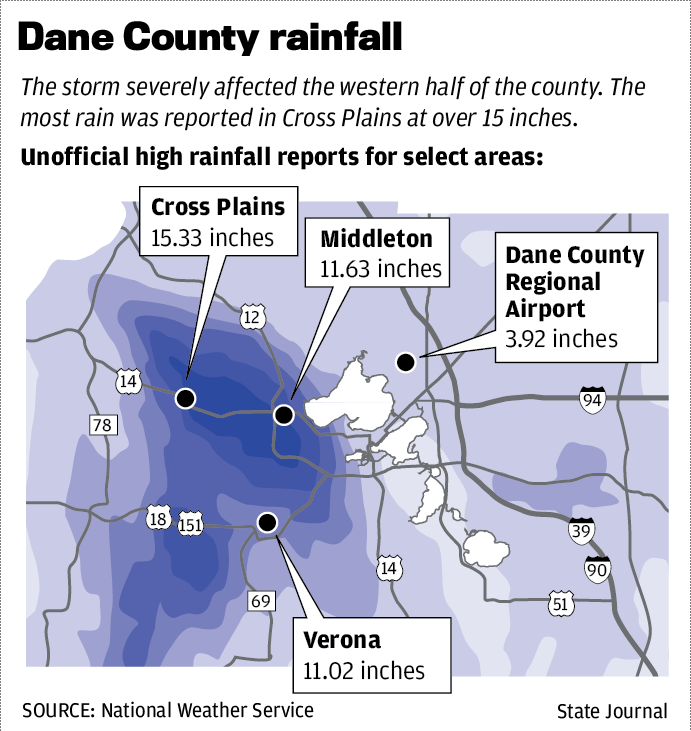 The National Weather Service estimated 14.33 inches of rain fell in Cross Plains which, if confirmed, would be the heaviest rainfall for a 24-hour period ever recorded in Wisconsin. The official record for rainfall over 24 hours was 11.72 inches near Mellen in June 1946.
Madison officially recorded 3.92 inches of rain at the Dane County Regional Airport on the North Side, a record for Aug. 20, though rain continued to fall after midnight.
The deluge caused widespread flooding in Mazomanie and Cross Plains, washed out a highway bridge in Black Earth as well as a nearby railroad bridge and closed roads throughout southern Wisconsin.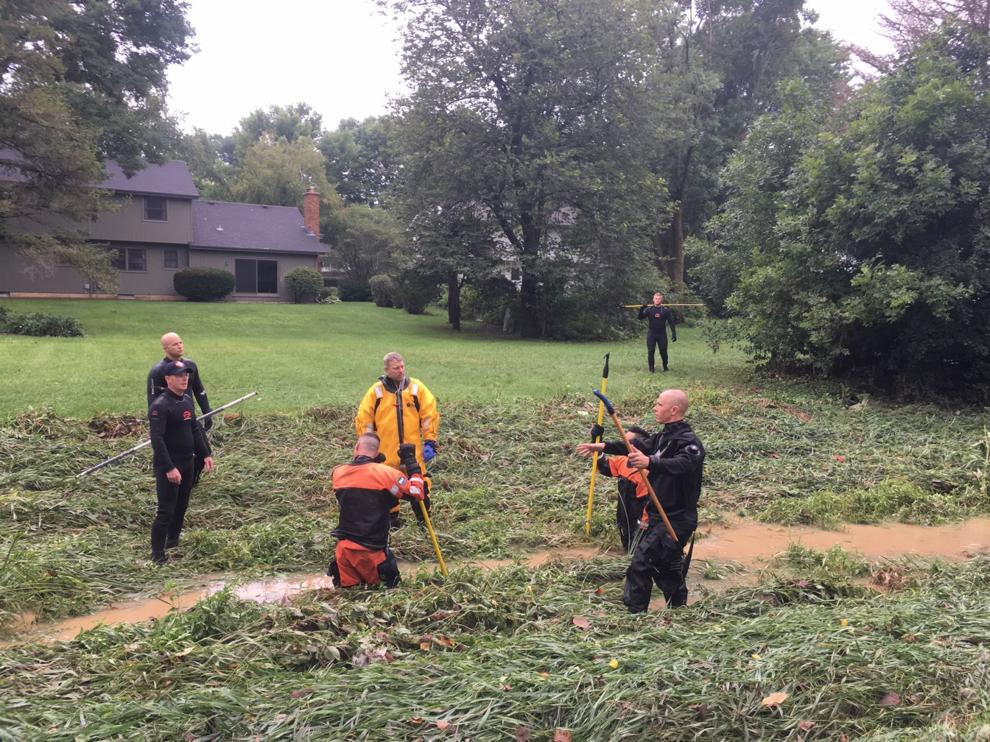 One man was killed when his car stalled in high water at about 9 p.m. Monday near Chapel Hill Road and Regis Road on Madison's West Side.
Two of the vehicle's occupants were pulled to safety, but the third, a man in his 70s, was swept away, Madison police spokesman Joel DeSpain said. His body was found Tuesday morning.
"He had gotten out of the car, but the current was very powerful," DeSpain said. "Despite heroic efforts, they were unable to keep him from being sucked under the car."
Countless others were rescued by law enforcement officers, firefighters and individuals throughout the night, Mahoney said. That included one man who was pulled from his car by two sheriff's deputies on Highway PD near the intersection with Timber Road in the town of Springdale.
After the man called 911 to say he was close to drowning in his car, deputies Rob Schiro and Nathan Katzemeyer tried but failed to reach him with ropes, life preservers and other equipment, Mahoney said. The deputies then commandeered a boat from a nearby house, drove it to the car and pulled the man out of a back window.
"He literally had just enough air for his nose and mouth before he was pulled out," Mahoney said.
Minutes later, just down the road, Katzemeyer and a resident of a nearby home rescued a woman who was standing through the sunroof of her car, which was submerged in about 10 feet of water, Dane County Sheriff's Office spokeswoman Elise Schaffer said.
Evacuations, lightning
Western Dane County endured the heaviest rainfall. Black Earth Creek reached a record high level Monday night and continued to rise Tuesday, washing out a bridge on Highway 14 near Highway 78.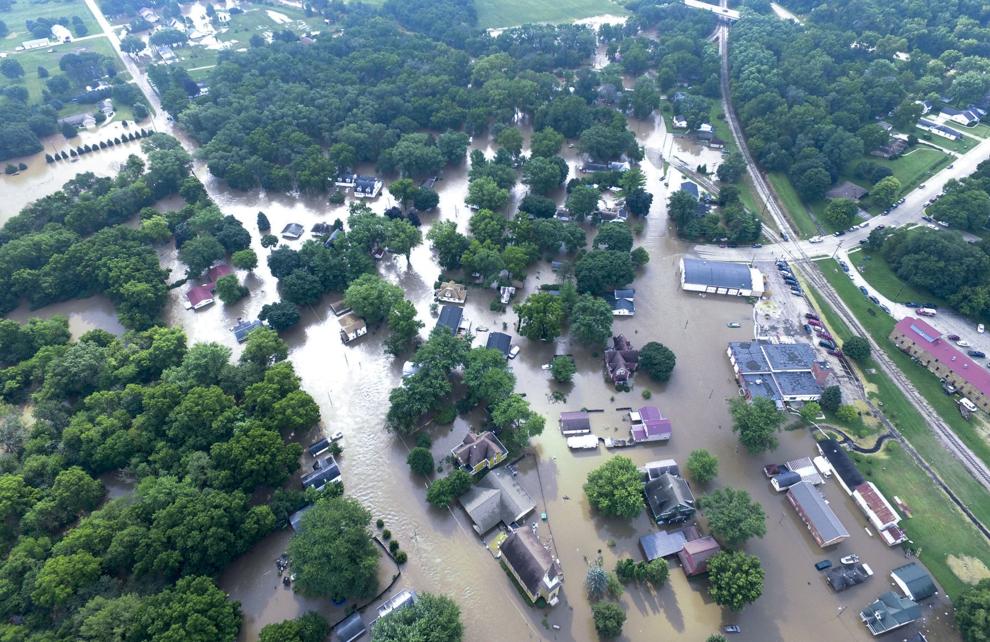 Firefighters and EMS workers from several volunteer groups worked through the night to evacuate hundreds of residents from homes and apartment buildings in Cross Plains, Black Earth and Mazomanie.
Others were fighting a blaze caused by a lightning strike that destroyed a residence on Hillpoint Road, said Assistant Chief Steve Buss of the Cross Plains-Town of Berry Fire Department.
"We're lucky there was no loss of life," Buss said.
One firefighter was injured when he was shocked by a nearby lightning strike in Cross Plains, Buss said. Buss said he was expected to be released from a hospital Tuesday.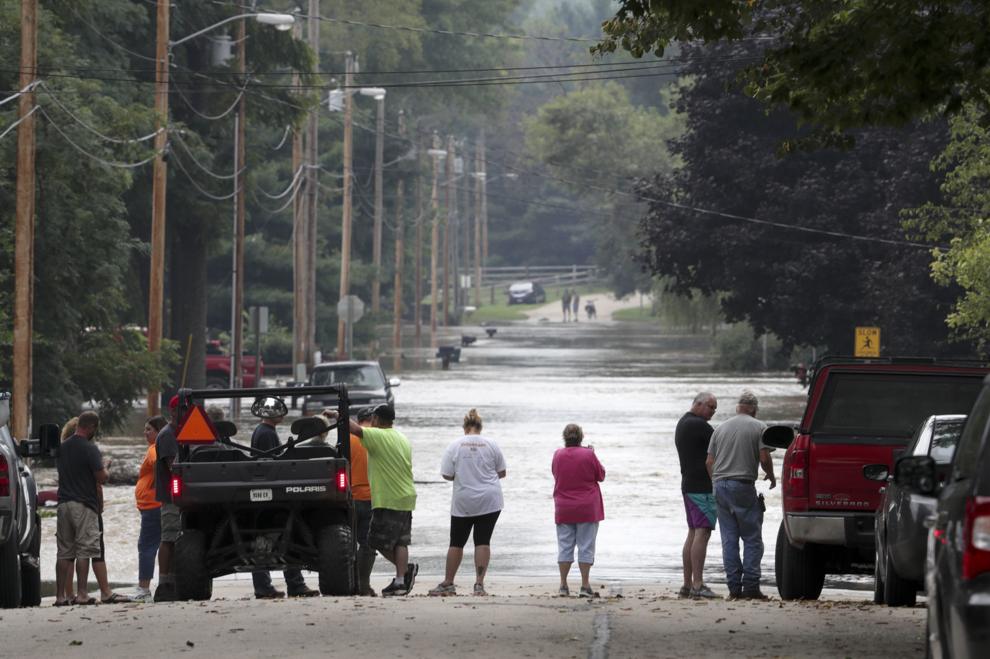 Sven Krause, owner of the Midwest Microcar Museum Vintage Cycle Room in Mazomanie said flooding caused an estimated $300,000 to $400,000 in damage to the museum's contents.
The microcar museum opened in 2015 in a historic, brick building to display Krause's father's microcars — oddly shaped and tiny automobiles that were popular in post-World War II Europe.
In Black Earth, Shoe Box owner Steve Schmitt said about half his inventory of 875,000 pairs of shoes were damaged by water that reached his store and two nearby buildings. Schmitt said Tuesday was the first non-scheduled store closing in 51 years.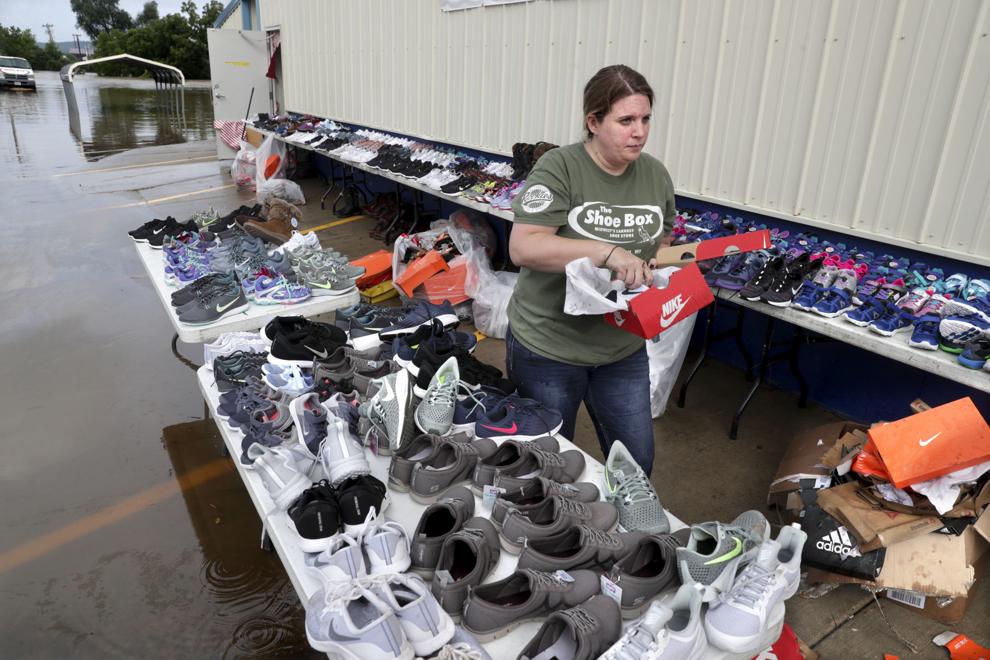 "We'll be open (Wednesday)," he said. "It'll be a mess but we'll be fine. We're just happy nobody was hurt."
State of emergency
Gov. Scott Walker declared a state of emergency for Dane County Tuesday evening and said he planned to tour the area on Wednesday.
"The state is ready to assist in the recovery efforts taking place throughout Dane County after yesterday's storms," Walker said. "I have no doubt the resiliency of Wisconsin communities will be on display during this response."
Dane County Executive Joe Parisi, who also declared a local state of emergency, urged private property owners with damage to call 211 and encouraged businesses that have experienced flood damage to contact their local unit of government to document losses in preparation for disaster assistance.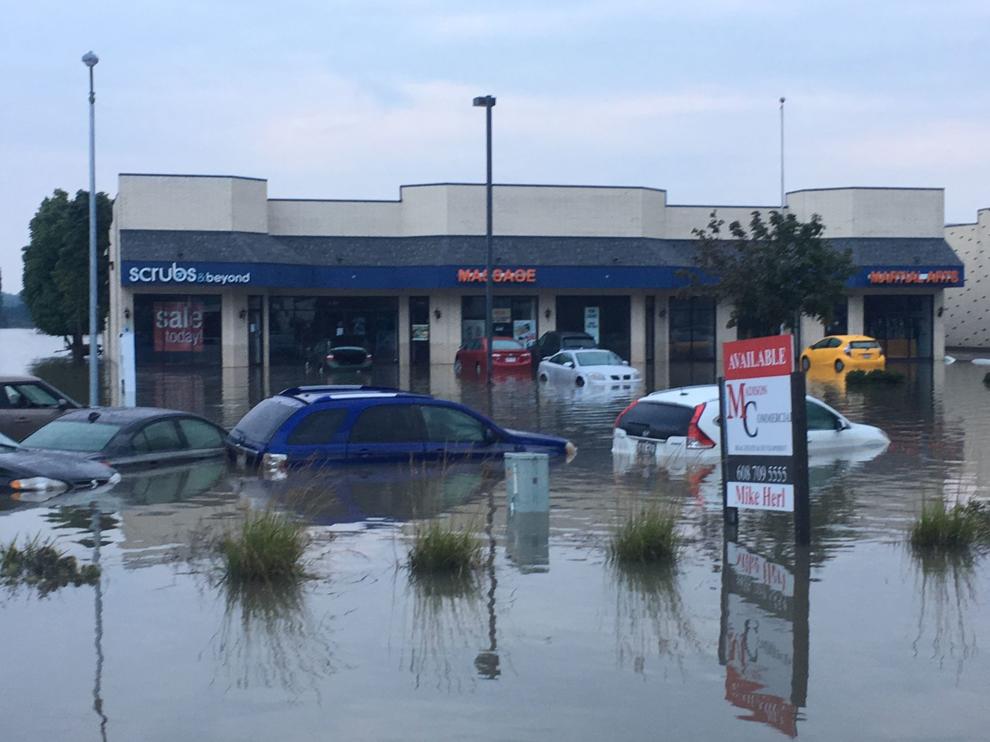 The American Red Cross and the Salvation Army opened shelters at Glacier Creek Middle School in Cross Plains, Mazomanie Elementary School and West High School in Madison.
Dozens of roads, including sections of Highway 14, remained closed Tuesday, and abandoned vehicles littered underpasses and intersections in low-lying areas across the west metro area. Authorities said it could be days before some roads reopen.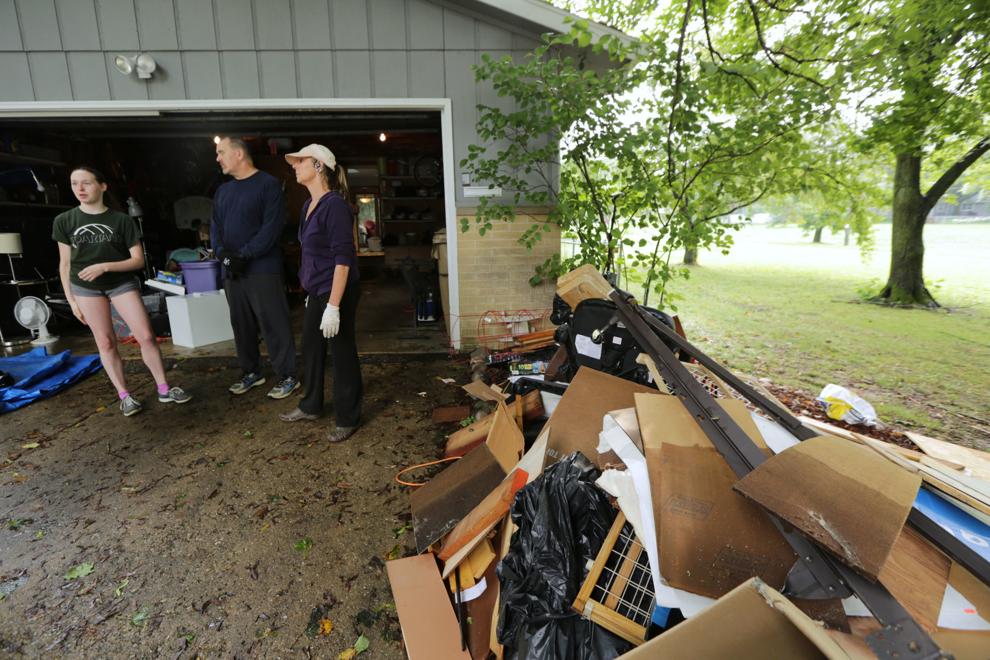 The heavy rain tipped over fuel tanks at Morey Airport in Middleton. One of the tanks contained 1,000 gallons of jet fuel; the other held 500 gallons of gasoline. Officials said the gas tank was leaking, but the gasoline was being collected in a containment berm.
Storm sewers overwhelmed
The heaviest flooding in Madison occurred on the West and Southwest sides. Areas most affected included McKenna Boulevard near Elver Park, Mineral Point Road in the Gammon Road area, Mineral Point Road at Junction Road, Odana Road in the Grand Canyon Drive area, and Pleasant View Road around Valley View Road.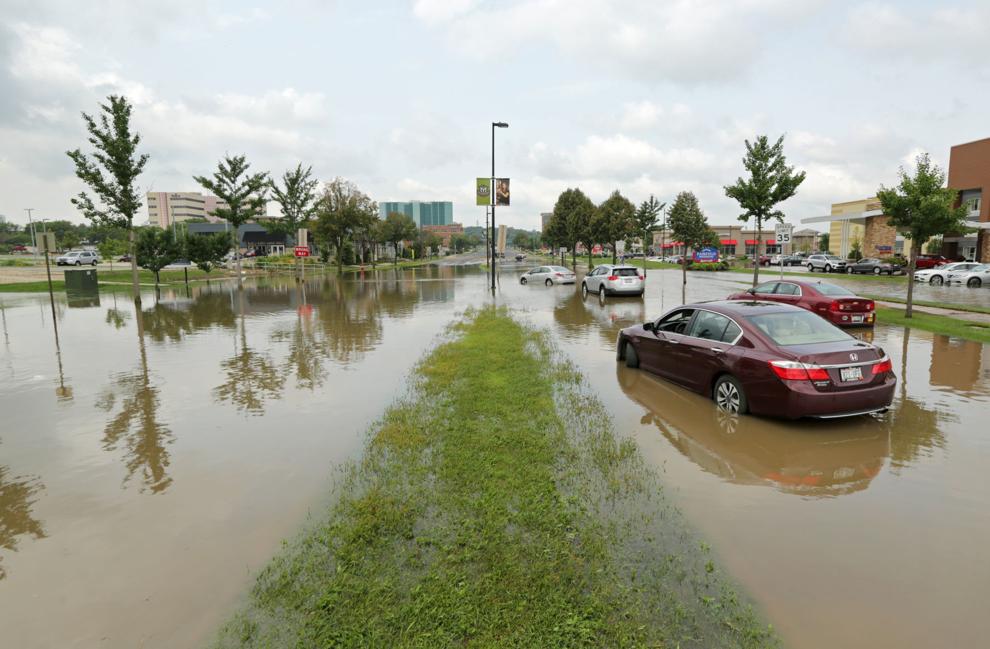 Some streets were open but still showed signs of flooding. Debris was visible on the underside of vehicles parked along Midvale Boulevard.
On University Avenue, Jeff Jensen was cleaning out the bays of his garage, Car Care Clinic, which took on about 6 inches of water Monday night.
Jensen said his parking lot regularly floods when the storm sewers can't keep up with heavy rains and passing vehicles slosh through.
"The waves are what do all the damage," he said. "It's been up to the door but not this bad," he said as he hosed debris from his parking lot.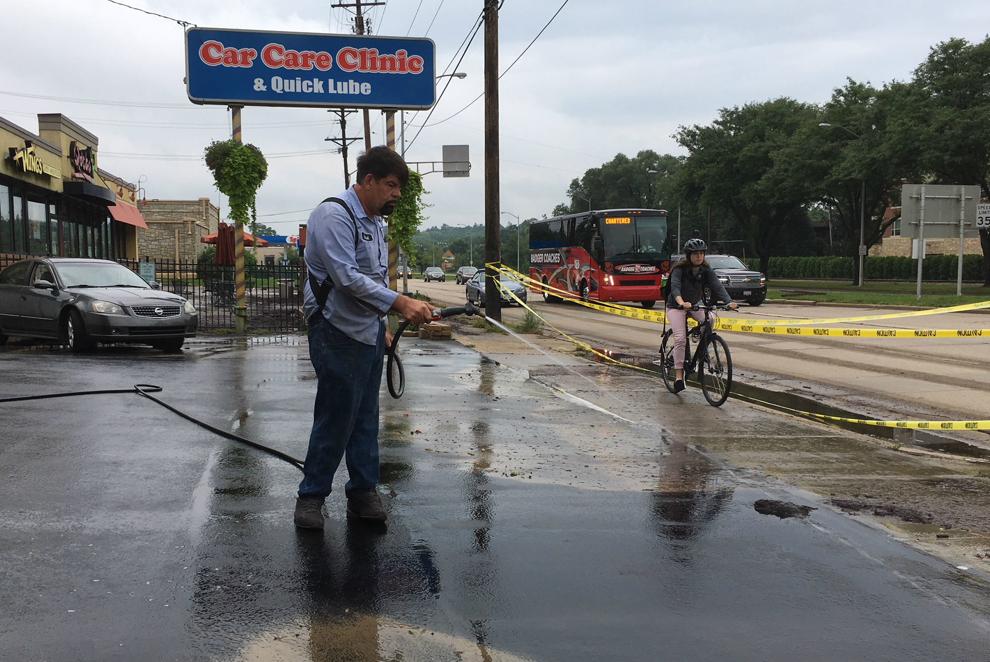 The Spirit Mart gas station at 2801 University Ave. was still without power at 8:35 a.m., during what manager Rama Sapkota said is normally one of the busiest times for the store, which had about 2 inches of water on the floors.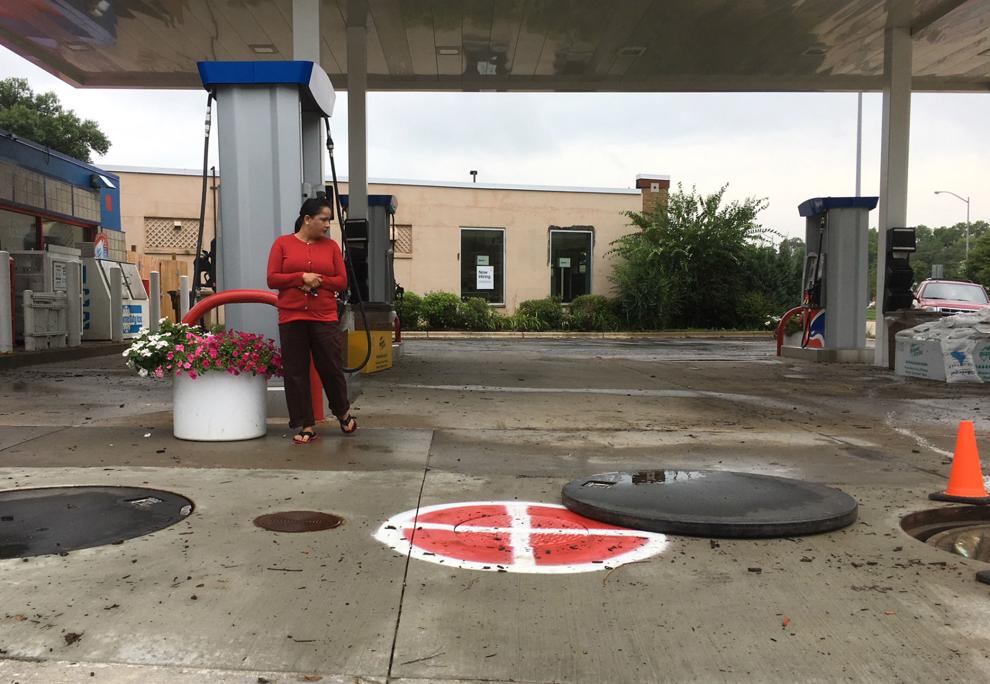 "So many people ask me, 'What is going on?'" Sapkota said. "No power."
Stranded in Middleton
Large swaths of Middleton were still under water Tuesday.
Dozens of shoppers and employees had to spend the night at the Costco store on Deming Way after floodwaters left the building an island surrounded by a lake of swamped cars, according to an employee who declined to be identified.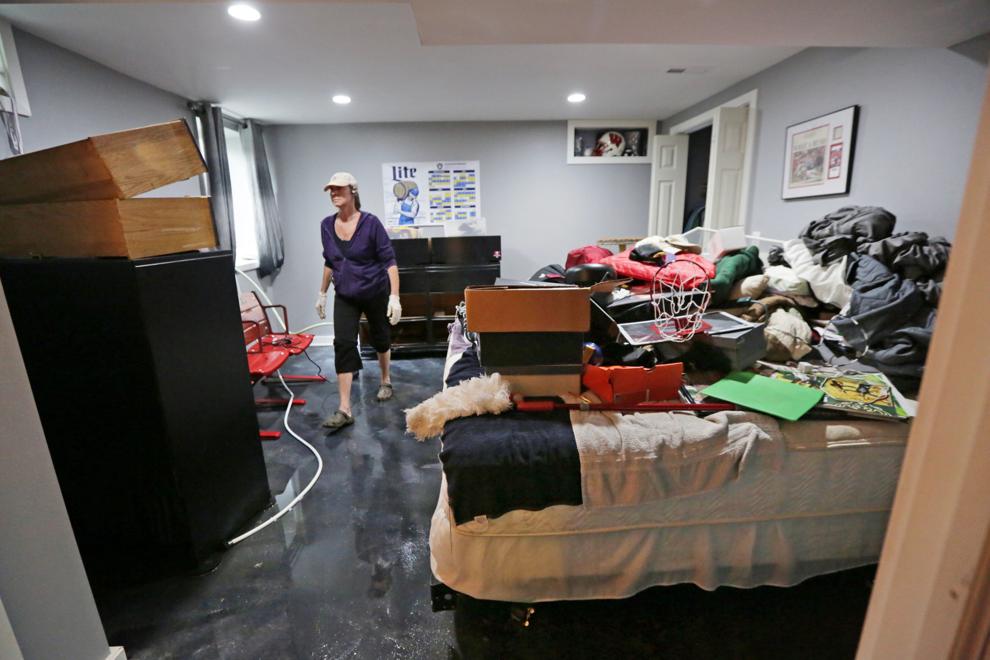 Sameer Kamat of Middleton said he got home from work and decided to make the half-mile trip to Costco. By the time he left, around 8 p.m., the roads were under water.
"Cars were floating around here," he said, gesturing at Greenway Boulevard outside the Fairfield Inn and Suites, where he sought refuge in a first-floor hallway until rising water forced him to head upstairs.
"Wrong place, wrong time," Kamat said as he retrieved possessions from his flooded Honda CR-V Tuesday.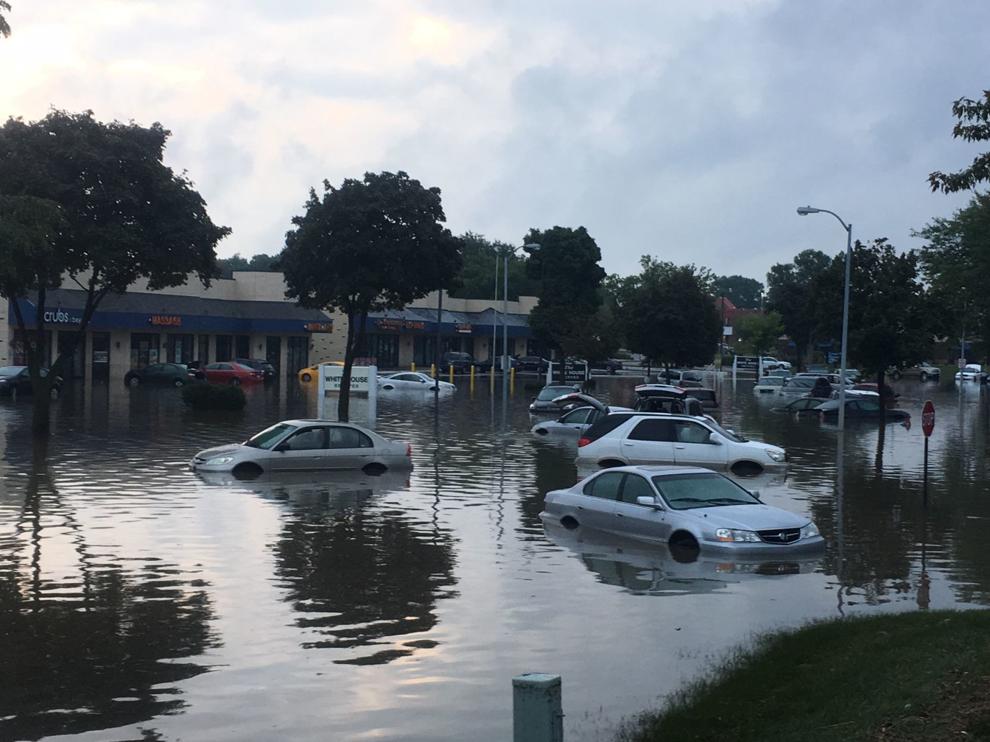 Caryn Daane of Milwaukee was in town for an insurance industry conference. After the hotel lost power she wandered outside to see what was going on. A motorist who was rescued from floodwaters on Greenway Boulevard and a hotel guest whose first-floor room was flooded ended up spending the night in her third-floor room.
"We had a little sleepover," she said.
Daane said she watched the water rise around her Jeep Cherokee until only the windshield and roof were visible.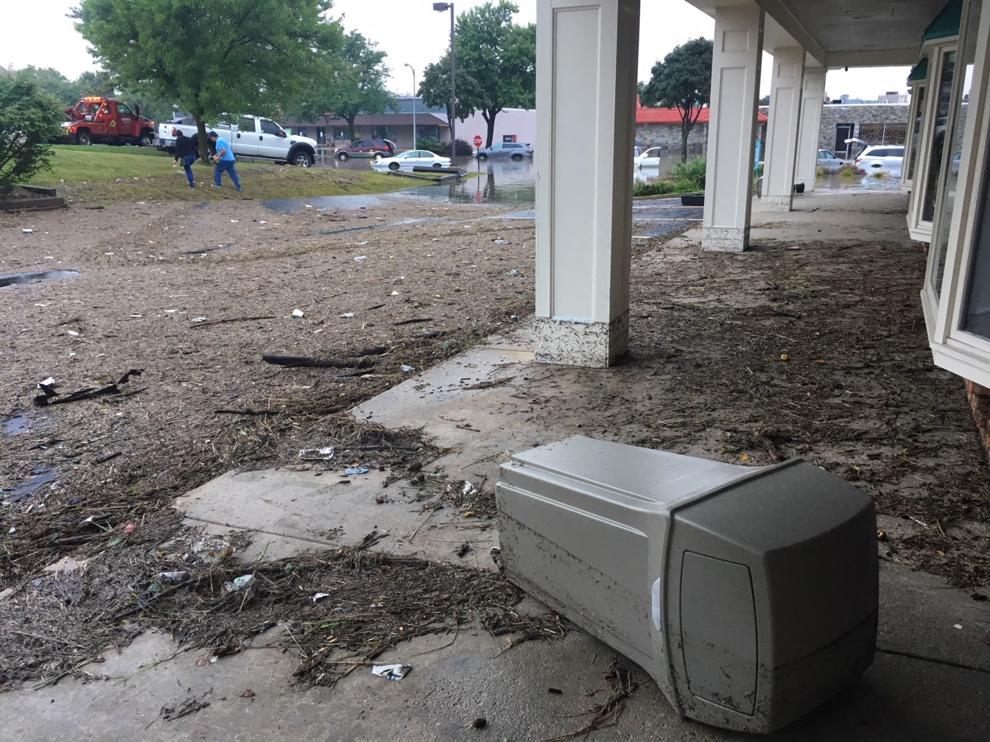 Nico Meyer of Atlanta and Erika Botes, who was visiting from South Africa, were eating dinner nearby at P.F. Chang's when the water began rising.
Meyer said they attempted to drive to the Country Inn and Suites across the street, but "it was just a flood."
They retreated to the restaurant, where they stayed until about 11:30 p.m. With water lapping at the door, Meyer said about a dozen guests formed a human chain, holding hands as they waded through waist-deep water back to the hotel, which had no electricity but was dry.
Mike and Loretta Polhill were heading home to Freeport, Illinois, after having dinner with friends on Old Sauk Road at about 7 p.m. but pulled into the hotel parking lot to escape the rising water.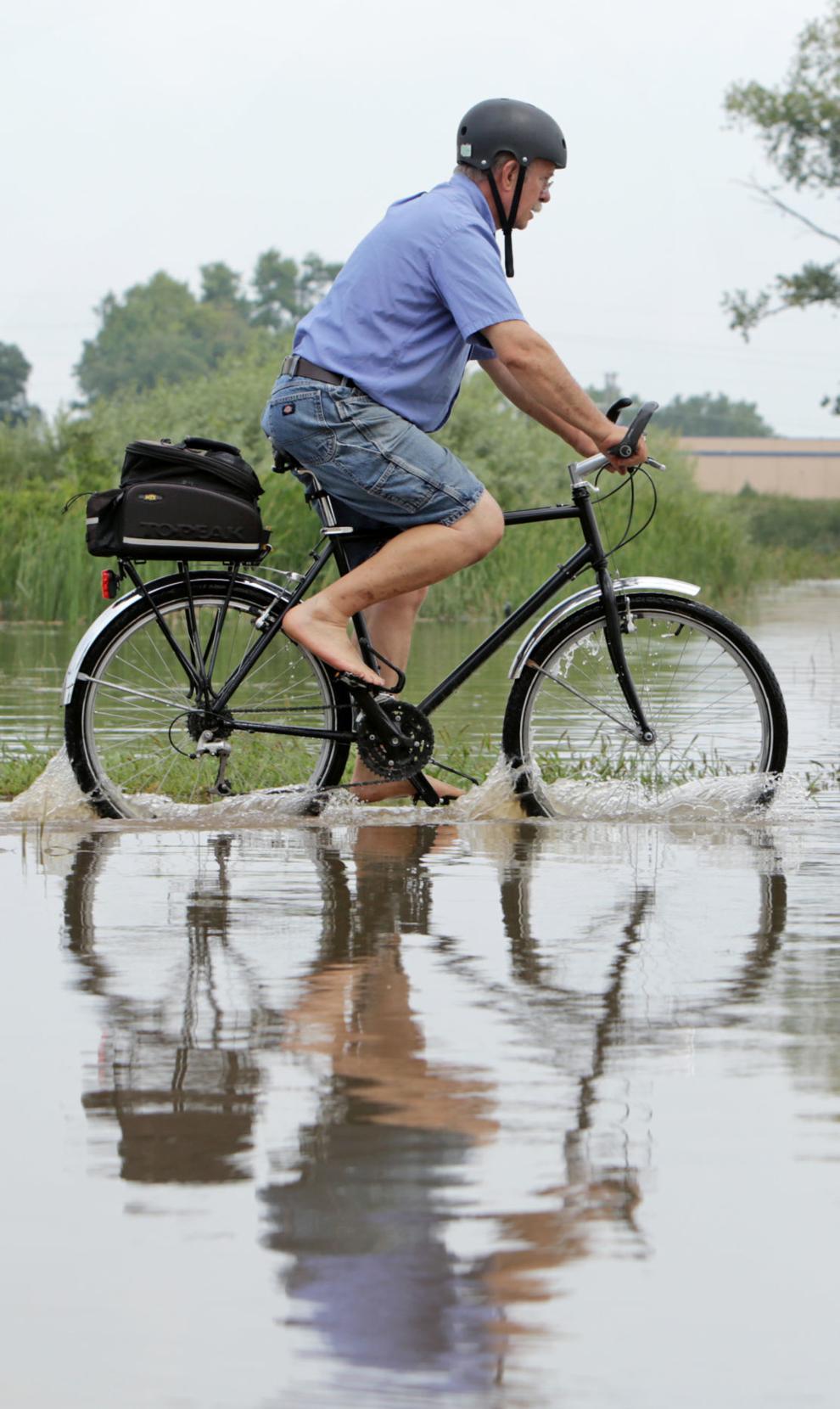 "It was the scariest trip ever," Loretta Polhill said. "We couldn't even see the road."
Marne Renn of Tomahawk watched the water rise around the nearby Costco from her room on the third floor of the hotel. Standing in the muddy parking lot waiting for a ride, Renn said the flood brought out a spirit of camaraderie among the guests.
"One guy opened his room," she said. "Everyone helped everyone."
State Journal reporters Barry Adams and madison.com editor Jeff Richgels contributed to this report.
Flood damage on Riverview Drive
Highway 14 bridge washed out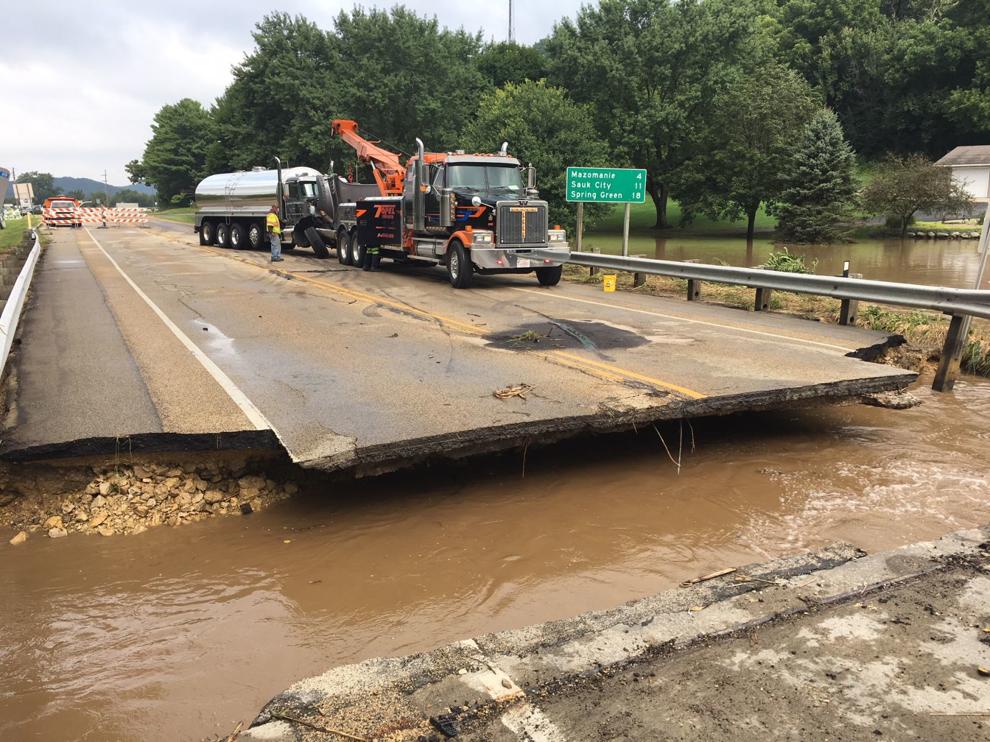 Flooded backyard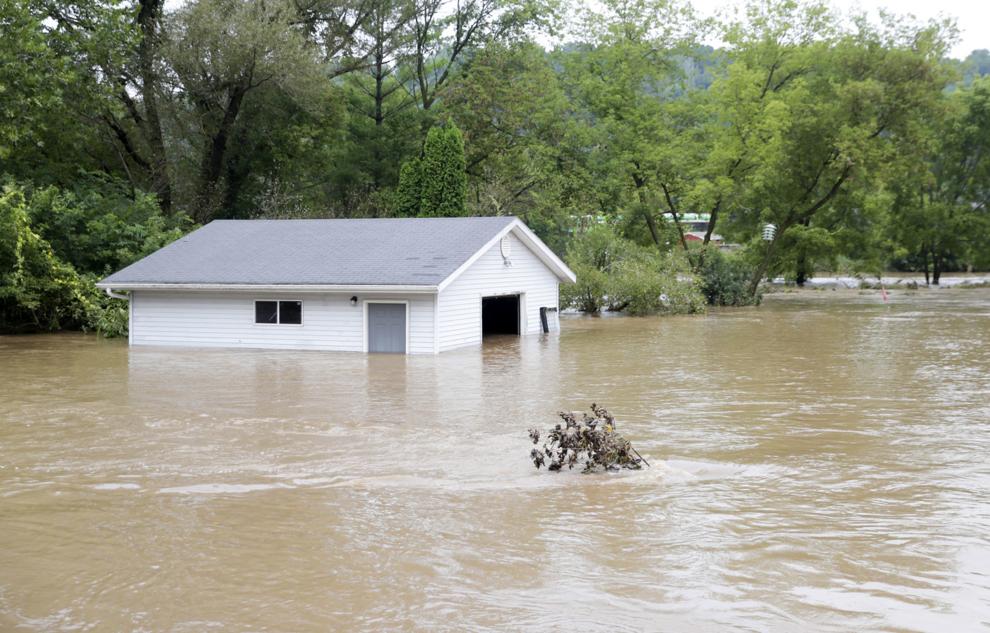 Flooded garage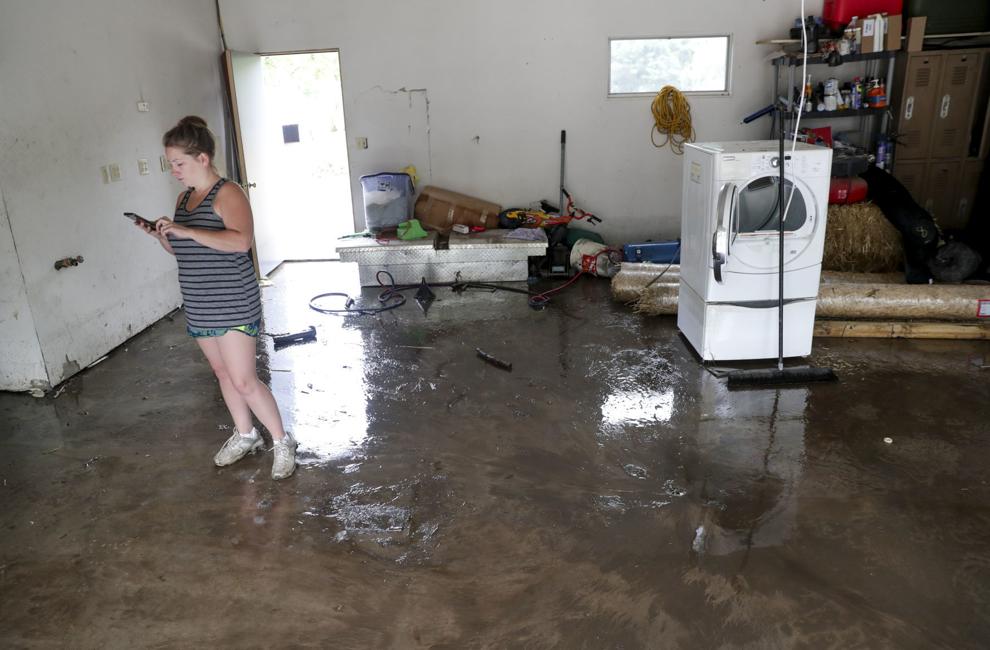 Water in Mazomanie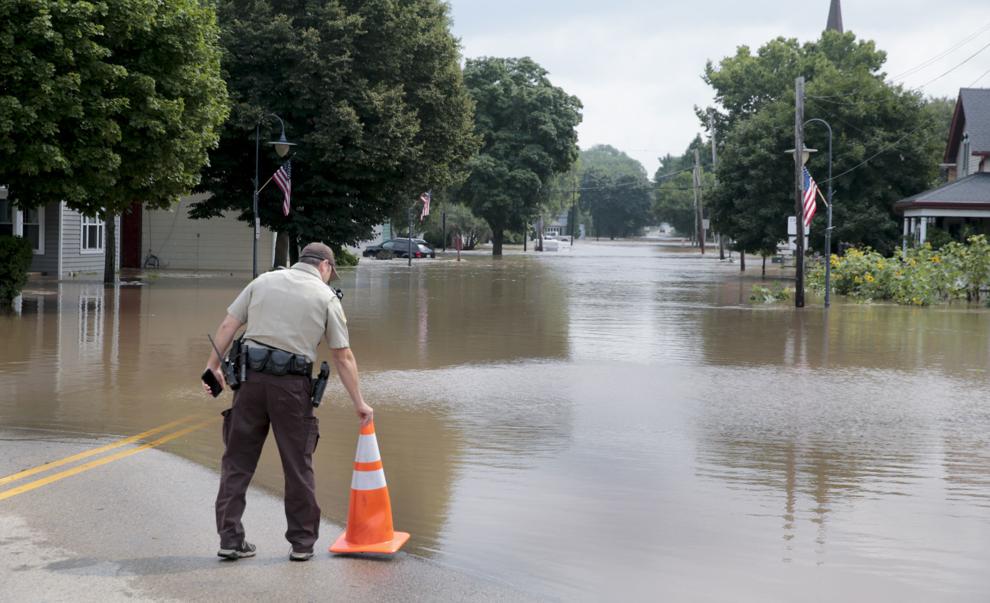 Black Earth Creek floodwaters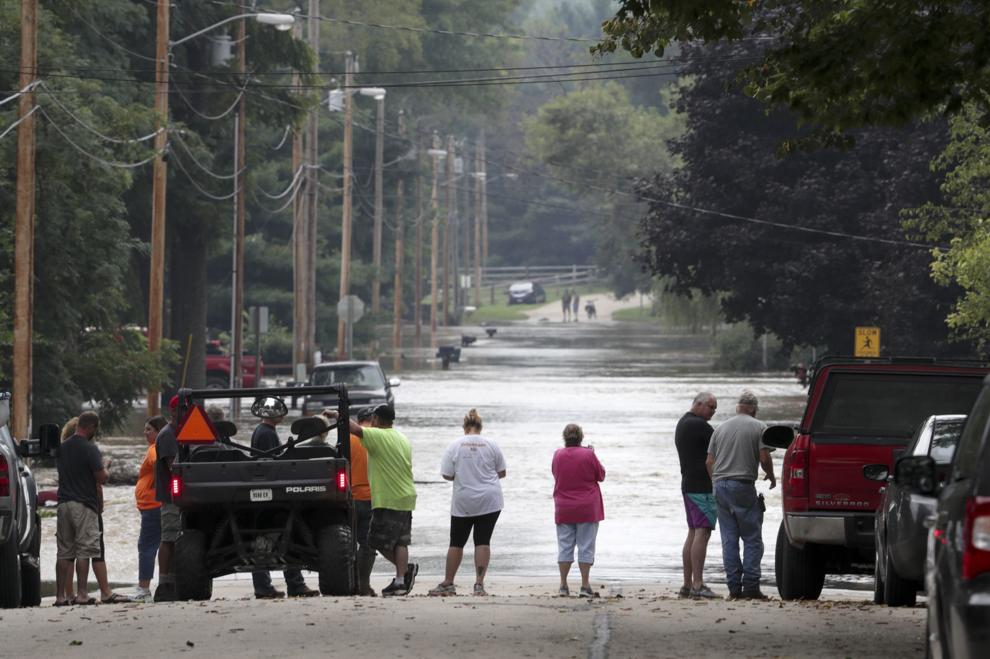 Drying shoes at the Shoe Box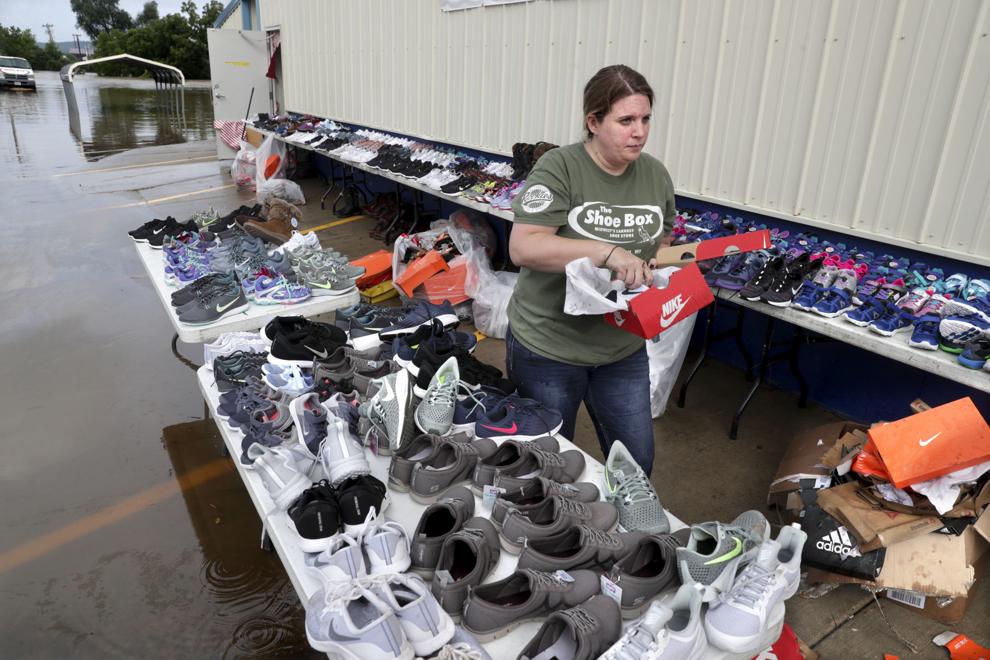 Flooding at the Shoe Box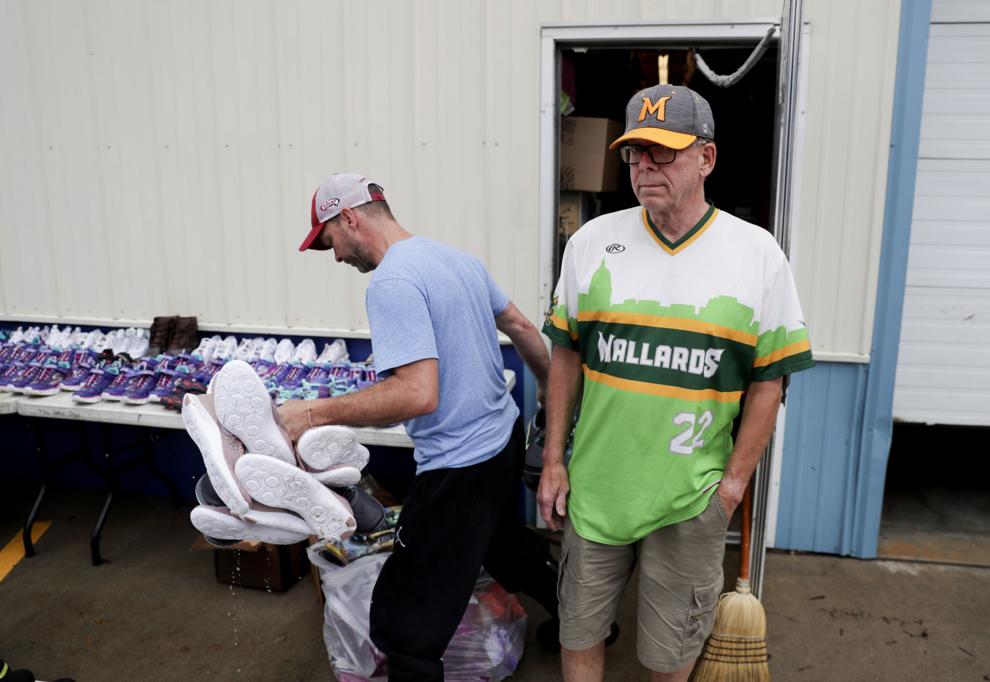 Cleaning floors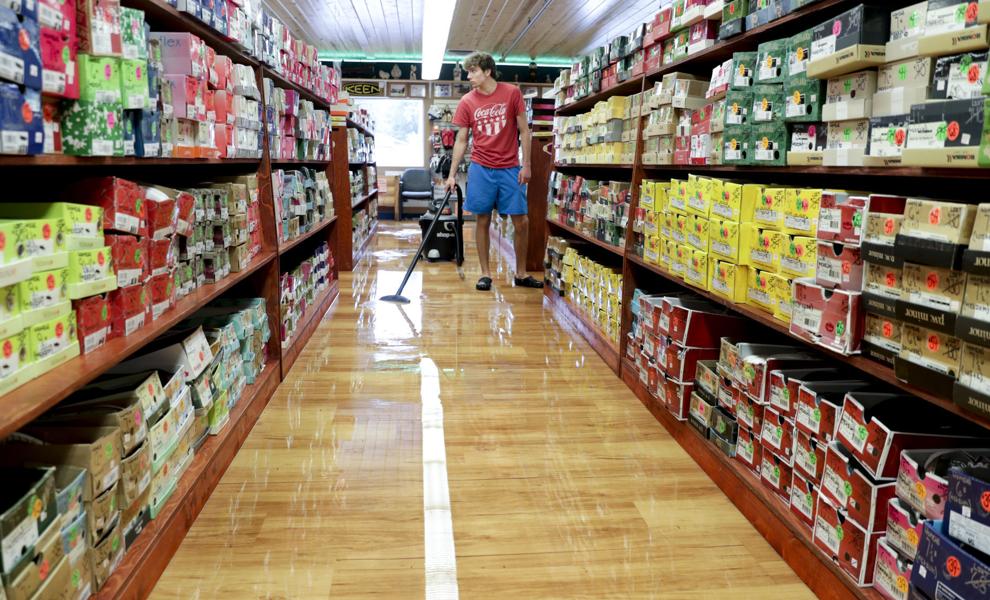 Search for man's body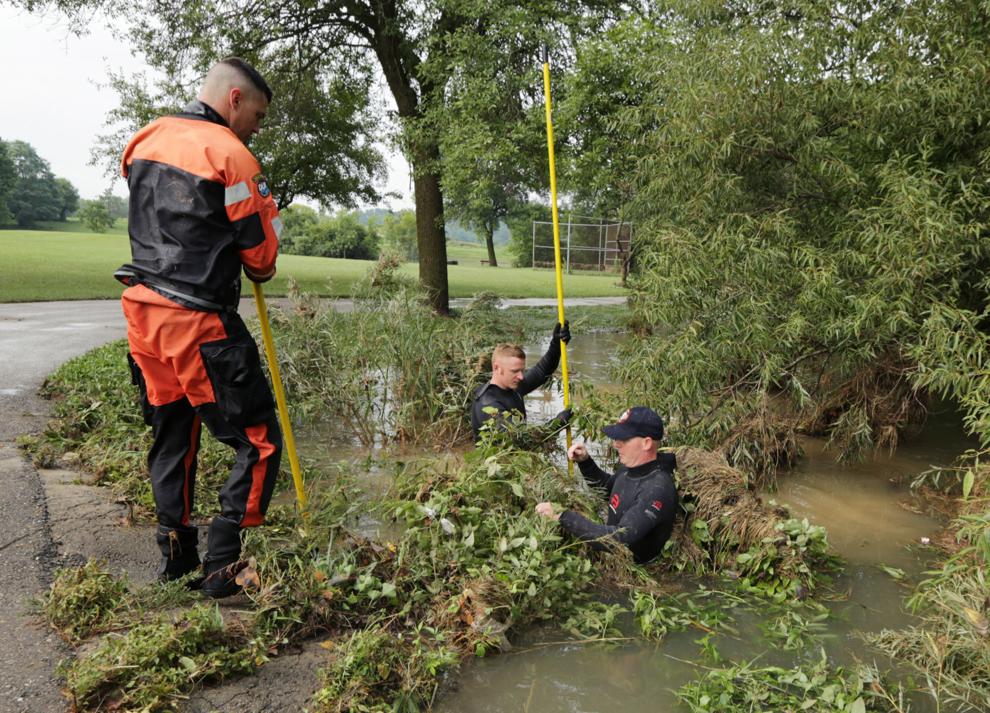 Lake Rescue Team searching Greentree-Chapel Hills Park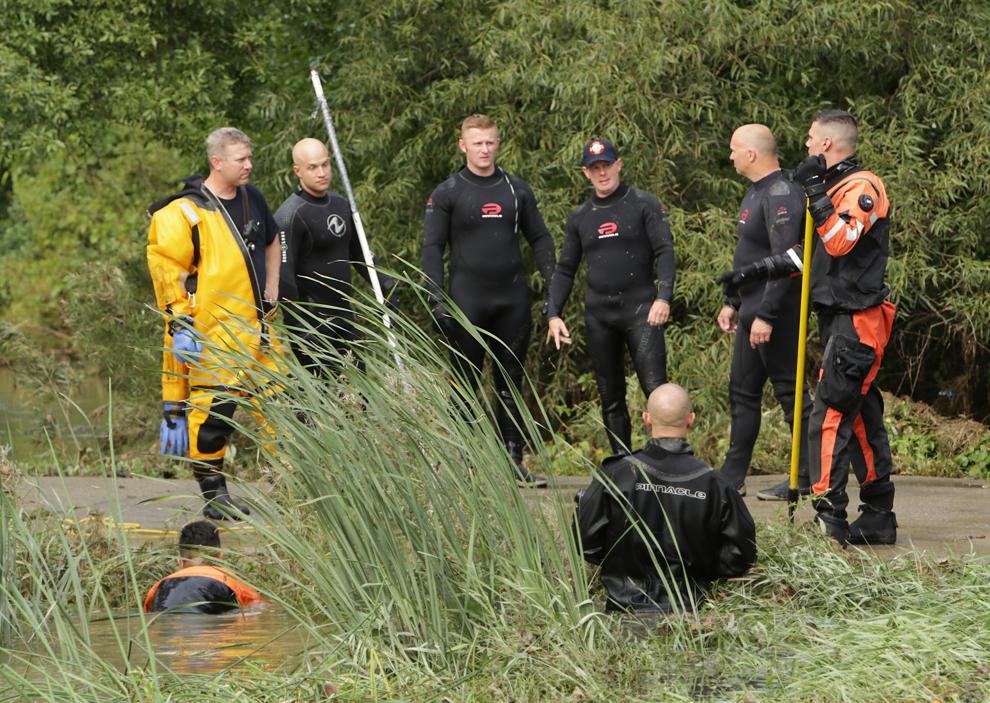 Search for missing man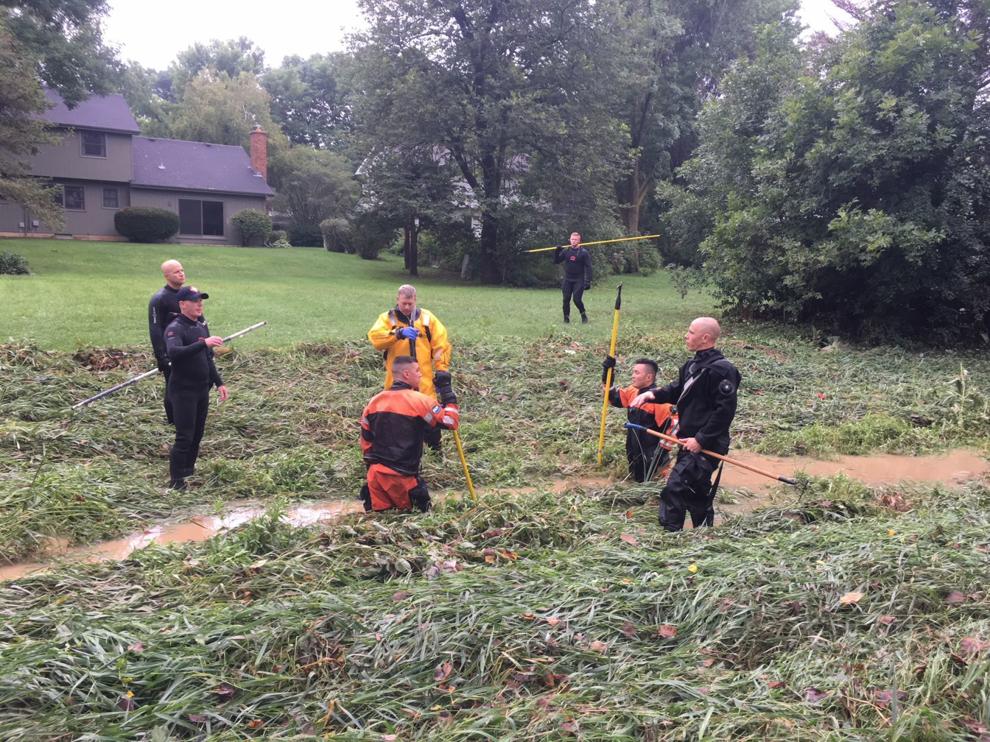 Flying a drone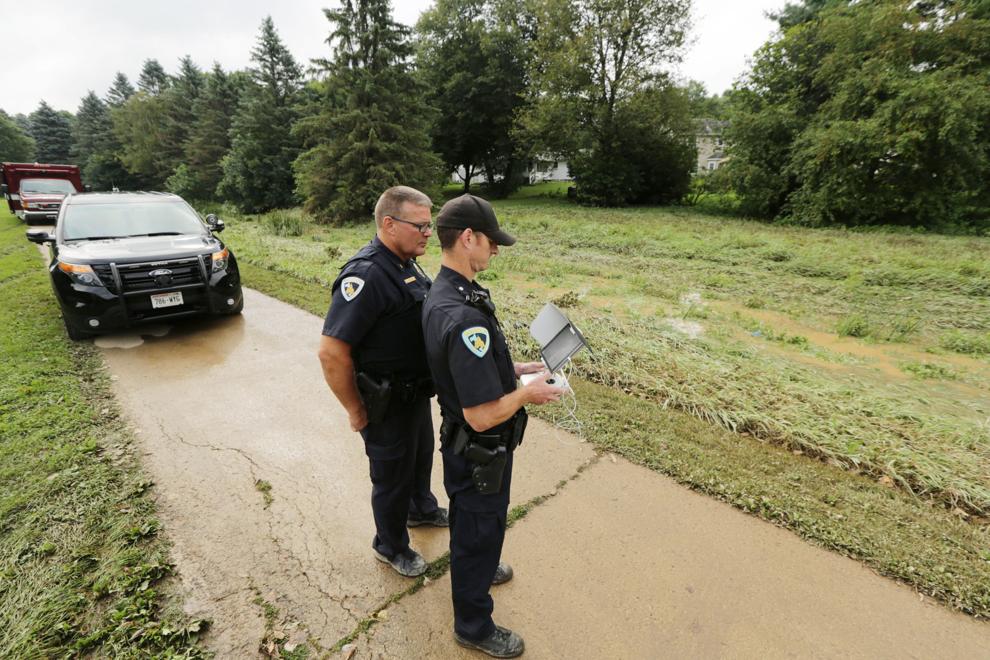 Flooding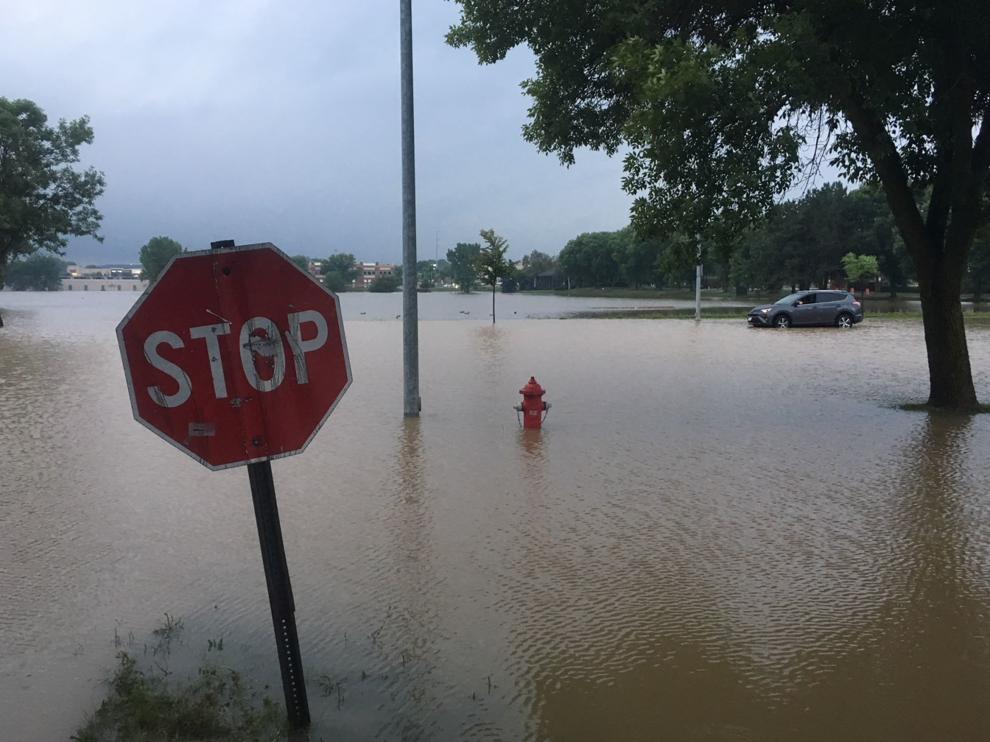 Mineral Point Road closed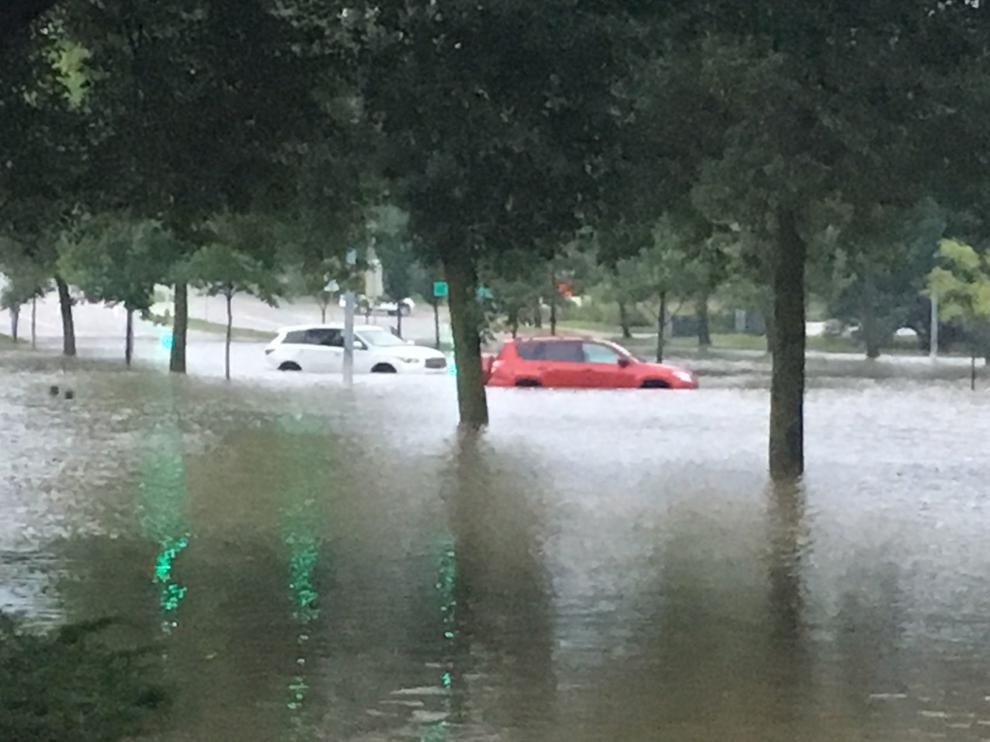 Flooded soccer fields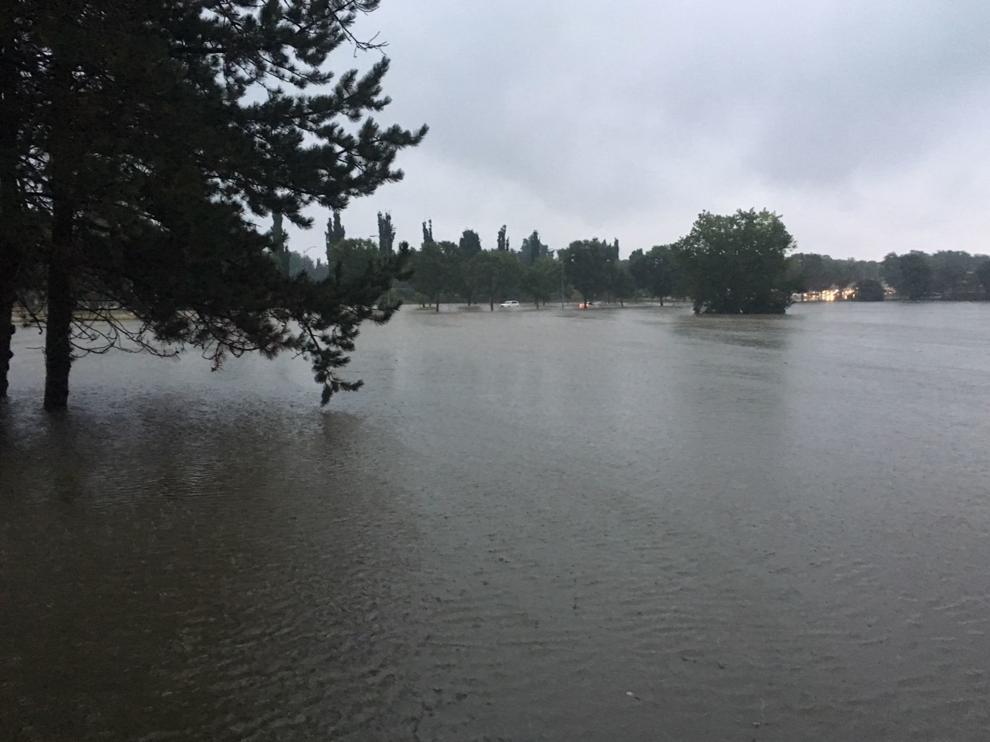 Flooded homeowners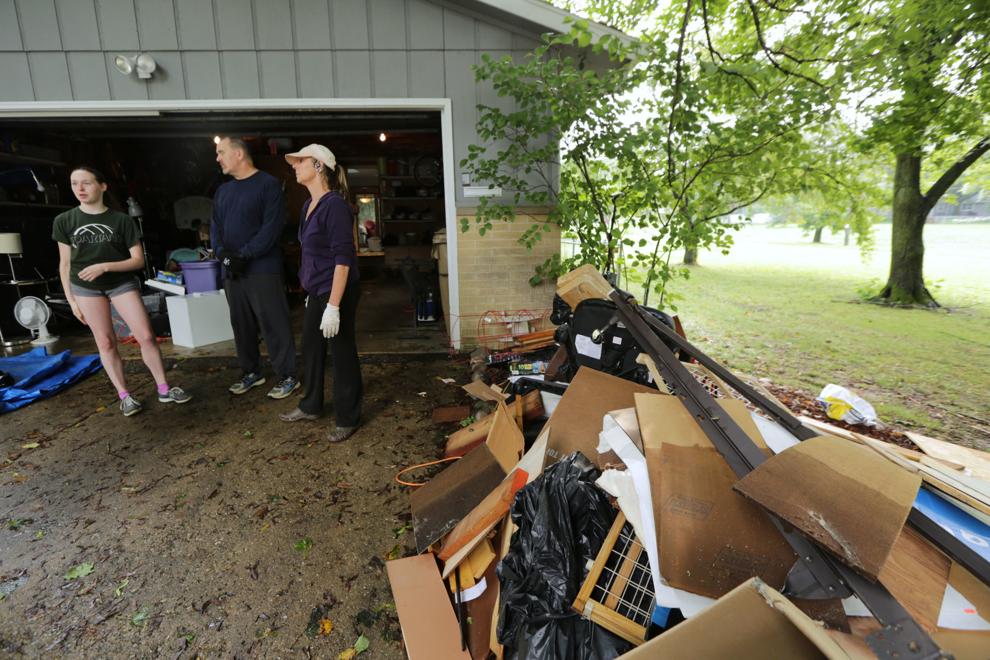 Flooded basement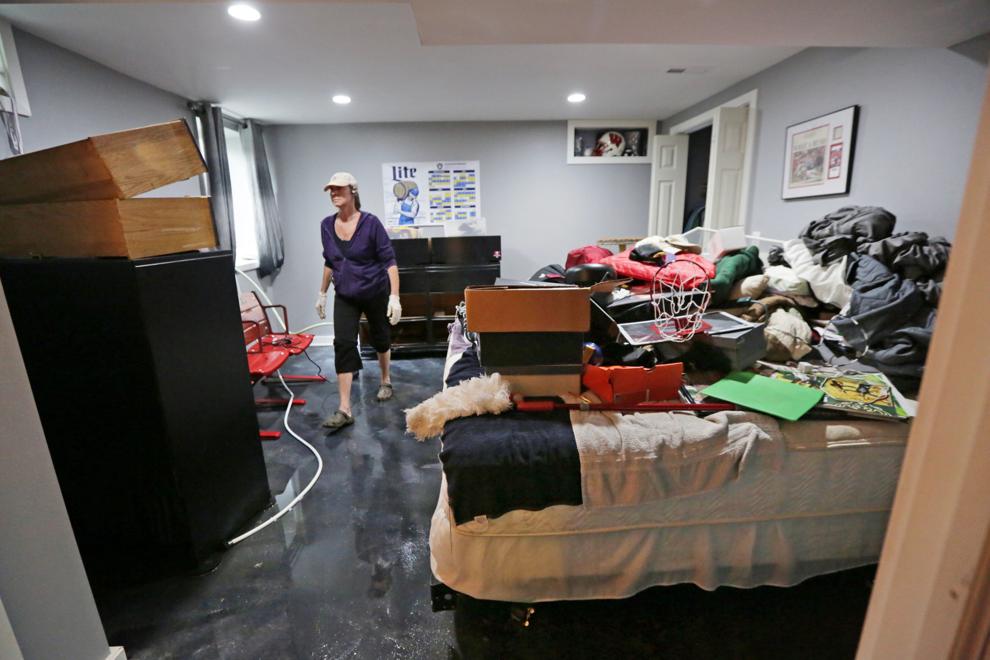 Flooding on Mineral Point Road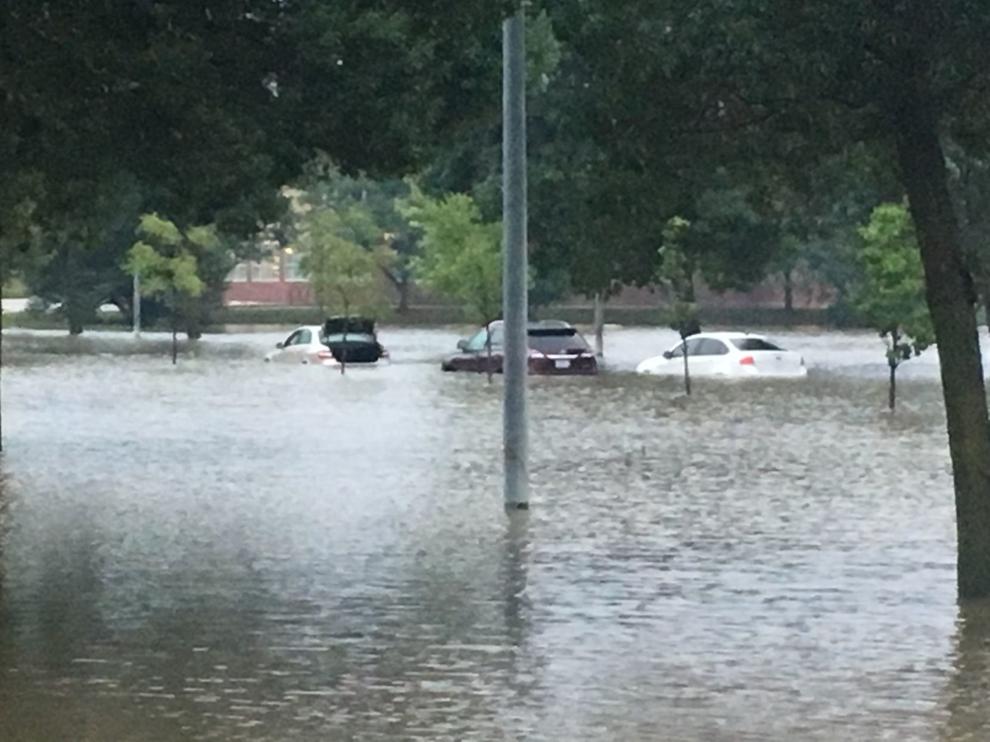 Odana Road shut down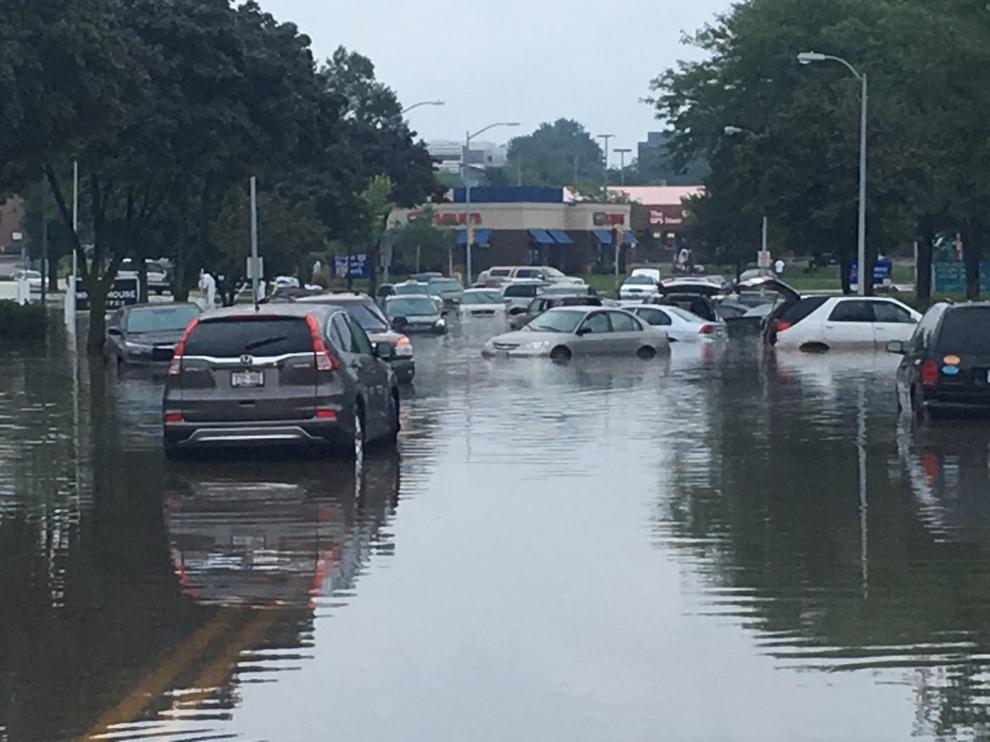 Debris left from floodwaters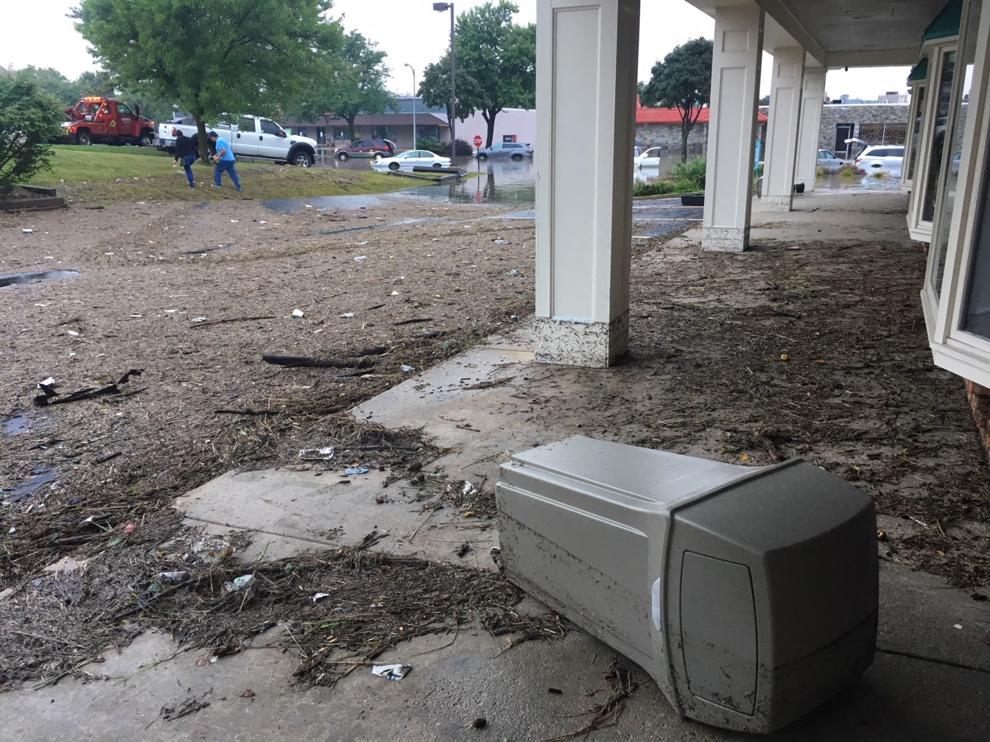 Businesses flooded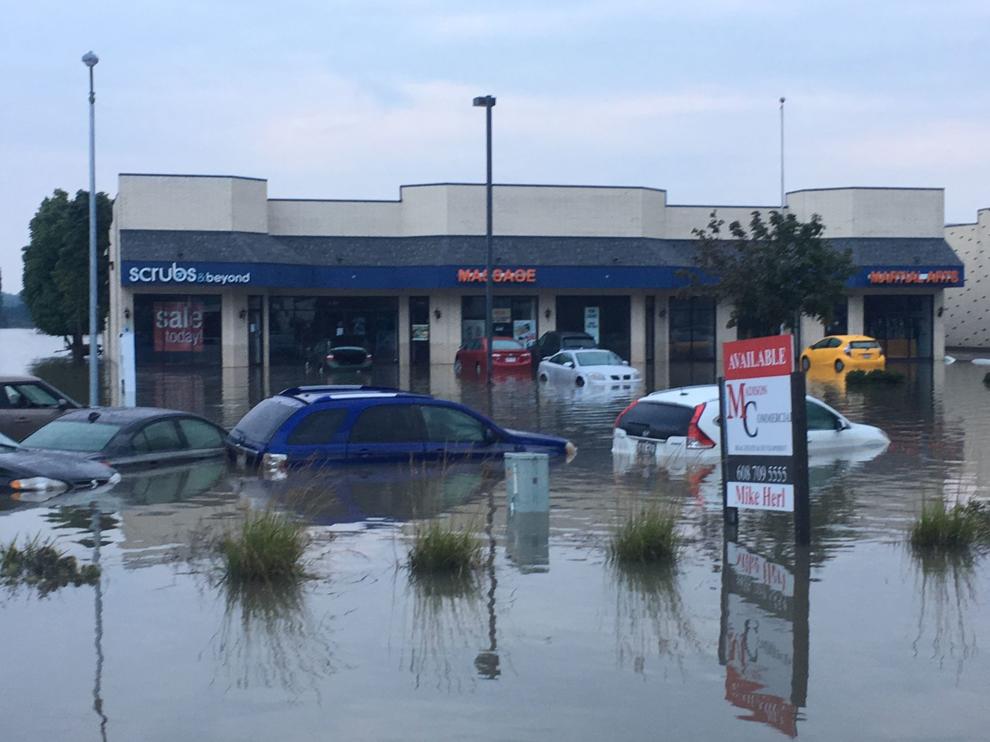 Stranded vehicles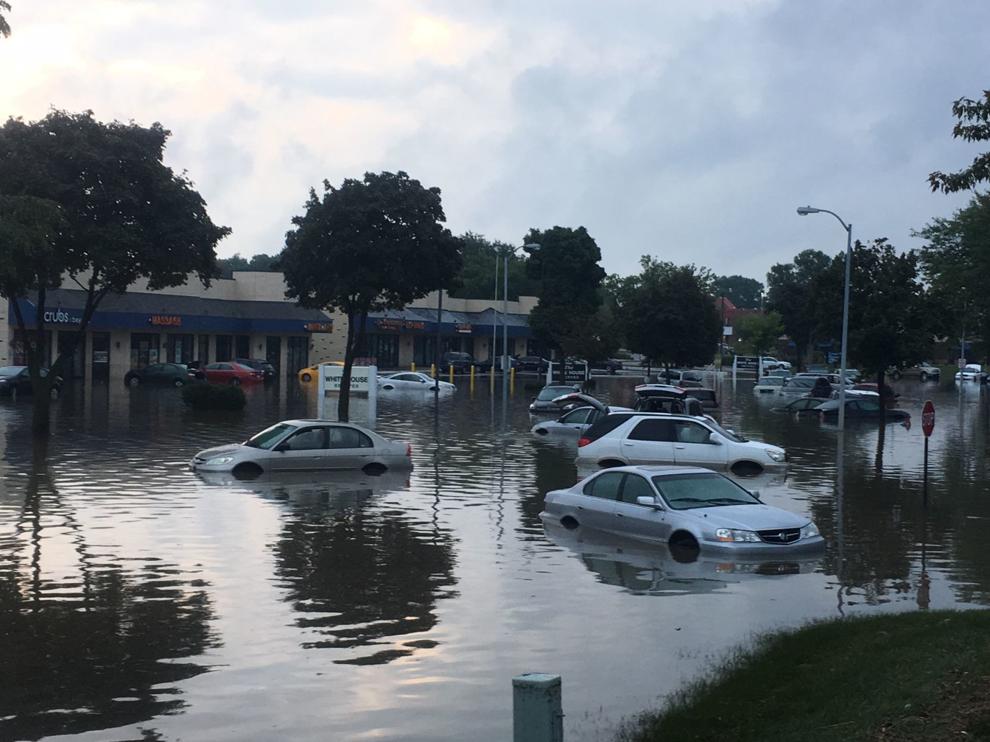 Flooded University Avenue business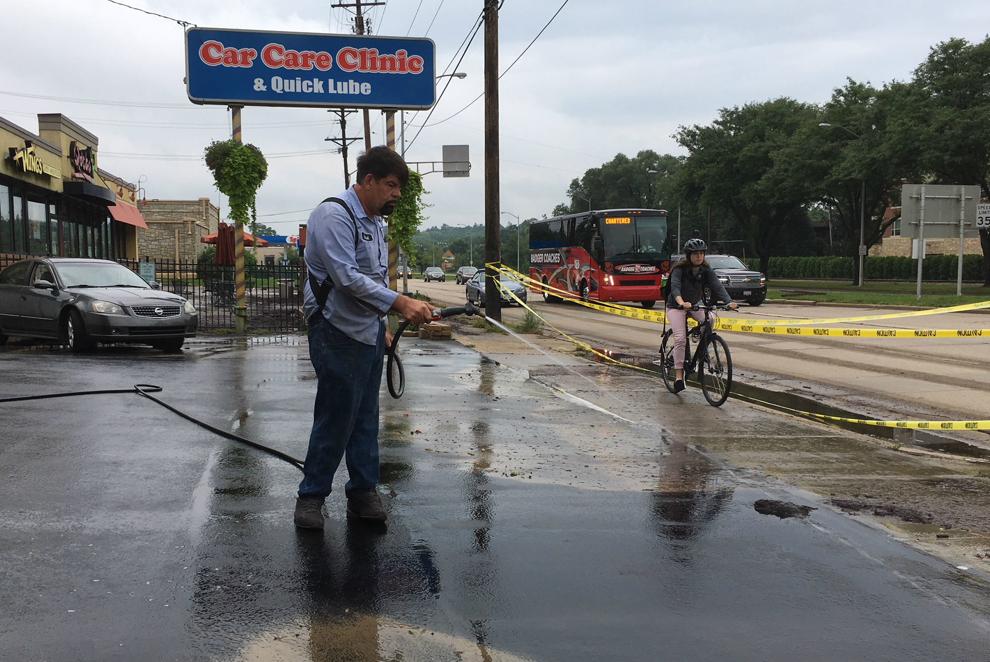 University Avenue aftermath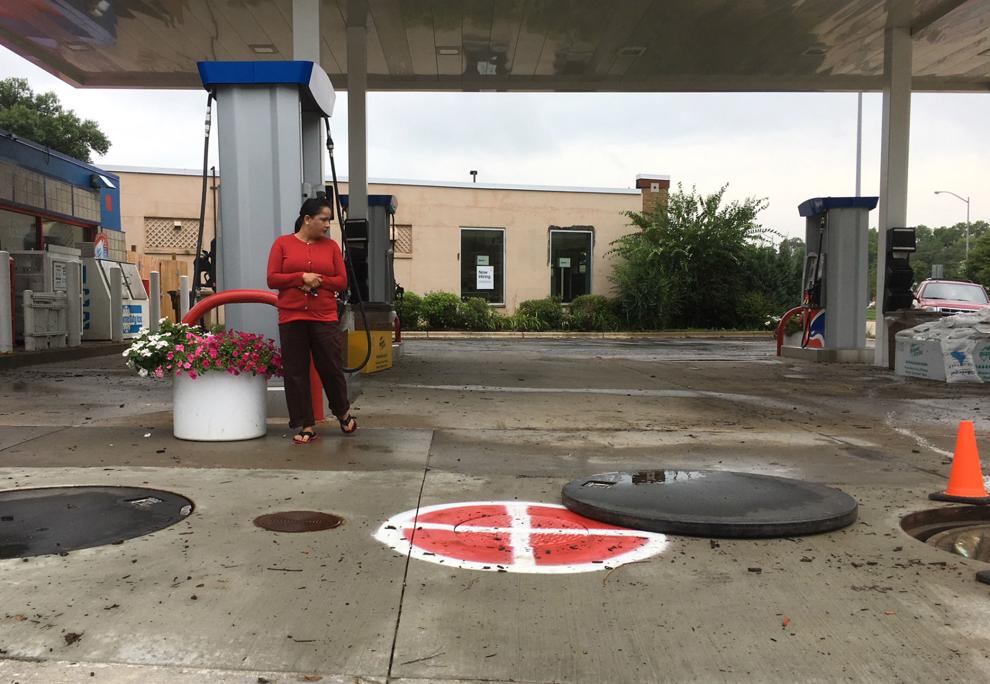 Flood: storm sewer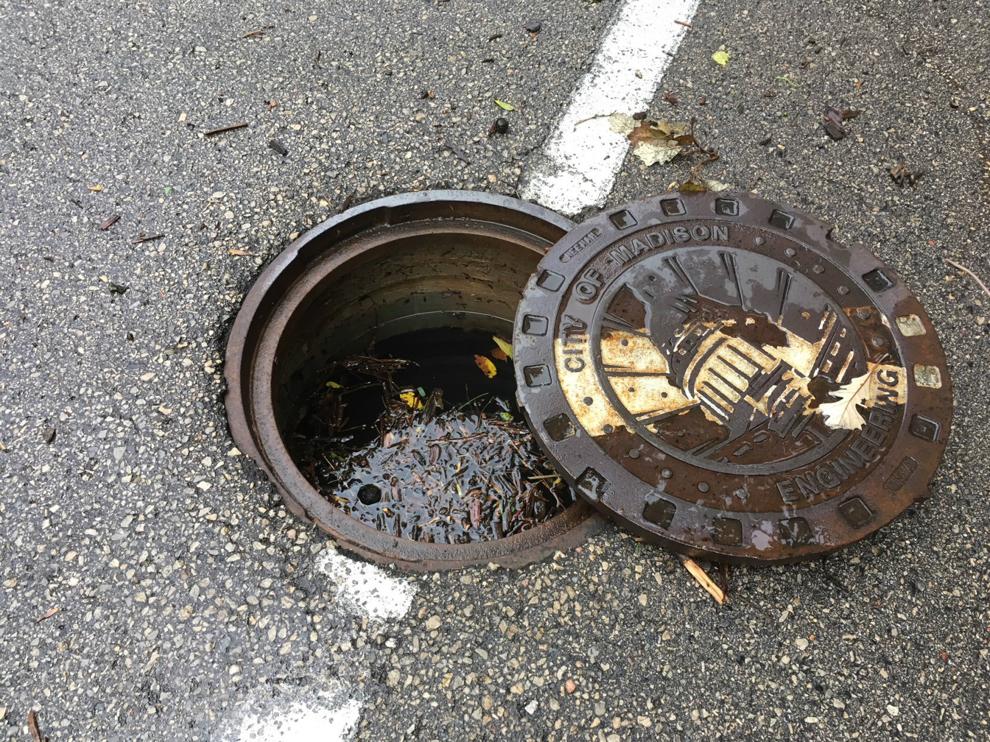 Flooded construction site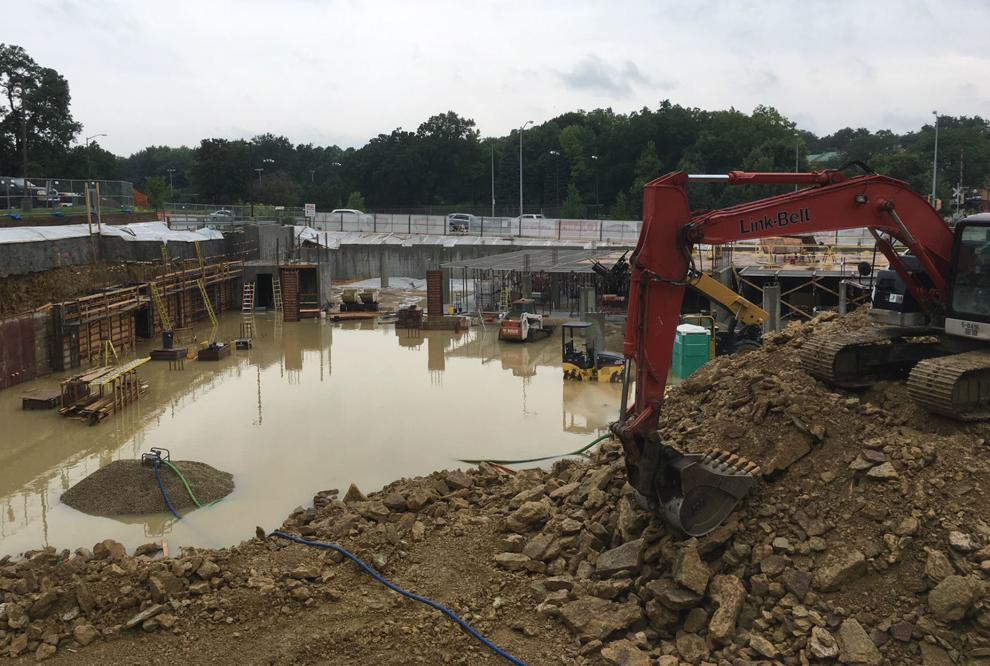 Water surrounds Costco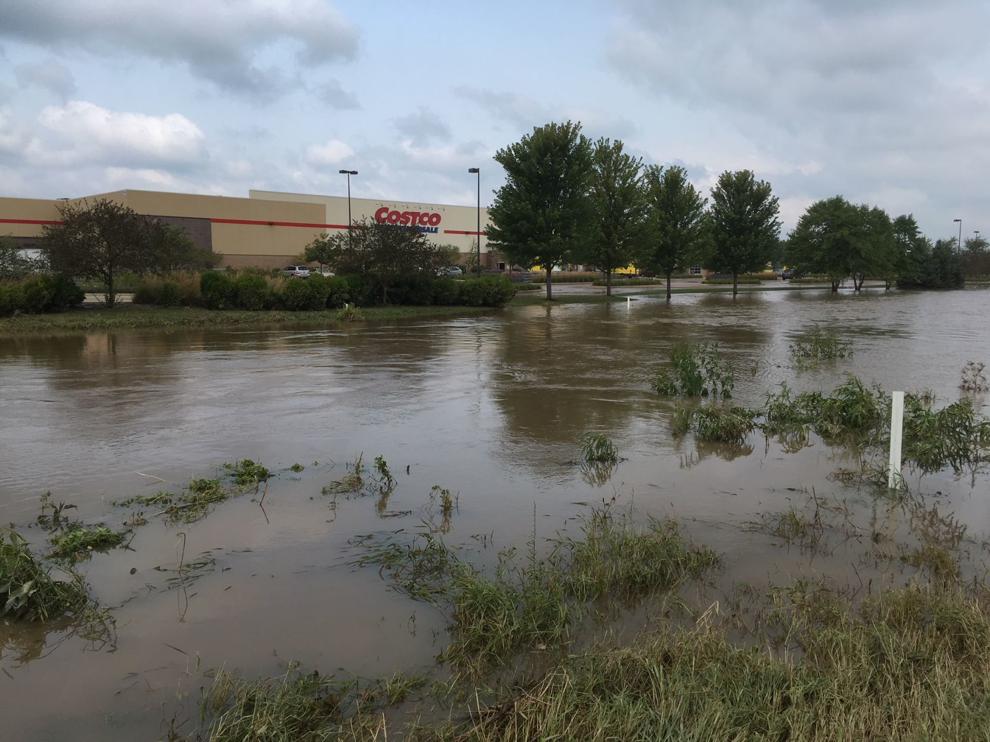 Stranded car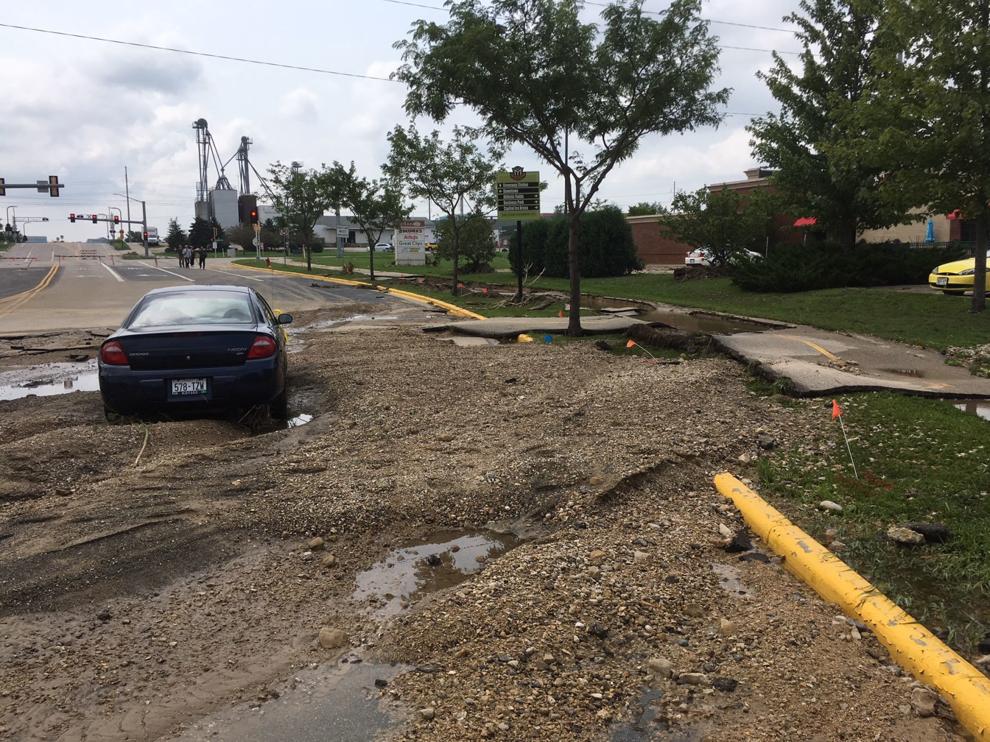 Muddy shoes, car left behind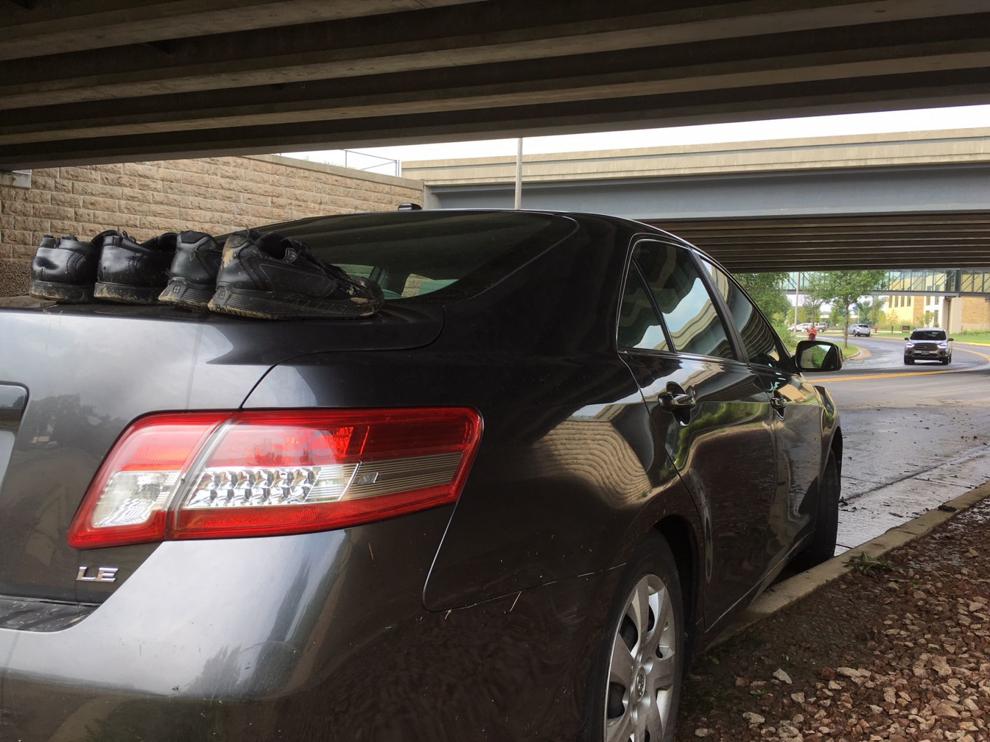 [Editor's note: This story has been updated to reflect a correction. An earlier version misstated the unofficial rainfall total in Cross Plains after the National Weather Service office in Sullivan said a weather observer misread his rain gauge. The correct total should have been 14.33 inches.]