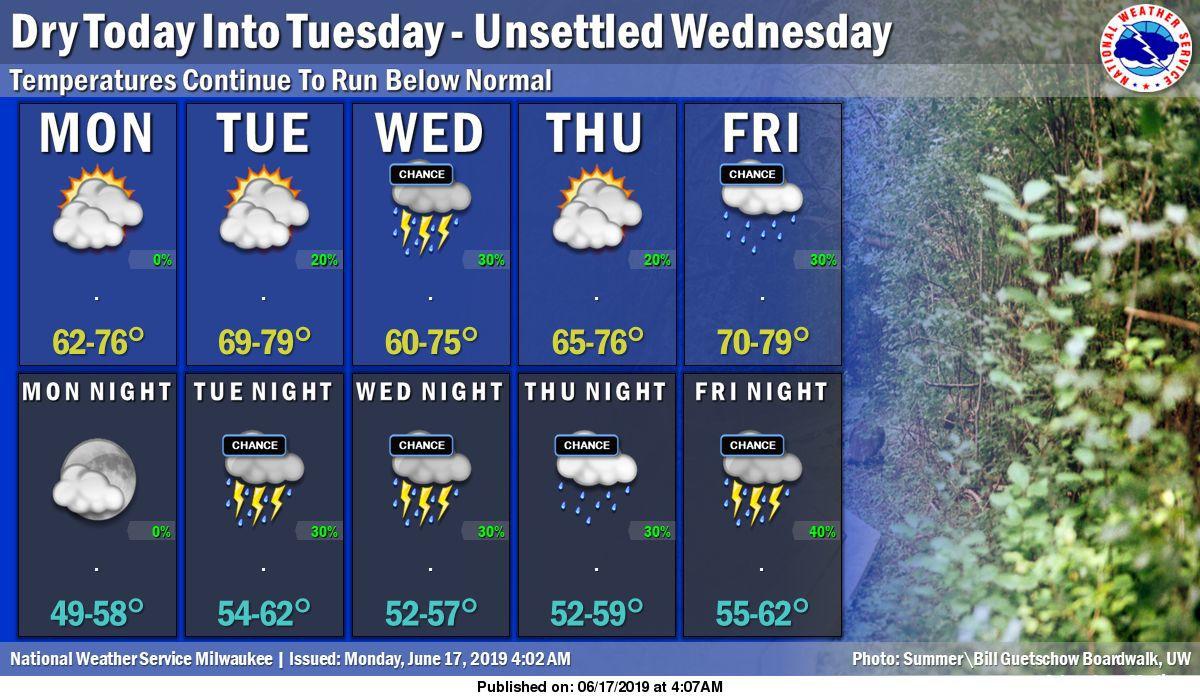 Summer officially begins on Friday, but it's hard to tell considering how cool temperatures have been in Madison.
Highs are expected to be 5 to 10 degrees below normal all week, with forecasters looking at chances for rain in south-central Wisconsin beginning Tuesday and continuing through the weekend.
The National Weather Service said Monday should be dry, with mostly cloudy skies and a high of 72, with a 20% chance of showers and thunderstorms on Tuesday and the high reaching 75.
 27 Storm Track chief meteorologist Bob Lindmeier said we could see a few thundershowers on Wednesday with the high reaching 74.
Thursday will be a cool one, with a high of 69 and a 20 percent chance of showers and thunderstorms.
Friday looks a little better, temperature wise, with the high reaching 73, but chances of rain increase to 30%.
The Saturday forecast is a little warmer with a high of 75, but rain chances also go up to 40%.
Sunday could be pretty nice, with a high of 75 and a 30% chance of showers and thunderstorms.
Sunday's high of 61 was 17 degrees below normal and 32 degrees below the record high of 93 for June 16, set in 1946 and tied in 1994. The 61 was only 3 degrees above the record coldest high temperature of 58 for the date, set in 1972.
The low of 54 was 3 degrees below normal and 21 degrees above the record low of 34 for the date, set in 1964.
A third of an inch (0.33) of rain fell at the airport on Sunday, bringing the June and meteorological summer (June through August) rainfall totals up to 1.79 inches, 0.63 inches below normal.
The record rainfall on June 16 was 3.41 inches in 1978.
Since Jan. 1, Madison has received 17.60 inches of precipitation (rain and melted snow), 3.35 inches above normal.
Be the first to know
Get local news delivered to your inbox!