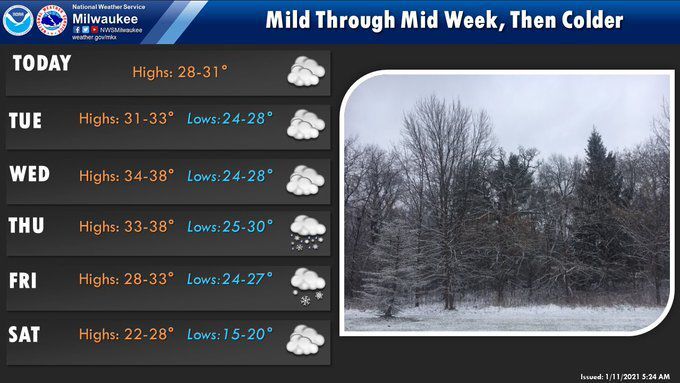 After a warmup at mid-week, a system could deliver snow, then much colder air for the weekend for southern Wisconsin, according to forecasters.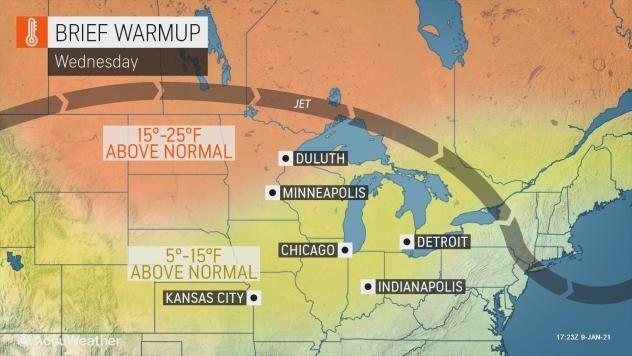 But a mild week that continues a mild winter will end as a cold front moves southeast from Canada starting Thursday, bringing cold temperatures and snowy conditions. AccuWeather said its meteorologists are becoming increasingly confident that there will be a swath of accumulating snow that will sweep across the Midwest Thursday and Friday.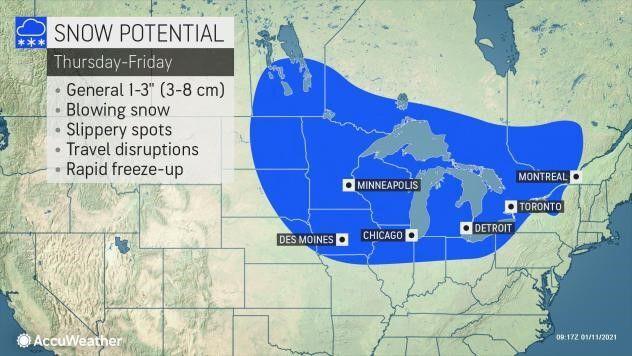 The cold will come with the polar vortex weakening, AccuWeather said. As the polar vortex weakens, it is able to drift south, bringing arctic air with it. How far south the polar vortex is able to drift will determine the intensity of the cold across the Great Lakes and the Northeast, as well as how long the cold air will last.
Temperatures will start tumbling in the Northern Plains and Midwest on Thursday, the cooler air will likely reach the Ohio Valley on Thursday night and Friday, and New England, the East Coast, and even the southern Appalachians by late Friday or Saturday.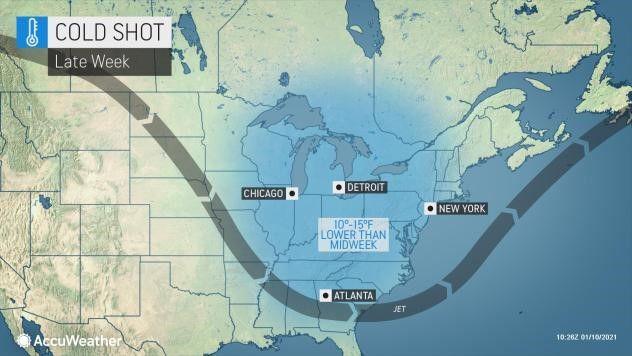 A dip in the jet stream across the eastern half of the country is likely to hold for much of the third week of January, meaning cold air will remain in place and opportunities for snow will continue.
"The weather pattern setting up across the East suggests the potential for a big storm to develop in the Plains and potentially impact the mid-Atlantic or Northeast around Jan. 18 or 19," AccuWeather long-range expert Paul Pastelok said.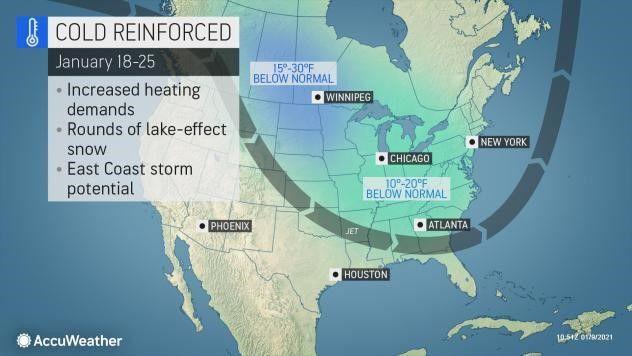 In Madison on Monday, look for scattered flurries before 11 a.m., cloudy skies, a high near 31 and southwest winds at 10 to 15 miles per hour, the National Weather Service said.
After an overnight low around 25, Tuesday's forecast features patchy fog between 9 a.m. and noon, otherwise mostly cloudy skies, a high near 32 and west winds at 5 to 10 mph.
After a low overnight Tuesday into Wednesday around 25, Wednesday should see mostly cloudy skies, a high near 36 and southwest winds around 10 mph.
The Weather Service said there is a 30% chance for precipitation from Thursday through Friday night in the form of snow and freezing rain before 10 a.m., snow between 10 a.m. and 2 p.m., then rain and snow after 2 p.m. on Thursday and into Thursday night and Friday night, mainly before 7 p.m.
Skies over Madison should be mostly cloudy Thursday through Sunday, with highs near 35, 29, 24 and 24, and lows Wednesday night through Saturday night around 27, 26, 17 and 14.
27 Storm Track meteorologist Max Tsaparis forecasts a possible light mix Thursday into Thursday night, possible scattered snow showers Friday, and possible light snow Friday night.
Tsaparis said highs for Madison Monday through Sunday should be near 30, 35, 38, 36, 30, 23 and 23, and overnight lows around 21, 24, 28, 24, 18 and 12.
Sunday's high in Madison was 24 at 4:44 a.m., 2 degrees below the normal high and 29 degrees below the record high of 53 for Jan. 10, set in 1975.
Sunday's low in Madison was 18 at 11:59 p.m., 7 degrees above the normal low and 40 degrees above the record low of 22 below for Jan. 10, set in 1979 and 1982.
Officially, a trace of precipitation was recorded at the Dane County Regional Airport on Sunday, leaving Madison's January and 2021 total at 0.04 inches, 0.37 inches below normal. The meteorological winter (December through February) precipitation total (rain plus snow converted to liquid) stayed at 1.17 inches, 0.98 inches below normal.
Madison's record precipitation for Jan. 10 is 1.12 inches, set in 1869.
Officially, a trace of snow was recorded at the Dane County Regional Airport on Sunday, keeping Madison's January and 2021 snow total at 1.1 inches, 2.9 inches below normal. For meteorological winter, Madison has received 14.6 inches, 2.9 inches below normal. For the snow season (since July 1), Madison has received 16.9 inches, 4.7 inches below normal.
Madison's record snowfall for Jan. 10 is 5.3 inches, set in 1974.
Madison's official snow depth is 6 inches.
---
Photos: Remembering 2008 blizzard that shut down area, stranded cars on interstate
Stranded on interstate, Feb. 6, 2008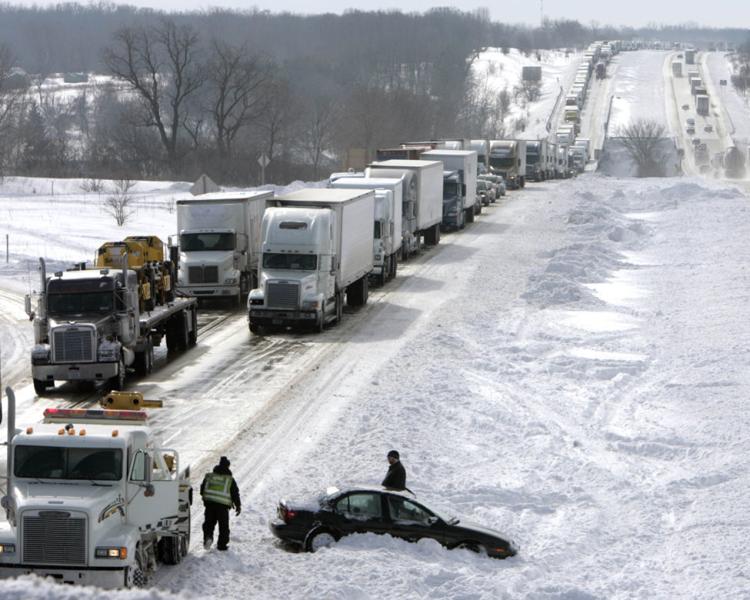 Cow in a blizzard, Feb. 6, 2008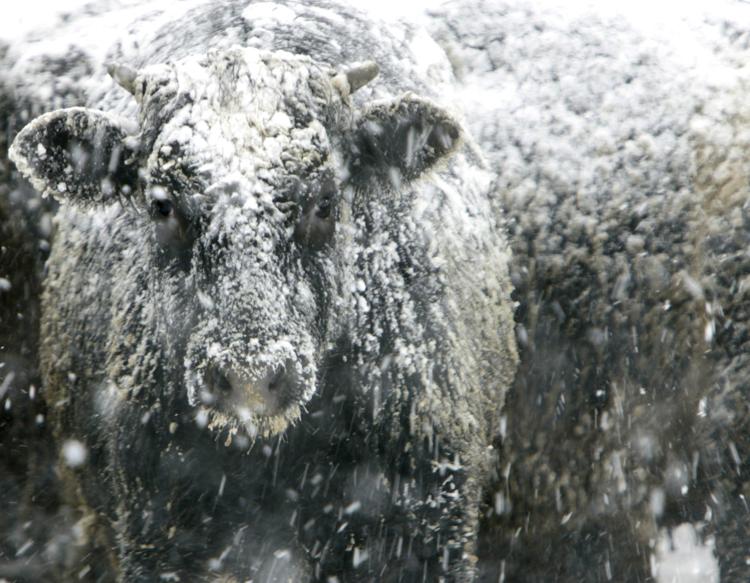 Crossing Parmenter, Feb. 6, 2008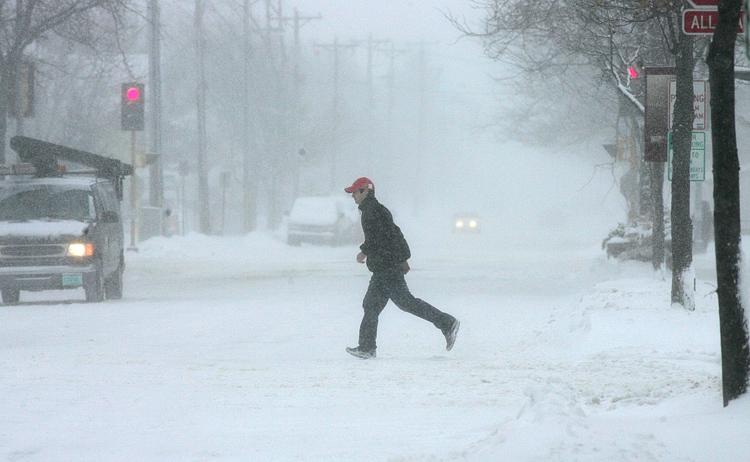 Snowy freight train, Feb. 6, 2008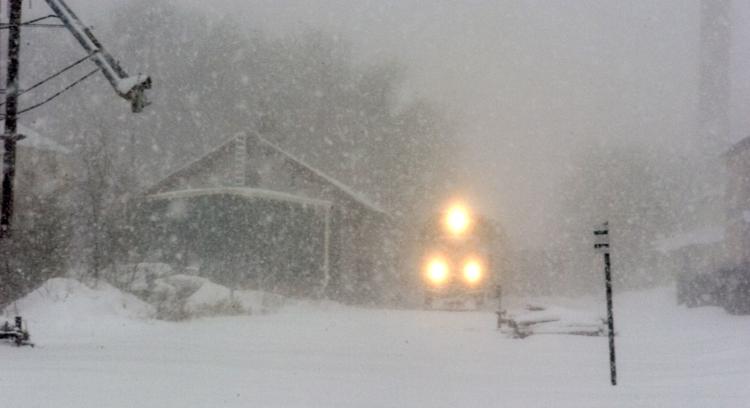 No respite from snow, Feb. 6, 2008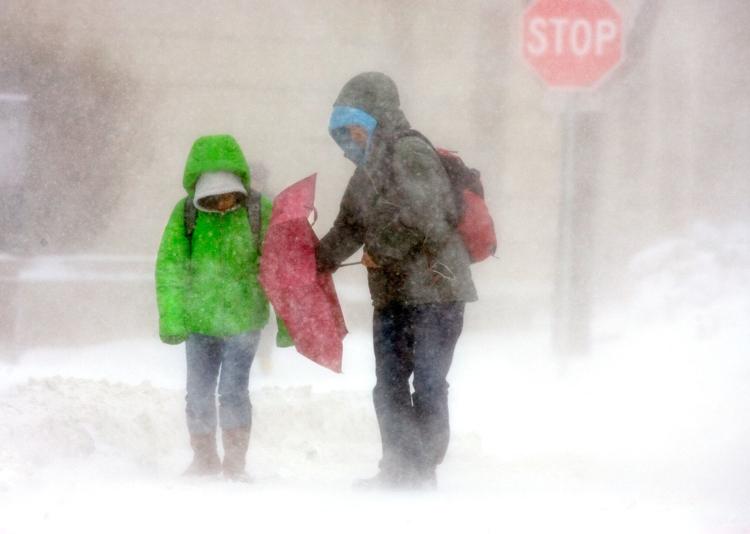 Vehicles slide off road, Feb. 6, 2008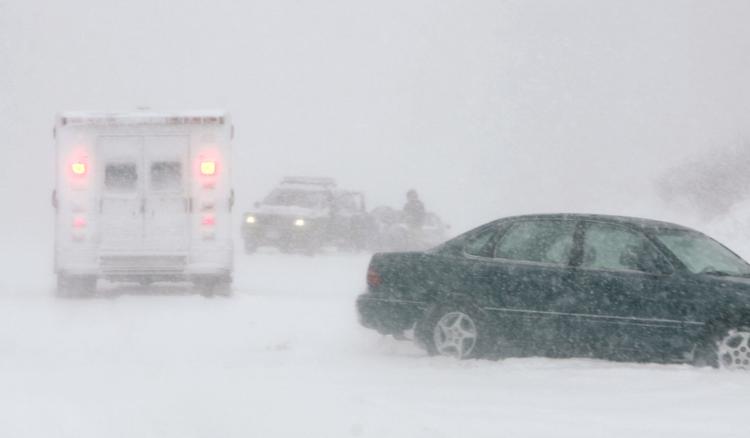 Traversing Park Street, Feb. 6, 2008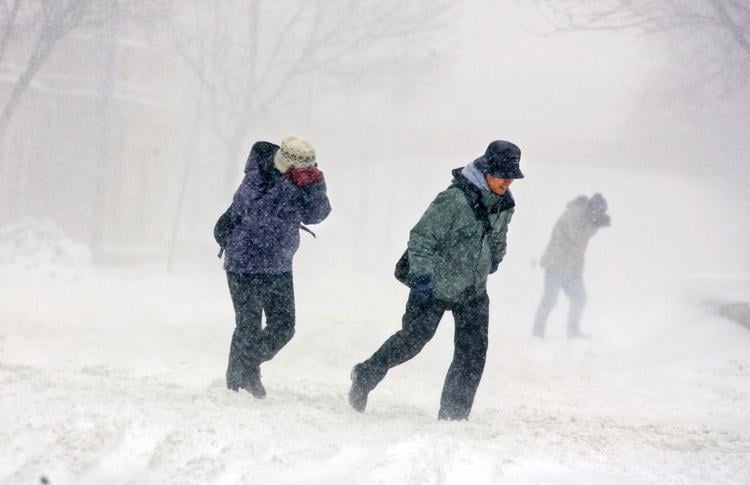 Braving conditions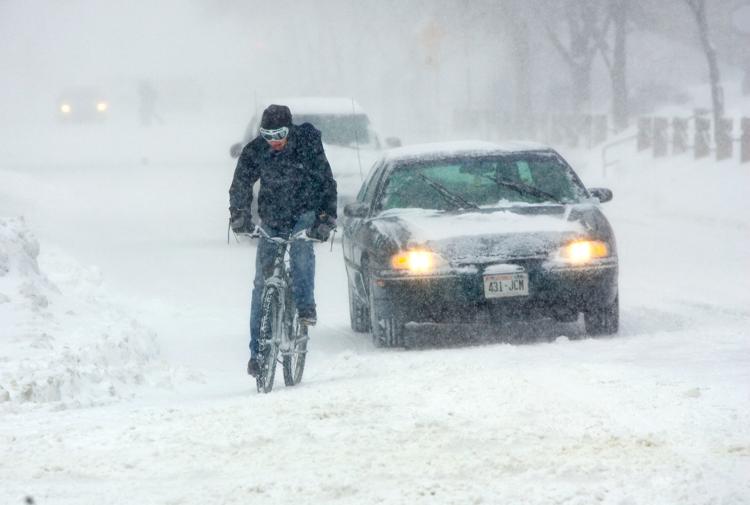 Crossing University Avenue
Going to work, Feb. 6, 2008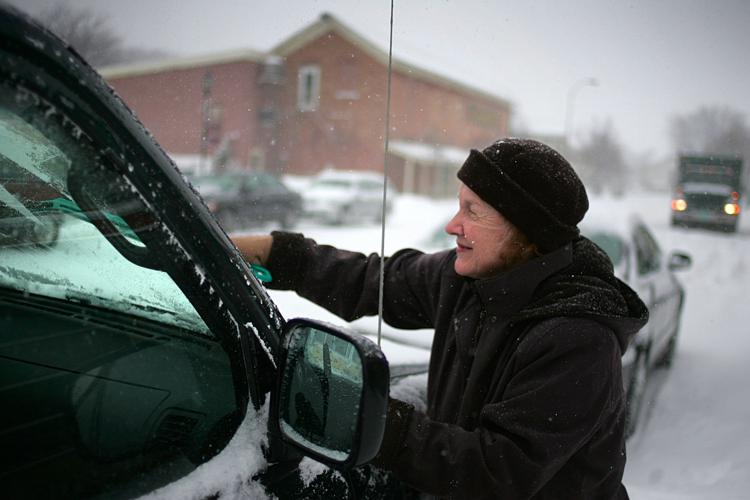 Blowing out, Feb. 7, 2008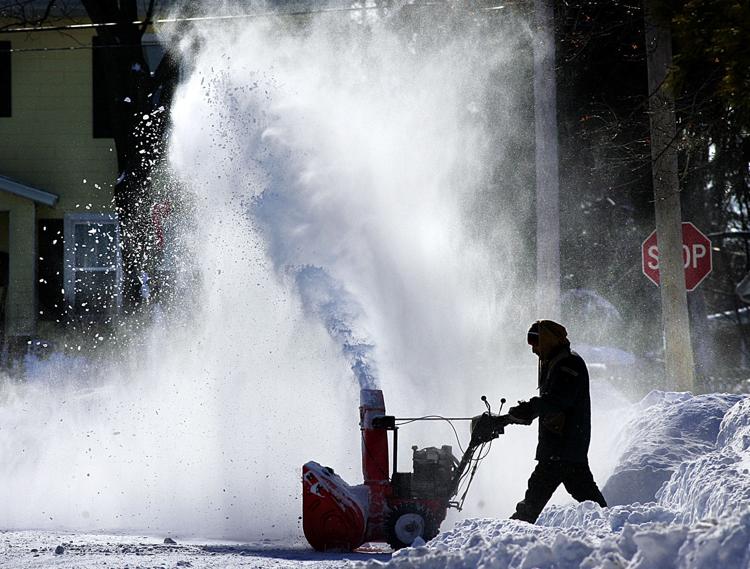 Feb. 7, 2008, front page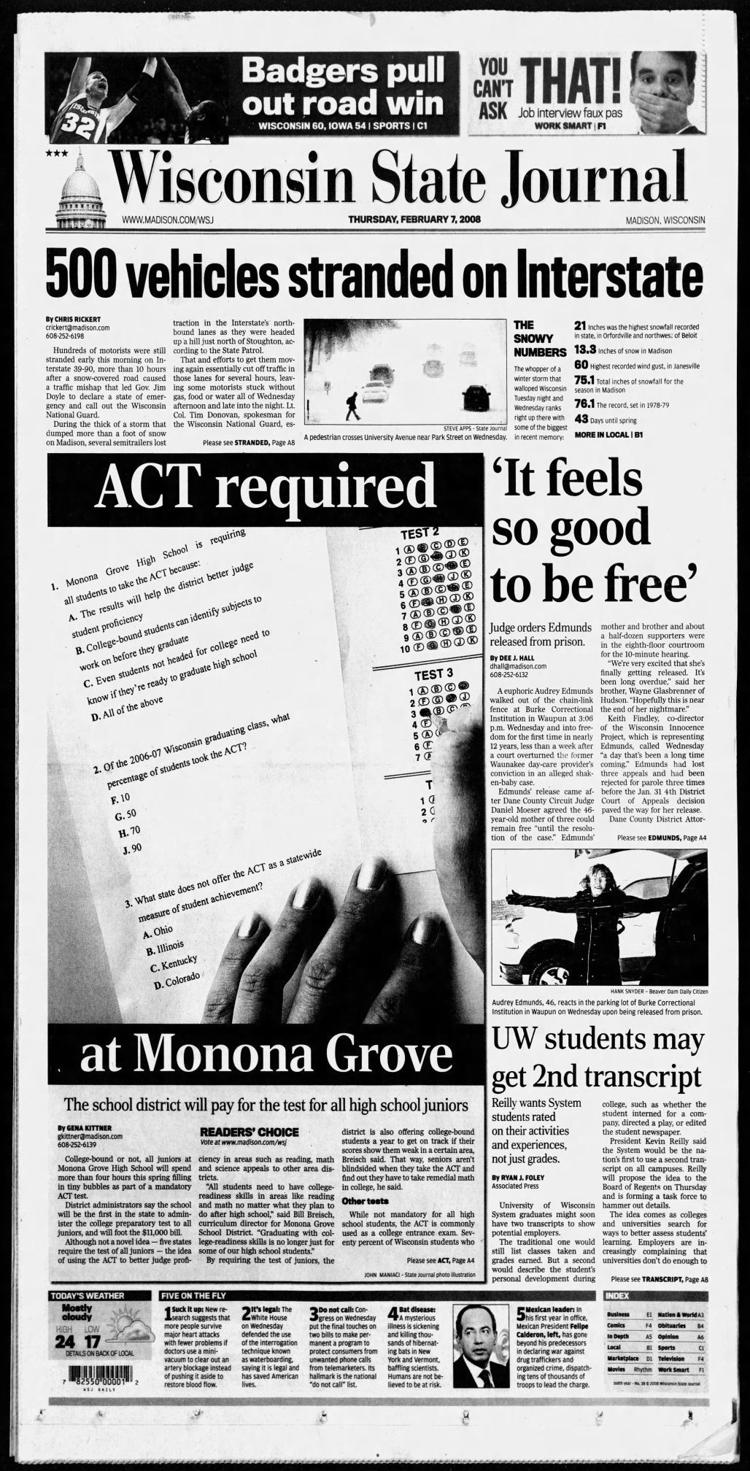 Local section from Feb. 7, 2008