After a brutally cold start with temperatures in the single digits and wind chill values below zero Friday morning, the weekend will offer a hint of spring for southern Wisconsin, according to forecasters.
The arctic air moving out of the region on Friday produced actual temperatures near 30 below zero in northern Minnesota, but increasing west winds will push milder Pacific air into the Midwest starting Friday, pushing temperatures 50 degrees or more higher than this week's low, AccuWeather said.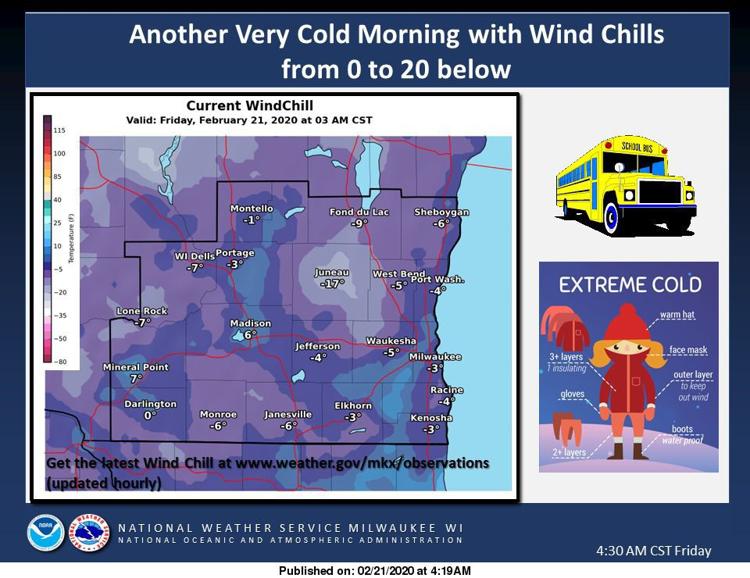 A lack of storms and precipitation will accompany the warmup, which is a rather uncommon thing for the late winter as usually some sort of cloud cover and precipitation rides along as temperatures trend upward, AccuWeather said.
In Madison on Friday, look for sunny skies, a high near 35 and southwest winds of 5 to 10 miles per hour increasing to 15 to 20 mph in the afternoon and gusting to 30 mph, the National Weather Service said.
After an overnight low around 20, Saturday should be sunny, with a high near 40 and southwest winds around 10 mph.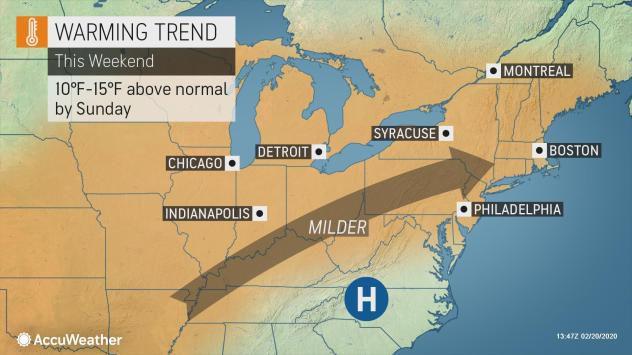 After a low overnight Saturday into Sunday around 27, Sunday's forecast features partly sunny skies, a high near 45 and southwest winds at 5 to 10 mph.
The Weather Service said chances for precipitation return next week at 50% for snow and/or rain Monday and Monday night, a 50% chance for snow Tuesday through Wednesday, and a 30% chance for snow Wednesday night.
Skies over Madison should be cloudy Monday and Tuesday, mostly cloudy Wednesday, and partly sunny Thursday, with highs near 38, 36, 30 and 24, and lows Sunday night through Wednesday night around 28, 28, 24 and 13.
27 Storm Track meteorologist Max Tsaparis forecasts a warmer weekend, then cooling slightly next week, with a possible rain snow mix Monday night, possible. Light snow Tuesday and Tuesday night, and a slight chance of snow Wednesday.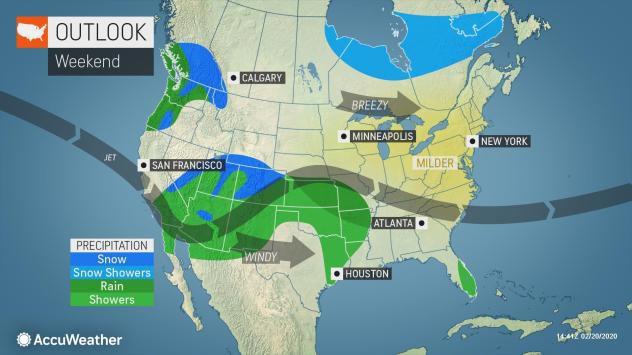 Tsaparis forecasts highs Friday through Thursday near 35, 41, 46, 34, 23, 28 and 25, and overnight lows around 20, 20, 27, 26, 24, 21, 13 and 10.
Thursday's high in Madison was 17 at 4:54 p.m., 16 degrees below the normal high and 45 degrees below the record high of 62 for Feb. 20, set in 2017.
Thursday's low in Madison was 8 below at 7:10 a.m., 7 degrees above the normal low and 13 degrees above the record low of 21 below for Feb. 20, set in 1929.
No precipitation was recorded at the Dane County Regional Airport on Thursday, leaving Madison's February total at 0.94 inches, 0.03 inches below normal. The meteorological winter (December through February) precipitation total (rain plus snow converted to liquid) stayed at 4.2 inches, 0.26 inches above normal. The 2020 precipitation total stayed at 2.68 inches, 0.48 inches above normal.
Madison's record precipitation for Feb. 20 is 0.98 inches in 1953.
With no snow on Thursday, Madison's February total stayed at 13.3 inches, 5.5 inches above normal. For meteorological winter, Madison has received 35 inches, 0.8 inches below normal. For the snow season (since July 1), Madison has received 50.7 inches, 12.4 inches above normal.
Madison's record snowfall for Feb. 20 is 4.5 inches in 1898.
Madison's official snow depth is 11 inches.
---
Photos: Recalling Madison's snowiest-ever winter in 2007-08
First major storm, Dec. 1, 2007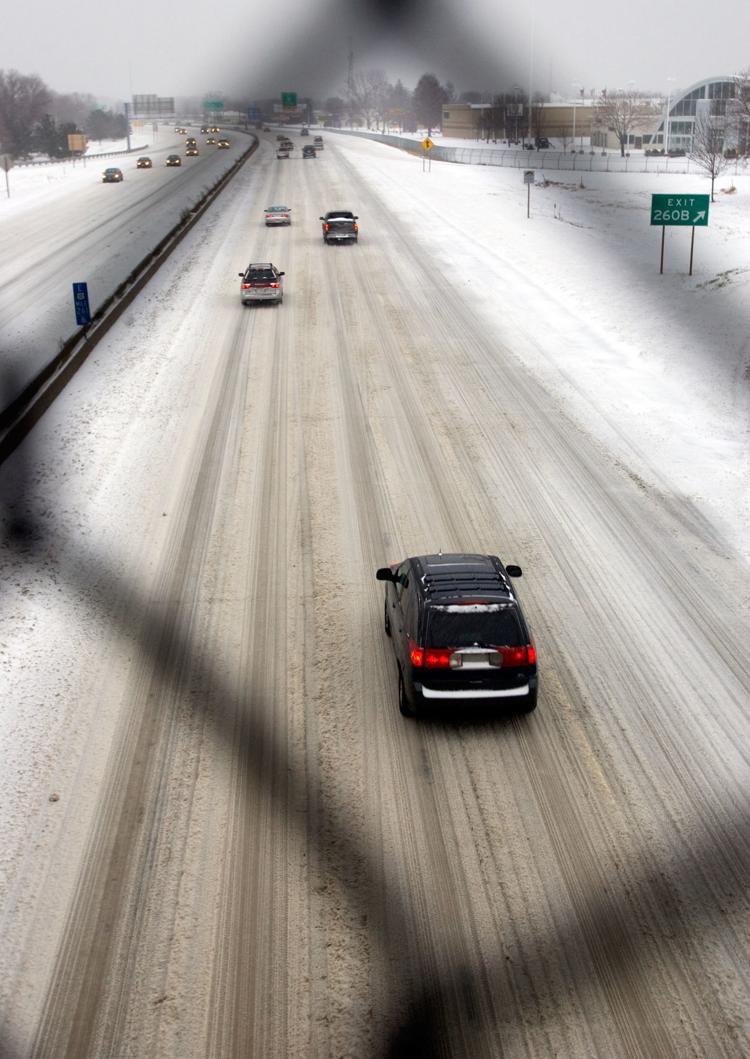 Traffic problems, Dec. 1, 2007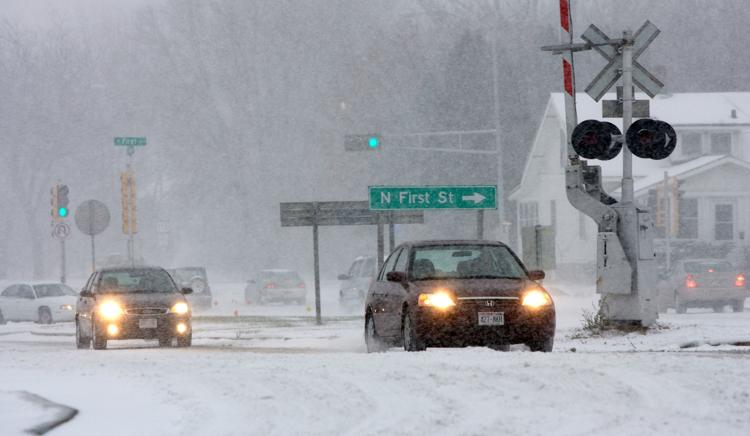 Plow at work, Dec. 1, 2007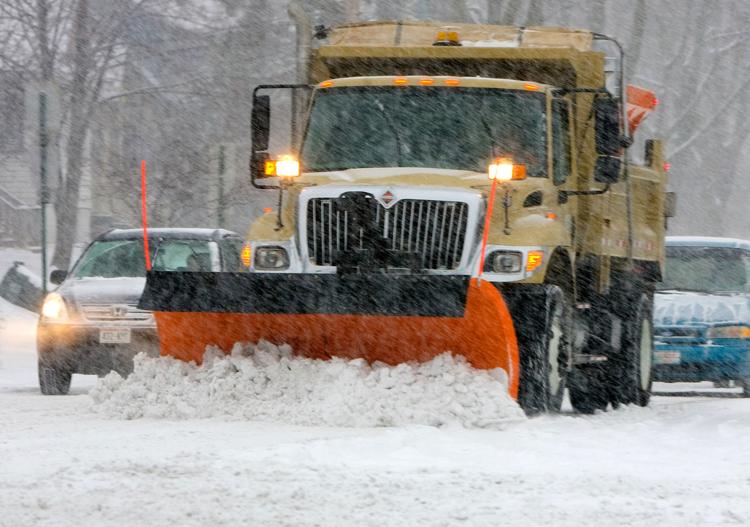 Breaking up snow, Dec. 3, 2007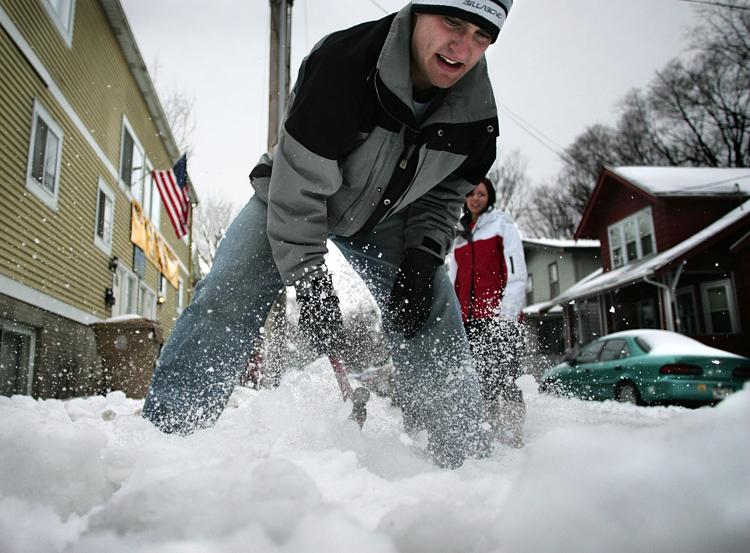 Spreading salt, Dec. 3, 2007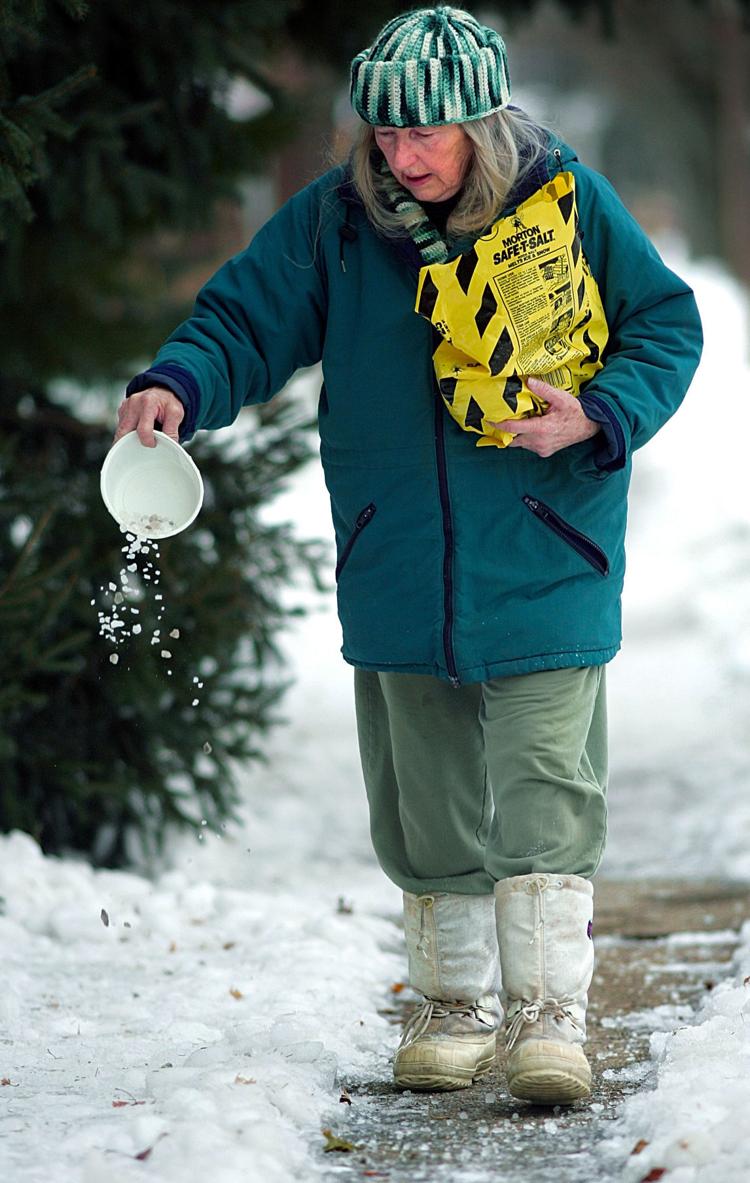 Icy cycling, Dec. 3, 2007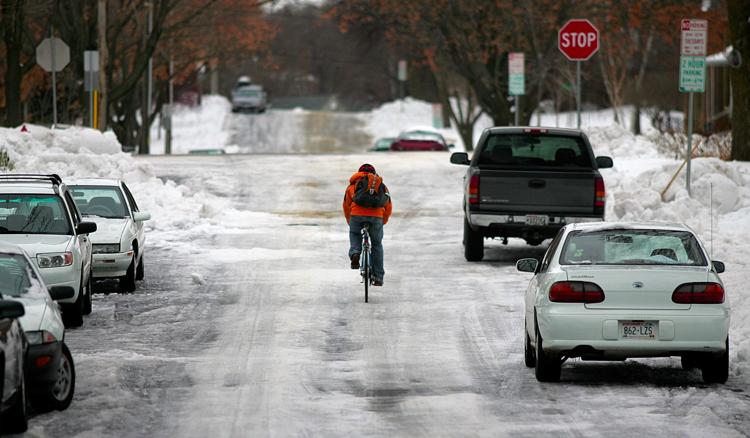 Buried cars, Dec. 5, 2007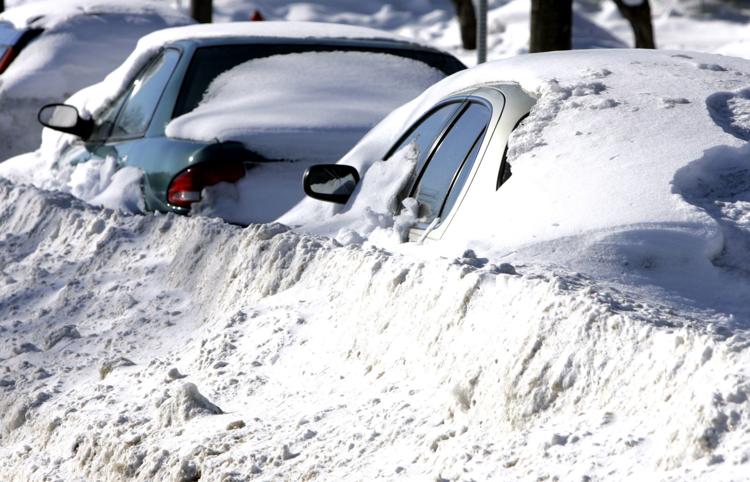 Enthused about snow, Dec. 5, 2007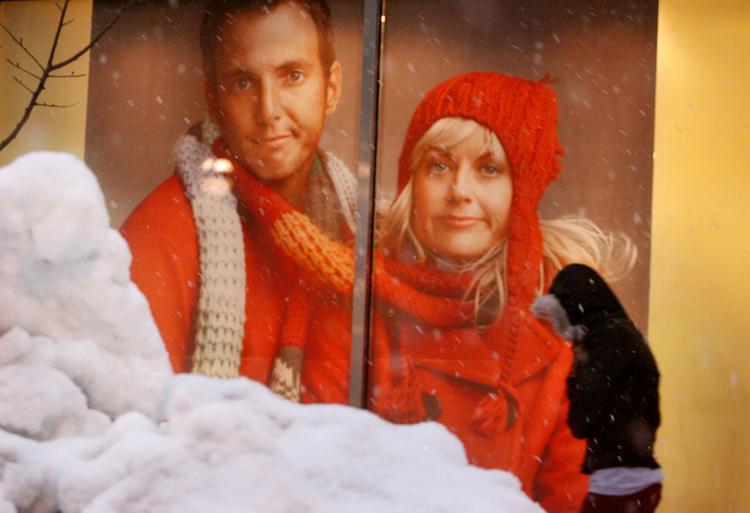 Capitol snow, Dec. 11, 2007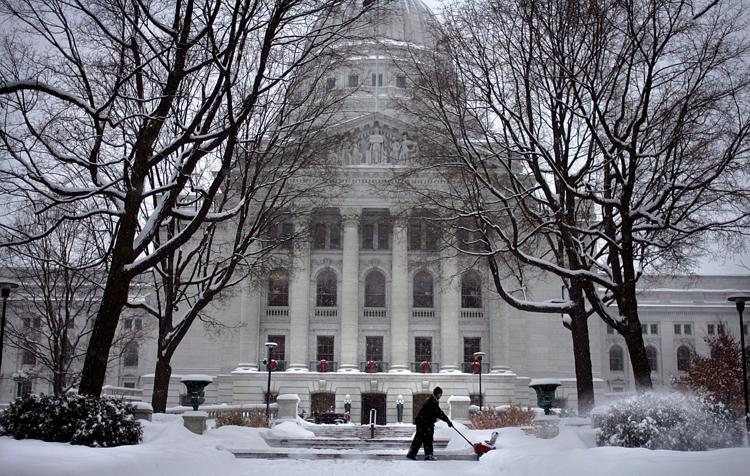 Snarling traffic, Dec. 11, 2007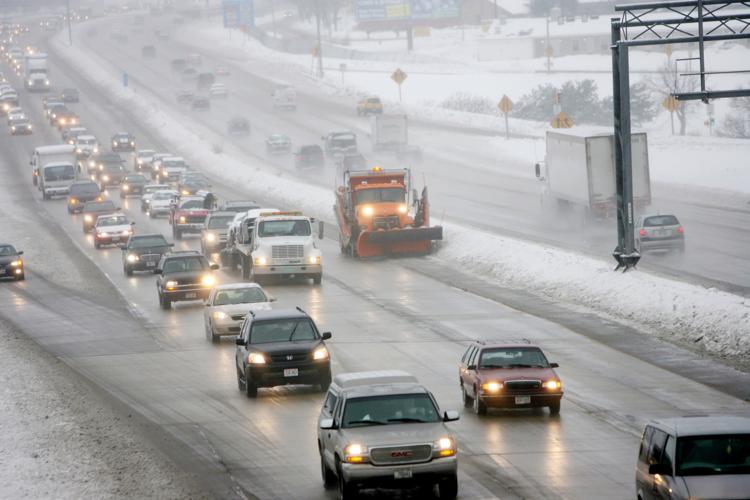 Snow and then tickets, Dec. 13, 2007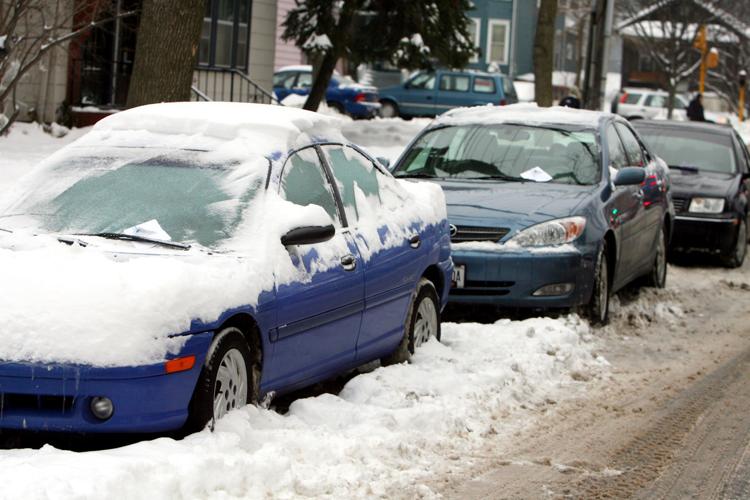 Chopping technique, Dec. 13, 2007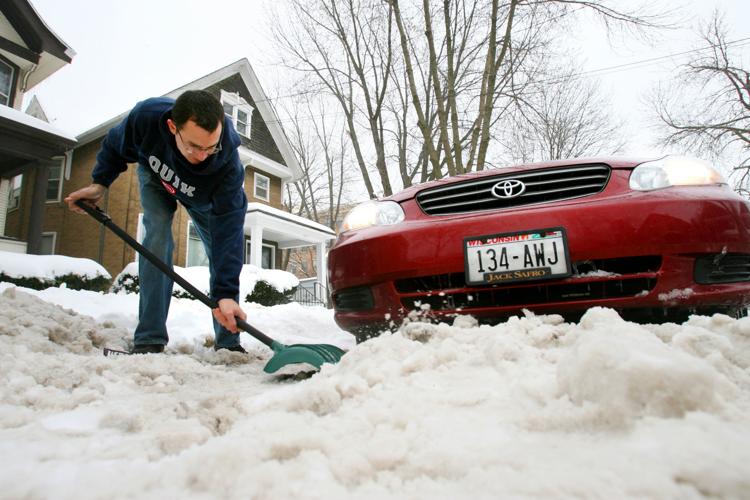 Winter weather, Dec. 23, 2007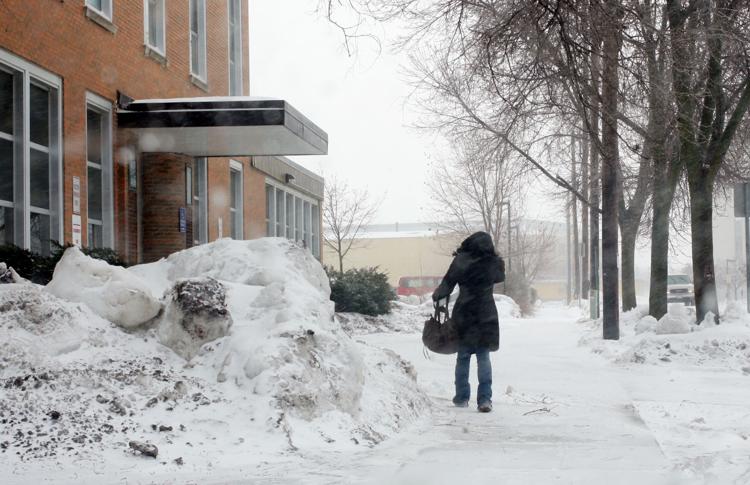 Elver Park slide, Dec. 25, 2007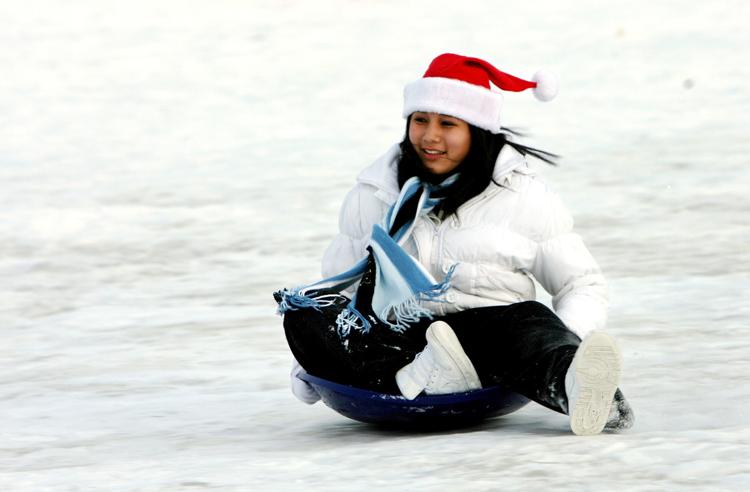 Snowy crash, Dec. 27, 2007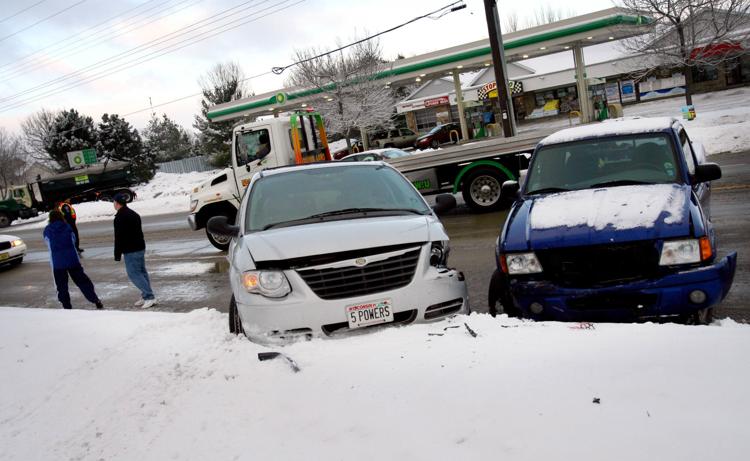 Smiling through snow, Dec. 28, 2007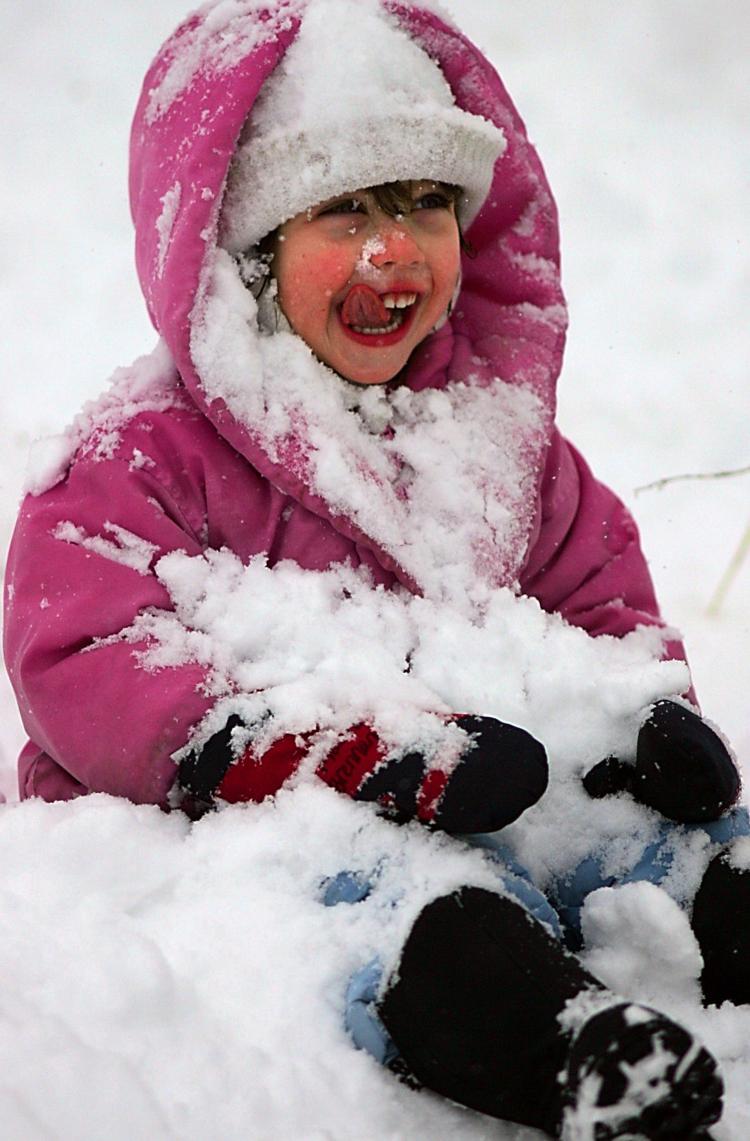 Snow on Beltline, Dec. 28, 2007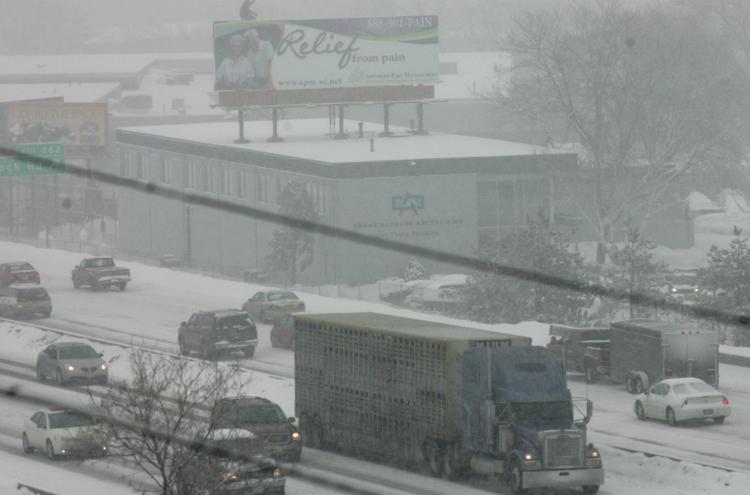 Porch roof collapse, Dec. 30, 2007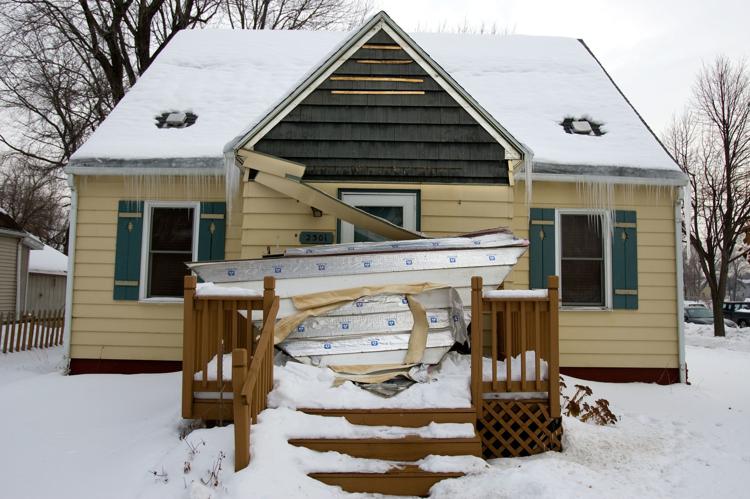 No summer here, Jan. 17, 2008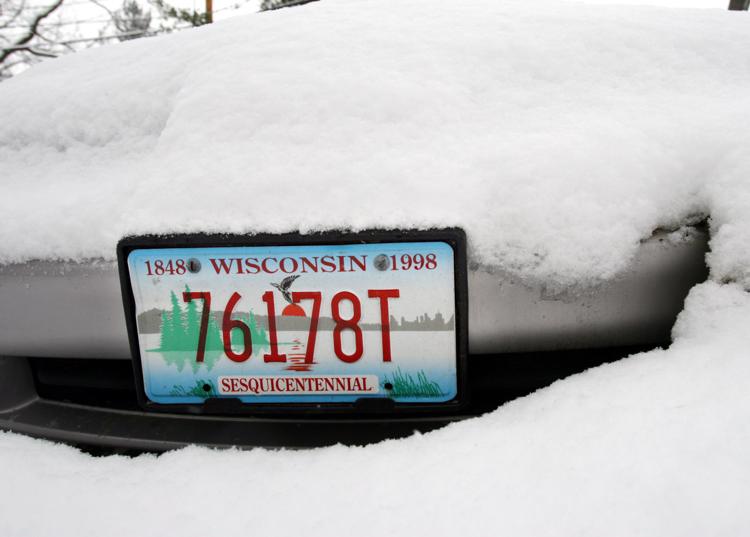 Like the North Pole, Jan. 17, 2008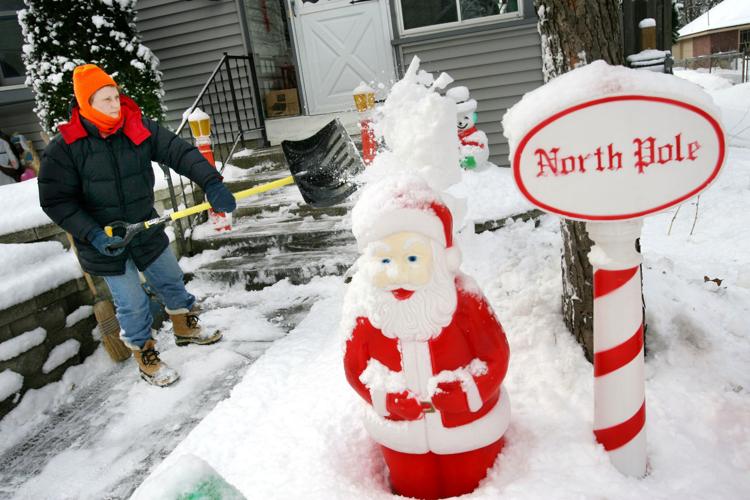 Snow-tow, Jan. 18, 2008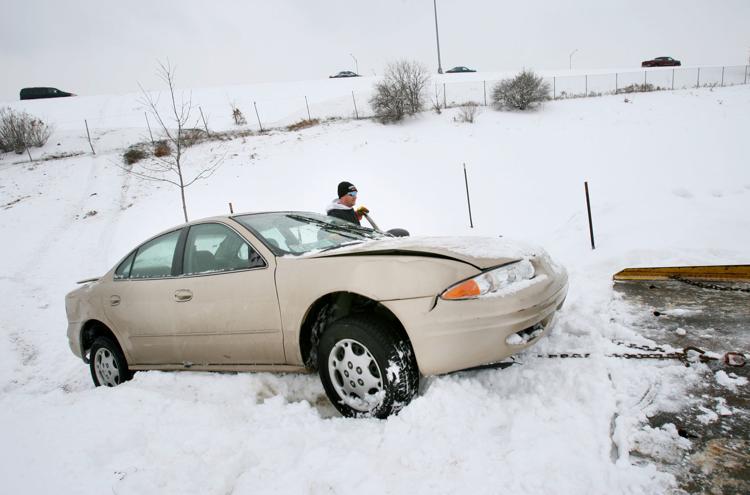 Beautiful scenery, Jan. 22, 2008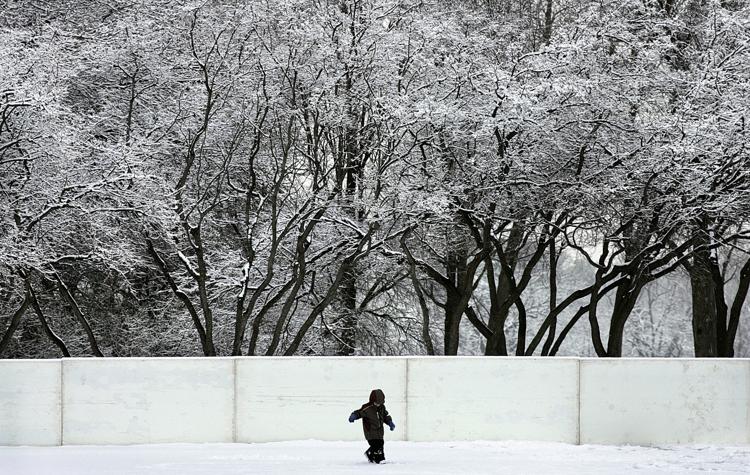 Cross-country skier, Jan. 23, 2008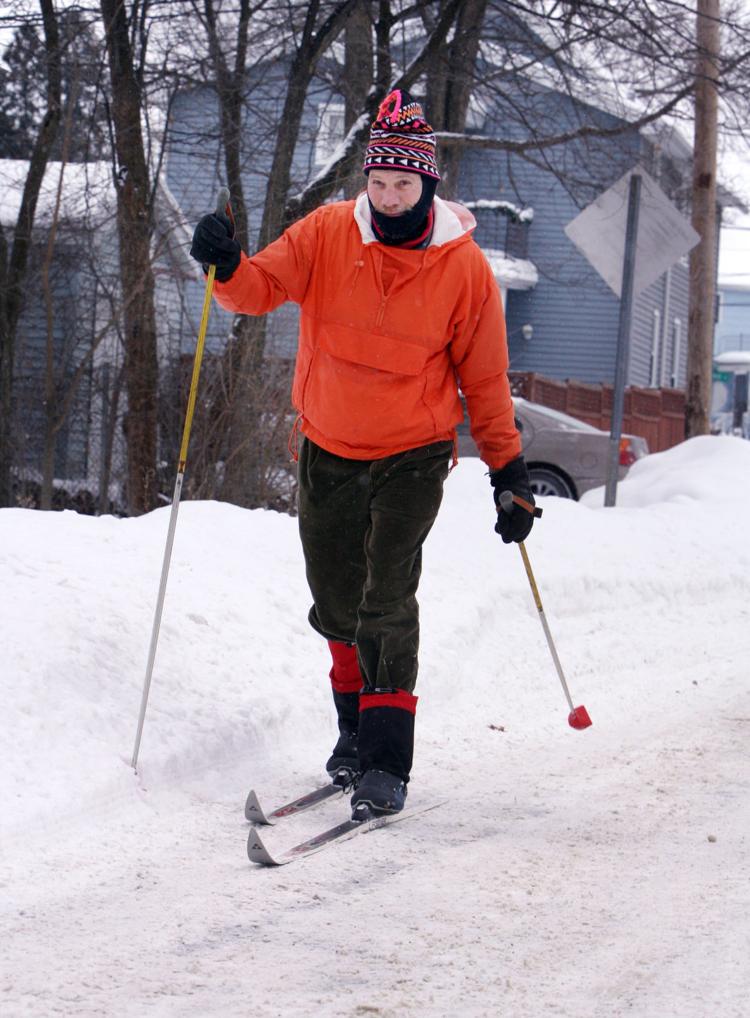 Stranded on interstate, Feb. 6, 2008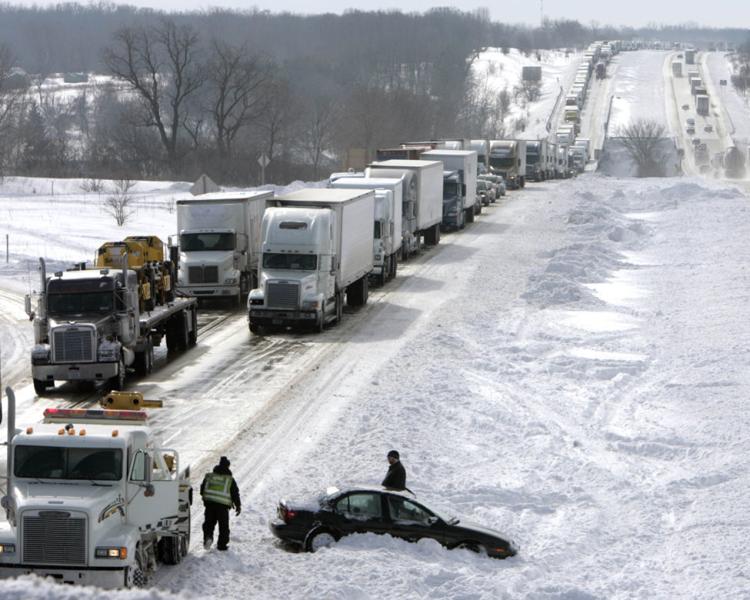 Cow in a blizzard, Feb. 6, 2008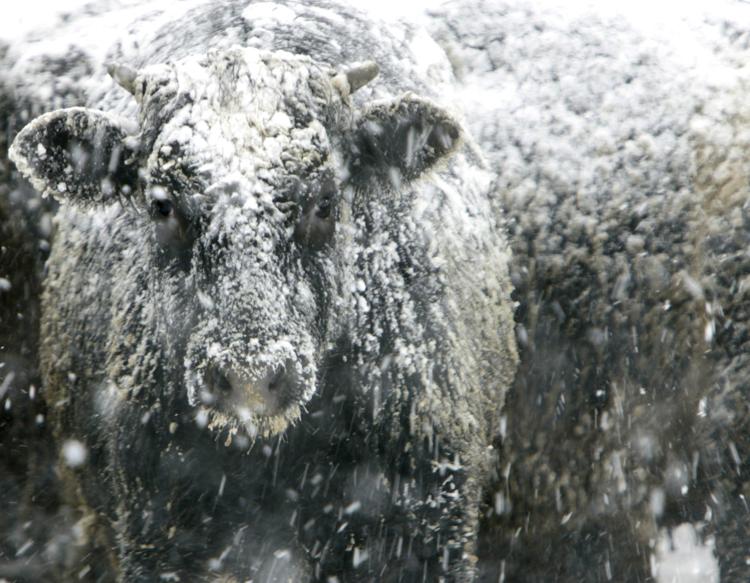 Crossing Parmenter, Feb. 6, 2008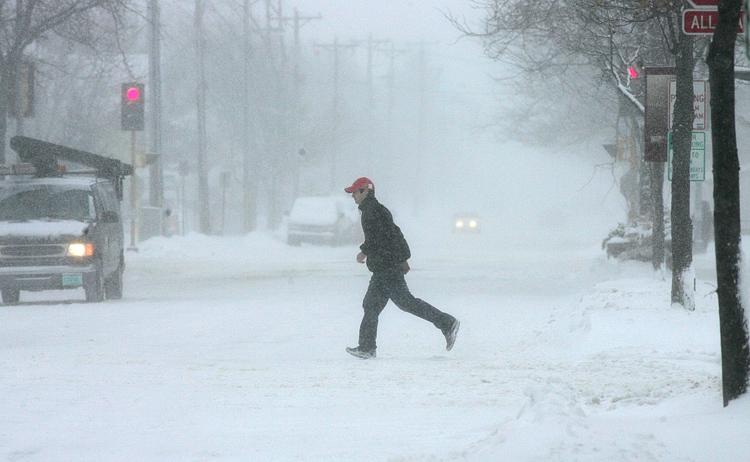 Snowy freight train, Feb. 6, 2008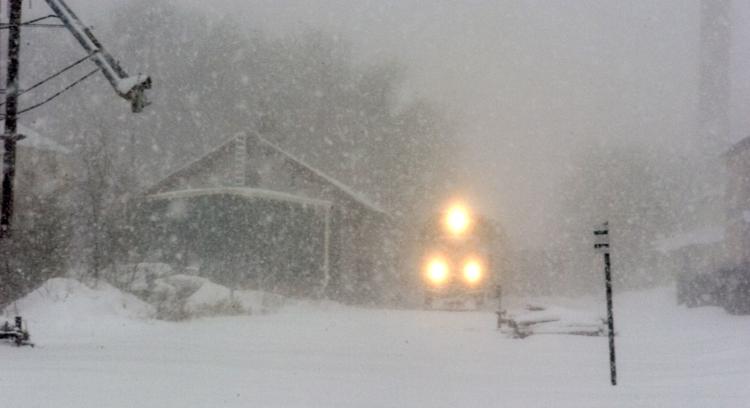 No respite from snow, Feb. 6, 2008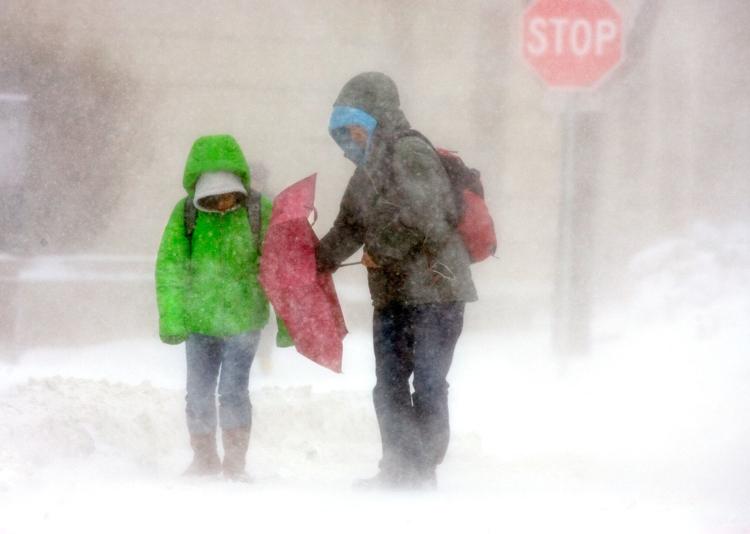 Vehicles slide off road, Feb. 6, 2008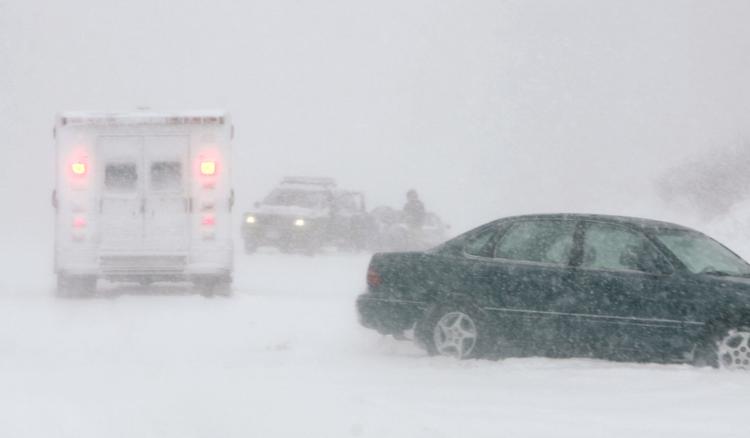 Traversing Park Street, Feb. 6, 2008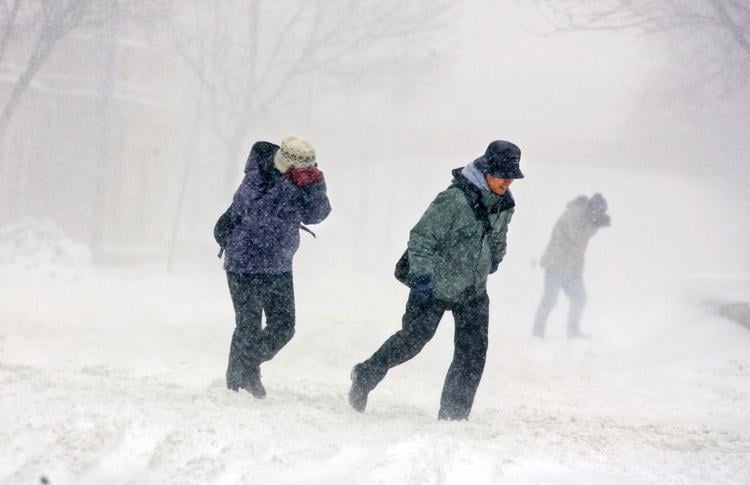 Going to work, Feb. 6, 2008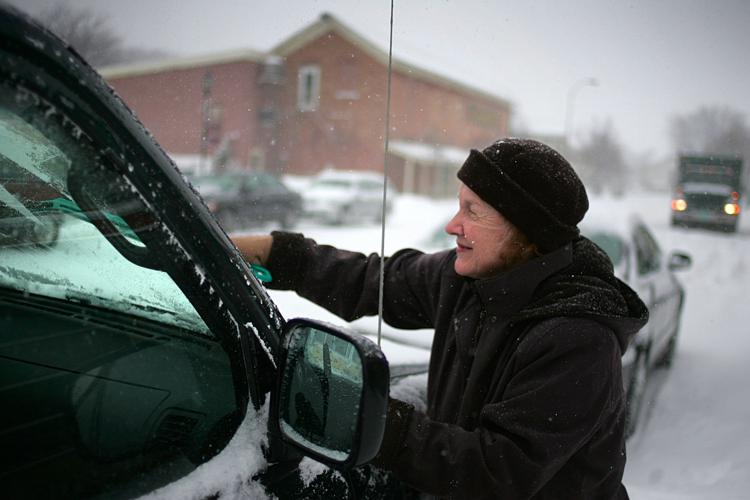 Blowing out, Feb. 7, 2008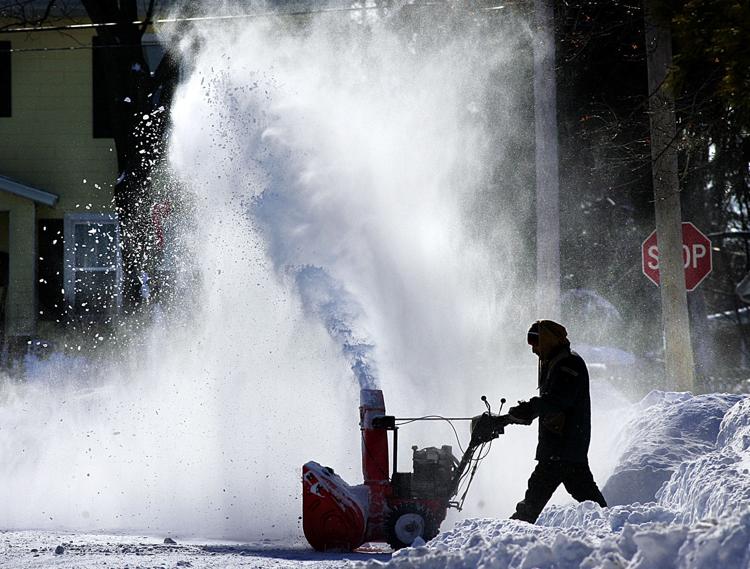 Local Weather
Get the daily forecast and severe weather alerts in your inbox!