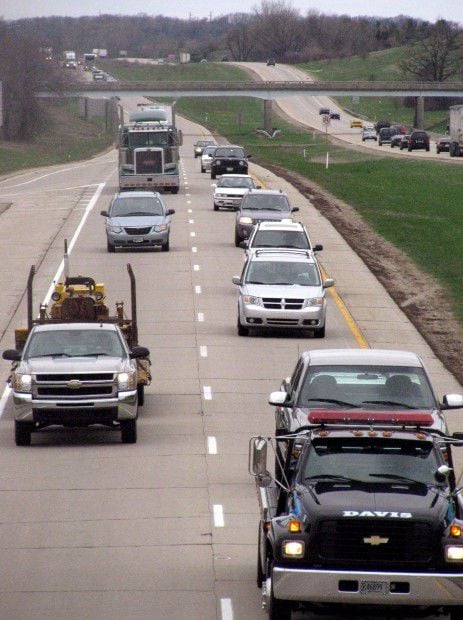 Work crews this week will begin transitioning to the next phase of construction activities at the southern end of the expansion of Interstate 39/90 from Madison to the Illinois line, the State Department of Transportation announced.
Phase one of reconstruction and expansion work along I-39/90 and Interstate 43 includes I-39/90 lane expansion from the Illinois state line to Cranston Road, and I-43 lane reconstruction in preparation for the new interchange configuration of I-39/90 and I-43/Highway 81 in Beloit.
Phase one is scheduled to be completed in November, and phase two is scheduled to take until November 2021 and cost about $114.2 million.
• Work this fall on I-39/90 and I-43 to construct crossovers and temporary widening for traffic use in 2020. Crews also will construct temporary ramp connections for use in 2020 to transition motorists between the two Interstates.
Motorists can expect weeknight single lane closures on the interstates between 8 p.m. and 5 a.m., and periodic overnight ramp closures at the I-39/90 and I-43/Highway 81 interchange.
• Starting in spring 2020 through spring 2021, I-39/90 and I-43 interchange traffic will be maintained using the temporary ramp configuration.
I-43 traffic will be located on the future Highway 81 alignment near the Millington Road/Gateway Bouldevard intersection. Access to Beloit is maintained. Crews will construct the large flyover ramps for direct connection between I-39/90 and I-43.
All I-39/90 traffic will shift to the existing southbound lanes, between Hart Road and Cranston Road. All interchange ramps will be maintained and open to traffic.
• In summer 2021 to fall 2021, I-39/90 traffic will begin using portions of newly reconstructed lanes and the flyover ramps.
I-43 traffic also will begin using the flyover ramps. Access to Beloit is maintained via Highway 81 alignment near the Millington Road/Gateway Boulevard intersection, and through the new diverging diamond interchange, the same configuration used for Verona Road under the West Beltline.
All Highway 81 traffic in Beloit will be shifted over to one side of the roadway, between Branigan Road and Freeman Parkway, to accommodate construction of the other side.
There will be short-term closures of interchange ramps and Highway 81 to convert all traffic to the new interchange configurations. Dates and timeframes will be provided in advance of the closures.
I-39/90 remains open to two lanes in each direction during peak travel times. Nightly single lane closures will occur on the Interstate weeknights from 8 p.m. to 5 a.m. within the construction project limits.
During the 2020 and 2021 construction seasons, one lane will be maintained in each direction on I-43, east of Beloit.
Separately, DOT also announced that in the Janesville segment of the construction zone,  Mount Zion Avenue will be closed under the I-39/90 from 1 a.m. to 7 a.m. Tuesday to enable crews to pour about 210 cubic yards of concrete for the new I-39/90 southbound bridge over the roadway.
Motorists must use alternate local routes during the closure.
Be the first to know
Get local news delivered to your inbox!