The lineup for Freakfest's most prominent stage is composed predominantly of female artists and women-fronted bands, marking what organizers said was a concerted effort to bring more diversity to Downtown Madison's annual Halloween party Saturday.
Freakfest, organized by FPC Live and city officials, will open on State Street at 7 p.m. with three music stages as thousands of costumed revelers take to the street.
Tickets are required to enter or cross State Street and cost $10 in advance or $15 at the gates.
Indie-pop band MisterWives, fronted by Mandy Lee, will headline the Capitol Stage at the top of State Street with Tank and the Bangas, Big Freedia, Lex Allen, Gender Confetti and DJ Boyfrrriend each taking the stage earlier in the night.
"This stage is the most diverse that I can think of in all of the years I've been programming for Freakfest," said Tag Evers, a concert promoter with FPC Live.
Evers said one of the goals for Freakfest was to bring in a more diverse set of performers aimed at a younger crowd than some of last year's prominent acts, such as George Clinton & Parliament Funkadelic and Trombone Shorty & Orleans Ave.
MisterWives performed as a supporting band in 2015 on the Capitol Stage, Evers said, and has only become better known since then. When planning the stage with MisterWives as the headliner, FPC Live decided to feature women, who are largely underrepresented on festival stages.
The Gilman Street Stage will be geared more toward late-high school and college-age attendees with headliner Quinn XCII, a hip-hop artist out of Detroit. UW-Madison student Yung Gravy, DJay Mando, Son!, Kenny Hoopla and Neu Dae will also be performing.
"That stage is going to be a little bit more of a hip-hop and DJ kind of stage, and it should be a lot of fun," Evers said.
Local talent will be the focus of the Frances Street Stage, with Distant Cuzins, The Dirty Nil, Solid Freex, Parsing, Dead Soft and The Minotaurs.
"Freakfest is an event every year where local bands get to show their stuff," Evers said. "It's very exciting for them to be able to perform for the thousands of people that show up."
Traffic disruptions
You have free articles remaining.
Register for more free articles
Stay logged in to skip the surveys
For those not planning on attending but hoping to drive through Downtown, traffic will be significantly disrupted Saturday evening into early Sunday morning as State Street is cordoned off for pedestrians.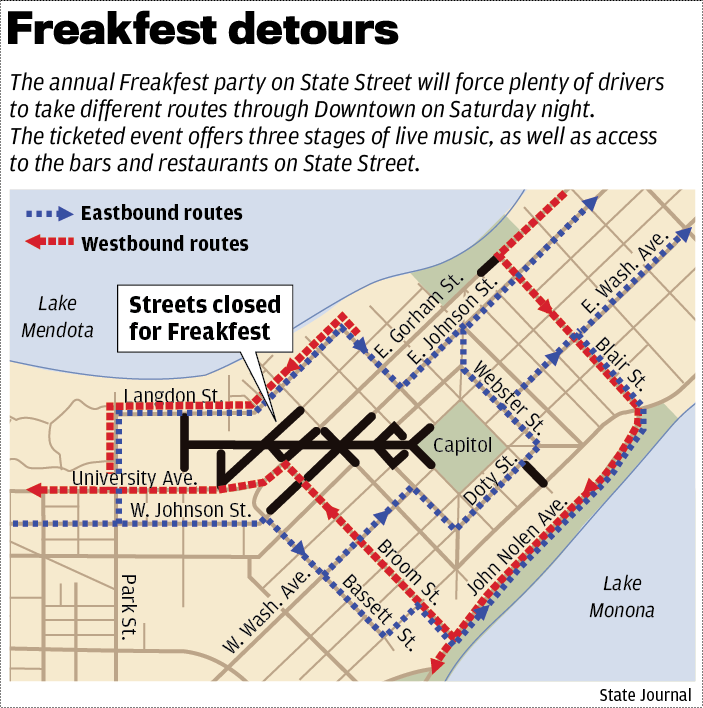 Streets crossing State Street will begin closing at 5 p.m. Saturday as the festival gates are raised. West Mifflin Street will be closed at Wisconsin Avenue starting at 2 p.m. so the music stages can be set up.
The city's Traffic Engineering Division said Lake Street, Johnson Street and Dayton Street will all close at 5 p.m. at their intersections with State Street, while Gorham Street will stay open until 6 p.m.
Streets will be closed until about 3 a.m. Sunday.
West Gilman Street will be closed between State Street and North Henry Street beginning at 8 a.m. Saturday.
Bicycles on State Street will have to be removed before Saturday, or the city will confiscate the bikes.
Police will maintain a heavy presence at Freakfest with officers from Madison and UW police departments as well as Dane County Sheriff's deputies, Madison police Central District Capt. Jason Freedman said. Private security will also be coordinating with the law enforcement officers, he said.
Freakfest started as a counter to raucous and sometimes riotous gatherings that took place Downtown around Halloween more than a decade ago. Festivities have been peaceful since the move to a ticketed event. Freedman said police still remain vigilant as safety concerns exist anywhere large groups of people gather.
---
State Journal reporter Bill Novak contributed to this report.