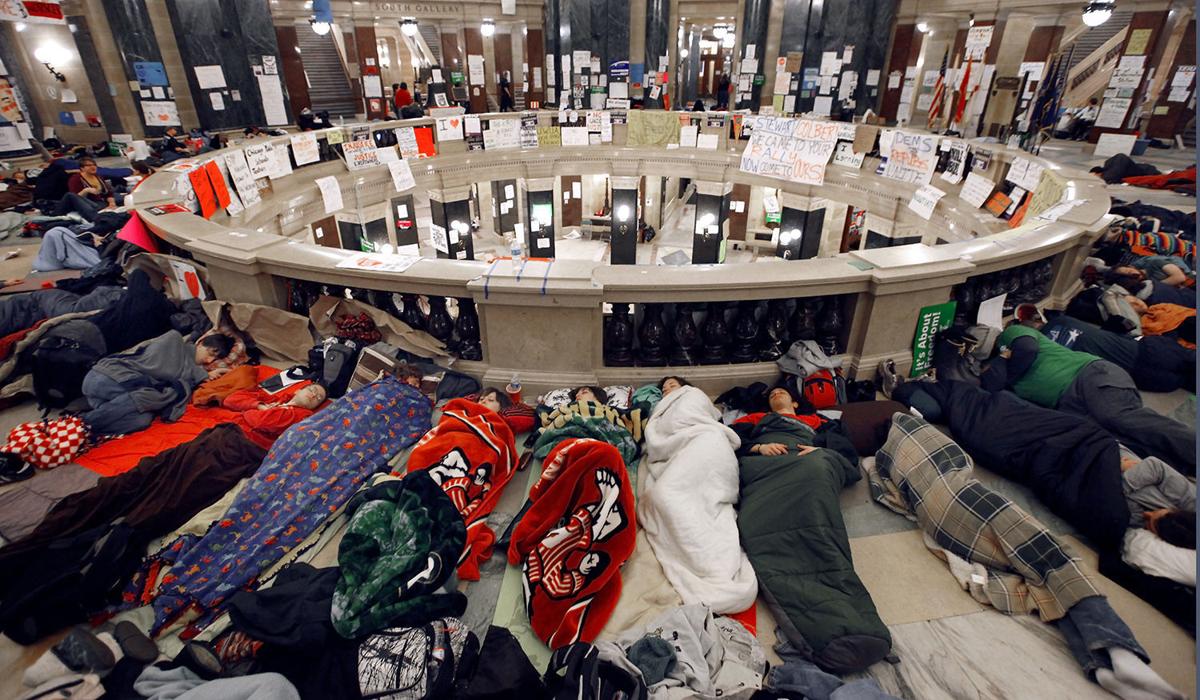 Among the largest and most sustained protests at the Capitol in the last 100 years occurred over three weeks in 2011 when tens of thousands of demonstrators occupied the building to oppose Gov. Scott Walker's proposal effectively wiping out the power of public sector unions.
They came with signs, drums, balloons, horns, costumes and a previously unmatched endurance to protest legislation the Republican governor authored as part of a bill shoring up a shortfall in the next budget. The proposal, which would become known as Act 10, was a death knell for public unions, among Democrats' strongest financial supporters.
On Feb. 7, 2011, Walker unveiled the proposal at a dinner meeting with his Cabinet — which he had just recently filled following his election in November of 2010.
According to a Feb. 27, 2011, story in the Wisconsin State Journal, Walker held up a photo of President Ronald Reagan, who had famously fired striking air-traffic controllers, and said his plan to sweep away decades of protections for state public employees in a stop-gap budget bill represented "our time to change the course of history."
A few days later, after news of the pending bill was reported, union chiefs and organizers began what one described as "a freakout of a long weekend."
What resulted was the largest series of protests at the Capitol since the Vietnam War. The crowds reached 100,000 in early March, after the bill had been signed by Walker, and Democrats who had fled to Illinois to avoid voting on it returned home.
Hundreds flooded the Capitol and occupied the building around the clock for nearly a month — moving in with pillows and blankets — turning the statehouse into a congested maze of protesters, lawmakers, lobbyists and reporters. At times, the crowds grew so large that Capitol staff worried the building's upper levels might collapse under the weight of so many people.
The large protests lasted nearly a month, but in some way never ended. Nearly seven years later, small groups of protesters still gather in the Capitol rotunda or on its lawn every day at noon to sing songs of protest against the governor.