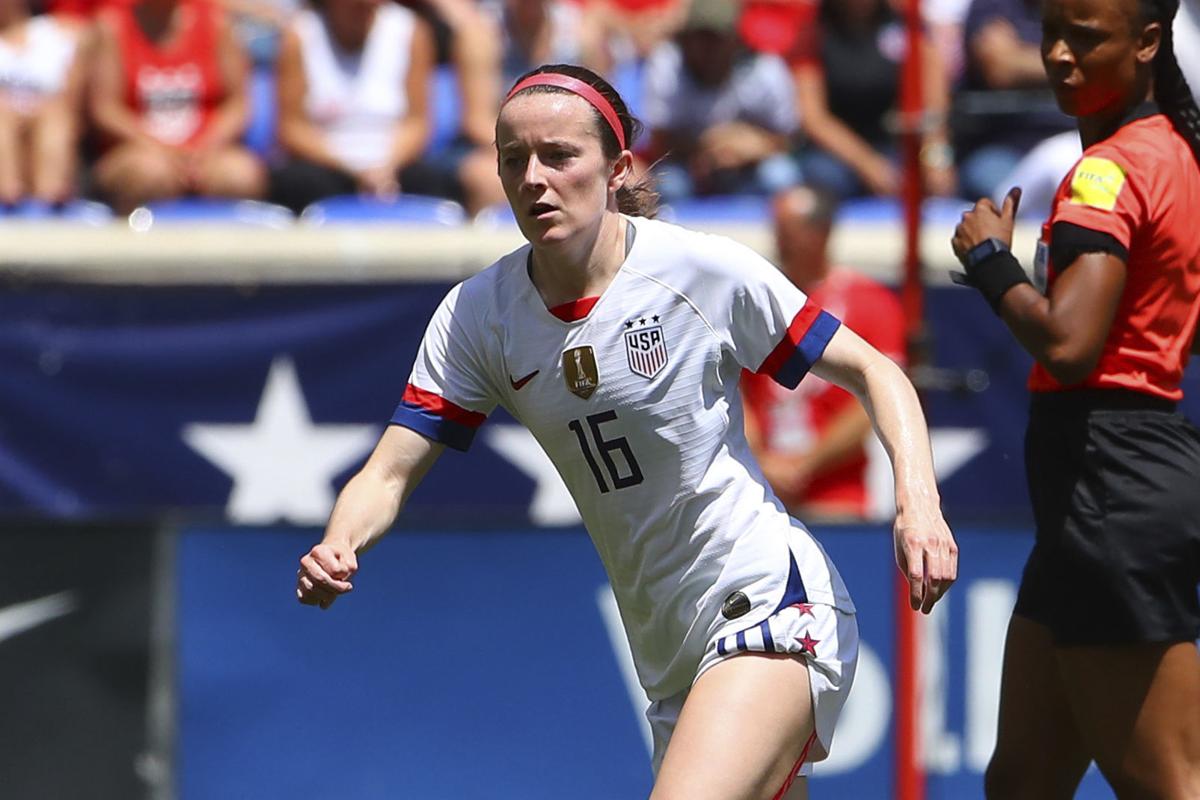 Soccer's most famous dog did not make the trip to France.
The U.S. Women's National Team — and its rising star, former University of Wisconsin standout Rose Lavelle — will have to win the 2019 FIFA World Cup without the on-site support of Wilma the English Bulldog.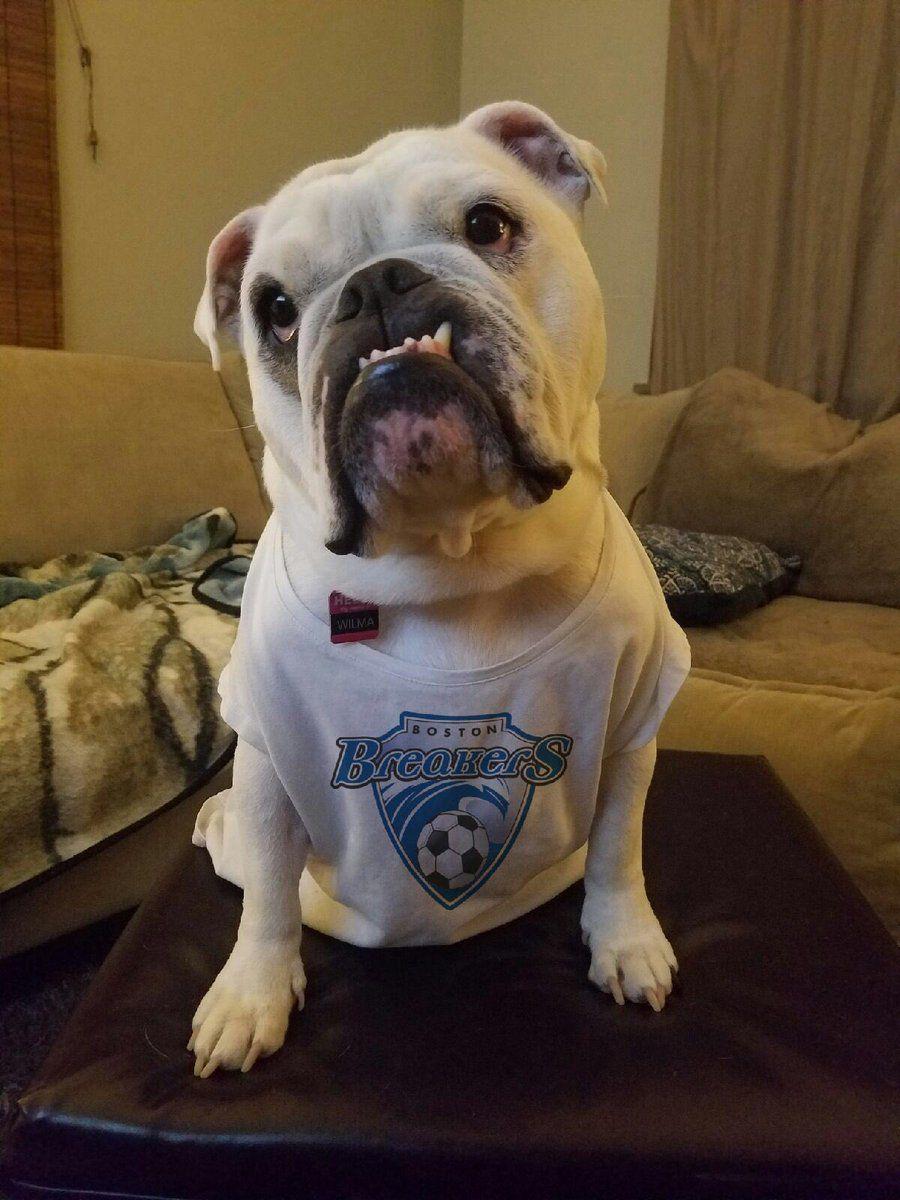 "I don't think she can handle a long plane ride. She can barely handle a long car ride," Lavelle said with a laugh before departing for France in advance of the U.S. team's Cup-opening match against Thailand on Tuesday at the Stade Auguste-Delaune in Reims. "But I have my pet cam, so I'll be shooting treats out at her."
Yes, as the U.S. looks to defend its 2015 title with Lavelle and 10 other first-time World Cup participants on the roster, one of its most vital — and endearing — newcomers will be checking in on her Internet-celebrity pup via her iPhone and delivering snacks to Wilma in her native Cincinnati from 4,000 miles away.
"She knows the sound of the camera now, so I can watch her whenever I want," said Lavelle, who posts photos of Wilma on her Instagram and Twitter accounts, which she hardly uses otherwise. "And there's like a little treat-shooter that's attached to it, so she'll always come over — and I get an up-close-and-personal live look at her."
The 24-year-old Lavelle is ready for her own close-up, too. The most decorated player in University of Wisconsin soccer history — a four-time All-Big Ten Conference pick, a three-time All-American, the No. 1 overall pick in the 2017 NWSL draft — she is now on the game's biggest international stage. And her creativity, versatility and technical skill as an attacking midfielder are vital to coach Jill Ellis' 4-3-3 formation.
"She's a player that can spread the game east-west, and she spreads the game vertically," Ellis said. "She can also individually solve pressure, and I think that's a really good profile of a player."
That's the kind of player Ellis needed after the USWNT's inconsistent performances in recent years — including a quarterfinal loss in the 2016 Rio Olympics — led to a youth movement and roster makeover. Many of the best-known players remain — including Carli Lloyd, making her fourth World Cup appearance, and Alex Morgan, Tobin Heath, Ali Krieger, Kelley O'Hara, Becky Sauerbrunn and Megan Rapinoe, who are in their third World Cups — but Ellis knew her team needed an infusion of new blood.
By choosing Lavelle, who throughout the lead-up to the May 1 roster announcement refused to take her spot for granted, Ellis turned Lavelle's childhood vision into reality.
Lavelle was 4 years old during the 1999 USWNT's World Cup championship run, led by Mia Hamm and Brandi Chastain. She doesn't remember much about that team, but she vividly recalls being 8 years old and crying herself to sleep on her bunk bed after the 2003 team lost to Germany in the World Cup semifinals. She also remembers sitting in the Paul Brown Stadium stands when the USWNT came to Cincinnati in 2004 and beat New Zealand 6-0.
"Being on this team is something I always envisioned myself doing. I wouldn't even necessarily say it was a dream, because it felt very real to me and felt like something that was going to happen," Lavelle said. "And it wasn't so much, 'Oh, I'm so good, obviously I'm going to get there.' It was more of, I wanted it to happen.
"I feel like this has always been where I have aspired to be since I was in third grade. I could never even envision my future without it. I don't know how to explain it. It's weird. It's just something that has always been with me. And something I always wanted."
While Lavelle might've seen this as her soccer destiny, Badgers coach Paula Wilkins wasn't so sure. Certainly, she saw Lavelle's remarkable skill while coaching her in the Olympic Development Program, and while other schools shied away from her because of her slight, 5-foot-4 frame, Wilkins believed Lavelle was a field-tilting player with rare talent.
"When I met Rose, she was 96 pounds. And a lot of people passed on her because they thought she was too small," said Wilkins, who is entering her 13th season as the school's coach and who still talks or texts with Lavelle every day or two. "I don't want to make the comparison to (Lionel) Messi, but what you can't catch, you can't kick. So her quickness helped her out a ton. But people looking at her thought, 'She's going to get killed in college.'"
Instead, she killed it, finishing her UW career with 22 goals and 24 assists in 84 games. Following her junior year, she was invited to the full USWNT camp, with some of the same players she'd idolized.
"I think that first 'wow moment' I had was, the first team meeting was a team meal. And it was so weird because all of a sudden, I was in a room with all the people I had grown up watching and aspired to be like and who had inspired me so much. And now, I was eating dinner with them," Lavelle said. "But then once I stepped on the field, I just had to play my game. There was definitely a huge learning curve."
Despite her success at UW and next-level potential, Wilkins worried about her star's readiness for the national team. In the fall of 2016, Ellis wanted to bring Lavelle back to camp and called Wilkins to discuss it. Having watched Lavelle struggle through a myriad of injuries, Wilkins told Ellis that Lavelle wasn't ready — yet.
"Rose and I had a big blowout," Wilkins said. "She got on the phone with Jill Ellis, and Jill was like, 'Well, Paula said you're not ready to come in because you're not taking care of yourself.' And I've never seen daggers come out of somebody's eyes like that. It was a gamble, because I could have lost her completely. She could tell me to go jump off a cliff — and she did. But then I said, 'You need to make a change here.' And she did.
"I said (after that), 'If you would have gone to camp the way you were, you wouldn't have stayed. I know this, just from past history with other players.' And now she's thankful I put the brakes on her and got her healthy."
That change allowed Lavelle to overcome her most challenging injury — a hamstring issue that cropped up in 2017 not long after she made her USWNT debut and bothered her for more than a year. Her setback-riddled recovery was painful physically and mentally, and the help she received while working with a sports psychologist was perhaps the most important piece of her rehabilitation.
"I thought once I was back playing the hard part was over, but honestly, that was the hardest part for me — mentally," said Lavelle, who finally was cleared by doctors in time for World Cup qualifying last fall. "Because I had to re-teach myself to do things that had come so naturally to me to that point, and I had never felt so low confidence-wise in my career — ever. I've always been pretty confident, and everything flowed and was so natural for me. And now I was back and nothing felt natural. Every time I was on the ball, it felt so unnatural and forced. I felt so out of my element.
"But slowly, I got my confidence back and got out of my head and started to enjoy it more. It was such a long process. I honestly wouldn't say I felt like myself until earlier this year."
And now that she is herself, she's ready to show the world what she can do.
"Now, I'm feeling good, I'm hoping I peak at the right time and things go well," Lavelle said. "It's honestly all about trusting my preparation. I've put in the work, we've all put in the work, everyone on this team has put in the work for us to be successful in the World Cup. We just have to trust that and trust that we can do our jobs and do them well."