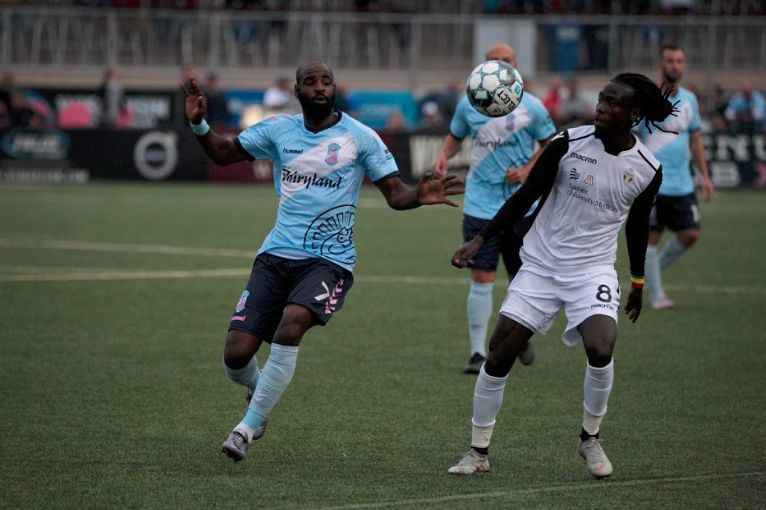 It's amazing what a little bit of rest can do for a team.
With a full week between games for the first time in more than a month, Forward Madison FC got off to the kind of start that has been elusive in a losing streak.
Paulo Júnior's goal 41 seconds after kickoff was a much-needed byproduct and helped send the Flamingos to a 2-1 victory over FC Tucson on Saturday at Breese Stevens Field.
He also assisted on JC Banks' goal in the 34th minute as the Flamingos won a USL League One game for the first time since May 4.
"The start of the game was much better than it has been," Paulo Júnior said.
Forward Madison (3-6-2) lost its previous four league games and had gone five without a victory, with poor starts costly in two of them.
On Saturday, however, the Flamingos broke down Tucson's defense shortly after the first kick. Banks pushed the ball out wide for Brian Bement, who crossed for a Paulo Júnior free header from 6 yards out that marked the fastest goal in the first-year league's history.
"It's super cool," Paulo Júnior said. "I'm very happy. We needed these three points."
A demanding stretch of the schedule, including five straight weeks with both midweek and weekend games, taxed Forward Madison. After booking a spot in the third round of the U.S. Open Cup, the Flamingos went 0-6-1 in their next seven games in all competitions.
"It's been challenging," coach Daryl Shore said. "We felt like, even though we were playing well, there was a little bit of a confidence that we were lacking because we weren't scoring goals. And we talked about, if we get the first goal, we felt like we would be able to control the game and take charge of the game, which we did in the first half."
Forward Madison built on the opening goal, with Banks and Paulo Júnior executing a give-and-go in the 34th minute that ended with Banks' left-footer into the net. It was the Milwaukee native's first goal for the club, and it sealed what Shore called "probably our best half of the year."
Before Saturday, the Flamingos had scored in the first half in only two league games: a 3-1 victory over Toronto FC II on May 4 and a 3-1 loss at North Texas SC on May 22. Both were by Don Smart.
Kyle Venter scored for FC Tucson (4-5-3) in the final minute of second-half stoppage time to spoil Brian Sylvestre's shutout bid.
You have free articles remaining.
Tucson was playing its second road game in four days after a 2-1 victory at Orlando City B on Wednesday.
For a change, it was Forward Madison's opponent's turn to be weary.
"I hate losing," Banks said. "So losing that many in a row, it's a tough month. But that's behind us right now, so now we've got to try to get a little streak going with some wins."
The contagious energy was coming from jam-packed bleachers where members of Forward Madison's fan groups spend much of the match.
Forward Madison honored two-time Olympic gold medalist and Madison native Lindsay Tarpley as part of its "Tribute to Women in Soccer" night. Tarpley, who played 125 U.S. matches from 2003 to 2011, kicked a ceremonial first ball.
Forward Madison FC 2 0 — 2
First half: FM — Paulo Júnior (Bement), 1:00; Banks (Paulo Júnior), 34:00.
Second half: T — Venter (Virgen), 90:00+5.
Saves: T (Merancio Valdez) 3, FM (Sylvestre) 2.
Possession: T .590, FM .410. Shots-on goal: T 17-3, FM 17-5. Corner kicks: T 4, FM 9. Fouls: T 8, FM 12. Offsides: T 0, FM 2.
Yellow cards: Eaton, FM, 23:00. Att. — 4,020.
FC Tucson — Carlos Merancio Valdez; José Carlos Terrón (Raheem Sommersall 75:00), Lamar Batista, Kyle Venter, Luke Hauswirth; Colin Stripling, Erik Virgen, Jamael Cox, Eti Tavares (Zach Wright 62:00); Guillermo Delgado (Roy Abergil 64:00), Jordan Jones.
Forward Madison FC — Brian Sylvestre; Christian Díaz, Shaun Russell, Connor Tobin, Carter Manley (Mason Toye 64:00); Eric Leonard, JC Banks, Brandon Eaton; Don Smart, Paulo Júnior (Jiro Barriga Toyama 76:00), Brian Bement (Zaire Bartley 88:00).