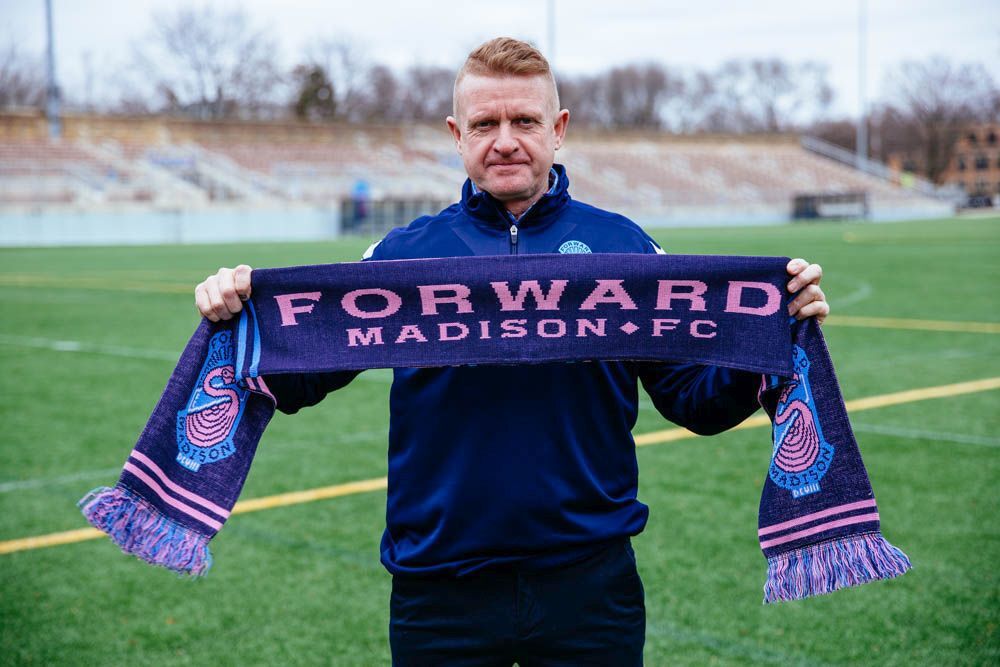 Forward Madison FC's new coach was interested in the job the first time it was open two years ago, but the team already had made its choice.
Carl Craig's curiosity was even more piqued after he saw the third-division pro soccer team become a social media dynamo with strong and diverse community connections.
Lower-level teams have more opportunity to be connected with supporters at the purest levels, Craig said in explaining his desire to be connected to Madison's team.
Craig will take over the on-field direction of the team after being named to lead Forward Madison on Tuesday. But he made it clear in an interview that the team isn't walled in by the lines on the field.
"We want that community spirit," he said about the club, fans and local merchants. "We want that cooperative spirit where we can conduct business together and reciprocate. ... I think we can support one another. We can be there for one another."
So who's Carl Craig? It's a question that seemingly has hundreds of answers.
He's a 55-year-old former punk rocker from Newcastle upon Tyne, England, who got into coaching soccer in the late 1980s because his music collective's team needed a leader.
"We were running around with mohawks and spiky hair and stuff and the other people are like, what the hell's going on here?" Craig said. "We weren't a bad side, to be fair."
He's a former player who had his career cut short by ACL injuries then became a coach at various levels in Minnesota. He has his share of pro experience, including with pre-Major League Soccer Minnesota United FC.
He's a former vegan and, in his words, "a little left of center."
"I like all different things," he said. "I like music. I like to cook. I like politics — the good part of it. I don't even know if that's a fair statement, to be honest with you. My feathers are ruffled by politics."
He's what Forward Madison COO and owner Conor Caloia called the right fit for the team's established brand of supporter-focused soccer.
"We had a ton of interest in the job, talked to a lot of great candidates," Caloia said. "But there was only one that fit the culture of Forward Madison, fit what Forward Madison means for its fans and what it wants to be."
Caloia wouldn't disclose the length of Craig's contract but said the hire "isn't a short-term decision."
Forward Madison still doesn't know where it'll play the 2021 USL League One season because of the COVID-19 pandemic. It moved its 2020 home games to Wauwatosa and practices to Wisconsin Dells because of restrictions on sports in Dane County.
The Flamingos finished at .500 this year, after which coach Daryl Shore was let go. He was 17-12-15 in two seasons, and Caloia said the team needed to have a more offensive style.
"We've had fun for two years, but we haven't won," Caloia said. "And we need to win. That's why we've made a move. And we think Carl can lead us to a championship and get us back on the right track there."
Craig, who will control all player movements within the team's budget, said he heard from members of the team's supporters' groups that they want to see players who give their all off the field as well as on.
The team already has announced three re-signings for the 2021 season: defender Josiah Trimmingham, midfielder Michael Vang and striker Noah Fuson.
"I have to know that when we sign a footballer that he's not just about the football team," Craig said. "He understands that we're here to serve this community. It's bigger than the football team, and it has to be."
While he was on the staff of the club that was known during his tenure as the Minnesota Stars then Minnesota United, Craig coached Forward Madison assistant Neil Hlavaty and players Connor Tobin and JC Banks.
His connection with Tobin, the Flamingos' captain for their first two seasons, helped Craig get more depth of knowledge about how Forward Madison exists as a community club. It's not far off from what he saw in Minnesota United before it moved to the top tier of American soccer.
"In the big league, if you will, the rules are so much more stringent and it's so much more conformist," Craig said. "Whereas this can be someone anarchic and free-flowing. Let's find where we need to go. Obviously there's rules in the league and et cetera. But I think you have a much better chance at this level of football being who you want to be as a football club. And that appeals to me."