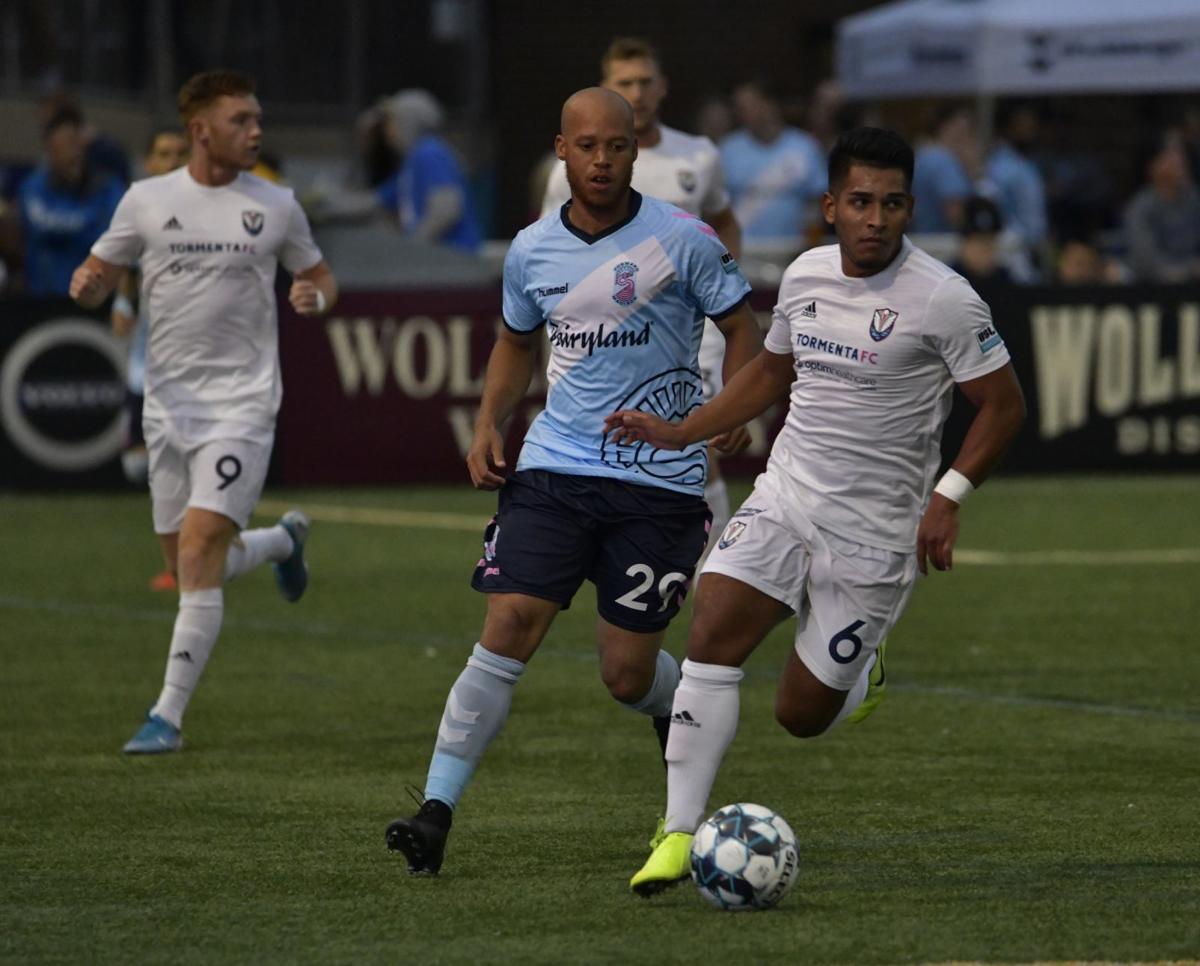 The good for Forward Madison FC: It ended the weekend no worse than it started in a race for a USL League One playoff spot.
The bad: Things could have looked a lot better in that chase if the Flamingos had held onto a lead Saturday at Breese Stevens Field.
But Marco Micaletto's goal in the 80th minute rewarded South Georgia Tormenta FC for a push toward the finish line in a 1-1 draw that left the teams both at 33 points.
Forward Madison, which stayed in fourth place and the last playoff spot with four games to play, has the tiebreaker over South Georgia and Chattanooga with more league wins.
"These games are about one play," Forward Madison coach Daryl Shore said. "And we made the play in the first half, we had the momentum in the game and then they made their play."
A sequence of four passes in 4 seconds near the top of the penalty area by South Georgia (8-7-9) set up Micaletto for a shot that Forward Madison goalkeeper Brian Sylvestre got a hand on and tried to swat away from the goal line.
But the linesman informed the referee the ball fully crossed the line, bringing the teams back to even.
Forward Madison (9-9-6) built a lead on Paulo Júnior's first-half goal but spent the last 15 minutes of the game first trying to hold on for three points, then scrambling to avoid what would have been a disastrous loss.
"We're not happy that we didn't get all three points, but we've got a group of guys that are willing to fight to the end," Forward Madison defender Eric Leonard said. "So I'm not worried about the group."
Paulo Júnior's fifth goal of the season, in the 24th minute, gave Forward Madison the lead and only its third score in the past six games. J.C. Banks delivered a well-placed ball over the defense, and Paulo Júnior headed it into the net as he received a kick to the ribs from a South Georgia defender.
You have free articles remaining.
The Forward Madison lineup needed a shuffle in the back end because defenders Carter Manley and Wyatt Omsberg were recalled by MLS team Minnesota United for a friendly against Mexican side Pachuca.
But Leonard, who shifted into the back four, played a strong game with aerial clearances.
South Georgia Tormenta FC 0 1 — 1
Forward Madison FC 1 0 — 1
First half: FM — Paulo Júnior (Banks), 24th minute.
Second half: SG — Micaletto (Arslan), 80th minute.
Saves: SG (Jara) 5, FM (Sylvestre) 3.
Possession: SG .461, FM .539. Shots-on goal: SG 12-4, FM 11-6. Corner kicks: SG 4, FM 3. Fouls: SG 11, FM 8. Offsides: SG 1, FM 4.
South Georgia Tormenta FC — Pablo Jara; William Connor Antley, Joshua Phelps, Jordan Skelton (Nicholas Wells, 90th+1), Daltyn Knutson; Ricardo Gomez, Marco Micaletto, Mikie Rowe (Shinya Kadono, 56th), Charlie Dennis, Jad Arslan; Alex Morrell.
Forward Madison FC — Brian Sylvestre; Christian Díaz, Eric Leonard, Connor Tobin, Shaun Russell; J.C. Banks, Louis Bennett, Josiel Núñez; Don Smart, Paulo Júnior (Brian Bement, 79th), Danny Tenorio (Oliver White, 83rd).