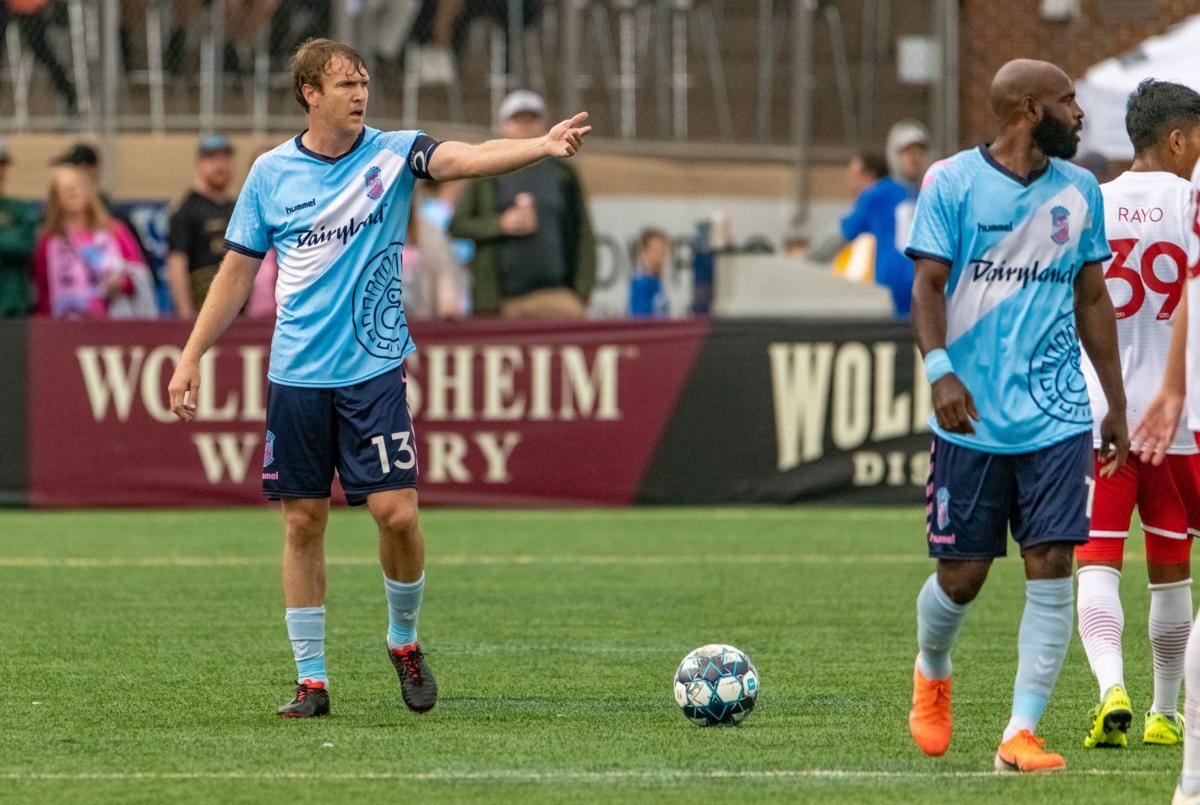 Connor Tobin has been chasing a feeling for seven years. He's getting close but knows it'll take a big effort for him and his Forward Madison FC teammates to get there.
In 2012, Tobin played for the North American Soccer League championship with the Minnesota Stars but lost on penalties after a two-game series ended tied on aggregate.
"It was heartbreaking," he said.
Jump ahead to last Saturday, when Tobin jumped over a barrier to celebrate with the team's supporters after Forward Madison clinched a USL League One playoff spot, and the exuberance gets some context.
J.C. Banks' first-half goal and a strong defensive effort fuel a 1-0 victory over Lansing.
After being that close to winning a league title in 2012 and having another playoff chance two seasons ago with North Carolina FC, Tobin is pumped for another shot.
"Part of the reason I came here is because I want to win a title," said Tobin, the Forward Madison inaugural season captain. "I keep telling the guys you don't know if you'll ever get back to one of these. I never knew if I was going to."
Forward Madison plays a one-game semifinal playoff against league champion North Texas SC on Saturday in Frisco, Texas, and Tobin isn't the only veteran looking to add a championship to his resume.
Forward J.C. Banks is in his ninth pro season and has been on three teams that have made a semifinal. He was out with a torn ACL in 2012 when the Rochester Rhinos lost in the USL Pro playoffs.
Three years later, he was with the NASL's Minnesota United for a loss to Ottawa Fury FC.
You have free articles remaining.
"You never know when you're going to get that next opportunity," Banks said. "And you don't always have a team that you think can win a championship. So to have that is good, but now we just have to prove it."
What makes Banks think that Forward Madison (12-9-7) has a team that can defeat North Texas (17-6-5) and then either Lansing Ignite FC or Greenville Triumph SC a week later?
"The guys have the fight," the Milwaukee native said. "We've been through a lot. If we go down early, we've been there before. If we go up early, we've been there before."
Flamingos coach Daryl Shore is looking for his first major playoff title, too, and he's facing at least one lineup change for Saturday's game.
Forward Danny Tenorio suffered a season-ending right knee injury in last Saturday's 1-0 victory at Lansing. Brian Bement replaced him then and is likely to get another chance.
The status of midfielder and team leading goal-scorer Don Smart will be a game-time decision, Shore said, after he was injured late in last week's game.
And goalkeeper Brian Sylvestre is day-to-day with an injury that has prevented him from kicking. Ryan Coulter earned a shutout last week.
The Flamingos lost both of their games this season at North Texas but earned 4-1 and 1-0 home victories in the teams' last two meetings.
Saturday's meeting will be different than any of the previous engagements.
"Playoffs are usually not the best soccer," Shore said. "Sometimes it's about grit. But I do think we get to go play on a very good field against a very good team, so it'll be a good challenge for our guys."
For Tobin, it's another chance at a championship and another week to use the line that has become a team motto since Forward Madison was starting to make a run at the playoffs in midseason.
"It started as a little bit of a joke, but I'm serious about it: Don't let the boys get hot," Tobin said. "If you look at almost every sport here in America, it's the team that sneaks into the playoffs, that has a little bit of momentum going, that's the team that no one wants to face."