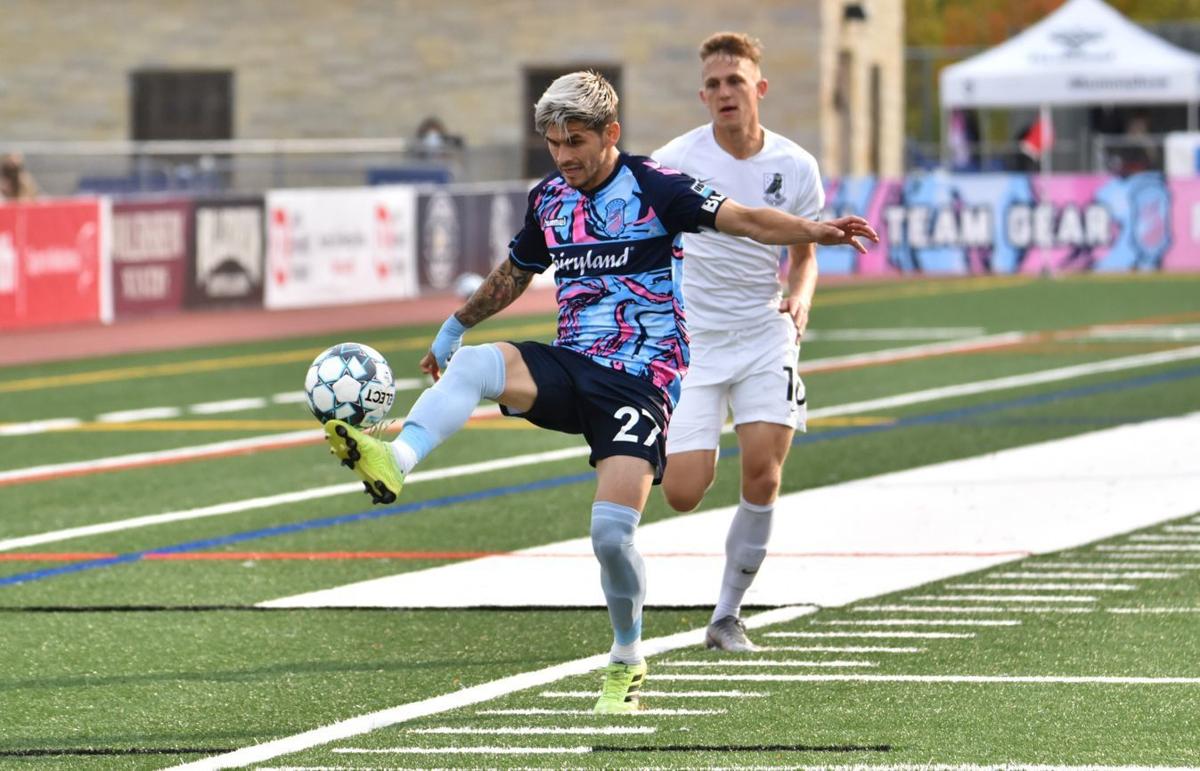 WAUWATOSA — The ability to generate and finish scoring chances has escaped Forward Madison FC at a critical time of the season.
The Flamingos played a second straight goalless draw Sunday at Hart Park, finishing with only one shot on target against Union Omaha.
J.C. Banks was credited with the only attempt that drew a save from Omaha's Rashid Nuhu, a one-hop shot from the right side just before halftime.
"It's kind of frustrating not to get a goal out of that game but we've got to be more dangerous," Banks said. "I don't think we were dangerous enough. So we've got to do that the next couple games. We've got to win out now."
The tie left Forward Madison's hopes at a USL League One playoff spot hanging by a thread with four games remaining. With 16 points, the eighth-place Flamingos are seven behind second-place Richmond Kickers and Union Omaha. Only the top two teams advance to the postseason in a shortened 2020 schedule.
"I can't really fault the guys for the effort," Forward Madison coach Daryl Shore said. "We still have something to play for. We've still got to get after it these next four games."
Playing the first of three games in a seven-day span and five games in 14 days to finish the season, Forward Madison (4-4-4) needed a goal-line clearance by late substitute Gustavo Fernandes in the second minute of second-half stoppage time to salvage the draw.
Fernandes headed away a header from Abdul Illal Osumanu that was targeted for the left side of the net behind goalkeeper Chris Brady, who posted his third straight shutout.
"I was always taught from a young age if you can't win the first ball just go to the goal line and see if you can make a play," Fernandes said. "It came right to me, so I just had to clear it out."
Banks had the only one of six Forward Madison shots that required a save but he also had a chance late in the second half off a counterattack. His shot from the right side sailed over the crossbar.
FMFC also was held to one shot on target in a 0-0 draw with FC Tucson at Hart Park on Oct. 3.
"We put everything into the game," Shore said. "It was obvious one team came to win the game and one team came to draw the game. Credit to them for making it hard for us."
Forward Madison plays at Fort Lauderdale CF on Wednesday and will stay on the road for a Saturday game at Chattanooga Red Wolves SC.
Home games against North Texas SC on Oct. 21 and New England Revolution II on Oct. 24 close the regular season.
"It's been a weird, long year," Banks said. "A shorter season but a long year overall. And it's all coming down to these two weeks. Lots of treatment and lots of recovery and put the work in when we need to."
Saves: O (Nuhu) 1, FM (Brady) 1.
Possession: O .559, FM .441. Shots-on goal: O 8-1, FM 6-1. Corner kicks: O 1, FM 1. Fouls: O 16, FM 9. Offsides: O 2, FM 2.
Yellow cards: Ovalle, FM, 2nd minute; Knutson, O, 5th; Boyce, O, 31st; Leonard, FM, 71st; Lockaby, FM, 90th+4.
Union Omaha — Rashid Nuhu; Jake Crull (Sebastían Contreras, 46th), Ferrety Sousa (Lucas Hauswirth, 78th), Abdul Illal Osumanu, Daltyn Knutson; Damia Viader I Masdeu, John Scearce, Tobias Otieno, Ethan Vanacore-Decker; Devin Boyce (Christian Molina, 78th), Evan Conway (Austin Panchot, 68th).
Forward Madison — Chris Brady; Christian Díaz, Jiro Barriga Toyama (Eli Lockaby, 85th), Josiah Trimmingham, Connor Tobin; Eric Leonard, Michael Vang (Don Smart, 66th), Adolfo Ovalle (Gustavo Fernandes, 85th); Wojciech Wojcik (Noah Fuson, 77th), J.C. Banks, Paulo Júnior (Jamael Cox, 77th).
Be the first to know
Get local news delivered to your inbox!