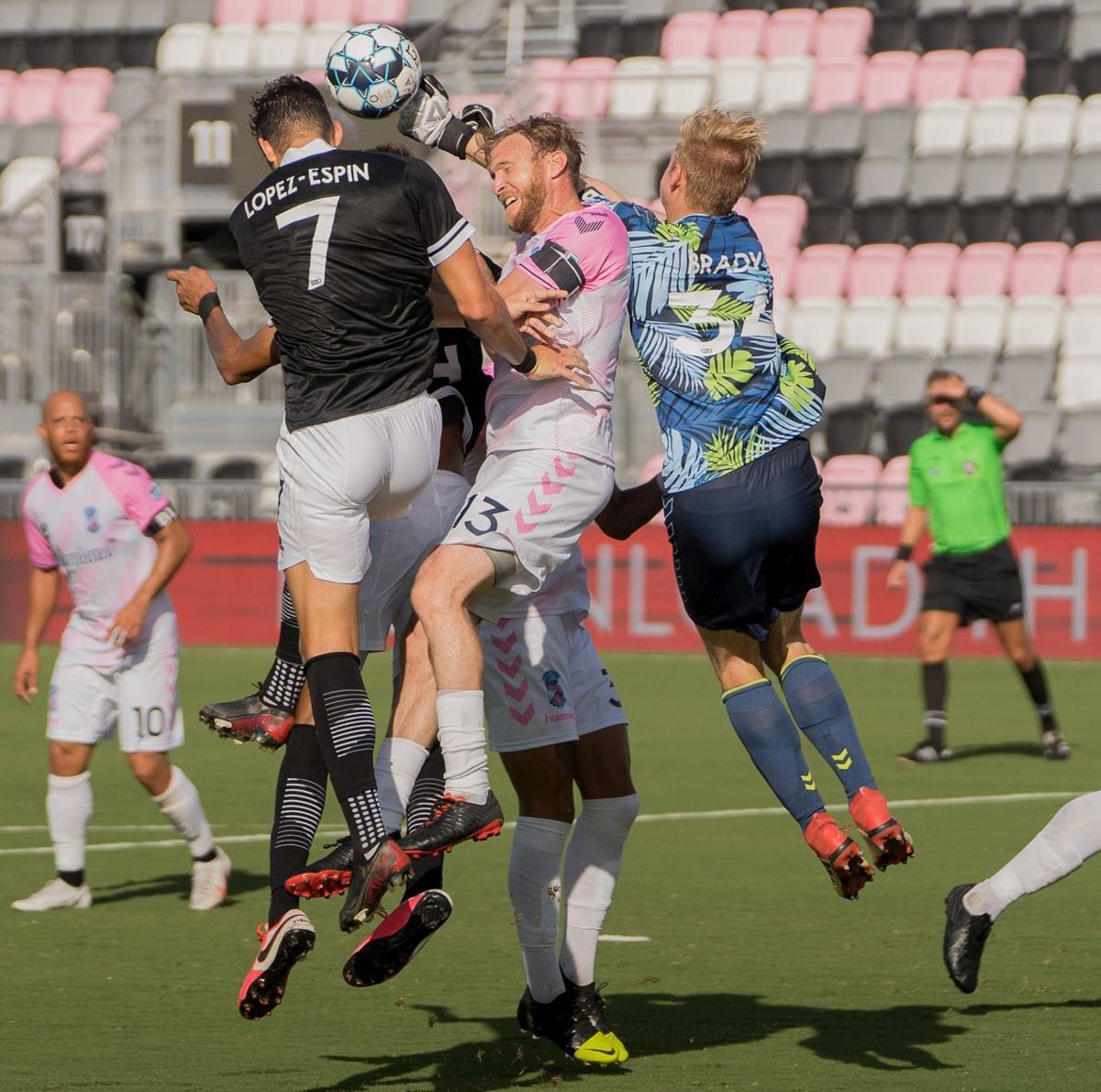 Down by two goals with 20 minutes to play, Forward Madison FC engineered a comeback to earn a draw Wednesday at Fort Lauderdale CF.
It might not have been enough to realistically keep the Flamingos in the race for a spot in the USL League One Final.
Paulo Júnior and Christian Díaz scored in the final 17 minutes to give Forward Madison a 2-2 tie in Fort Lauderdale, Florida.
To have any hope of finishing in one of the top two spots in the regular-season standings, Forward Madison needs to win its final three games and get a large amount of help from other results in the final two weeks.
Wednesday's game was the third straight tie for Forward Madison (4-4-5), which is 1-4-2 on the road.
It became a costly outing when captain Connor Tobin was shown a straight red card for a challenge just outside the penalty area in the fourth minute of second-half stoppage time. Tobin will miss Saturday's game at Chattanooga Red Wolves SC.
Six minutes after substitute Dairon Reyes scored to put Fort Lauderdale (4-8-3) ahead 2-0, Paulo Júnior capitalized on a mistake. Fort Lauderdale goalkeeper Andre Zuluaga-Silva spilled a Jiro Barriga Toyama cross intended for hard-charging Wojciech Wojcik, leaving Paulo Júnior to clean up.
Díaz scored his first goal of the season in the 85th minute when he headed in the rebound after a nice save by Zuluaga-Silva.
Forward Madison conceded a goal for the first time in four games with Eduardo Sosa's first-half clean-up of an Edison Azcona cross from the left side.
Goalkeeper Chris Brady had to dive to get his left hand on the cross but Forward Madison defenders couldn't clear the rebound.
Brady, who had posted three straight shutouts entering the game, had to be quick to keep the deficit at one goal just before halftime. He stopped Ricky Lopez-Espin's shot from close range three minutes into stoppage time.
Forward Madison had three good chances in a four-minute span early in the first half but a curling shot by Paulo Júnior and two attempts from Don Smart all missed the net.
First half: FL — Sosa, 38th minute.
Second half: FL — Reyes (Azcona), 67th. FM — Paulo Júnior, 73rd; Díaz, 85th.
Saves: FM (Brady) 4, FL (Zuluaga-Silva) 3.
Possession: FM .402, FL .598. Shots-on goal: FM 15-5, FL 10-6. Corner kicks: FM 4, FL 5. Fouls: FM 15, FL 9. Offsides: FM 4, FL 3.
Yellow cards: Nodarse, FL, 18th; Sosa, FL, 32nd; Rosales, FL, 56th; Azcona, FL, 90th+2. Red cards: Tobin, FM, 90th+4.
Forward Madison — Chris Brady; Eli Lockaby (Jamael Cox, 82nd), Jiro Barriga Toyama, Josiah Trimmingham, Connor Tobin; Adolfo Ovalle, Michael Vang (Louis Bennett, 82nd), J.C. Banks (Eric Leonard, 68th); Noah Fuson (Christian Díaz, 54th), Don Smart (Wojciech Wojcik, 68th), Paulo Júnior.
Fort Lauderdale — Andre Zuluaga-Silva; Brian Rosales (Christian Young, 87th), Noah Allen (Sam Guediri, 57th), Frank Nodarse, Ethan Hardin; Joshua Saavedra, Eduardo Sosa, Rivaldo Ibarra (Blaine Ferri, 46th); Ricky Lopez-Espin (Jerome Kiesewetter, 72nd), Felipe Valencia (Dairon Reyes, 57th), Edison Azcona.
Be the first to know
Get local news delivered to your inbox!