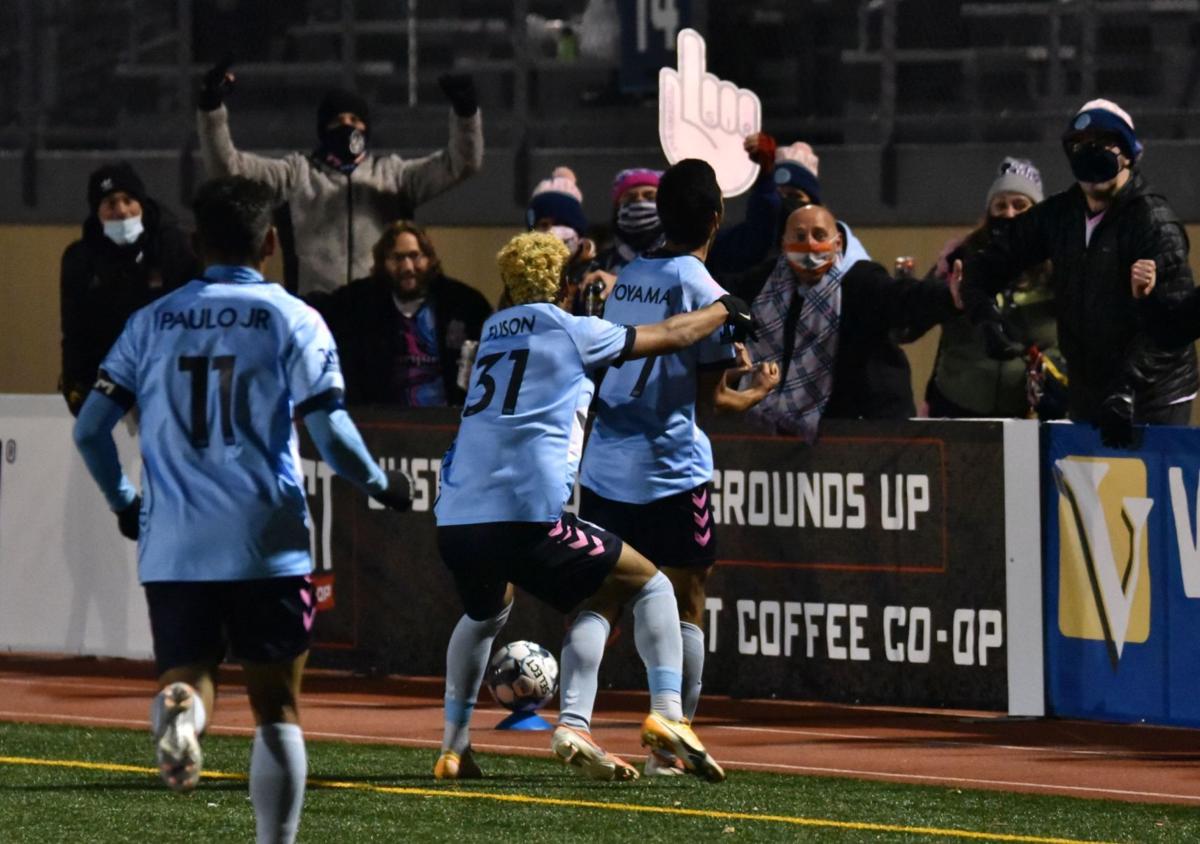 WAUWATOSA — Jiro Barriga Toyama walked back to the Forward Madison FC locker room at Hart Park to a small group of people cheering his first name.
Quite a way to finish a season.
Just when it looked like Forward Madison FC's offense was going to go quietly into the offseason, two late strikes Saturday changed the finale.
Noah Fuson and Barriga Toyama awoke a dormant finishing crew with goals in the final 10 minutes, and the Flamingos closed the USL League One season with a 2-1 victory over New England Revolution II at Hart Park.
Barriga Toyama's first goal of the season was one of his last touches, a blast from outside the penalty area in the 83rd minute that found space at the near corner of the net.
"I was surprised, to be honest," Barriga Toyama said. "Teammates told me through the season, you've got to take a shot. This is the last game and I was like, at that moment, I've got to take a shot. That was a good hit. To be honest, I should have done it earlier in the season."
Forward Madison had scored only three goals in its five previous games in October and hadn't held a lead since Sept. 26.
Two minutes after entering the game as a substitute, Louis Bennett set up Fuson, who also came on in the second half, for an 81st-minute finish into the lower right corner that tied the game.
It was the first professional goal for Fuson, a 20-year-old who signed with the team in August.
"It was an amazing feeling," Fuson said. "We've been working hard all season. As a striker, as a goal-scorer it's disappointing when you go game after game not being able to score goals and help the team win. But it meant a lot to get my first one here in front of the fans in the last game of the season."
The victory gave Forward Madison a .500 finish (5-5-6) and seventh place in the 11-team USL League One table. The Flamingos were officially eliminated from contention for the playoff championship game last weekend and lost their first home game of the season on Wednesday to North Texas SC.
The late rally prevented FMFC from being shut out at home for the fourth straight time.
"October's been a long month," Forward Madison coach Daryl Shore said. "Give credit to the guys for sticking with it."
Forward Madison goalkeeper Chris Brady could have won the USL League One Golden Glove award for lowest goals-against average with a fourth shutout in eight games played.
Those hopes ended in the 30th minute when New England's Damian Rivera played a ball through an offside trap to Justin Rennicks, who was 1-on-1 with Brady. Rennicks slid the ball past Brady to claim the lead.
Brady, a 16-year-old on loan from Major League Soccer's Chicago Fire, allowed six goals in eight games.
New England (5-8-3) tested Brady and the Forward Madison back line a few times in the first half. The keeper had to leap to tip Connor Presley's drive over the crossbar in the 15th minute.
Six minutes later, Colby Quinones nearly beat Brady, who dived to his left to make the save.
Forward Madison's Paulo Júnior hit the crossbar three times, twice from around 20 yards out in the opening half and once in the 70th minute.
Right back Christian Díaz missed the season finale with a groin injury, adding to the list of injured Forward Madison players. Defender Gustavo Fernandes suffered a hamstring injury on Wednesday and also didn't appear on Saturday's lineup sheet. Nor did midfielder Adolfo Ovalle.
Former Madison La Follette and University of Wisconsin defender Carl Schneider made his first appearance of the season as an FMFC substitute for the final 11 minutes.
First half: NE — Rennicks (Rivera), 30th minute.
Second half: FM — Fuson (Bennett), 81st; Barriga Toyama (Trimmingham), 83rd.
Saves: NE (Meyer) 3, FM (Brady) 3.
Possession: NE .494, FM .506. Shots-on goal: NE 18-4, FM 12-5. Corner kicks: NE 7, FM 0. Fouls: NE 8, FM 7. Offsides: NE 3, FM 3.
Yellow cards: Spaulding, NE, 57th; Barriga Toyama, FM, 63rd; Banks, FM, 89th; Souza, NE, 90th+5.
New England — Keegan Meyer; Colby Quinones, Ryan Spaulding, Collin Verfurth, Jonathan Bell; Tiago Mendonca (Hikaru Fujiwara, 83rd), Connor Presley, Maciel, Damian Rivera (Diego Souza, 86th); Orlando Sinclair (Nicolas Firmino, 37th), Justin Rennicks (Meny Silva, 86th).
Forward Madison — Chris Brady; Eli Lockaby (Carl Schneider, 79th), Jiro Barriga Toyama, Josiah Trimmingham, Connor Tobin; Eric Leonard, Michael Vang (Louis Bennett, 79th), J.C. Banks; Wojciech Wojcik (Noah Fuson, 69th), Don Smart (Allan Rodriguez, 46th), Paulo Júnior (Jamael Cox, 90th+2).
Be the first to know
Get local news delivered to your inbox!