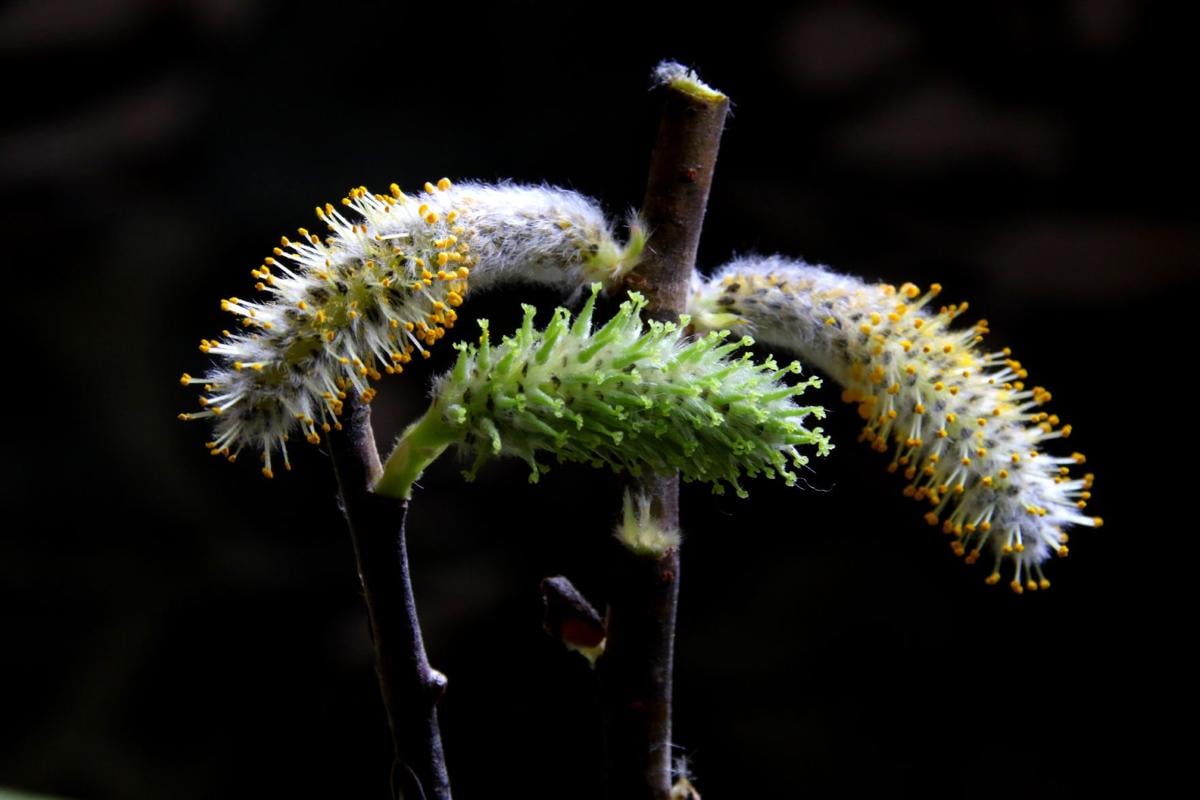 What are those plant structures called catkins? They feed some animals, but not cats.
The name does suggest a cat and the appearance of a cat's tail, most notable a bobcat's tail. But the origin is from the obsolete Dutch word katteken, meaning kitten.
Most catkins are prominent spring structures on some woody flowering plants. Catkins are a type of flower group, an inflorescence, but the flowers are tiny, incomplete and imperfect, so they show little resemblance to ordinary flowers.
All flowers are reproductive structures and ultimately become fruit with seeds inside.
Birches, oaks, hazelnuts, walnuts, willows and a host of other woody plants have catkins, each with one of the two types of incomplete flowers, either with pollen-producing structures or with seed/fruit forming parts, but never both.
To complete the cycle of reproduction the pollen from the pollen catkins' flowers must get to the seed catkins' flowers. Eventually the seed flower forms a fruit.
Commonly, but not always, the two types of catkins are on different individual trees, usually denoted as being "male" or "female" trees depending on whether they produce pollen or seeds.
Pussy willows are an early, commonly recognized catkin structure. Half will release pollen, half will form seeds, but on different trees.
Since catkins bloom early, even before most pollinators are out and about, it is wind that transfers the pollen instead of bats, bees, butterflies and beetles. Wind cannot see, smell or taste so there is no need for most catkins to produce big red petals, lots of nectar or sweet scents to bring the flying pollinators close.
To finish the reproductive story, wind carries pollen best if it is not restricted by leaves working as baffles to block the movement, so catkins usually develop first and release pollen before leaves unfold on a willow tree.
Even though catkin flower parts are small, they seem to be nutritious in part due to the developing pollen, seeds and fruits inside. Deer, squirrels and birds consume them, but then those catkins never complete their reproductive cycle. If hazelnut shrubs do not produce seeds, it may be because deer ate all the catkins as emergency winter food.
Now you know the stories of pussy willows in a vase and barren hazelnut shrubs in August.
Contact Jerry Davis, a freelance writer from Barneveld, at sivadjam@mhtc.net or 608-924-1112.