Kirk Black is from Texas. Justin Marshall is from Illinois but now lives in Evansville and works in Madison.
They're 17 years apart in age, so much of a distance that Black calls Marshall "son" and Marshall calls Black "grandpa."
From different directions, they have been brought together by a common pursuit and, in it, a common way of thinking.
They are wheelchair athletes at the Madison Curling Club who are among the group of four people with Wisconsin ties at the Winter Paralympics.
Sun Prairie Nordic skier Mia Zutter and Green Bay curler Penny Greely are also part of Team USA in Pyeongchang, South Korea. The Paralympics start with the Opening Ceremony on Friday; competition begins Saturday and runs through March 18.
With Black and Marshall, going to the Paralympics together is more than about being with a teammate. It's continuing a relationship that has grown close in the past few years as training partners in Madison.
Maybe a little closer than expected.
"We have the same thought process, which is really scary," Black said. "I can be looking at him and I'll be thinking something, and he'll just start laughing and he'll know exactly what I'm talking about.
"It's kind of like we're twins, in a scary way."
Marshall and Black had different ways of getting into wheelchair curling in recent years, but they have each risen to be among the best in the country in their activity.
Marshall, 31, was interested to hear that the then-coach of the Paralympic team was also from the Madison area, and a curling-playing friend introduced him to Steve Brown.
"It was game on from there," said Marshall, who suffered a spinal cord stroke at age 12. "He basically forced me out on the ice and kept encouraging me to keep going. Within a year, I was on the high performance team and two years after that I was on the world championship team. It started the addiction."
Black, 48, had chances to try wheelchair curling twice and had coaches tell him he should get more involved. But that didn't happen until four years ago, when he and his family decided to move from San Antonio, Texas, to Madison for the winters to train at the Madison Curling Club in McFarland.
Before his story goes any further, yes, he's aware that he's doing the whole snowbird thing wrong.
"If I had a dollar for every time somebody says that I've got it backwards, I wouldn't have to go out and fundraise every year, I can tell you that," Black said.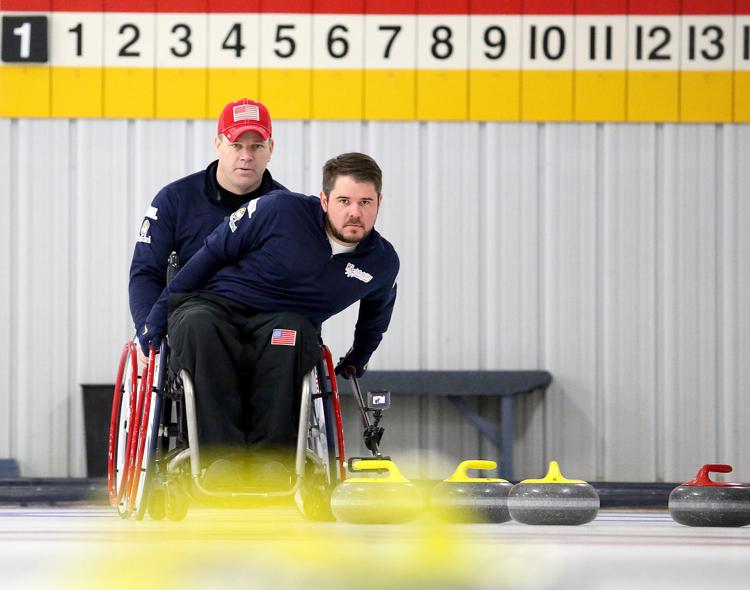 You have free articles remaining.
Register for more free articles
Stay logged in to skip the surveys
Black, who was injured in a 2002 motocross crash, found that he was able to compete better in curling than in archery or track and field — other wheelchair sports he had tried — and a spot on the Paralympic team was the culmination of the effort for the U.S. Army veteran.
"In the military, I had the U.S. Army on one (side of my) chest and on the other, your name," Black said. "And what a huge honor that is. But also to have USA on your back and your name there below it, it's hard to describe it.
"It is the biggest honor that anybody could ever have."
Curling in the Paralympics differs from the Olympics in that there's no sweeping. Wheelchair curlers, stationed at the hog line and using another athlete behind them for support, use a rod to push stones to the other end of the ice.
Without the help from sweeping to get shots exactly where they want them, they have to be more accurate with the throw.
When U.S. athletes arrived at the Paralympics, they got their branded outfits to wear for the ceremonies and a tutorial on being an ambassador for the American team.
That stuck with Zutter, an 18-year-old former cross country athlete at Sun Prairie High School.
"That just made it so much more real," she said.
Before seventh grade, Zutter was diagnosed with Stargardt disease, a degenerative eye condition resulting in a loss of central vision.
At the Paralympics, skiing events for visually impaired athletes involve a guide skier.
Zutter, now a freshman at St. Scholastica in Duluth, Minnesota, has been with the U.S. Paralympics Nordic ski team for the past three years and has grown tight with members of what she called a supportive group.
"We're all here doing a sport that we love together," Zutter said. "We win and lose together. So it's just really great to have so many people who I'm so comfortable with and I get to do all these crazy things with and travel across the world with."
With Zutter, Greely, Black and Marshall, the Wisconsin contingent has big hopes for the Paralympics.
The event also will produce big feelings, starting with the Opening Ceremony.
"I'm sure I'll be all teared up," Black said. "Just all kinds of emotions running through you.
"I've imagined every night when I go to bed of sitting up in my chair on the podium and watching the U.S. flag being raised as the five of us (curlers) have gold medals around our necks."