With some of the fittest athletes in the world and thousands of fans converging in Madison for the start of a four-day fitness competition, 68-year-old Jane Cloward, of Provo, Utah, observed, "There's a lot of muscle around here."
Cloward and her husband, Greg, were waiting for their grandson to compete in a run and swim race event Thursday afternoon as part of the CrossFit Games at the Alliant Energy Center.
The 640 athletes from 31 countries — some as young as 14 and others over age 60 — who have made it through qualifying events will compete as individuals or as part of teams through Sunday. They'll vie for their share of $2.4 million in cash prizes in events that include heavy lifting, biking, running and swimming.
"It's fun to watch people who are way fitter than you," said Erica Brown, of Minneapolis. "The worst athlete here is beyond what I can even fathom."
This is the first time the CrossFit Games — now in its 11th year — have been held in Madison. The event's economic impact is expected to be about $7 million, according to the Madison Area Sports Commission.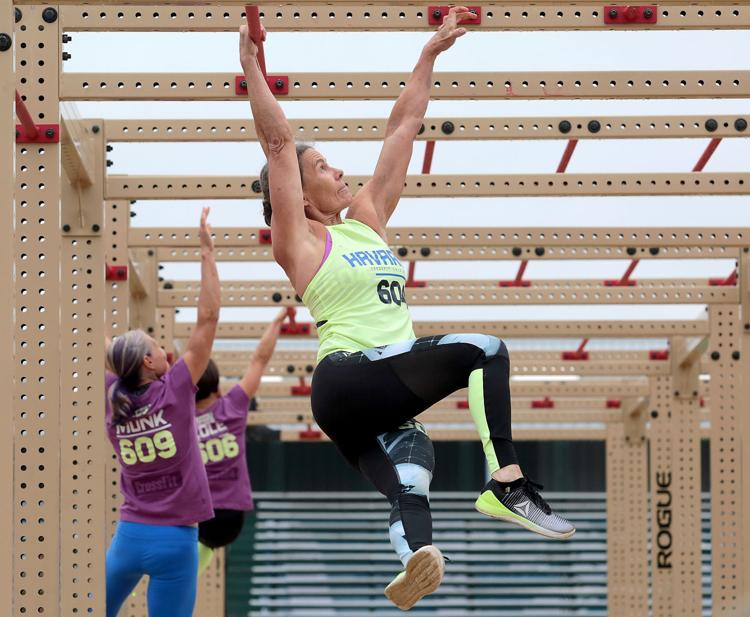 Some outdoor events were canceled or delayed due to inclement weather Thursday afternoon, but athletes and spectators were able to wait out rain indoors at the event's beer garden or vendor area. Other events, like the afternoon's "Muscle-Up Snatch" were held indoors.
While attendees could spend their day eating at one of the many food carts, shopping for exercise gear and equipment, working out in one of the free areas or watching CrossFit demonstrations, the main draw for many was seeing the athletes compete.
"I would like to meet more athletes … a lot of the famous ones, to take a picture with them or something," said Luis Rodriguez Torres, of Puerto Rico.
Rodriguez Torres, a chiropractor, was at the games as part of an entourage of family members and trainers from Puerto Rico there to support a 16-year-old competitor.
"Right now he's doing well," he said. "I just want him to win his category."
Some of Thursday's morning and afternoon events included cyclocross and a combined 3-mile run and 500-meter swim. The evening's competitions included the "Amanda.45," which includes the squat snatch — lifting heavy weights overhead while in a squatting position — and muscle-up movements.
Brown, who has been doing CrossFit — a mix of high-intensity workouts from different sports and types of exercise — for about four years, came to the games with two friends to watch a coach.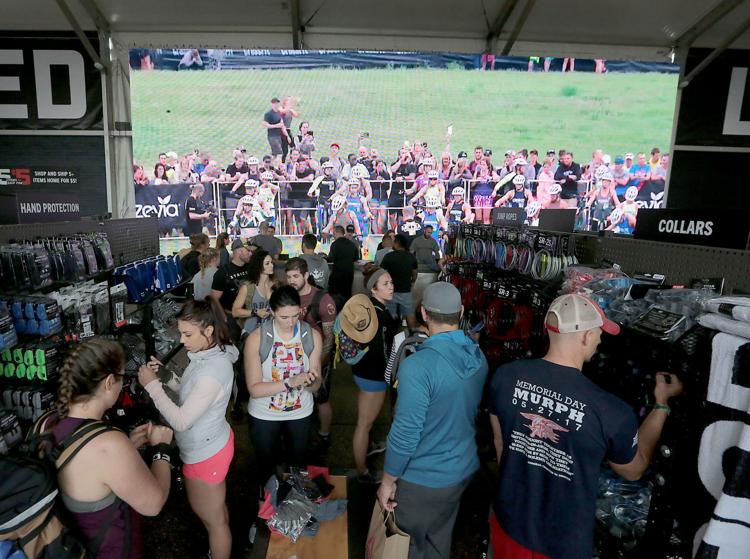 CrossFit was started in 2000 by former gymnast Greg Glassman. More than 12,000 gyms worldwide now feature it.
Brown said she likes the variation that comes with CrossFit. She said she used to run marathons but is in better shape since she started doing CrossFit.
Attendees Thursday who do CrossFit workouts said they like the sense of community it offers.
"There's a lot of accountability just from the friendships you make there, so you actually start to look forward to going to the gym," said Jesse Mentzer, 32, of Minneapolis.
Spectators from around the world — including some from Puerto Rico, the United Kingdom, Sweden and Australia — were among those attending Thursday.
"One of the things I've been impressed with is we've actually had a chance to just talk and meet people from all over the world," said Greg Cloward, 68. "It's fun to see how friendly everybody is and how much cooperation and support there is from everybody."