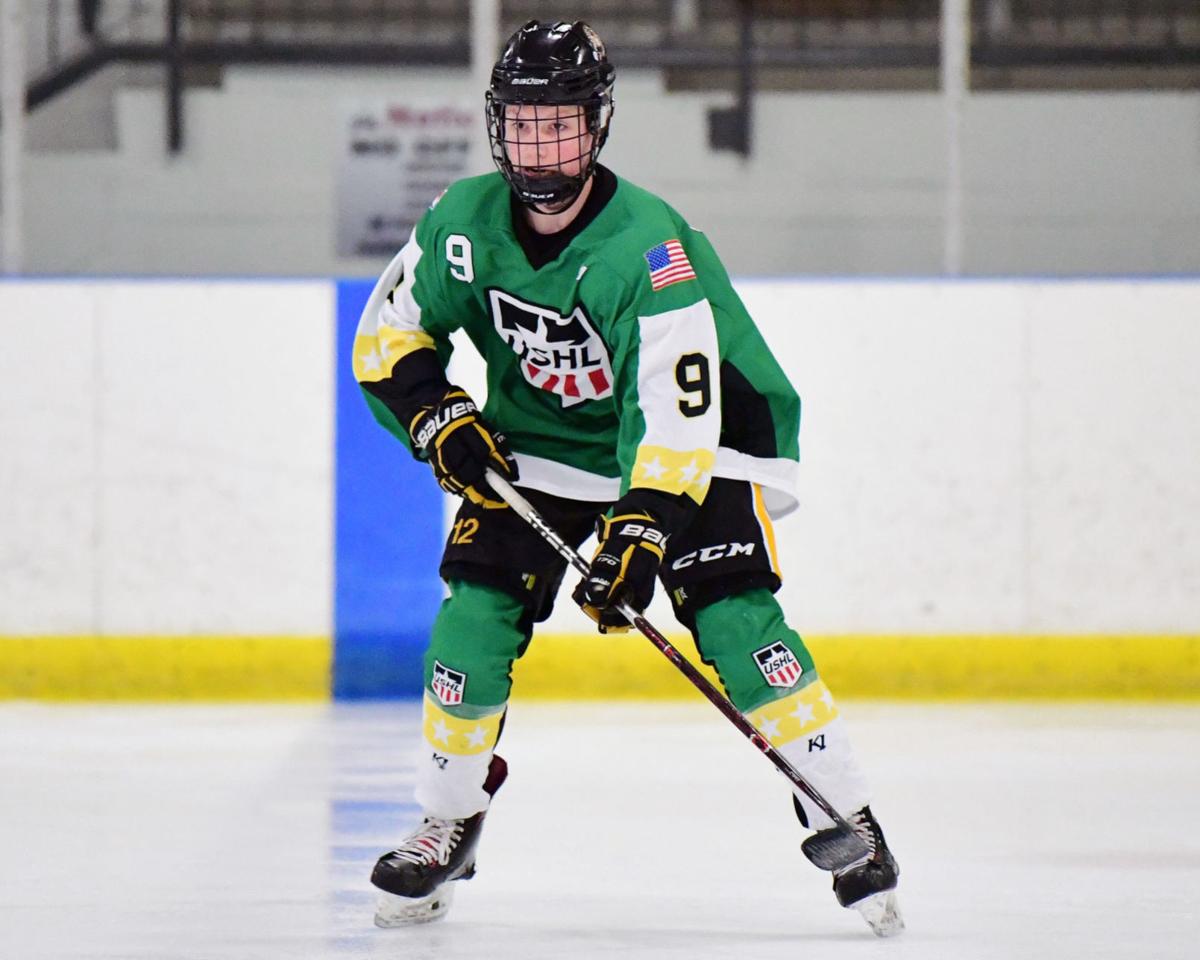 The Madison Capitols stayed within state borders for the first of their nine picks in Monday's first phase of the United States Hockey League draft.
Suamico forward Quinn Finley was the No. 1 overall pick by the Capitols and new head coach and general manager Tom Upton.
"We're extremely excited to have Quinn and his family join the Madison Capitols organization," Upton said. "Quinn's a very talented hockey player, but what separates him from others is his high character and his drive to be the best player he can possibly be."
Finley, who'll turn 16 on Aug. 8, was the MVP of the Bantam Elite League last August, when he had 16 goals and 35 points in 15 games for Team Wisconsin. He also played for the Green Bay Junior Gamblers.
Listed at 5-foot-8 and 137 pounds, Finley attracted attention in the Bantam Elite League not only for his scoring but his quick skating.
"I am very grateful for the opportunity Coach Upton and the Capitols organization have provided by selecting me in this draft," Finley said in a statement released by the Capitols. "I look forward to being part of the Madison hockey community and working with my teammates to exceed the expectations Coach Upton has set for us. I could not be more excited to join a program in such a great city, with a rich hockey history, and be a part of this new chapter of Madison Capitols hockey."
Monday's part of the two-day draft was the 10-round Phase I, in which teams select players who turn 16 this year. The process continues with Phase II on Tuesday, when teams can select any age-eligible players who aren't already on a USHL roster or protected list until they reach 45 players, including those previously on the affiliate list.
The Capitols took goaltender Arthur Smith of Farmington, Connecticut, with their second pick and Oregon defenseman Landon Fleming to start the third round.
Here's the full list of Capitols' Phase I picks:
Madison Capitols Phase I draft picks, 2020
| Round | Pick | Player | Pos | Hometown | Last team |
| --- | --- | --- | --- | --- | --- |
| 1 | 1 | Quinn Finley | F | Suamico | Green Bay Jr. Gamblers 15's |
| 2 | 16 | Arthur Smith | G | Farmington, Conn. | South Kent Selects Academy 15's |
| 3 | 31 | Landon Fleming | D | Oregon | Oakland Jr. Grizzlies 15's |
| 3 | 42 | Trey Ausmus | D | East Grand Forks, Minn. | East Grand Forks HS |
| 4 | 46 | Nathan Lewis | RW | Northville, Mich. | Oakland Jr. Grizzlies 15's |
| 7 | 91 | Tristan Sarsland | D | Wayzata, Minn. | Benilde/St. Margaret's HS |
| 8 | 106 | Ian Spencer | F | Mokena, Ill. | Chicago Fury 15's |
| 9 | 121 | Patrick Czarnecki | D | Bloomfield Hills, Mich. | Detroit HoneyBaked 15's |
| 10 | 136 | Landen Gunderson | C | Plymouth, Minn. | Maple Grove HS |
Badgers recruits selected
As players give oral commitments to the University of Wisconsin men's hockey team, we'll add them here with their stats.
University of Wisconsin recruit Nick Pierre earlier was tendered by the Sioux City Musketeers, who gave up the No. 2 pick in the futures draft to lock up the forward from Hill-Murray School.
The three other 2004-born players who have given the Badgers a nonbinding oral commitment all were chosen by USHL teams Monday: forward Dylan Godbout by Sioux City in the fifth round and defensemen Tristan Luneau (Sioux Falls) and Reed Kluender (Des Moines) in the sixth.
More from the state
Besides Finley and Fleming, three other Wisconsin natives were picked Monday:
• Janesville center Jonah Aegerter by the Tri-City Storm in the second round.
• Sussex forward Keaton Peters by the Lincoln Stars in the fourth round.
• Appleton forward Evan Hunter by the Chicago Steel in the eighth round.
Trade brings Capitols two more
Before the draft, the Capitols acquired defenseman Nicky Wallace and forward Casey Severo in a trade with Tri-City in exchange for goaltender Grant Riley and a second-round pick in the 2021 draft's Phase II.
Wallace, 16, played two games for the Storm while spending the rest of last season with Bergen Catholic High School in New Jersey and the North Jersey Avalanche 16U.
Severo, 19, was captain last season at Noble and Greenough School in Massachusetts.
Be the first to know
Get local news delivered to your inbox!