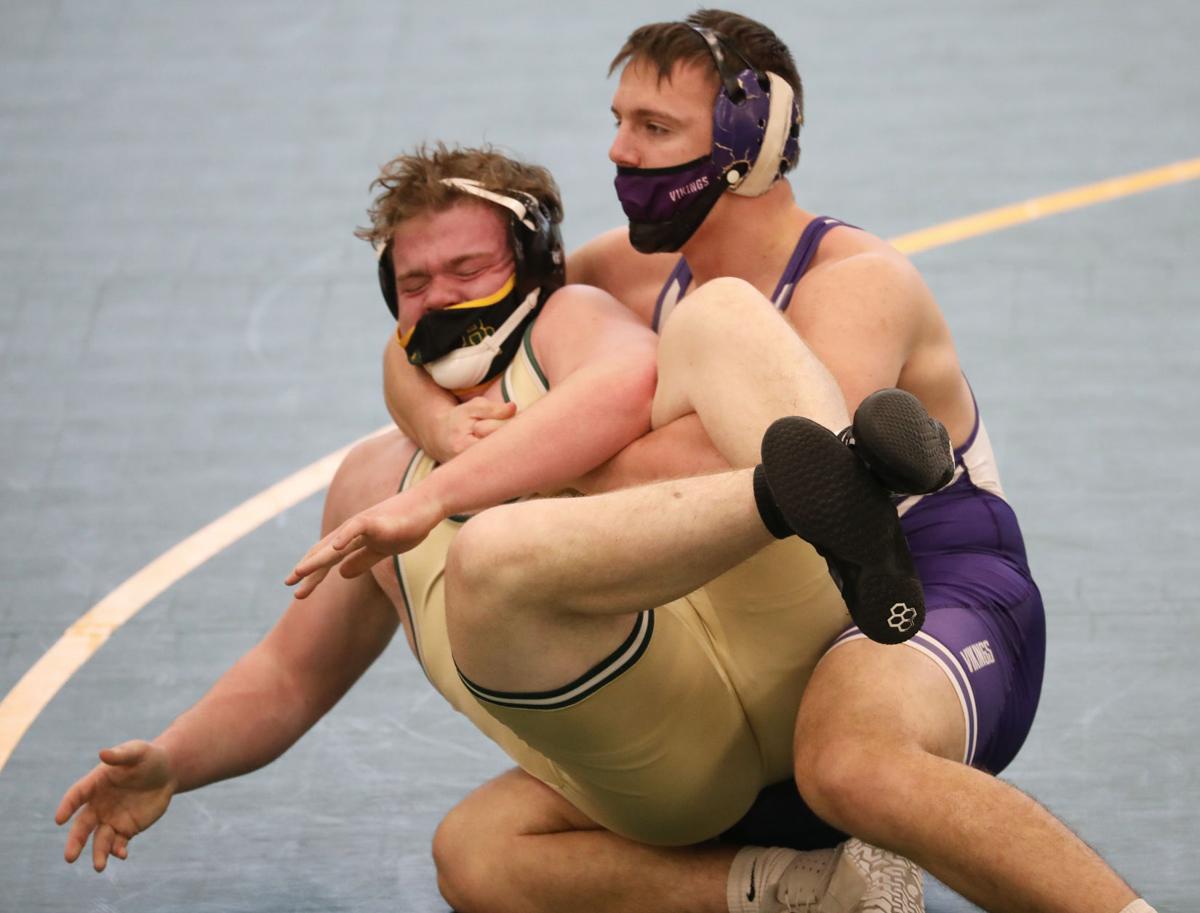 BEAVER DAM — For perennial power Stoughton and other Dane County programs permitted to compete, challenges have abounded this unique wrestling season during the COVID-19 pandemic.
An abbreviated regular season featured far fewer matches. Wearing a mask made breathing more difficult and conditioning more essential. Socially distanced practices in Dane County eliminated contact, resulting in teams that received permission holding workouts outside the county.
Those challenges, however, didn't stop Stoughton junior Nicolar Rivera and his teammates from thinking big. For Rivera, that meant seeking a third WIAA Division 1 individual championship and a fourth consecutive Division 1 team title.
The Vikings took the first step Saturday, winning all nine of their finals matches and claiming the Division 1 Beaver Dam regional.
Stoughton, fourth-ranked in the division by wiwrestling.com, piled up 281 points, well ahead of runner-up Beaver Dam (139), and advanced 11 wrestlers to next week's sectionals. It was Stoughton's eighth consecutive regional title and 18th in the past 19 years, said Dan Spilde, the Vikings' co-coach with Bob Empey.
The top two finishers in each weight class — after wrestlebacks — advanced to sectionals.
After Stoughton freshman Cole Sarbacker and sophomore Chance Suddeth earned titles at 113 and 120 pounds, respectively, top-ranked Rivera pinned DeForest sophomore Luke Barske in 2 minutes, 27 seconds for the 132-pound championship. Rivera won state titles at 106 as a freshman and 120 as a sophomore.
"My last two matches, I made sure I got a little workout out of it," said Rivera, who also won his semifinal with a second-period pin. "I wanted to make sure to make the most of the matches and use some nice moves I've been working on."
Rivera, who entered with only a 3-0 record, said he's not in the shape he'd like to be due to the circumstances. The Vikings work on conditioning in their non-contact sessions at school and technique when they travel for practices to sites, including Wisconsin Dells, outside Dane County.
"We are making it work," Rivera said. "It took some time to get used to. I wasn't really used to working out in a mask, and wrestling practice with no contact is kind of hard. Mainly, in the no-contact practices we are working on conditioning, which is essential, because these masks make it really hard to breathe."
Spilde said: "All we've been able to do in our wrestling room is conditioning and stance-and-motion drills, and stand-up drills. Anything you can do by yourself. … It's hard to get a feel for anything that gives you resistance unless someone is on you and fighting back. It's fun to be able to come here and be able to do it."
The Vikings won six of the final eight bouts, beginning with sophomore Trenton Dow's 12-2 victory over Portage's Seth Williams at 145 pounds.
Stoughton senior Luke Mechler, third at 152 at state last year and top-ranked at 160 this season, earned the 160-pound title. Vikings junior John Harman (182), senior Rudy Detweiler (195), senior Brooks Empey (220) and sophomore Griffin Empey (285) won the meet's final four title matches.
Top-ranked Brooks Empey, the Division 1 220-pound state champion last year who entered the day 4-0, pinned Beaver Dam's Nick Ludowese in 1:14 in the first-place match.
"I just needed to make sure I was crisp on my stuff and made sure I took care of business," Empey said. "Just don't take it too fast. I took my time and got through the things I needed to, and got the pins in both matches — and am moving on."
DeForest junior Brody Hemauer, second-ranked at 170 after finishing fourth at 160 at state last year, won a 5-1 decision over Portage junior Lowell Arnold in the 170-pound first-place match.
"It's been different (this season), for sure," Hemauer said. "We're still able to get practices in, though, so that's good. We have to practice outside of the county, which isn't the best, but, at least we are still having a season. So, I can't complain."
Hemauer said a further complication is the Norskies don't have access to their wrestling room due to construction at the school and have been practicing in Arlington.
Sun Prairie freshman Christopher Anderson (106), Beaver Dam junior Kyler Neuberger (126), Oregon sophomore Brandon Liddle (138) and senior Zachary Gunderson (152), from Monona Grove/McFarland, also won regional titles.
Stoughton wound up with 11 of its 14 wrestlers advancing to sectionals, after seniors Rose Ann Marshall (106) and Alex Wicks (126) won wrestlebacks for second place.
"The more you get through, the more opportunities you have to score (at sectionals)," Spilde said. "Putting through 11 is a pretty big number."
---
Photos: WIAA Division 1 regional wrestling