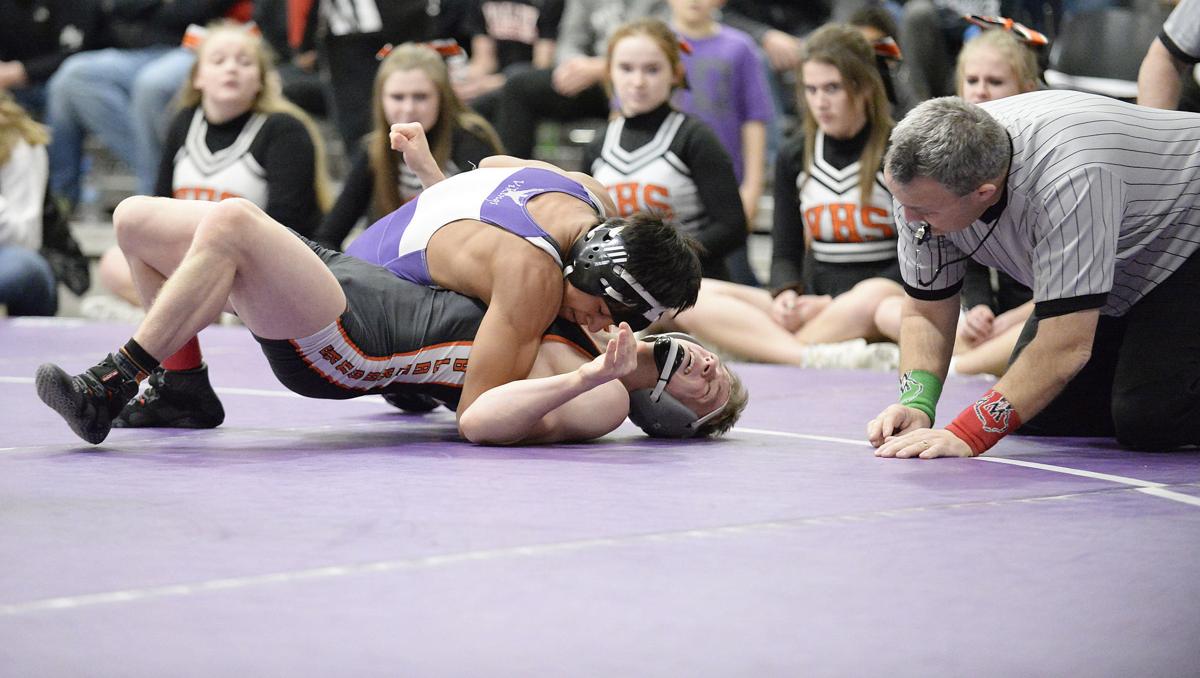 The Stoughton wrestling program has been the state's gold standard for the most of the past five-plus decades.
Eight WIAA state championships since 1968. Ten runner-up finishes over that same span. Forty-two individual champions since 1968, and 49 overall — some bearing historic names, such as Russ Hellickson and Andy Rein.
But there's one pinnacle that no Stoughton wrestler has reached. In fact, only 16 wrestlers in WIAA history have won four consecutive individual state titles — and only two of them in Division 1.
So, that's a goal Vikings freshman Nicolar Rivera has in his long-term sights.
Since the first time they saw him in a club event, Vikings co-coaches Dan Spilde and Bob Empey couldn't wait for Rivera to enter high school and join the program.
"I remember watching him drill (and) then going over to his father (Manassehs Rivera), a former wrestler at Janesville Parker," Spilde said. "I told him that Nicolar was going to be special. He just moved differently, even at such a young age."
And now that the 15-year-old Rivera is suited up in the Vikings' purple and white, there has been no stopping him.
Rivera is 34-0 this season, having won individual championships at 106 pounds in the prestigious Cheesehead Invitational at Kaukauna and the Bi-State Classic in La Crosse, along with the 113-pound title in Stoughton's Badger State Invitational.
"His being able to reach levels that I couldn't as a competitor, makes me feel physically proud and incredibly happy as his father," Manassehs Rivera said.
You have free articles remaining.
Nicolar Rivera has achieved multiple youth state titles and took the 2018 Cadet Freestyle national championship at 106 as an eighth-grader. His accolades read like those of an experienced veteran as he aims to become the Vikings 50th state champion — and beyond.
"It felt great to win a national championship at Cadets," Nicolar Rivera said, "especially because it was so much fun competing against returning champions and no one expected an eighth-grader to win it all."
Rivera has competed since he was 5 years old, with the Stoughton youth wrestling program as well as the Advanced School of Wrestling in Madison, the Ringers Wrestling Club in the Milwaukee area and the Wisconsin National Team.
From his first days on the mat, Rivera's supportive family, and his interaction within the community's sports programs have made an indelible impact on his personality and work ethic.
"Man, he's absolutely infectious," Spilde said. "He's fun to coach, goes above and beyond to improve himself, is a phenomenal teammate and when it's time to take the mat, it's fun to sit back and watch the show. Rivera loves to compete."
Said his father: "In one word, Nicolar is resilient. And once he sets his mind to something, he's very determined."
Added Empey: "Usually, wrestlers of his talent stature and resume of accomplishments have a level of arrogance about them. Not Nicolar. On the mat, he's ambitious, courageous and tenacious. When he's off of the mat, he's a humble and modest kid who is such a likable teammate. He's always mat-side, cheering everyone on. It's really incredible."
The coaches said the sky is the limit for Rivera, if he continues to improve, challenge himself and grow.
"It's a year-by-year process for him," Spilde said. "Right now, he's hitting benchmarks that people are starting to pay attention to on a national level, but he's doing a great job testing the waters at other weight classes and seeing what is healthy for him. There are adjustments we make on a daily basis, but he's working through them incredibly."
Actually, Rivera's long-term goal of winning four WIAA state championships isn't his biggest or longest-term goal. He said his ultimate goal is to eventually compete in wrestling in the Olympic Games.
"It's absolutely foreseeable that he has a career in wrestling post-high school. His options will be limitless, whether representing a D1 program, his country or in the world championships," Empey said. "However, with myself being a parent, I hope that he chases whatever dream he wants.
"That within itself, is the most powerful thing we could hope for. With his tremendous family and the culture here at Stoughton wrestling that he's no doubt enhanced, anything is possible with that young man."
Get in the game with our Prep Sports Newsletter
Sent weekly directly to your inbox!