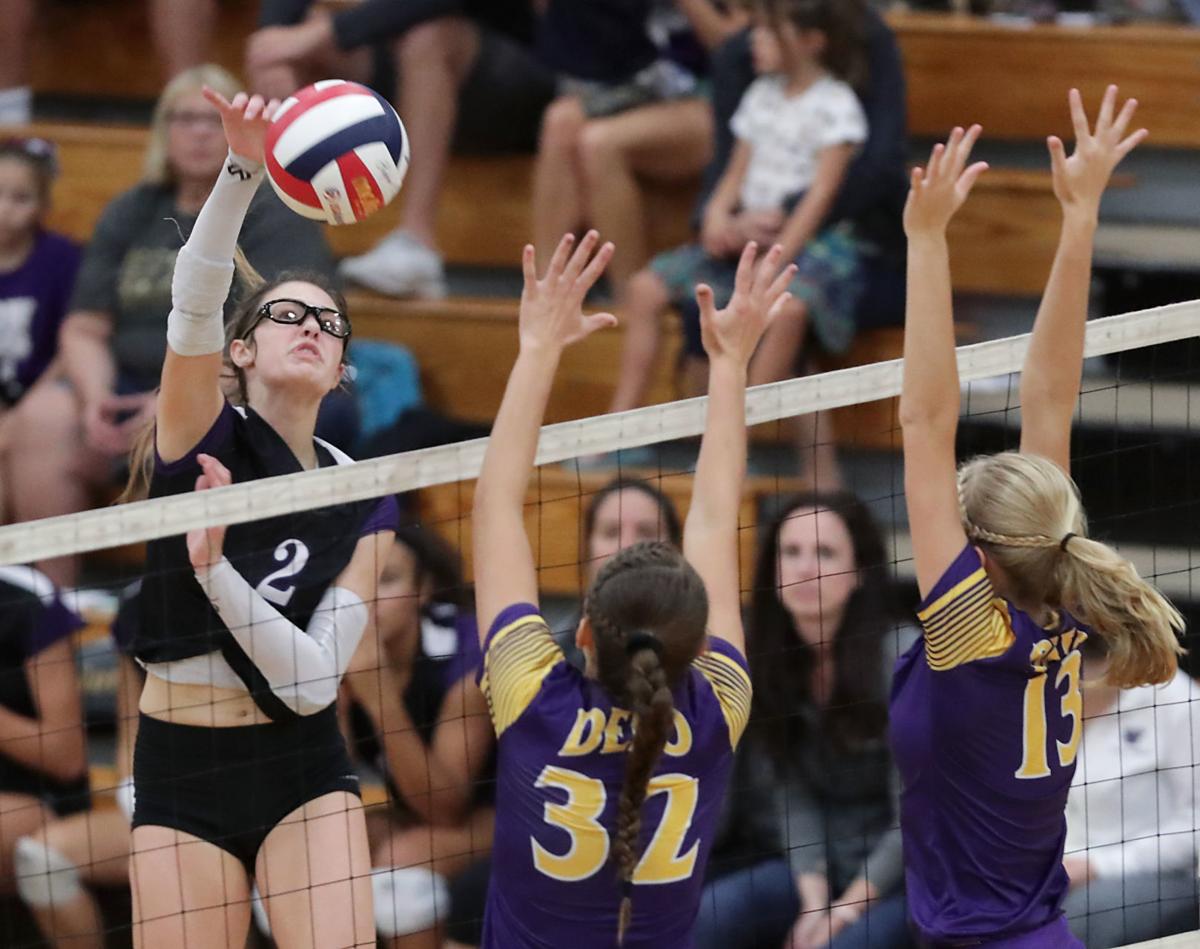 The Cardinals' quest: Sun Prairie was the only area team to reach the WIAA state girls volleyball tournament last year. The Cardinals will seek to defend their Big Eight Conference title, led by senior outside hitter Karlie McNabb. "We expect to be a contender for the conference championship," Sun Prairie coach T.J. Rantala said. Verona has a new coach in former Verona and UW-Green Bay standout Jillian Bauer and the Wildcats are expected to threaten the Cardinals. "I foresee Sun Prairie being strong again this year," Bauer said. Middleton coach Franco Marcos believes "the usual suspects" again will be at the top of the conference – Sun Prairie, Verona, Janesville Craig, Middleton and Madison Memorial.
Waterloo returns strong core: The Pirates, led by junior outside hitter/setter Brooke Mosher, will field another strong group targeting defense of the Capitol South Conference crown. Waterloo coach Christy Mosher is excited by the competitiveness in the team's practice gym this season. "They have the potential to step on the court and compete with anyone, as we have some exciting firepower coupled with a fast offense and improved backcourt," Mosher said.
More usual suspects: Badger North Conference defending champion Waunakee and Badger South Conference defending champion Watertown look to be positioned for title defense runs. Waunakee faces expected challenges from DeForest, Sauk Prairie, Beaver Dam and Mount Horeb, while Watertown will seek to ward off anticipated charges by Milton, Madison Edgewood, Fort Atkinson and Monona Grove.
Elise Goetzinger, sr., outside hitter/middle hitter, Mount Horeb – The 6-foot-4 Goetzinger, who has orally committed to the University of Kentucky, was a first-team selection on the Wisconsin Volleyball Coaches Association Division 2 all-state team, a first-team all-conference choice in the Badger North Conference and a first-team pick on the Wisconsin All-Area team last year.
Brooke Mosher, jr., setter/outside hitter, Waterloo – The 6-0 Mosher, an Illinois recruit, was a first-team choice on the WVCA Division 3 all-state team, a first-team all-Capitol South Conference performer and the league's player of the year and a first-team All-Area selection in 2018.
Karlie "K.J." McNabb, sr., outside hitter, Sun Prairie – McNabb, who's committed to Loyola of Chicago, was a second-team WVCA Division 1 all-state selection, a first-team pick in the Big Eight Conference and a first-team All-Area choice. McNabb helped lead the Cardinals to the Big Eight title and the WIAA Division 1 state tournament.
Milla Malik, sr., outside hitter, Waunakee – Malik, a University of Buffalo recruit, was an honorable-mention choice on the WVCA Division 1 all-state team, a first-team Badger North selection and a first-team pick on the All-Area team.
Izzy Schauer, sr., setter, Watertown — Schauer was an honorable-mention pick on the Division 1 all-state team, a first-team all-Badger South performer and a second-team All-Area pick for the Badger South champion Goslings in 2018. Watertown coach Carrie Hein said Schauer is a "fantastic setter that runs our quick offense. She is also a strong presence on defense."
Ella Collins, sr., outside hitter, Lakeside Lutheran — The 5-11 Collins, an Eastern Illinois recruit, was a first-team all-Capitol North Conference selection, an honorable-mention selection on the Division 2 all-state team and the All-Area team.
Jordan Armstrong, sr., setter, Verona — Armstrong is a University of Pennsylvania commit for a strong team featuring Maddy Kelley and Amelia Hust.
Ella Foti, jr., setter/right-side hitter, Madison Edgewood — Foti, who has orally committed to Marquette University, returns from injury on a promising Edgewood team that includes Caroline Craig and Natalie Ring, both honorable-mention Division 2 all-state choices last year.
(Based on information proved by coaches)
Conference overview: Sun Prairie is the favorite to repeat as conference champion, with Verona as a solid second-place choice, according to league coaches. Middleton, Janesville Craig and Madison Memorial are projected as upper-division finishers.
Sun Prairie: The Cardinals (40-8), the reigning conference champions, reached the WIAA Division 1 state quarterfinals last year – falling to eventual state runner-up Oconomowoc. Eight letterwinners and four starters are back for coach T.J. Rantala, who expects her team to contend for another conference championship. Senior outside hitter Karlie "K.J." McNabb, a Wisconsin Volleyball Coaches Association second-team all-state choice in Division 1 who's orally committed to Loyola of Chicago, leads Sun Prairie's attack, which also features 6-foot-1 junior outside hitter Payton Addink (a Minnesota-Duluth recruit) and 6-2 junior setter Josie Halbleib. Rantala, 385-166 in 13 years, closes in on 400 victories and McNabb approaches 1,000 kills entering the season.
Verona: Former Verona and UW-Green Bay volleyball standout Jillian Bauer, who coached at Stoughton last year, is the Wildcats' new coach, replacing Kelly Annen, the Big Eight coach of the year in 2018. Verona (34-6) reached the WIAA Division 1 sectional semifinal round last year. Bauer said seven returning letterwinners, including five starters, give the Wildcats high expectations. "Verona has been a successful program for many years and I hope to continue that legacy," Bauer said. Jordan Armstrong, a 5-10 senior who has orally committed to the Ivy League's University of Pennsylvania, returns as setter. Verona should have a formidable front row, including 5-11 senior middle hitter Maddy Kelley, sophomore outside hitter Claudia Bobb, senior right-side hitter/outside Megan Touchett and sophomore outside hitter/right-side hitter Delaney McIntosh. Senior defensive specialist/libero Amelia Hust returns.
Middleton: After losing nine letterwinners, Cardinals coach Franco Marcos has a young team, featuring four returning letterwinners and three returning starters. "We expect to be competitive in the Big Eight," the 22nd-year coach said. "We have lots of talent and a great attitude and work ethic." Marcos said he expects 6-1 senior middle blocker Erica Collin to be "a force in the middle, both attacking and blocking." Outside hitter Evie Coleman, who saw time setting last year, and libero Jada Cerniglia return. Junior Olivia Underwood and freshman Evin Jordee are new setters, while 5-11 freshman Jordan LaScala is expected to have an immediate impact as an outside hitter.
Madison Memorial: Juniors Lydia Helle (outside hitter), Lauren Wolters (setter) and Maia Johnson (middle hitter/outside hitter) are key players returning for the Spartans, who hope to move up the conference standings after a 5-4 fifth–place finish. Seven letterwinners and six starters return. "We have been consistently in the upper half of the Big Eight, but looking to have a bigger presence this year," Spartans coach Karyn Burcum said. She said her team has the necessary talent and cannot use being young as an excuse. The 6-0 Johnson earned second-team all-conference honors last year.
Janesville Craig: Cougars coach Blake Budrow, 602-441 over 28 years, will have a young roster. The Cougars were 39-11 last year, including 7-2 while finishing third in the Big Eight. They graduated five seniors, including four first- or second-team all-conference selections who played on the varsity since freshman or sophomore year. Three starters and seven letterwinners return. Senior libero Lauren Glissendorf, a key player last year, returns. The Cougars also will count on senior middle hitter Rachel Bonham and sophomore outside hitters Britten Bertagnoli and McKaylie Justman. 
Madison East: Coach Liz Nagel believes East has its strongest defensive team in her five years at the school. "I expect us to have fun, long matches this season," Nagel said. Seven letterwinners and three starters return. Senior middle blocker Mary Fadele, junior middle blocker Alayna Tucker and junior outside hitter Isabell Vang, who has played libero the past two years, lead the front-row players. Junior Lailani Rivera and sophomore Nancy Entenmann will direct the offense as setters, while junior libero Sonam Ivanova will lead the defense.
Beloit Memorial: The Purple Knights, with five starters returning, seek to move up from their ninth-place league finish a year ago. "Our team this season will return most of our young starters and will have the most depth and talent spread between all positions we have seen in a while," Beloit Memorial coach Kim Gamble said. Meghan Drucker returns as a fourth-year starting setter; juniors Brynn Swanson, Rebekkah DeKok and Kylee Arn are playing their third year on varsity. Swanson and DeKok are expected to play outside hitters and Arn will line up at libero.
Madison La Follette: Alexis Middleton is the Lancers' new coach, replacing Tarah Harms. Senior Jymeni Willoughby was a top performer for La Follette last season.
Madison West: Ben Sperstad is the Regents' new coach. Returning players are outside hitter Carson Pionek, middle hitter Danika St. Maurice (an outside hitter last year) and setter Jenna Kohl (a libero last year). Freshman Lucy Cranley and senior pin hitter Anneliese Barnard, a transfer from Baraboo, also will contribute. "We feel that we will have the ability to compete well with all of the teams in the conference, and that they may be surprised by what they see after an 0-9 (conference) season," Sperstad said. 
Conference overview: Waunakee must replace the bulk of its lineup, but remains the favorite to repeat as conference champion. DeForest, Sauk Prairie, Beaver Dam and Mount Horeb figure to be chief challengers.
Waunakee: The Warriors lost eight letterwinners, including All-Area player of the year and all-state pick Kiana Schmitt, from a 45-7 team that won the Badger North and reached a Division 1 sectional final last year. But five letterwinners and three starters return and Anne Denkert, who's been head coach for 18 years, is confident the Warriors can repeat. "We are a strong team," Denkert said. "I think we have a strong chance at the conference title this year. We have to get our new players acclimated and get better on the court as a team." University of Buffalo recruit Milla Malik, Augustana recruit Sam Miller and Jocelyn Meinholz are returning starters. Hayley Krysinski, Caitlyn Lynch, Robyn Ryan and Kaitlin Jordan are expected to contribute. Waunakee won the recent Adams-Friendship tournament. 
You have free articles remaining.
DeForest: League runner-up DeForest must replace the graduated Sophee Mink. Senior middle hitter Kaycee Meiners and senior libero Emily BonoAnno were second-team all-conference picks last year. Meiners, BonoAnno, outside hitter/setter Megan Mickelson and outside hitter Sydney Hoffman lead the Norskies. Coach Scott Schumann said the Norskies' back row will be fast, athletic and aggressive. DeForest will run a fast, complex offense. 
Mount Horeb: Senior Elise Goetzinger, a first-team all-state player in Division 2 and first-team all-conference selection last year, will move from middle hitter to outside hitter this season. Mount Horeb coach Kurt Owen called University of Kentucky commit Goetzinger a "great hitter and blocker." The 6-4 Goetzinger, who is closing in on 1,000 kills, teams with senior Maddy Mason, another strong blocker who's scheduled to set and become a six-rotation player. The Vikings had some key losses, but nine letterwinners and three starters return. "We are definitely in the hunt to win the conference for the third time in four years, but it's going to require some new players to step up, get buy-in from the entire team, and work on team chemistry with all the new, young players," Owen said.
Sauk Prairie: Longtime coach Amy Schlimgen, who directed the extremely successful program at Wisconsin Heights, takes over the Sauk Prairie program, which, in turn, led opposing league coaches to forecast good things for the Eagles' future. Schlimgen was 618-231 in 24 years at Wisconsin Heights. Thirteen letterwinners and four starters return for Sauk Prairie and Schlimgen hopes her team will contend for a top-four conference finish. "We expect to fare quite well," Schlimgen said. "We are hoping to turn this program around into a winning program." Leading the way will be senior libero Ainsley Apel, junior outside hitter/setter Olivia Breunig and sophomore outside hitter Aida Shadewald. Apel has been team MVP for the past three years, Schlimgen said. The Eagles' defense suffered a blow when sophomore defensive specialist Alia Schlimgen tore her ACL, Amy Schlimgen said.
Beaver Dam: Doug Pickarts, in his second year at Beaver Dam (19-21 last year) and 32nd overall season (600-266-45), believes team chemistry, strong net play and experience will be team strengths. The Golden Beavers will seek to improve their passing and serve-receive and expand defensive coverage, Pickarts said. Beaver Dam has talented hitters in 6-0 Summer Salettel, Haley Allen and Sydney Hocker and an experienced setter in senior Emily Schliesman, Pickarts said. The Golden Beavers also have size at the net, including 6-2 Paige Hodgson, 6-0 Cassandra Luedtke and 6-0 Kylie Wittnebel. Libero Jessica Dray leads the defense. "We need to continue the phrase `Change the Culture' to a winning and positive program,'' Pickarts said. "We made strides last season but we need to continue to grow."
Reedsburg: Senior middle hitter Kaitlin Zunker, a four-year varsity player, and sophomore outside hitter/middle hitter Macie Weiman lead the Beavers, who return six starters from a 19-14 team. Zunker is a strong hitter and blocker while Weiman is a versatile player who can play any position, Reedsburg coach Carly Huebsch said. Ciara Grundahl, a senior libero, is another four-year varsity player, who has played libero the past two years and will lead the Beavers' defense. Senior setter Rachel Schmitt and junior outside hitter Delaney Horkan also figure prominently. Macie Weiman's twin, outside hitter Mahra Weiman, won't play due to injury, Huebsch said. Huebsch said the Beavers return a solid core and she expects her team to challenge the league's top tier.
Conference overview: Defending league champion Watertown is the coaches' favorite to repeat. Milton, Madison Edgewood, Fort Atkinson and Monona Grove are expected to challenge.
Watertown: Coach Carrie Hein's Goslings (41-6) advanced to a WIAA Division 1 sectional final last year, falling in five sets to eventual state runner-up Oconomowoc. Defending conference champion Watertown should be strong again, returning six letterwinners and four starters. Senior setter Izzy Schauer runs the quick-tempo attack, which also features senior outside hitters Samantha Gray and Allie Stair and 6-0 junior right-side hitter/middle hitter Alayna Westenberg. Senior Dani Weissenrieder returns as a defensive specialist/libero. "If our team plays to our potential, I believe that we can finish first in the conference," said Hein, in her second season. "We had a very strong team last year and our 2019 seniors left some big shoes to fill. We have some real strong returners, though, that are eager to continue to do well." Watertown won the recent Sun Prairie tournament. 
Milton: Coach Wayne Hansen, who's compiled a 239-107 mark in 13 years at Milton, has built a consistently strong program that fell to eventual WIAA Division 1 state champion Burlington in a sectional semifinal last year. Key returning players include sophomore setter Jordan Karlen, junior outside hitter Juliet Karlen, 6-foot senior middle hitter Abbey Falk and senior defensive specialists Courtney Weberpal and Cassidy Moe.
Madison Edgewood: Second-year coach Eliza Zwettler has eight letterwinners returning, including three starters, from a team that reached the Division 2 sectional semifinals last year. Zwettler said the Crusaders could feature one of their tallest lineups. Marquette recruit Ella Foti, a 6-0 junior right-side hitter/setter who's struggled with injuries, returns to the court. Senior setter Caroline Craig, 6-0 sophomore Ally Barth and 6-1 sophomore Natalie Ring will help form a 6-2 offense that Zwettler called "dynamic." "This team returns more talent than we have had in the past," said Zwettler, who believes the serve-pass game and limiting errors will be critical.
Monona Grove: Melissa Hahn enters her second season as Monona Grove's coach and believes the Silver Eagles, who have five starters and nine letterwinners returning from last year's 21-18 team, will compete for a top-half finish in the conference. Senior Jadee Christiansen is expected to play six rotations and be a dominant opposite-side hitter, Hahn said.
Oregon: Jennifer Grulke takes over as the Panthers' coach. Oregon, which lost nine letterwinners from a 28-10 team, returns one starter – middle blocker Nicole Cochems. "We are expecting to see her balance out the offense with a lot of quick attacking," Grulke said. "She brings a solid block to our defense and can hold her own in the back row. … She's got a killer serve that can score a lot of points. Sara Christensen, a versatile athlete who can play setter, pin hitter Abby Schroeder and outside hitter/defensive specialist Abby Rau figure to contribute. Grulke will have a young team, which she wants to see play aggressively and with a fast-paced style.
Monroe: Senior setter Lily Frehner and junior outside hitter Zoee Pond return to lead the Cheesemakers. Others expected to contribute for sixth-year coach Heidi Witt are senior outside hitters Brandi Anderson, Chloe Bunker, Cassi Gersbach and Makayla Harrow, senior defensive specialist Bri Seagreaves, junior outside hitter Katie Hayes and junior defensive specialist Alyse Mauer. Since all but one of the starters return, Witt is looking for Monroe to improve on its conference standings after finishing 9-15 overall, including 0-7 in league play in 2018. Good numbers in the freshman and sophomore classes make Witt excited about the program and its future.
Stoughton: Rachael Gierhart, a 2010 Stoughton graduate, is the Vikings' new coach.
Conference overview: Defending conference champion Waterloo seeks to repeat. Wisconsin Heights, expected to be led by outside hitter Ashlee Adler, and Marshall, expected to be led by Kiana Hellenbrand, should challenge.
Waterloo: Pirates coach Christy Mosher likes the blend of returning players and talented newcomers. Outside hitter and setter Brooke Mosher, a University of Illinois recruit who was the conference's player of the year and a WVCA Division 3 first-team all-state pick in 2018, leads five returning starters and eight returning letterwinners for the reigning league champion Pirates, who lost a sectional semifinal to eventual WIAA Division 3 state champion Hartland Lake Country Lutheran. "She has the capability to score for us from any position on the court, has an extremely powerful arm swing, gets high on the block and runs a very deceptive offense," Christy Mosher said. First-team all-conference selection Joslyn Wolff, an outside hitter and setter, will take on some setting duties. Sophomore libero Michaela Riege anchors the back row. Senior middle hitter Sydney Schonhoff, freshman right-side hitter/setter Sophia Schneider and freshman outside hitter/right-side hitter Rylee Duessler also will be contributors.
Belleville: Senior setter Erin Kittleson will run Belleville's 5-1 offense. She brings experience, athleticism and leadership to coach Kelsey Schmit's team, which has four starters returning from a 21-7 team. Brooke Everson, a 5-11 junior middle blocker, and senior hitter Jenna Shrader return. Sophomore Ava Foley started as a freshman playing the front row as an outside hitter last year. But her role is expected to expand this season, Schmit said. "Overall, we are a young team that needs some development," Schmit said.
Conference overview: Lakeside Lutheran will seek to claim top conference honors again and likely will face a major challenge from last year's runner-up and city rival Lake Mills (The L-Cats' Grace Schopf and Sydney Lewellin were first-team all-conference players last year).
Lakeside Lutheran: Lakeside Lutheran's young team pushed eventual Division 2 state champion East Troy before falling in a sectional semifinal a year ago. "We now have an experienced core group of girls, as well as a well-rounded base of hitters," Lakeside Lutheran coach Jenny Krauklis said. "This will help us be aggressive in all lanes of the net." Eight letterwinners and six players in the starting rotation return, including two go-two hitters, senior Ella Collins, who's an Eastern Illinois recruit and first-team all-conference pick, and junior Payton Kuepers. Sydney Langille and Ella DeNoyer are middle hitters, while Kylee Gnabasik entered the season with 961 digs after two seasons.
Poynette: Janeen Hutchinson begins her first season as the Pumas' coach and said Poynette is "determined to be competitive in every set" after struggling in conference play in recent years. Seniors Casey Fountain and Molly Anderson are returning starters and Poynette's only two seniors, and junior setter Jessica Bruchs also is back. Senior Shelby Reeder, junior Peyton Kingsland and sophomores Leah Hutchinson and Olivia Radewan are competing for starting spots.
Conference overview: East Troy won the WIAA Division 2 state championship and claimed the conference crown in 2018. Whitewater, McFarland and Jefferson are among the teams expected to challenge favorite East Troy this season.
McFarland: The Spartans (29-10), who advanced to the Division 2 sectional final against East Troy last year, return eight letterwinners and four starters and coach Trish Fortune believes her team can contend for the conference title. Fortune, 377-220-11 in 19 seasons, approaches 400 victories entering the year. Senior setter Lizzy Fortune will direct the attack. Senior libero Erin Eggers and senior defensive specialist Peyton Witt lead the back row. Junior middle blocker Katie Hildebrandt, junior outside hitter Nina Crull and sophomores Maddy Fortune, Avery Pennekamp and Hannah Rounds also will be significant contributors. Graduated hitter Ashley East must be replaced, but Trish Fortune believes McFarland has greater depth in the front row this season, which should mean the Spartans can spread the ball.
Edgerton: Four starters return, but coach Sharon Fox's team again will be young. "We need to develop strong team chemistry and tenacious defense in order to accomplish the goals we have for this season," Fox said. Junior outside hitter Carly Rebman returns for her third varsity season as a six-rotation player and will lead the attack, Fox said. Sophomore setter Kate Fox Gunderson will run the offense for the second season and outside hitter/right-side hitter Shannon Rusch is expected to contribute as a freshman.
POSTSEASON EVENTS TO WATCH
WIAA Division 2-3-4 regionals – Oct. 22, 24 and 26.
WIAA Division 1 regionals – Oct. 24 and 26.
WIAA sectionals – Oct. 31 and Nov. 2.
WIAA state tournament – Nov. 7-9, Resch Center, Ashwaubenon.