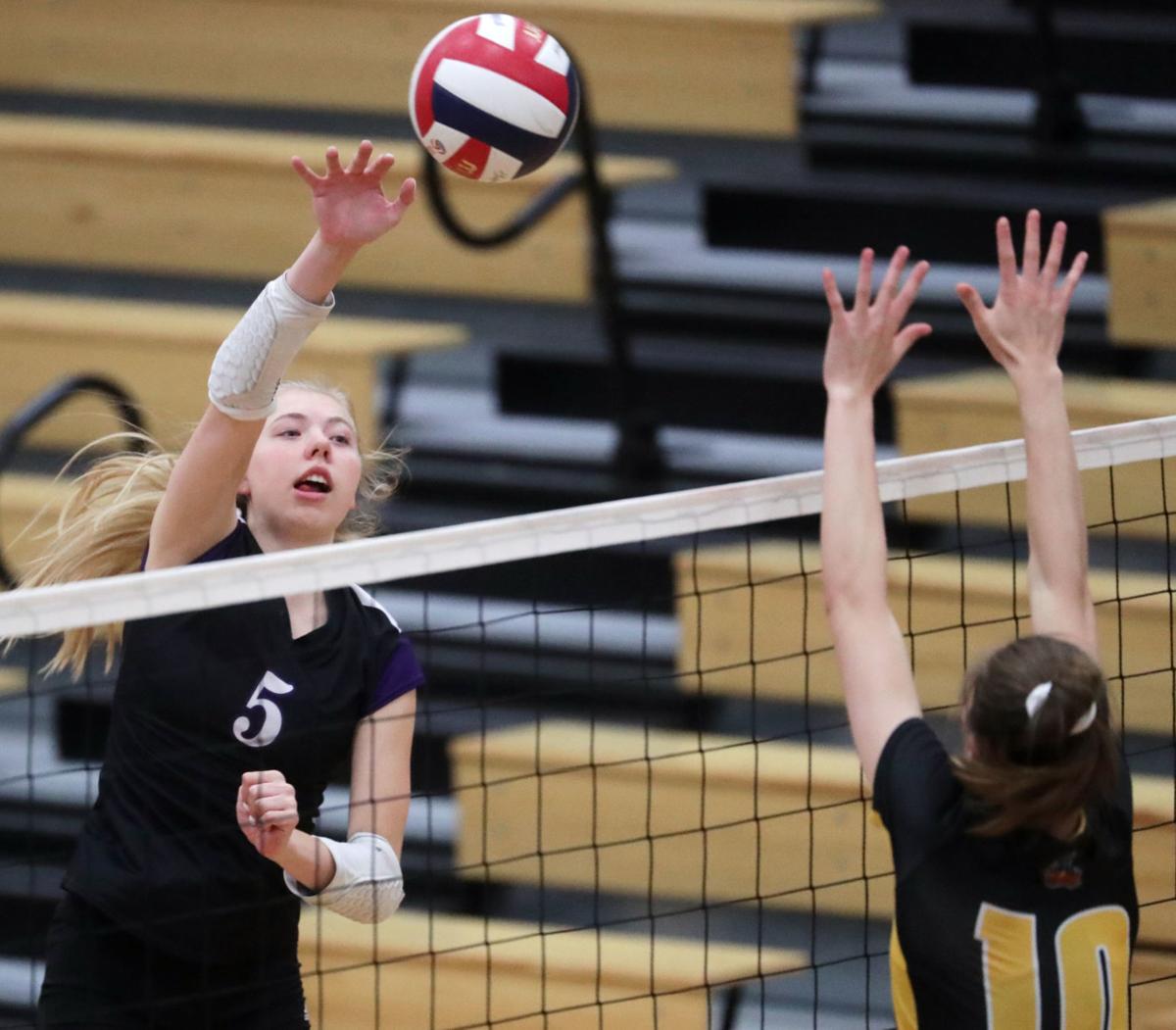 PRAIRIE DU SAC — Waunakee girls volleyball coach Anne Denkert delivered a message after her team lost the first set of Saturday's championship match of the Badger North Conference tournament.
Denkert wanted top-seeded Waunakee to play more aggressively, win each five-point segment and serve tougher against fifth-seeded Mount Horeb.
Waunakee senior Jocelyn Meinholz took those instructions to heart. The 6-foot outside hitter led the Warriors' comeback, which resulted in a 21-25, 25-16, 15-8 victory in the title match at Sauk Prairie High School.
"After the first set, we talked about how we were playing a little bit frantic, and then we just wanted to calm down," Meinholz said. "Our serving really helped in that second set to get them out of system. I was just trying to serve them deep."
The Warriors (34-6), receiving honorable mention in the Division 1 state coaches' poll, defended their conference tournament title. After edging Mount Horeb in five sets on Thursday night, Waunakee finished 7-0 in league duals.
In the second set Saturday, Meinholz gave Waunakee a 3-1 lead with a kill, and then turned up the heat with her serving. Waunakee scored the next seven points while Meinholz was serving, building a 10-1 lead. Three winning points came on Meinholz aces.
"In the second set, I said `We have to stop tipping the ball. There is too much lax play. We have to step it up and play more aggressively,''' Denkert said.
That aggressive play continued into the decisive third set, when Waunakee scored the first five points and built an 11-4 lead.
"We are trying to compartmentalize the game," Denkert said. "Instead of the big score, it is to keep working in increments. Five has been our number. First to five. They probably hate me because we did that (first-to-five) drill at practice. But I think they secretly love it now."
Meinholz finished the championship match with three aces and 10 digs, while senior outside hitter and University of Buffalo commit Milla Malik had a team-high nine kills and junior middle hitter Robyn Ryan added 3½ blocks.
On a roster that includes top attacker Malik, senior setter Sam Miller and track and field standouts Chloe Larsen and Hayley Krysinski, Meinholz has come on strong as an outside hitter after playing right-side hitter last year.
"This year, I knew I had to step up to play the outside position and bring my best game to help the team," Meinholz said.
Said Denkert: "I wouldn't say she has emerged; we knew she was there. We just needed the back-row play out of her from junior year to senior year. She has stepped up this year, for sure."
For Mount Horeb (20-13), Elise Goetzinger, a 6-4 outside hitter and University of Kentucky commit, totaled a match-high 11 kills, and junior Abby Steinhauer came up with 12 digs and senior Maddy Mason had 10 assists. The Vikings came on late after going 4-3 in league dual matches.
"We have had a lot of ups and downs all year, where we've played great — and I think you saw the great team we are capable of being today," Vikings coach Kurt Owen said. "And then we've had some downs, where we have played down to the level of competition. ... We have lost some odd games this season because of it. But today there was more of that consistency."
Waunakee went 3-0 in pool play and advanced to the final by beating third-seeded Beaver Dam in a semifinal 25-15, 25-22.
Mount Horeb, which lost to Waunakee earlier Saturday and finished 2-1 in pool play, upended second-seeded DeForest in the other semifinal 26-24, 25-16. DeForest went 3-0 in its pool and beat Beaver Dam in the third-place match 22-25, 25-21, 15-12.
WAUNAKEE (leaders): Kills — Malik 9. Digs — Meinholz 10. Aces — Meinholz 3. Assists — Miller 12. Blocks — Ryan 3.5.
MOUNT HOREB: Kills — Goetzinger 11; Digs — Steinhauer 12; Aces — Rumler 2; Assists — Mason 10; Blocks — Magnuson 1.