MIDDLETON — Longtime Middleton boys volleyball coach Ben White knew telling his team would be difficult.
He entered the meeting room at the high school and took a seat — his partner, Kathleen Callaghan, at his side.
"All day when I thought about it, I'd get teary and cry," White said. "But when I did it, I held it together."
The student-athletes already knew something was amiss.
The 43-year-old White had missed some practice time for medical test, after an initial appointment he believed was just a routine checkup for stomach discomfort.
"He told us he went to the hospital and got some scans, so we knew something was up," Middleton senior outside hitter Scott Buros said. "We expected some news. We just didn't know what the news was. When he actually told us, it was really hard for us."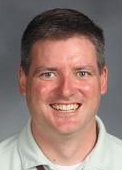 The Middleton program has been the area's gold standard in boys volleyball for more than a decade, led by the well-liked White, in his 19th year as coach.
But this season took on a very different challenge for the fourth-ranked Cardinals after White learned of his lymphoma diagnosis late last month.
"For me, cancer wasn't really on my mind," said Parker Van Buren, a 6-foot-8 senior outside hitter who has orally committed to Loyola (Ill.) University for volleyball. "I was pretty surprised. I think we were all devastated. It was a really tough day hearing that."
White, who began chemotherapy treatments last week, had been equally shocked.
"It wasn't expected to say the least," White said this week at practice. "I basically went in for what I thought was normal stomach issues and came out five days later with this diagnosis. It definitely flips your world upside down. You try to process everything as fast as you can."
In the fight together
White was eager to start his fight against cancer, but additional tests needed to be completed and the treatment plan determined. A strategy also had to be figured out for coaching the Cardinals and talking to the team about what was ahead.
"I think it was great to have Kathleen right there (at the team meeting) and to tell the guys that we are family and we are going to be in this together and I will be in there as much as I can for them and I know they will be for me," White said. "It was nice. I took a little time to hug each one. I think that was good — like, 'Coach still likes hugs.' I think after the initial shock, they are handling it pretty well."
White, his family, friends and the Middleton team knew they are in the fight together.
"We always say, `I don't just have cancer. We have cancer,''' White said. "That's the truth. We are all dealing with it."
Said Buros: "The season definitely took on a whole new meaning. We came from like playing for ourselves to playing for Coach."
Taking a step back
The state's boys volleyball community has rallied around White, who has stepped back from coaching while concentrating on his health, which he said includes receiving treatments into January at UW Carbone Cancer Center.
Justin Haack, a varsity assistant and a JV coach, is serving as the interim head coach. Depending on how he is feeling, White comes to some practices and matches, sometimes sitting at the end of the bench and offering one-on-one tips while Haack handles the head coaching duties.
"I've coached all these guys at some point at lower levels," Haack said. "So, stepping in and coaching with the varsity level hasn't been a big deal because I know them very well. It's been busy, but you do what you can to help coach White. That's what we all are doing right now.
"I will do anything to help him. The players are doing their part, going to practice every day and working hard. The whole program has really come together to help him any way they can. It's been fun coaching these guys. It is a great group to be around."
Haack and White communicate regularly about the team, which has won eight consecutive and 13 of the past 14 Big Eight Conference titles and was 28-5 entering Wednesday night's match against Madison West.
"Justin has really taken over; he has done an amazing job," White said.
Haack, a 2004 Middleton graduate, played volleyball for White while in high school and has been coaching in the program for seven years.
"He's a big reason I got into volleyball and stayed with volleyball," Haack said, adding: "I grew up with the program. The program is the reason I love volleyball. And he's a big part of that."
Volleyball community rallies
White was at home eating his breakfast — fittingly, a bowl of "Life" cereal — and live-stream watching the Cardinals play at the Whitefish Bay Invitational the morning of Oct. 5 when he was surprised to see all the teams and other meet participants were wearing lime green shirts.
On the back was the list of the 16 teams. On the front was an outline of the state of Wisconsin with the words "In This State No One Fights Alone." A panoramic photo of the entire group was taken.
"In my time as a coach at Middleton, that's the coolest scene I've seen," Haack said. "We've been to state every year I've been coaching, but that beats every scene I've seen at state. The boys volleyball community on Wisconsin is a really close-knit group, and Ben has been a big part of that the past 20 years. So, it's not a surprise to see them come together to support him."
White's friend, Glendale Nicolet coach Brad Kuehl, had the shirts printed and organized the show of support.
"It was super special," Van Buren said.
"Everybody knows about him, everybody has feelings for him," Buros said. "That's the thing I like about boys volleyball is that everybody knows each other. All the coaches have a connection."
White traveled to Whitefish Bay for the afternoon portion of the tournament.
"It was special," said White, who had planned to attend before learning of the show of support for him. "It was really nice. I have coached against some of these guys for a long time. We've always said the Wisconsin boys volleyball world is a small community. There are only 56 teams so you get to know everybody and you get to know the coaches.
"We are playing the same teams almost every Saturday, so I really have become friends with a lot of these guys. So, it's just great to see that so many have reached out and said, `Whatever you need.' It's just phenomenal — the support from the coaching world."
Support also comes from White's sister, Middleton girls golf coach Becky Halverson, whose team won the WIAA Division 1 state title this week.
Remaining optimistic
After Friday's Big Eight boys volleyball tournament, WIAA postseason play begins next week. The Cardinals are hoping to reach the state tournament for the seventh consecutive season and advance beyond the first round for the first time since 2008.
Van Buren — a top candidate for state player of the year who was described by White as "a rare talent" — said White's absence from practice has been difficult.
"He's a familiar face at practice, during all the drills for four years," Van Buren said. "So, it was hard."
Said Buros: "He's been the face of the program for like 20 years. It's just tough to not have him around as much anymore."
But the Cardinals have rallied around each other and White, who gets an extra bounce in his step when he can attend a practice. He feels like he is moving forward now that the treatment plan is in place.
"I'm an optimistic person in general," White said. "I'm always a cup half-full guy. It was probably odd to say I wanted to start treatment. I just wanted to get going. I wanted to get on this journey. `Let's beat this.' I told the guys, `Your job is to have fun, play volleyball and win some matches. My job is to punch lymphoma in the face.'''
Get in the game with our Prep Sports Newsletter
Sent weekly directly to your inbox!