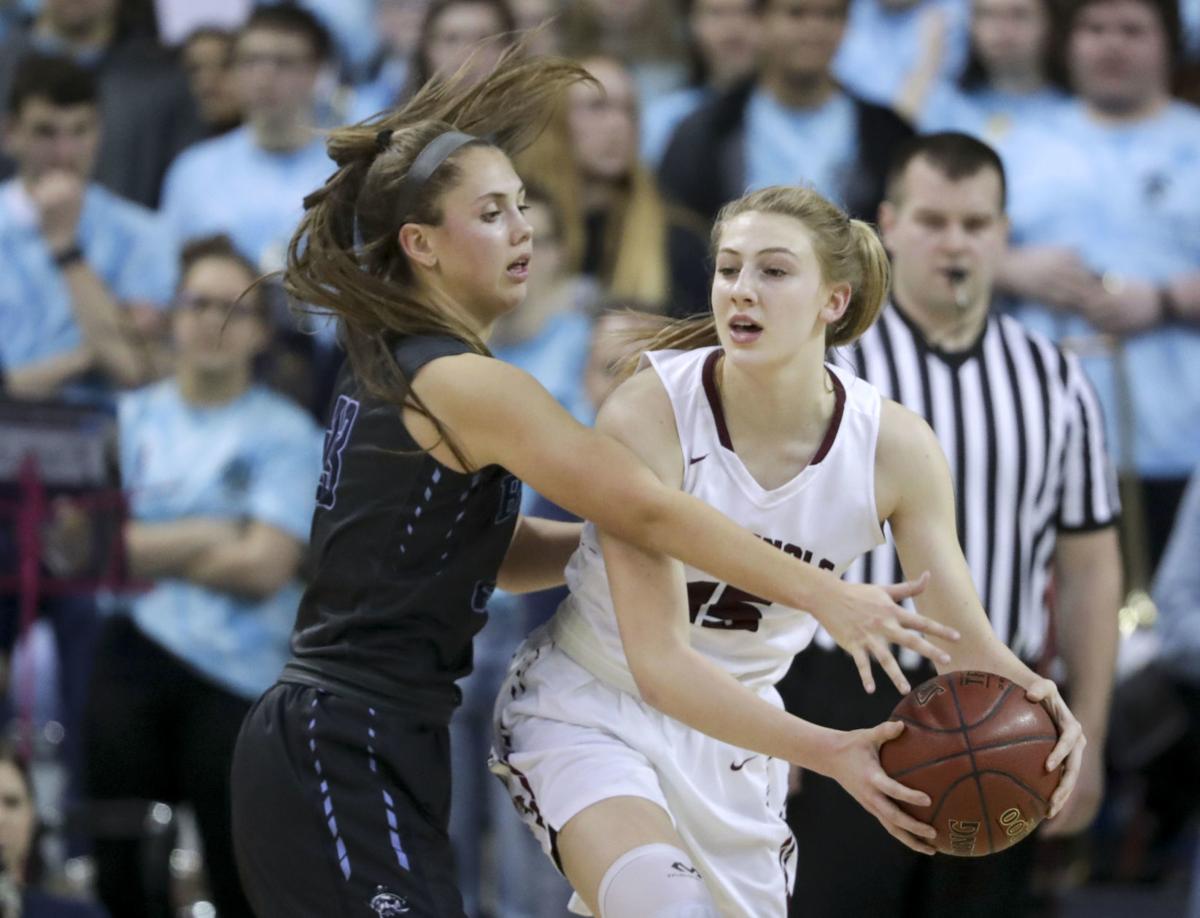 Middleton seniors Kate Meier, Sitori Tanin and Parker Van Buren conducted independent college searches and reached their own decisions as to what was the best university for them.
But as the three student-athletes sat with five of their classmates at a table Wednesday morning in the Middleton gymnasium, it was clear from their maroon-and-gold attire that their futures were headed in the same direction.
Meier (women's golf), Tanin (women's basketball) and Van Buren (men's volleyball) made official their commitment to Loyola (Illinois) University in Chicago, signing National Letters of Intent at a ceremony at Middleton. Wednesday was the first day of the early signing period, which continues to Nov. 20.
And at Sun Prairie also on Wednesday morning, Loyola added two more commitments, Karlie "K.J." McNabb (women's volleyball) and Autumn Dushack (cross country, track and field) -- giving that university five area athletes in five different sports.
"I think it's a close enough campus where we feel like we can come home but far away enough where we can be independent," Meier said. "Loyola is a just very welcoming and open campus, and being in the city, it's a new environment we are all excited to be a part of."
Meier, who finished seventh and helped lead Big Eight Conference champion Middleton to the WIAA Division 1 state girls golf championship this fall, is eager for play for Loyola women's golf coach Carly Werwie, a former University of Wisconsin standout.
"She is very supportive, she's very enthusiastic, she's very positive," Meier said. "She's really encouraging to see all the girls come together on the team, especially myself now, to accomplish some great things."
Meier said she was the second of the three Middleton students to select Loyola, following Tanin.
"With all three of us there, I know we will be able to support each other," Meier said.
The 6-foot-2 Tanin, who helped lead Middleton to the Big Eight title and a Division 1 state runner-up finish in girls basketball last season, said she was convinced on her visit that Loyola was the place for her.
"I was really excited once I got there, being with the whole team and getting to know the coaches better," she said. "I loved the campus. I wanted high academics and a high level of basketball. I felt like I'd just have everything there."
Her boyfriend, Van Buren, also will be there, though Tanin said their college searches were independent of each other – that they were both initially were talking to coaches at Loyola without knowing it.
"I really liked the city," Tanin said. "I'm excited to explore something new but not too far from home, so my parents can come to games."
The 6-8 Van Buren, an all-state outside hitter for the Big Eight boys volleyball champion Cardinals, said he liked the nearby location in Chicago and the academic offerings, was impressed by the coaching staff and found the players welcoming.
"They also have a really good volleyball team," said Van Buren, who hopes to study business. "That's always a plus."
Loyola's inroads into the area also included at Sun Prairie with senior outside hitter McNabb, who was the Big Eight girls volleyball player of the year and a first-team selection in Division 1 on the coaches' all-state team who helped lead her team to a Division 1 state tournament berth last week; and with senior cross country and track runner Dushack.
Told about those signings, Middleton's Van Buren said: "Loyola must be recruiting hard in the area. They did a good job recruiting me."
"I feel like it just might be a coincidence, but it is interesting," Tanin said.
Five sign at Madison Edgewood 
Four swimming commitments and WIAA Division 2 state champion golfer Grace Welch's commitment to UW-Green Bay highlighted the signing ceremony Wednesday morning at Madison Edgewood's Wilke Gymnasium.
You have free articles remaining.
Crusaders seniors Truman teDuits (University of Wisconsin) and Nate Frucht (Boston University) signed for men's swimming and Maeve O'Driscoll (University of Minnesota) and Diana "DeeDee" Walker (Illinois State) signed for women's swimming. O'Driscoll and Walker will lead four-time defending champion Edgewood into Friday night's WIAA Division 2 state girls swimming and diving meet.
UW's experienced coaching staff was a critical reason impacting teDuits' decision.
"It's just an amazing coaching staff," he said. "And staying close to home is nice. I see training at UW fits best for me. That's where I'm really going to thrive."
At last winter's Division 2 boys state swimming and diving meet, teDuits finished first in the 200 individual medley and the 100 breaststroke and was part of Edgewood's winning 200 freestyle relay and winning 400 freestyle relay as the Crusaders won the state title.
Welch, who was the Division 2 individual champion and helped lead Edgewood to the Division 2 state girls golf title this fall, said she felt comfortable and at home with her selection of UW-Green Bay, which she felt was the right distance from her own home.
"I think committing before my senior season helped take a weight off my shoulders, and I was able to play more free -- knowing what was going to happen to me in the future," she said. "I'm glad my senior season ended that way. It was pretty good."
Welch said playing in college became a goal once she began high school.
"I think it became more real once I was a freshman and became part of an actual golf team," she said. "I was doing well and getting into my groove. I was thinking I should continue after high school."
Based on information from area high schools, here is other signing day news.
Beaver Dam's Jada Donaldson made official her women's basketball commitment to UW-Milwaukee.
Madison Memorial senior guard-forward Leilani Kapinus said Tuesday night that she plans to announce her college decision for women's basketball during the early signing period.
Her finalists are Minnesota, LSU, Arizona, Penn State and Wisconsin, though she said she has that list now narrowed to two.
Kapinus is a top-30 recruit in the class of 2020.
Other women's swimming commitments included Middleton's Gabriela Pierobon Mays (Vanderbilt), Middleton's Alex Anagnostopoulos (UW), Sun Prairie's Cassidy Carey (Illinois State), Verona's Sara Stewart (Illinois State) and Milton's Danielle Cramer (Minnesota).
Men's swimming commitments included Middleton's Nathan Kim (Minnesota), Baraboo's Aidan Lohr (Iowa), Madison West's Isaac Casey-Hrenak (UW) and Madison West's Charlie Feller (Iowa). 
Other women's volleyball commitments included Mount Horeb's Elise Goetzinger (Kentucky), Verona's Jordan Armstrong (University of Pennsylvania), Waunakee's Milla Malik (University of Buffalo) and Watertown's Izzy Schauer (Belmont).
Baseball commitments included Waunakee's Joe Hauser (Arizona State University), Waunakee's Nick Smith (Michigan State), Sun Prairie's Matthew DePrey (Xavier of Ohio) and Waunakee's Will Ross (Saint Louis University).
Waunakee's Isabelle Barmore committed to Iowa State for women's soccer.
Sun Prairie pitcher Maddie Gardner signed with South Florida for women's softball.
Stoughton's Adam Hobson signed with Michigan Tech for men's basketball.
In the region, Mineral Point's Isaac Lindsey signed with UNLV for men's basketball.