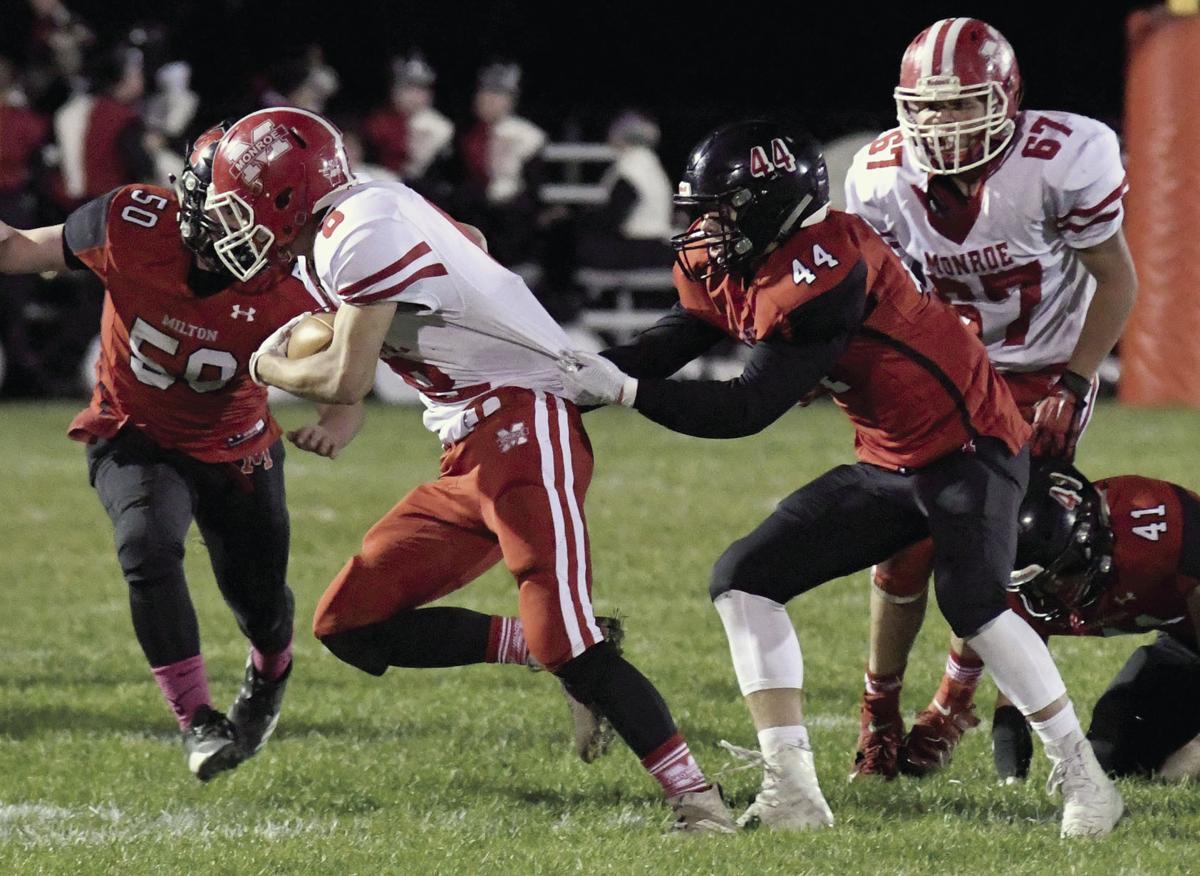 For this school year and this school year alone, Monroe High School's athletic teams plan to compete not in the Badger Conference, but in the Rock Valley Conference.
Not just in football, as originally decided, but in all sports across all three out-of-sequence seasons.
The Cheesemakers haven't asked the WIAA (or the Badger) for permission. They don't plan to.
"The WIAA created this 'wild west' approach (to handling the COVID-19 pandemic) and we are just seeking a year of stability, if that is possible under these conditions," Monroe superintendent Rick Waski wrote in an email Saturday.
However, the WIAA may step in to cut this idea off at the starting line, holding Monroe to the requirements of its constitutional realignment rules announced in January 2019.
"(Assistant Director) Stephanie Hauser from our office will be reaching out to Monroe to clarify the Board-approved realignment process," WIAA director of communications Todd Clark wrote in an email Saturday.
The WIAA constitution holds that a committee will evaluate all conference realignment requests "with the Board (of Control) retaining the authority to make final determinations in conference alignment decisions."
Monroe was supposed to spend this season as a football-only member of the Rock Valley, under the first year of the WIAA's statewide football-only conference realignment.
Likewise, administrators at the other 15 Badger Conference schools wouldn't be happy about the prospect of revamping their schedules for all three sports seasons in order to accommodate Monroe for one year.
"Although recently learning about this, the Badger Conference has not received any official approval on Monroe's request from the WIAA yet, so we really are not in a position to comment," said Jeff Schreiner, assistant principal at Monona Grove and president of the Badger Conference athletic directors group.
"We know there is a considerable (WIAA) process that needs to be followed, and we are looking for guidance and confirmation from the WIAA." 
Anticipating the Badger Conference's Thursday vote to allow its 16 schools to pursue a fall non-conference option (with the option of delaying fall sports until the spring), Monroe decided to pivot. On Tuesday, the school board voted 9-0 to ask to join the Rock Valley; on Thursday, the Rock Valley approved the move.
"We align with the vision of the Rock Valley Conference to move fall sports to spring this year," Waski wrote. "We are already in this league for football, so this arrangement helps us better align the other sports from a scheduling standpoint.
"We will be playing in communities with less COVID-19 spread within smaller communities, and that is something we have considered as we looked at how we can safely continue sports. This provides hope to our players and coaches, and stability in scheduling for the year."
Multiple Badger schools — including Beaver Dam, Portage, Reedsburg and Sauk Prairie — already have announced they would investigate setting up non-conference schedules for fall sports. So far, Oregon is the only Badger school that has announced it would not play fall sports.
"If we stayed in the Badger Conference and moved fall sports to the spring, who would we play? We have no idea," Waski wrote. "Joining the Rock Valley this year gives us stability for the year and allows our students and coaches to have hope that they will get to participate."
Rock Valley administrators held a virtual meeting on Friday and elected to delay the entire fall sports season until the spring. Under the Rock Valley's decision, when the traditional winter sports season concludes, traditional fall sports will play in the spring (March to May), followed by traditional spring sports in the summer (late May into July).
All three seasons are likely to be shortened to accommodate the changes and any remaining COVID-19 requirements.
"We are making this move for three reasons," Waski said in his email. "First of all, we feel that moving fall sports to the spring is in the best interest of student, staff and community safety.
"Secondly, the instability of the Badger Conference this year causes us great challenges. There is great uncertainty surrounding when and if Dane County schools can play sports, and when this might occur. Also, some Badger Conference schools not in Dane County plan to play sports this year in the fall, and we feel that is not something we want our student-athletes to do because of safety concerns.
"(WIAA executive director) Dave Anderson… stated on July 23 that we have 'local control' and we should 'find games against who you can.' We feel that a stable relationship for this year in the Rock Valley Conference allows that to happen and holds out hope for our student-athletes," Waski wrote.
Seven of the 16 Badger Conference members are handcuffed because they are located in Dane County, which is expected to have more stringent and longer-lasting rules preventing practice gatherings and usage of school facilities.
McFarland (and Madison Edgewood for football only) are the only Rock Valley Conference schools located in Dane County.
Last month, administrators from multiple southwest Wisconsin schools submitted a plan to the WIAA that would shift all fall sports to the spring of 2021 (starting in March), and all spring sports to the summer of 2021 (starting at the end of May and extending into July). For one year only, winter sports would begin in late November or early December, if permitted, or no later than January.
Waski said 51 percent of the state's superintendents backed the plan, with no alternatives reaching 20 percent support. However, spring sports coaches were not happy with the plan, and the WIAA settled on the plan allowing multiple options to be determined by conferences or individual schools.
The WIAA Board of Control did vote to delay the start of practice for the so-called "lower-risk" sports of girls golf, girls tennis, girls swimming and boys and girls cross country to Aug. 17, and in football, girls volleyball, boys soccer and boys volleyball to Sept. 7. The plan also permitted schools that were unable to participate in fall sports to organize a spring option.
Concerned about COVID-19?
Sign up now to get the most recent coronavirus headlines and other important local and national news sent to your email inbox daily.