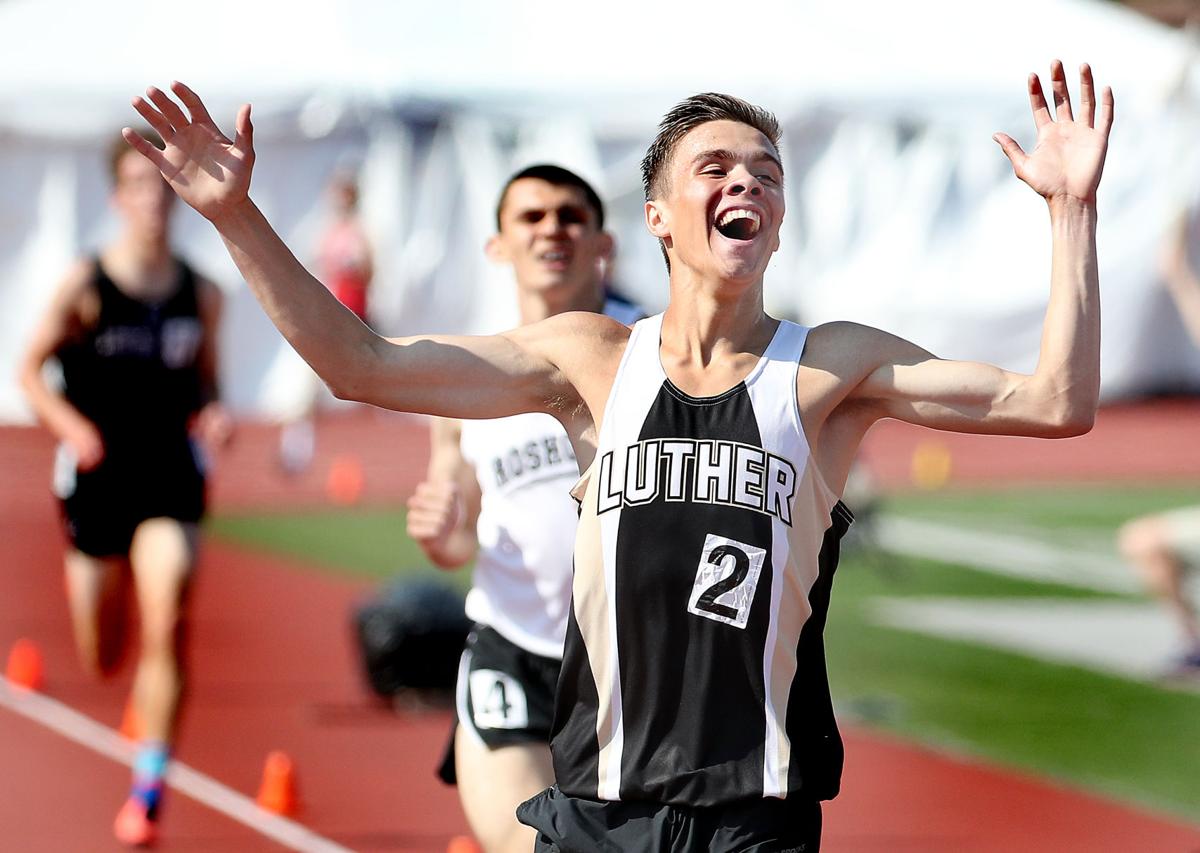 No one was supposed to be in David Vannucchi's way.
Rosholt High School junior Adam Rzentkowski didn't get the message, however, as Rzentkowski gave Vannucchi a challenge — and then some — in the Division 3 1,600-meter run Friday afternoon at the WIAA track and field meet at UW-La Crosse's Veterans Memorial Field Sports Complex.
Vannucchi overcame a considerable deficit by passing Rzentkowski in the final 60 meters. His winning time of 4 minutes, 19 seconds, was 1.8 second ahead of Rzentkowski.
"That was probably the craziest race I've ever been in," Vannucchi said. "This is the crown, the No. 1 accomplishment. This is No. 1 on my list."
Winning in the 1,600 has been a source of considerable inspiration for the Onalaska Luther High School junior, especially after he finished third last year as a sophomore. The two runners ahead of him — Wesley Schiek of Valley Christian and Andrew Ruiz of Webster — were no longer in the picture. Schiek transferred to Division 1 Oshkosh North, while Ruiz was a senior in 2017.
That opened the door for Vannucchi, but Rzentkowski ran through it first. Vannucchi trailed the majority of the race, and trailed Rzentkowski by 50 meters with one lap to go.
Vannucchi didn't panic. He picked up his speed coming around Turn 2, and by the time the two met for the final turn, the Luther standout found the momentum needed to catch and pass Rzentkowski.
"I didn't have anything left in the tank," Rzentkowski said. "Even with the weather, I'm happy with the place and in the time I got.
"It's all about the sport. It's going to happen. There's nothing I can really do about it."
As he was approaching the finish line, Vannucchi looked back to double check what he had done was indeed a reality. It was, as his strong kick had provided a golden finish.
Vannucchi raised his hands, jumped in the air and then in good sportsmanship, congratulated Rzentkowski.
"I've never been able to catch anybody like that," Vannucchi said. "I was in shock. I was … I try not to celebrate, but that was just pure shock."
The beginning of the race was an uncommon one, too. As the 16-runner field started the race, an official fired a starter gun, signaling that someone had gotten tripped up and the race needed to be restarted.
"You trust in training and trust in yourself," Vannucchi said. "You never know what the outcome of the race is going to be until you cross the finish line."
Vannucchi admitted that he had overcome a number of challenges this season, which was a very emotional one for him.
"Everybody goes through things in their personal life, and unfortunately, there was a lot a drama," Vannucchi said. "I'm not going to get too much into it, because it's in the past. It's very tough to stay motivated in running. I thought about it every day. It felt good to cross that finish line, and know I got through it."
There was another obstacle that Vannucchi said he's dealt with during the track season — not having faced state-caliber competition until the state meet itself.
He won the 1,600 at last week's sectional meet by 8.5 seconds over Cashton freshman Jarret Carpenter, who finished 10th in Friday's state race.
"It's been a low-profile season. I'm just starting to get into the competitive season right now," Vannucchi said. "It's tough to stay focused. You definitely have to think about moments like today and always want to be first. It's Division 3, that's what you have to do."
---