It will be extremely difficult for Rice Lake High School senior Kenny Bednarek to top Saturday what he accomplished Friday at the WIAA state track and field meet.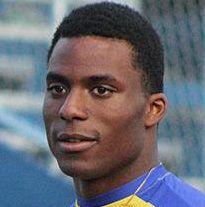 Three races. Two state records. And one astounding 200-meter preliminary race that places him among the elite high school track athletes in United States history.
With an overflowing crowd at Veterans Memorial Field Sports Complex eagerly anticipating his 200 prelim as the lights at the stadium started taking effect, Bednarek took his start at the block near the back end of the track and left no doubt who the most electric athlete is at this annual gathering of the state's best.
Bednarek rolled into the second and final turn of the 200 well ahead of the pace of not only his preliminary opponents, but the state record in the event for Division 2. He crossed the line in a stunning 20.43 seconds — shattering the mark by nearly a second (21.32 by Collin Hofacker of Freedom in 2015) and surpassing the 20.68 that Michael Bennett of Milwaukee Tech clocked in a 1998 Division 1 preliminary.
The 20.43 ranks as tied for the eighth-best in high school history according to the National Federation of State High School Association, tying him with Bryshon Nellum of Long Beach Poly, who accomplished the feat in 2007. The all-time record is 20.13 established by Roy Martin in Austin, Texas, in 1985.
Bednarek, already the state record holder in the 400 after his gold-winning 46.82 second run in 2017, picked up the 100 state record in the prelims early on Friday with a 10.42 qualifying run. He won the 400 prelim easily but said he eased to save something for the 200 prelim to make a run for the state mark.
Even he seemed shocked by how much he obliterated the old D2 record.
"I was kind of worried about the 200 at the beginning," Bednarek said. "I was telling everyone I wanted to get 20.9, but I kind of crushed that. I finally got under 21, and it feels so great."
Bednarek soars into Saturday's final as one of the more electric athletes who will hit the track. He is the top qualifer in the 100, 200 and 400 and seeks his third straight state titles in the 200 and 400.
Dunkleberger dabbles
Lake Mills senior Ben Dunkleberger won his third straight Division 2 triple jump state championship on Friday, going 46 feet, 1 inch to win by almost 2 feet ahead of Jo'Vontae Coleman of Beloit Turner.
But while winning a third straight state title—and leaving his career as the Division 2 record holder thanks to his 2017 effort at 47 feet a year ago—ranks Dunkleberger among the best ever in his discipline in the state, he also spent part of his senior year preparing for the future.
Dunkleberger hopes to compete in the decathlon next year when he attends the University of Pennsylvania, so he started to dabble in the hurdles this season.
He qualified for Saturday's final, placing 10th in 40.35 and also qualified for the 100 final, placing ninth in 11.09 seconds. He will also compete in the long jump on Saturday when he tries to defend his title in that event.
"That was my ninth 300 race," he said. "It's something to get ready for multi-events; that's what I plan to do in college. I knew 110s wouldn't be the smartest so I started on the lower ones. It's just fun doing something different."
The Dunkleberger family has a decorated history in the decathlon, as Ben's uncle, James, is a former All-American at the University of Wisconsin.
"I'm a novice right now," he said. "It's just fun to pick up something new. It's been a fun challenge."
Jaworski shines again
Halfway through her high school track and field career, junior standout Brooke Jaworski of Wausau West has shined in every discipline she's tried.
She won back-to-back state championships as a freshman and sophomore in the 200- and 400-meter races and also last year led her team to a state-record time in winning the 1,600 relay.
Obviously looking for yet another challenge, Jaworski decided over the offseason to dabble in hurdles. Eventually, the dabbling became an obsession.
"I decided to try it, and I love it," she said, minutes after putting her stamp on yet another Division 1 state record at the WIAA state track and field meet at UW-La Crosse.
Competing in the 300 meter hurdles for just the fourth time in her life, Jaworski blew away the field in the preliminaries Friday, cruising to a victory in state-record fashion with a time of 41.62 seconds.
"I don't think I'm a common athlete, and just wanted to try something that's hard to achieve," said Jaworski, who is competing in three events this weekend. "Running the hurdles, it's just a great opportunity and a new challenge. I'm excited."
Jaworski qualified for the finals in three events Friday. In addition to the hurdles, she set the pace in her qualifying heat for the 400, taking first in 54.04 to advance by more than 2 seconds over runner-up Ali Dorn of Monona Grove. The time was just a click off her state-record mark of 53.71 set while winning last year.
The 300 hurdles/400 combo seems to be one of the more physically grueling doubles that an athlete can endure, but Jaworski thinks her success in the 400 set the stage for success in the hurdles.
"I feel like my 400 training correlated with my 300s," she said.
In her last event of the day, she ran the anchor leg for West's 1,600 relay team, which grabbed the last qualifying spot in an attempt to defend last year's state-record gold winning run of 3:50.75. The team of Isabella D'Burke, Shelby Samz and Rachel Jaworski joined Brooke (who is the lone returner from last year) to qualify in 4:01.01.
Saturday figures to be another busy — and potentially record-setting — day for the West sensation. In addition to the three finals, she will also be competing in the long jump where she enters with the fifth-longest qualifying jump.
Madison school
dominates triple jump
Madison La Follette teammates Kiara Lee and Tyra Turner finished first and third, respectively, in the triple jump, with Lee eclipsing the 40-foot mark for the first time in her prep career. Her 40-0¼ distance gave her a victory over Waukesha South senior Armoni Brown (39-2¼).
Turner finished third with a distance of 39-0½.
Lee was runner-up in the event the last two seasons and spent the offseason working to move one step up on the medal stand this week.
"My goal was to get to 40 and win state, and I did that," she said. "My last jump was my best jump. I was getting a little nervous in my first two jumps but then I settled down and made sure I executed my last jump."
Lee and Turner are also competing in the long jump final Saturday along with the second-place finish in the triple jump, Brown, the defending long jump champion.
Son breaks father's record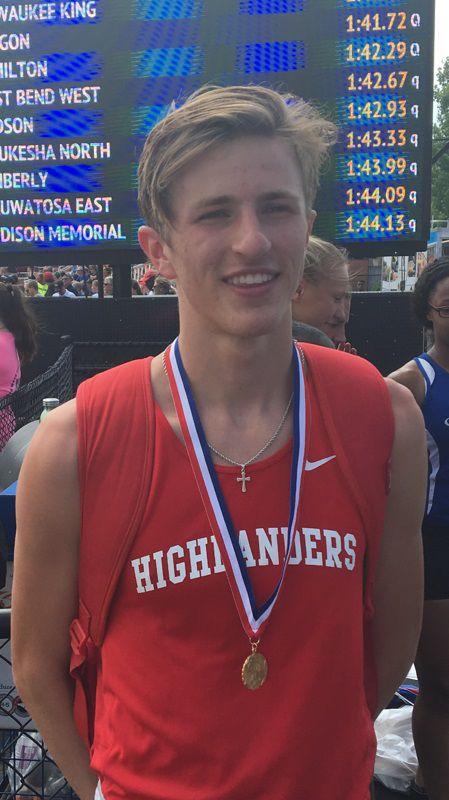 Twenty-six years ago, Mequon Homestead distance runner Andy Bosley won the 1,600-meter run with a school-record time of 4:12.37. On Friday, he saw his son, Drew Bosley, shatter that record en route to winning the 1,600 with a time of 4:10.39. Caleb Easton of Middleton took second (4:12.11).
Last season Drew labored through injuries and admitted he was "scrapping things together." The result wasn't what he wanted. He finished 10th in the mile with a time of 4:27.55. That was one of the reasons he trained harder and was more focused than ever before. He wanted this race badly.
"It feels great. Honestly this was the race I had circled on my calendar to train for, to prepare for. This was the race all year I was thinking about, the 1,600 at state," Drew Bosley said. "Tomorrow whatever happens, happens, but this is the race I needed to get it done."
---