Kendall Ahern doesn't believe in good luck charms.
When it comes to winning, her strategy is simple: face forward and feet moving.
"I just keep striding," said Kendall, 15, of Fond du Lac. "I look at the finish line instead of around me."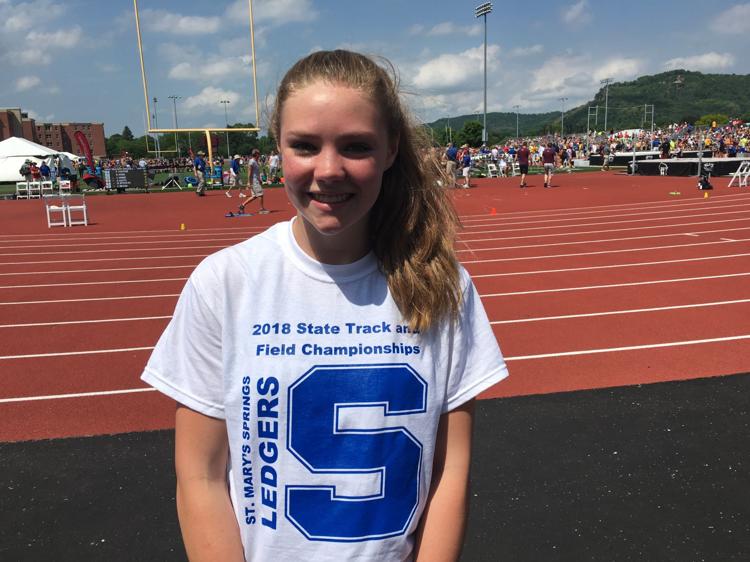 The St. Mary's Springs Academy freshman was the youngest of her 20 teammates to compete in Friday's 800- and 400-meter relays at the WIAA state track and field meet, held at UW-L for the 29th year. A track athlete since sixth grade, Kendall was a bit overwhelmed by the crowd of thousands packing the bleachers and sidelines, but still feeling energetic and aiming to complete her legs of the relays in under 27 and 13 seconds, respectively.
"Oh gosh, I'm very proud," mom Linda said of her determined daughter. "Moms always get nervous, but it's up to the kids, and they've been practicing a lot."
Melissa and John Barthman of Prairie Farm were keeping their eyes peeled for daughter Makaylin Christenson, 14, up next for the high jump competition. Makaylin was the sole athlete representing her school of 100 students — so small it lacks a track for practice.
With the help of "wonderful" coach Wendy Dallmann, Makaylin prepared daily for her inaugural meet using a makeshift setup of mats, eager to represent her school, which has one or two qualifying athletes each year.
"She's really calm," Melissa said of her upflappable daughter. "She doesn't get worked up about any of this."
"She's got a good attitude," agreed Wendy's wife, Tara. "This is a great setup here. La Crosse is top-notch on everything."
Eric Pankow, coach for Milwaukee Lutheran High School, calls the WIAA "a new level of competition" for his athletes, 21 of whom competed Friday. The school has qualified athletes each of the past 18 years, and Pankow calls it a challenge year after year — one they are always grateful to take on.
"There's a lot of excitement — very few of them were here last year," Pankow said. "They're a special group because they care about each other, they work hard, and they use their God-given gifts."
The goal, Pankow says, is always to get to the podium, but first his athletes needed to make it through to Saturday's round. Kendall was in the same boat, hoping to progress to finals but looking forward to a well-deserved post meet treat.
"She's been eating healthy," Linda said. "Now she wants ice cream."
---