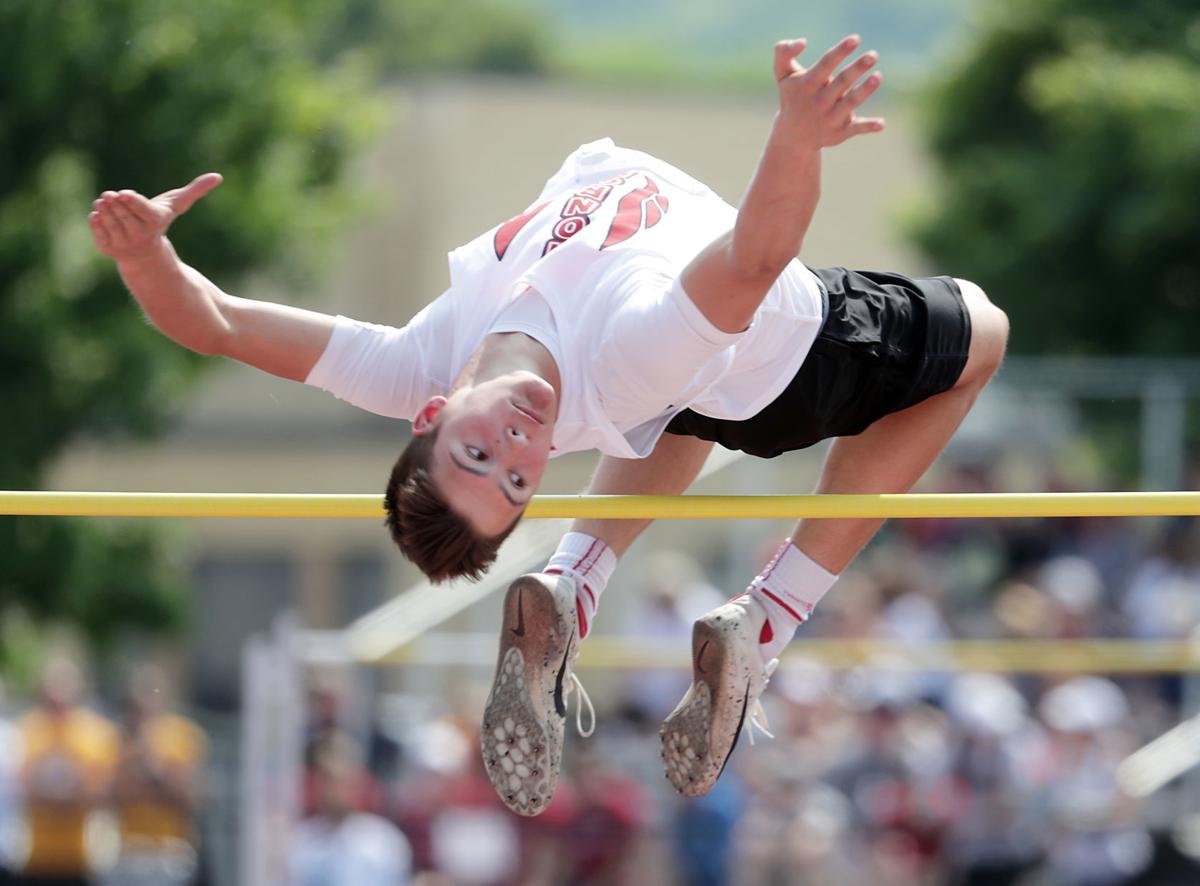 LA CROSSE — Monroe sophomore Cade Meyer is good at basketball, and he spends a lot of time playing the sport.
But it took the first-year track and field athlete much less time to figure out that he might be great at the high jump.
"In my third meet, I did 6-8½, which was a school record," he said. "And then I figured I could do this track thing for real."
That he could, as he bettered that school record by a half-inch on Friday at the WIAA Division 2 state meet at Veterans Memorial Stadium with a winning effort of 6 feet, 9 inches.
The effort knocked off defending champion Collin Schulz of Lakeside Lutheran, who took second and matched last year's winning mark of 6-6.
"This is crazy. I definitely didn't expect something like this to happen," Meyer said. "My coaches were telling me that they thought I had an opportunity to do something like this, that I had the athletic ability. But they didn't expect me to do it this quickly."
Meyer started out at 5-10 and went rapidly up the ladder. He was three inches clear of the next-best competitor and cleared the winning height on his first try.
His second try at 7-0 was close.
"This was outstanding. To win a state title like this is a dream," Meyer said. "I was hoping for something like this in basketball, but I have no words for how great this is."
Meyer's success on his first try contrasted that of now three-time Division 3 800-meter run champion Hannah Constable of Johnson Creek.
The junior was in third place with about 180 meters to go in the final but found the strength to rally, taking the lead on the final straightaway and holding on for a hard-won title in a personal best 2 minutes, 14.84 seconds.
"I was thinking, 'My gosh, can I keep up with them?'" she said. "But I also knew I had something left in me. This means a lot, because this is the race I really want."
A slow sectional and the pressure of being defending champion were things she had to overcome, Constable said. "It was a lot of stress, but it made me push harder," she said.
You have free articles remaining.
Now, she will go into her senior year with the rare opportunity of becoming a four-time state champion.
"I want to go for the state record (2:13.11)," said Constable, who also qualified second for today's final in the 400 (:58.81).
Madison Edgewood junior Maeve O'Driscoll took third in Division 2 in the 800 (2:17.01).
In the Division 2 boys long jump, Lodi freshman Lucas Heyroth earned second on his last jump with a personal best of 22-6¾ while Edgerton sophomore Tony Beighley was third at 22-5¾, also achieved on his final jump.
Heyroth, who also qualified for today's finals in three other events, said the long jump was a lot of fun as the lead was traded back and forth. Eventual winner Dameco Walker of Brown Deer took the early lead, and then Beighley seized it momentarily before Walker won (23-4) on the event's last attempt.
"One of the officials said it was one of the craziest final rounds he had ever seen," Heyroth said. "I was hoping for good things to happen, but I didn't expect this."
Lucas' sister, senior Mackenzie Heyroth, led qualifiers in both the girls 100 hurdles (:15.24) and 300 hurdles (:43.96) and ran on the 1,600 relay (4:04.38) which qualified second.
A bit of serendipity came about in the Division 2 girls 1,600, as Jefferson senior Mariah Linse earned the fifth state medal of her career by taking fourth with a personal-best effort of 5:07.31.
Linse was not able to run in the 1,600 at state last year, even though she had qualified, because she had collapsed in a medal-winning effort in the 3,200 the day before.
"I had to go to the hospital overnight and they told me it was probably not in my best interest to try the 1,600," she said. "So I had a lot of motivation after that humbling experience. It was not typical of me, but it helped me achieve a major goal."
On a blistering hot afternoon, Wisconsin Heights junior Christian Patzka was second in the Division 3 boys 3,200 (9:45.2), behind East Troy's Henry Chapman (9:37.26). Evansville's Riley Siltman was fourth (9:48.86).
Dodgeville/Mineral Point's Dylan McGraw, Jerimiah Beasley, Peyton Tranel and Henry Keith took second in the 3,200 relay (8:02.96).
Beaver Dam Wayland Academy senior Gracien Jules won the Division 3 boys shot put with a throw of 56-9¼.
For defending Division 3 boys champion Cambridge, Riley Olson qualified first in the 300 hurdles (:39.35), Rudy Hommen qualified fourth in the 100 (:11.35) and sixth in the 200 (:22.96), the 800 relay qualified second (1:30.26) and the 400 relay third (:44.17).